Continuing their battles in the Peruvian countryside for a fourth consecutive day, Adrien Van Beveren and Xavier de Soultrait have both enjoyed strong performances during Thursday's stage four of the Dakar Rally.
Reaching the halfway point of the two-day long marathon stage without any issue, the two Yamalube Yamaha Rally riders are currently fifth and ninth respectively in the event's provisional overall standings.
Taking competitors to the marathon bivouac in Moquegua, stage four was an intense and fast-paced one. Racing without the pressure of the opening stages, Adrien Van Beveren remained fast and consistent from start to finish. Posting the fifth quickest time for the day, the WR450F Rally powered rider is now fifth overall and less than nine minutes behind the provisional overall leader.
Winning Wednesday's stage three, Xavier de Soultrait had the demanding task of opening the stage for all following competitors. Doing a great job, Xavier earned a 15th place result on stage four. Xavier is now ninth and the second Yamaha powered rider inside the top 10 in the provisional overall standings.
Featuring a mass start, stage five of this year's Dakar will bring competitors to the end of the two-day long marathon stage back in the Arequipa bivouac. Friday's stage five includes a 345km long timed special stage with a total distance of 776km to be covered by all riders. With their eyes set on reaching the Arequipa bivouac, the two Yamalube Yamaha Rally riders will then have half of a day to rest and prepare for the second week of the 2019 Dakar.
Adrien Van Beveren (5th Stage 4 / 5th Overall): "Everything is going well for me so far and I'm feeling good on the bike. The terrain was not so much to my liking today but I managed to enjoy the stage.
"The pressure I felt in the opening stages is now gone and I can just focus on my goals for every stage. I'm happy I've reached that point and from now on I can just do my own race.
"Today [Thursday] we rode over some dry river beds and there was a lot of fesh-fesh. The pace was high and I was able to ride well. We've made some good work this year with my bike setup and it gives me great confidence in this kind of terrain. I want to continue pushing for some good results in the stages to come."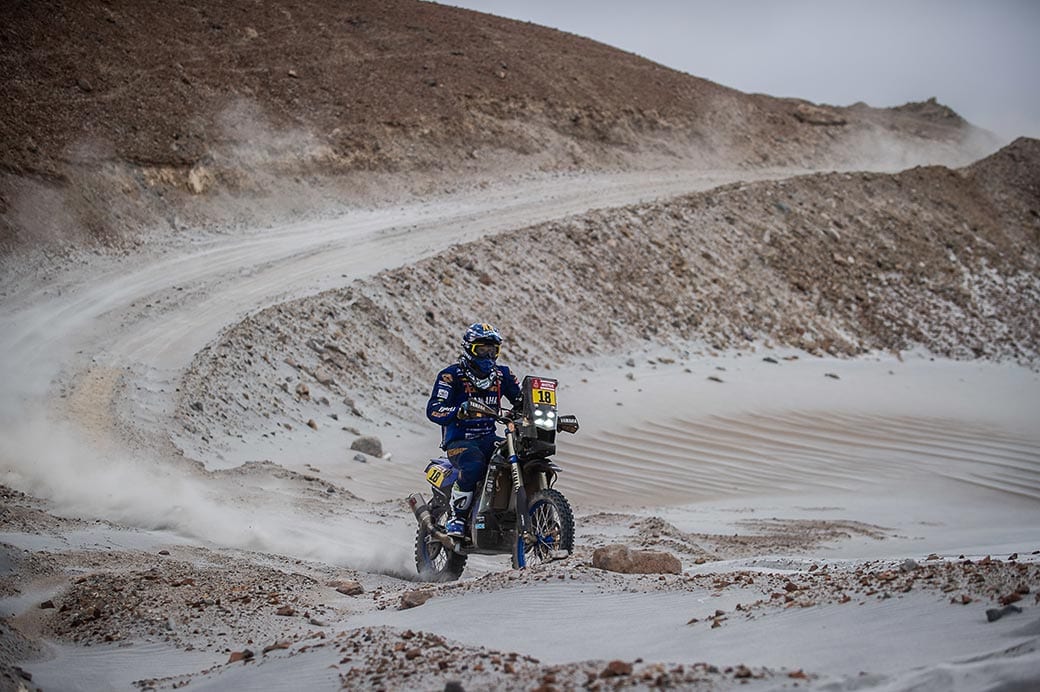 Xavier de Soultrait (15th Stage 4 / 9th Overall): "It was a challenging day for me. Today I led the way for most of the special, opening the tracks with a small group of riders. At one point the others got lost and I was left alone opening the tracks in the dunes. I'm really confident with my navigation and I was happy not to make any big mistakes.
"When you're leading the way in these conditions, it's impossible not to make errors and I made a few of them today, which cost me some time. This is always part of the Dakar, we take it and move on. I have a very good starting position for tomorrow [Friday] and that gives me extra motivation to push.
"Tomorrow we will be starting in rows of 10 riders every five minutes. I will be in the second row so I am hoping I can catch the leading group and ride with them. The goal now is to reach the Rest Day on Saturday with a good position in the overall."
[more-from heading="More Dakar" tag="dakar"]