Toby Price has won the 2019 Dakar Rally. At the end of what has been an incredibly successful race for Red Bull KTM Factory Racing, Toby Price, Matthias Walkner and Sam Sunderland have rounded out the final podium positions with Price securing KTM their 18th consecutive victory at the iconic event.
Leading the overall standings by just over one minute going into Thursday's 10th and final stage, Toby Price had no choice but to give his all on the day's short 112-kilometre timed special. With competitors setting off in the reverse order to that of their position in the overall standings, Price was the very last motorcycle rider to enter the stage.
Pushing right from the start, Toby knew he couldn't spare a single second on the well-travelled route. Just 10 kilometres into the stage however, the Australian's nearest rival fell, leaving Price free to complete the special at a steadier pace. Putting in a champion's ride, he still pushed on to ultimately claim the stage win and with it, his second Dakar title.
In what has been a superb display of riding, determination and bravery, Price has overcome all the odds to take a well-deserved win. Breaking his wrist just weeks before the event put doubts on whether the 2016 Dakar winner would even complete the rally. Showing immense resolve, Toby took each stage as it came, riding consistently, and at the end of the 10-day event his perseverance paid off. It's been a great few months for Price and KTM – 2018 FIM Cross Country Rallies World Champion and now 2019 Dakar Rally Champion.
Toby Price: "It feels amazing to stand here knowing I have won the Dakar, I don't think it has really sunk in yet. I thought at the beginning of the event I would be lucky to even make the rest day. My Red Bull KTM bike has been amazing, I want to say a big thank you to my mechanic for that. The whole crew here do an amazing job – without them I would be no one. The team put in so much work on the lead up to the event and when we get here it's down to me out there on the track so it feels amazing to be able to reward them all with this result and keep KTM's winning streak going.
"It was so tight going into the stage this morning, both Pablo and I knew we would have to push right from the start. Unfortunately for him, he went too hard off a dune but he really deserves a win too – everyone that starts this race deserves a win. The plan now is to go home and relax for a little while, I know I need to have my wrist seen to, so I'll get that sorted and then it won't be long before we start it all over again."
Finishing third fastest on today's stage has secured Matthias Walkner the runner-up spot at the rally. Hurting his ankle earlier on in the event following a hard landing off a dune was not enough to slow the Austrian's progress through the race. Excelling on the stages where accurate navigation was supremely important, Walkner stayed in touch with the rally's leaders right to the finish.
Matthias Walkner: "This means so much to me. I wanted so badly to be back on the podium. The race has been so close this year and I truly believe I have ridden my best Dakar ever. The whole 10 days have gone well and I have made the minimum of mistakes. There have been a couple of times where the start position has been tough or we've had trouble with the road book, but overall, I feel really happy with my performance. I did hit one of the dunes very hard today and nearly came off, it sounds like that's what happened to Pablo, so I wish him all the best. Of course, I want to say congratulations to Toby too, he's like an animal to ride with his wrist like that, and win. It's such an emotional race for me – to put so much into something, so much hard work, and to get something back at the end is an amazing feeling."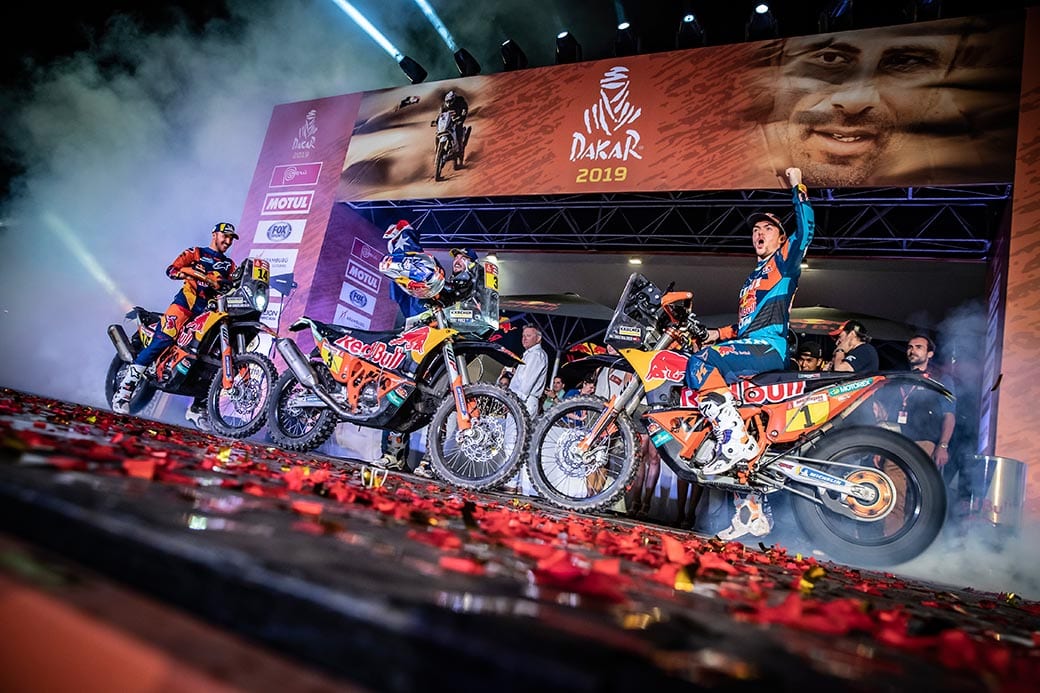 Following the removal of the one-hour penalty issued for missing the start of stage eight, Sam Sunderland has been promoted to third overall at the close of the rally. Riding to fourth on stage 10 to claim the final step on the podium, Sam's result makes it a Red Bull KTM Factory Racing one-two-three.
Sam Sunderland: "It always feels good to cross the finish line at the Dakar. It's been a seriously tough race for all involved, not just for me, but for all the teams, the riders and the organisation. The bike has been flawless all week, so I have to thank my mechanic. I'm over the moon to take third position, it's not quite the result I was hoping for but even a finish at the Dakar is an achievement in itself. Congratulations to Toby, he has put in such a brave ride all week."
Improving and learning more each day at the 2019 Dakar, Luciano Benavides has shown great maturity and skill at the world's toughest rally. Claiming fifth on the final stage, just one second behind Sunderland, was enough to secure the Argentinian eighth place in the overall standings. Following his retirement from the 2018 Dakar where he crashed out on stage 10, Benavides' result this year is testament to the hard work he has put in throughout the months leading up to the rally.
Luciano Benavides: "This is a really crazy feeling. After my crash last year and the injury, it's been a long journey to get back up to full fitness. I have worked so hard on my riding, my navigation and it has all paid off – I couldn't be happier right now. My goal coming into the rally was to finish inside the top 10, which I have done and more. I can't describe how this feels."
Completing her ninth consecutive Dakar, Laia Sanz has once again impressed with her ride at this year's event. Suffering from a virus late on in 2018 meant that it was almost impossible for Sanz to train properly for the race. Despite the disadvantage, the Spaniard used all her skill and experience to ride with both speed and consistency each day to ultimately claim an incredible 11th overall at the end of over 5,000 kilometres of racing – Laia's second best ever result at the event.
Laia Sanz: "I think I was more nervous before this final stage than any other, possibly because of what I have been through to get here. This year has been special and I have achieved a great result so I am very happy. It feels great to finally arrive at the finish and I want to thank the team and my mechanics for getting me here. As we have seen this year, the rally has been very tough on the bikes as well as the riders. I am very proud to be able to ride the best machine for the best team."
Jordi Viladoms (KTM Rally Team Manager): "It's been an amazing race with many ups and downs, often stressful, but I am extremely proud of the whole team's performance. The rally has been far tougher than expected. Despite being shorter than usual it has included days with tricky strategy, navigation and the level of riding has been so close. To win our 18th consecutive Dakar is incredible and a lot of it is thanks to Toby, he won the race even with a lot of pain in his wrist. Personally, I would like to thank KTM for their ongoing support of this rally programme, but all of this is only possible because of how the team works together."
[more-from heading="More Dakar" tag="dakar"]