Red Bull KTM Factory Racing's Sam Sunderland has posted the fastest time on day seven of the 2019 Dakar Rally.
Coming from behind and chasing down the leading riders on the tricky stage, the Brit also narrowed his gap in the overall standings. Luciano Benavides once again rode a superb stage finishing fifth, with Toby Price eighth and Matthias Walkner 10th.
With a short liaison of only 64 kilometres, stage seven of the 2019 Dakar Rally was all about the 323-kilometre timed special. The day's racing was delayed and also halted momentarily midway through, due to fog causing safety issues for the competitors. The first looped stage of the event, riders covered terrain already used in the rally close to the town of San Juan de Marcona. Traces from previous stages only made navigation tougher and with fatigue starting to play its part, it was an exhausting day for all.
Capitalising on his start position of 12th, Sam Sunderland immediately set about making time on the front-runners. By waypoint three, Sunderland was ahead and despite a small error in the latter part of the stage, went on to win by close to two minutes at the line. With a number of his main rivals losing more time on the technical stage, Sunderland improved his position in the provisional overall standings to fourth.
Sam Sunderland: "I'm pleased with today, it's gone really well and it feels good to get some time back on the leaders. Obviously, yesterday I was really disappointed. I opened the stage well but lost time after damaging my rear brake. That upset my strategy a little but then today, I decided to use that frustration to my advantage and push as hard as I could right from the start. I did lose a little time right at the end when it took me a couple of minutes to find a WPC, but overall I'm happy with how I rode the stage. The guys made a few small changes to the suspension on my bike last night and I am really grateful for that. It seems to have helped because the bike felt great today. Tomorrow we start with the fastest cars and trucks, which will make things even more unpredictable again, so we'll see how we go."
Gaining confidence as the rally progresses, team junior Luciano Benavides rode an excellent stage to place fifth. Having the opportunity to ride with stage-winner Sunderland helped to increase the Argentinian's experience even further. Aiming for a top-10 result overall, Benavides is keen to maintain his impressive form to the finish.
Luciano Benavides: "Today was good for me, I finished fifth, which is another best result for me. My rhythm right from the start was good but I didn't take any risks because I wanted to stay safe and make it to the finish. Sam caught and passed me in the dunes so I was able to follow him for about 100 kilometres. That was really useful as I was able to watch how he rides and I believe I learned a lot from that. I start from the front row on tomorrows stage so hopefully I can stay with the others and get a good result."
Still suffering with his injury, Toby Price battles on. Eighth place on the day's stage, and making up time on a number of his closest rivals, the Australian successfully defended his third place in the provisional overall standings. Determined to make the finish, Price will keep on fighting for a top result.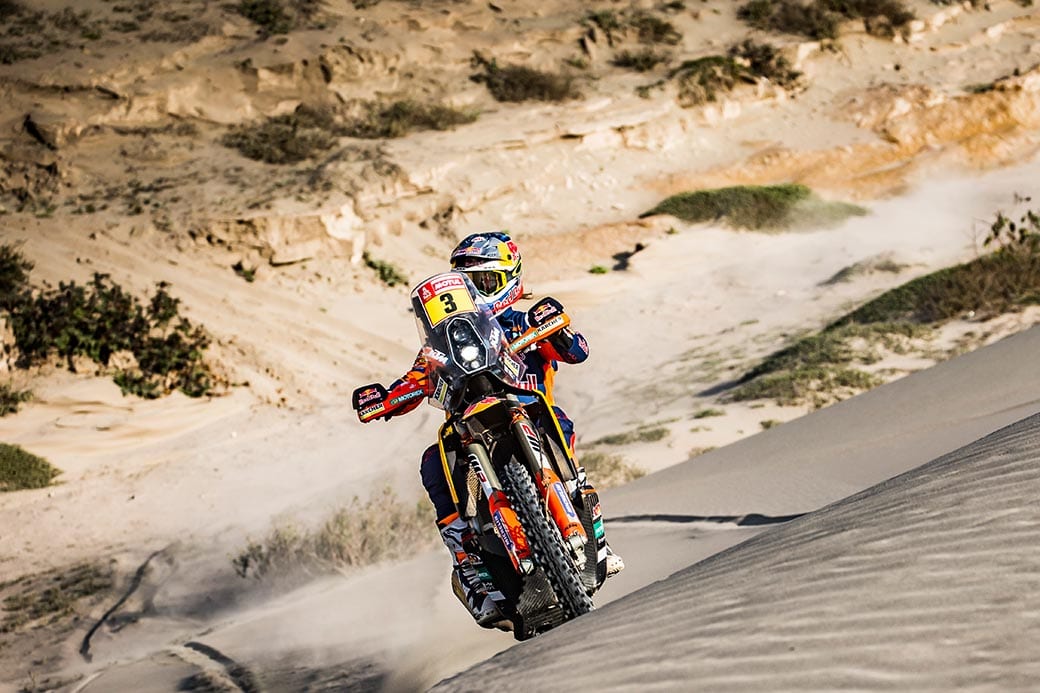 Toby Price: "The day has gone well, it ended up with a lot of us riding in a group today. We did get lost at one point and lose a few minutes but all-in-all things are going ok. Obviously, my wrist is still giving me some pain, but we're past the point of no return now – there's no stopping. I'm still sitting in third overall with just a few stages left so I'll continue taking each day as it comes and keep on fighting."
Matthias Walkner rode a solid stage seven. The third rider away from the start this morning, he navigated perfectly through the well-used route, ultimately catching a group of riders ahead of him. Successfully completing the day in 10th place, Matthias will enjoy an advantageous start position for tomorrows 'Super Ica' stage eight.
Matthias Walkner: "Things started off well today, up to around kilometre-200 my pace was strong. I caught up with the guys in front after that and we got a little lost trying to find one of the waypoints. Towards the end of the stage I had quite a big crash but was luckily able to get straight back on. It's been a tough day, but I've done my best and I'm looking forward to tomorrow."
Maintaining her excellent run of form, despite not feeling 100 per cent comfortable on the rough stage, Laia Sanz placed 22nd fastest. The multiple world champion continues to sit just outside the top 15 in the overall standings in 16th place and is keen to improve on that position as the rally comes to a close.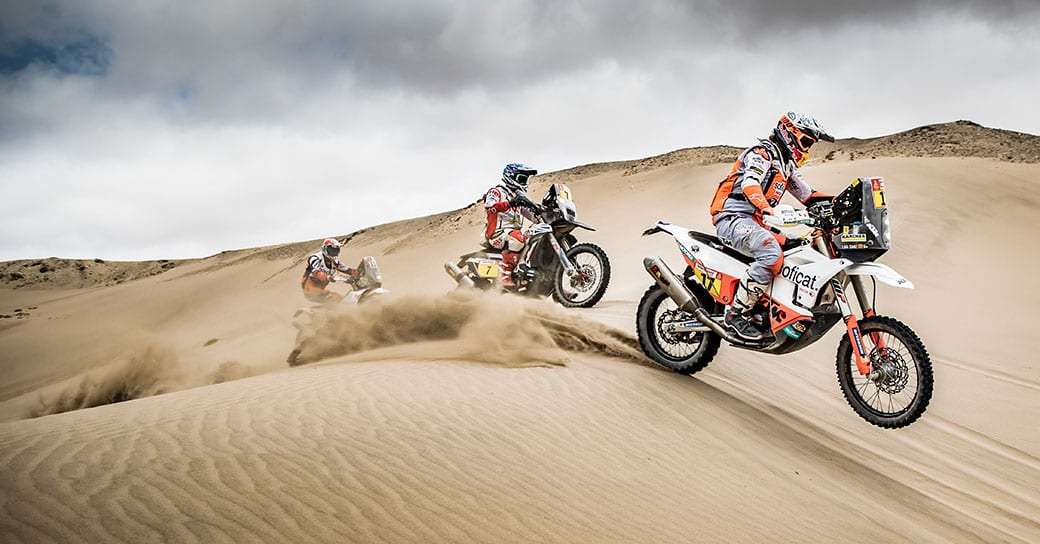 Laia Sanz: "It was a tough day for me today, I didn't feel strong so didn't want to push too hard. We were crossing traces from previous days a lot and I don't enjoy that so much, I prefer to navigate my way through the stage. I arrived safely at the finish with no crashes, which is important. I am hoping that tomorrow I will feel comfortable to push again and improve my result."
Tuesday's stage eight of the rally, the 'Super Ica' will see the top 10 bikes, cars and the top five trucks set off in their finishing order from the previous day. As the fastest competitor from all classes, Sam Sunderland will have the task of opening the track. The total distance travelled for the day will be 575 kilometres, 360 of which timed special.
[more-from heading="More Dakar" tag="dakar"]