Red Bull KTM Factory Racing's Sam Sunderland has won the Silk Way Rally – round two of the 2019 FIM Cross-Country Rallies World Championship.
Team-mate Luciano Benavides finished in fifth overall to top the Junior class for the event. KTM Factory Racing's Laia Sanz won the Women's category with an excellent seventh overall.
The 10th and final stage of the Silk Way Rally proved to be one of the toughest of the event. Winding its way along fast rocky tracks and through the ravines and dry river beds of the Gobi Desert, the 255-kilometre timed special required 100 per cent focus right to the finish.
Sam Sunderland, having ridden superbly in terms of speed and navigation through Russia and Mongolia, created a comfortable advantage at the head of the overall motorcycle class when the rally entered China. Using his extensive skill and experience, he put in a champion's ride to maintain a fast and largely mistake-free pace and carried his lead to the final stage of the event, finally claiming outright victory.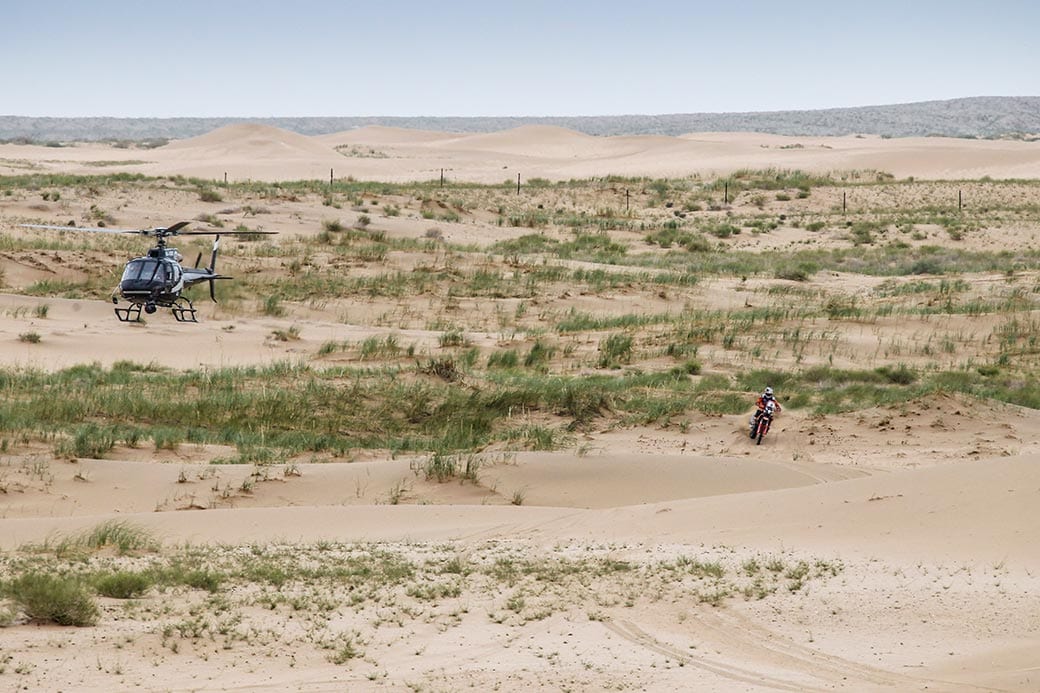 With no fewer than three stage wins – one having opened stage five – Sam's dominant performance at the Silk Way Rally gives him his second consecutive victory in this year's FIM Cross-Country Rallies World Championship to extend his lead with two rounds left to race.
Sam Sunderland: "It's really cool to take the win here in China. I'm really happy with the job done by myself and the team – it wouldn't have been possible without this big effort from everyone to come to Russia, Mongolia and now China.
"It's been a huge adventure and one that we'll all remember for a long time, that's for sure.
"For me I'm so happy to get the win, it makes it two-out-of-two this championship and it's a really important one because of the points earned this round. I felt really good at the beginning of the event and was able to create a good gap.
"I felt a bit sick during the middle stages but was able to manage the race and stay on a good pace right to the end. I'm really pleased for Andrew, who has ridden a great race, and also Luciano and Laia. Now I'm looking forward to a bit of rest."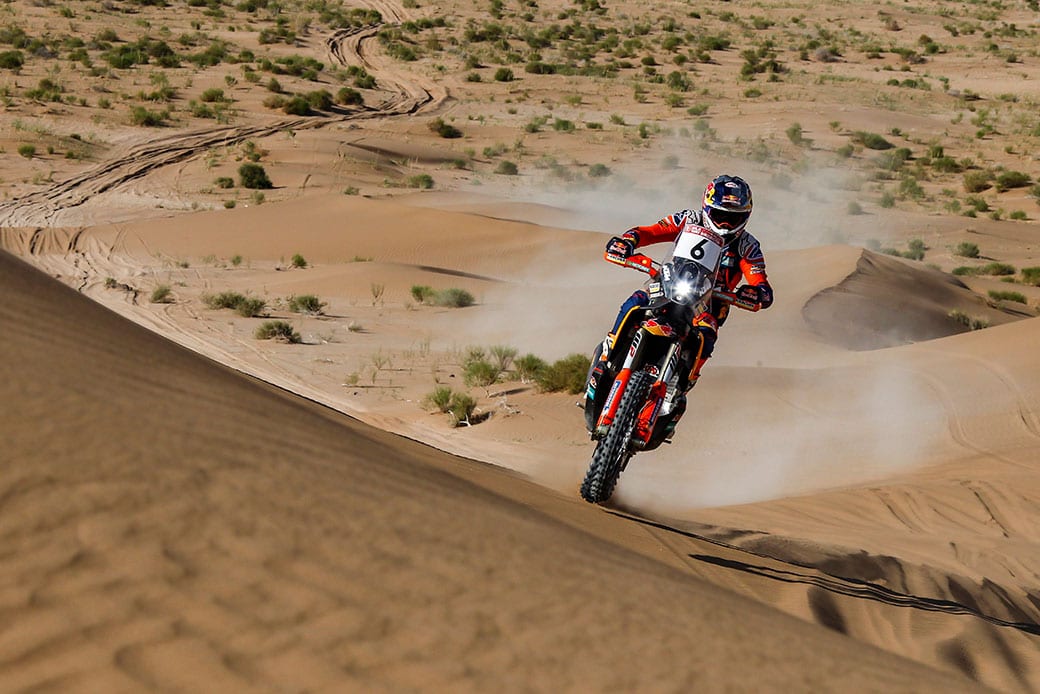 Putting in an impressive performance throughout the event, Luciano Benavides placed eighth on the final stage to claim fifth place overall and top the Junior class. Continuing to learn and gain experience, the young Argentinian rode a mature race, often bouncing back from small navigation errors to complete each stage consistently and secure his solid top-five result. With two rounds of this year's FIM championship remaining, Benavides' goal is to increase his rally knowledge and overall speed.
Luciano Benavides: "For me, it has been a really good rally – I finished fifth overall and won the Junior category. It's been a tough rally, but I have certainly learned a lot. I made a few mistakes in the last few days that ended up costing me some time, but I know what I did wrong and I need to go away now and work on those areas. Overall, I am happy with how I rode and the bike has been perfect. My confidence is growing all the time and each rally we do I learn a little bit more and gain a lot of experience. Finally, I want to thank the team – to be in this KTM family is an amazing feeling and everyone did a great job."
KTM Factory Racing's Laia Sanz rode to a safe 13th place on stage 10 in order to minimise any possible mistakes and safeguard her position in the overall standings. The Dakar Women's Champion marked her first competitive outing in this year's FIM Cross-Country Rallies World Championship with an excellent seventh place overall – beating many of the championship regulars in the process.
Laia's impressive speed and consistent, error-free finishes paid off, especially at an event as tough and demanding as the Silk Way Rally. Sanz will now take some rest before continuing her Dakar preparation at the next race in Chile.
Laia Sanz: "I took it easy today as I wanted to stay safe and keep my position in the standings. Overall, it has been a good rally for me, these last days have been tough and certainly very tiring as well as being technical. I'm happy to be at the end safely and I'm very happy with my result. The organisation of the rally has been really good and I'm so happy that I came. I had some really good days in Mongolia but here in China I struggled a bit more. Now, after some rest, I will continue to train and focus as always on the Dakar Rally next year."
The next rally event contested by the Red Bull KTM Factory Racing team will be the Atacama Rally, round three of the FIM Cross-Country Rallies World Championship, held in Chile from September 1 – 7.
Provisional Results Stage Ten – 2019 Silk Way Rally
1. Kevin Benavides (ARG), Honda, 2:40:49
2. Adrien Van Beveren (FRA), Yamaha, 2:42:39 +1:50
3. Andrew Short (USA), Husqvarna, 2:42:51 +2:02
4. Joan Barreda (ESP), Honda, 2:43:03 +2:14
5. Jose Cornejo (CHL), Honda, 2:43:11 +2:22
6. Sam Sunderland (GBR), KTM, 2:45:20 +4:31
8. Luciano Benavides (ARG), KTM, 2:47:52 +7:03
13. Laia Sanz (ESP), KTM, 2:59:19 +18:30
Provisional Standings (After Stage Ten) – 2019 Silk Way Rally
1. Sam Sunderland (GBR), KTM, 26:12:47
2. Andrew Short (USA), Husqvarna, 26:33:09 +20:22
3. Adrien Van Beveren (FRA), Yamaha, 26:33:48 +21:02
4. Kevin Benavides (ARG), Honda, 26:34:24 +21:37
5. Luciano Benavides (ARG), KTM, 26:49:37 +36:50
[more-from heading="Latest News" category="news"]