Claiming his first individual stage victory at this year's Dakar Rally, Rockstar Energy Husqvarna Factory Racing rider Pablo Quintanilla has retaken the lead of the event's provisional overall standings.
Securing a solid eighth place result on stage six Pablo's team partner Andrew Short remains well placed inside the top 10 in the overall.
Entering the second week of Dakar in high spirits, Pablo Quintanilla put in a great performance today in Peru. Involved in a battle for the stage victory with fellow South American Kevin Benavides, Quintanilla took the virtual lead before the penultimate waypoint and never looked back.
Following a well-considered plan of attack, the FR 450 Rally mounted Quintanilla has put himself back into the rally's overall lead with four crucial stages still to be contested in the Peruvian countryside. Overall, Pablo is now four minutes and 38 seconds ahead of his closest rival.
Earning yet another top 10 stage result, Rockstar Energy Husqvarna Factory Racing's Andrew Short wrapped up stage six with an eighth-place result. Battling through tough conditions and tricky navigation the American racer is now tenth overall, 38 minutes behind his team partner Quintanilla.
Monday's stage seven includes a loop around the city of San Juan de Marcona. In a total distance of 387km, the day's timed special is 323km long.
Pablo Quintanilla: "Everything went according to plan today and I'm happy with the stage win. The day wasn't easy, the pace was quite fast, and navigation was difficult. We also had to race through strong headwinds. We had a good battle with Kevin Benavides and at one point I managed to pass him and retain the lead. It's good to be back on top in the overall. The race is still long and I want to stick to my plan. Tomorrow I will be the first rider to start the stage and this is surely a disadvantage. But my plan is to fight back for a good result on day eighth and then take advantage of the mass start on day nine. Lots of things can happen these next few days but I will do my best to keep my eyes focused on my goals."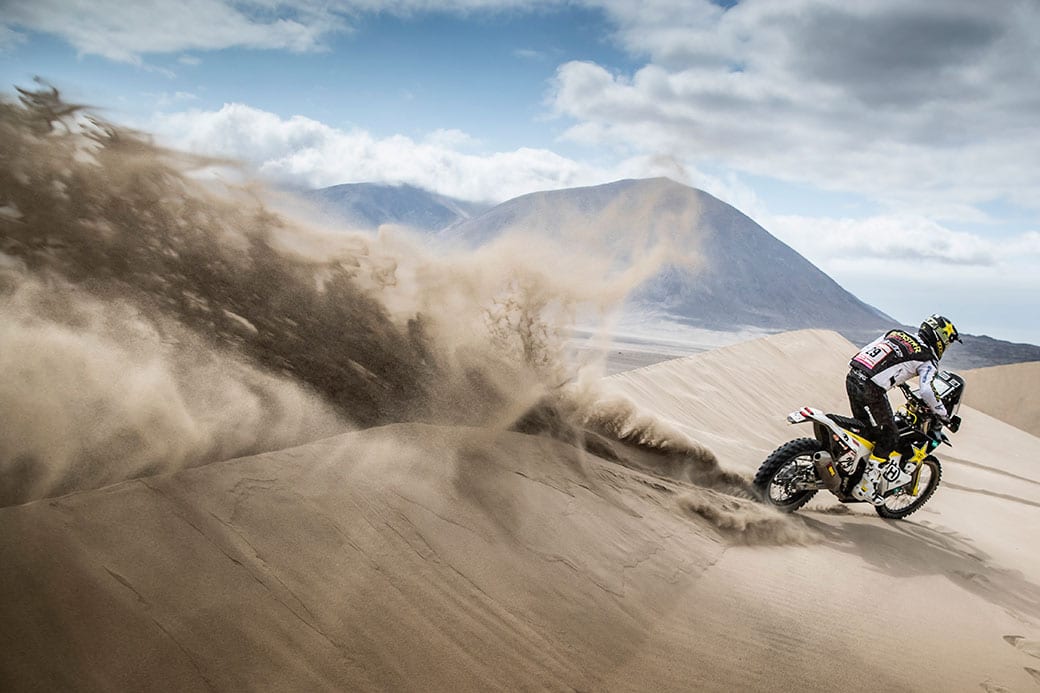 Andrew Short: "It was a tricky day for me. The dunes are really soft and it's hard to get a good rhythm. I saw a rider crash in front of me in the first part of the stage and that was a bit disappointing. It took me some time to find my pace. After the halfway point I caught up with a few other riders and we continued the rest of the stage racing alongside each other. It was a hard day for all of us with the wind and the terrain, everything was really tough. Despite all that, I'm still in a good position in the race and I have a few more stages to improve my position in the overall standings."
[more-from heading="More Dakar" tag="dakar"]