Successfully battling his way through a tough stage four of the 2019 Dakar Rally, Rockstar Energy Husqvarna Factory Racing's Pablo Quintanilla is holding on to a strong runner-up position in the event's provisional overall standings.
Joining Pablo at the Moquegua bivouac tonight, Andrew Short is currently 11th in the provisional overall.
Four days into the 2019 Dakar and the event in Peru has already proven to be a big challenge for all competitors. Thursday's stage four was a fast-paced one that featured many tricky navigational challenges.
Highly experienced rally racer Pablo Quintanilla battled through the day's tough navigation to post the 14th best time on the special stage. Currently second in the provisional overall, Pablo is now two minutes and 19 seconds behind the provisional overall leader.
Following a demanding stage three, Andrew Short opted to take no risks on Thursday. Enjoying a steady pace from start to finish, the American racer claimed a 12th place result for the day and is now less than two minutes behind the top 10 in the provisional overall.
Tomorrow's stage five will take competitors back to Arequipa and to the end of the two-day marathon stage. Scheduled for tomorrow is a 345km long timed special, with a total distance of 776km to be covered by all motorcycle racers.
Pablo Quintanilla: "It was a really hard stage today. The first part had some tricky navigation in the fesh-fesh. In the last waypoint before the refuelling I made a mistake but was able to get back on the tracks quickly. Then after the neutralisation point the tracks were really hard. There was a long dry river bed with many stones and it was hard to make some time. I knew from the beginning of the stage that it was possible to get caught by other riders and when it happened I just tried to ride with them. Overall, I'm happy to have finished the first part of the marathon stage without any problems. After some rest tonight, I'm hoping to be back stronger for the second part of the marathon stage tomorrow."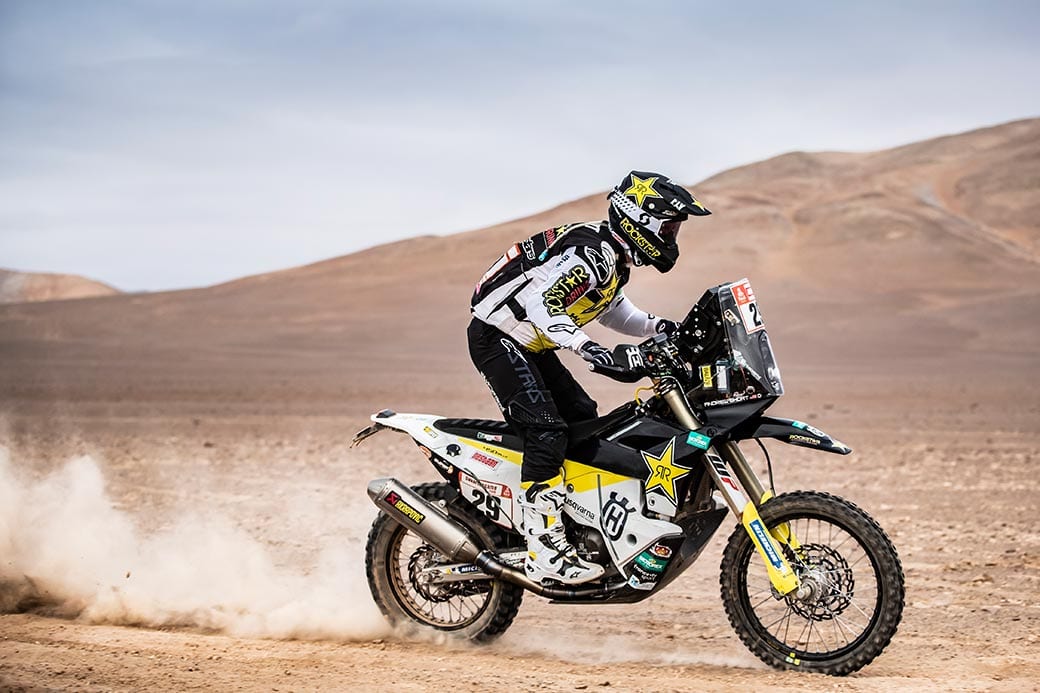 Andrew Short: "My day was pretty steady and smooth and I tried to save energy on my body for the next days. Today the pace was really fast, we were going fifth and sixth gear in the fesh-fesh. I stayed smooth and tried not to take any unnecessary risks. My result was good considering I didn't push or go over the limits today. I'm happy that my body is getting better after the crashes on Wednesday. Overall, I feel I can push more in the technical terrain and I'm looking forward for the dune stages to come."
[more-from heading="More Dakar" tag="dakar"]