In what was yet another challenging day of racing at this year's Dakar Rally, Rockstar Energy Husqvarna Factory Racing team riders Andrew Short and Pablo Quintanilla enjoyed strong performances during Monday's stage seven of the event.
With Short securing a solid sixth-place result for the day, Quintanilla finished 14th, which places him fifth in the provisional overall standings.
Featuring a loop around San Juan de Marcona, stage seven of the Dakar featured lots of dunes and some notably tricky navigation. The first rider to start the special stage, Pablo Quintanilla lost time trying to locate a number of waypoints. Posting the 14th best time for the day, the Chilean rally star is now less than 10 minutes behind the provisional overall leader.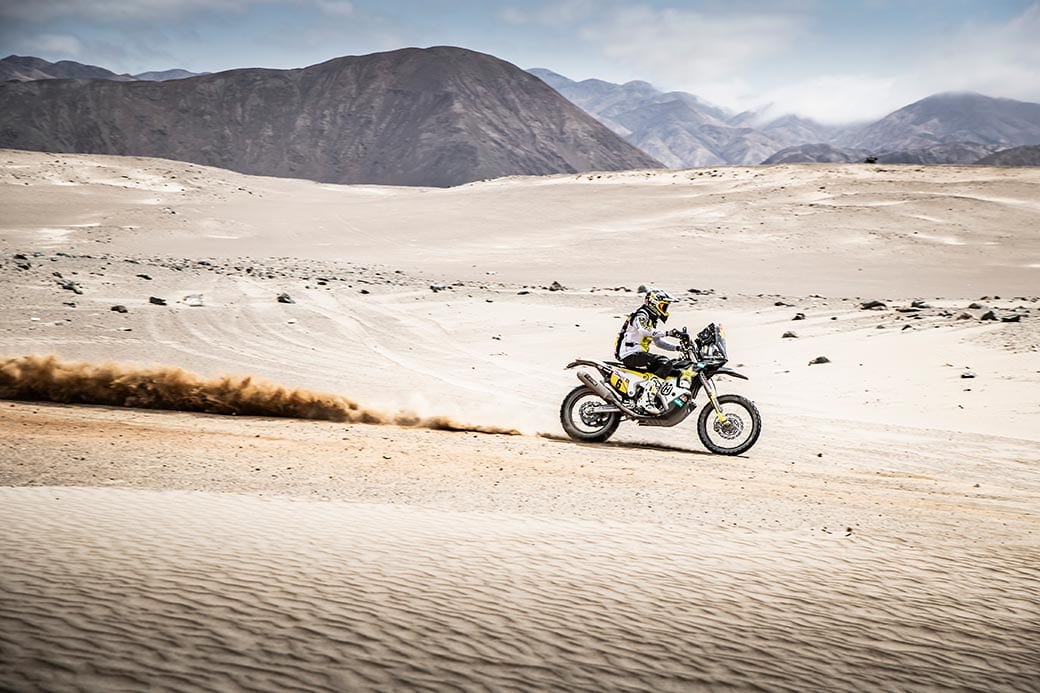 Pablo Quintanilla: "It was a very complicated stage and there were a few moments where we struggled to spot some waypoints. For me it seemed like a never-ending stage. I knew from the start that it would be hard for me to get a good stage result today, considering I was the first rider to start in the morning. It is what it is and I'm looking ahead to the coming stages. Tomorrow I will have a much better starting position from the second wave of riders. Everything is still open in the overall standings and my goal remains to battle for the win. It's all to play for until the last day and the last few kilometres. I will continue giving my all until we reach the finish in Lima."
Continuing to demonstrate improved speed and consistency, Andrew Short rode most of the special stage alone. Posting the sixth fastest time for the day, the American racer is now ninth in the provisional overall standings and less than three minutes behind the rider in eighth place.
Kicking off early on Tuesday morning, stage eight of the Dakar will feature a mass start that will involve motorbike, car and truck competitors. Pablo Quintanilla will be among the second wave of competitors to start the stage, thus hoping to gain back some of the time lost today.
Andrew Short: "My pace was good today. It seems that in this area of Peru the weather is a little extreme. There's always something crazy over here and today we had some fog, a lot of wind and some parts with fesh-fesh. I rode most of the stage by myself and then towards the end I got caught by a couple of other riders. Racing alongside others, it's much easier to know and control my pace. Overall, it was a decent day and the guys in front of me in the overall are now within seconds or minutes. It's realistic for me to battle with the rider in front of me in the overall. I've made some big improvements this year with my navigation and my speed and I'm happy with that."
[more-from heading="More Dakar" tag="dakar"]