Putting in yet another solid stage performance today in Peru, Yamalube Yamaha Rally team rider Adrien Van Beveren has managed to move up three spots in the provisional overall standings. Currently holding the runner-up spot in the overall standings, the WR450F Rally mounted racer is less than eight minutes behind the provisional race leader with just three more stages to go.
With Monday's stage seven being one of the most demanding of this year's Dakar, Adrien Van Beveren made full use of his acute navigational skills in the dunes of Peru. The first rider to find the right tracks in one of the most crucial sections of the special stage, Adrien gained time to his rivals. Earning a strong fourth place result for the day, he added yet another top-five stage performance to his 2019 Dakar Rally campaign.
Adrien Van Beveren (4th Stage 7 / 2nd Overall): "I've put it all on the line today for a good result and I'm happy I climbed a few places in the overall. I had a good day and really gave my best. I knew it would be a tricky stage in the dunes, so I decided from the start to be extra careful on my navigation. At one point I saw a big group of riders lost and searching for the waypoint. I remained calm and was the first one to find the waypoint. I thought I would be able to make up some good time there, but the other riders followed me in the right tracks. I am still in the game and the next few stages will be very important. I feel I'm on top of my game at the moment and I will continue giving it all here in Peru."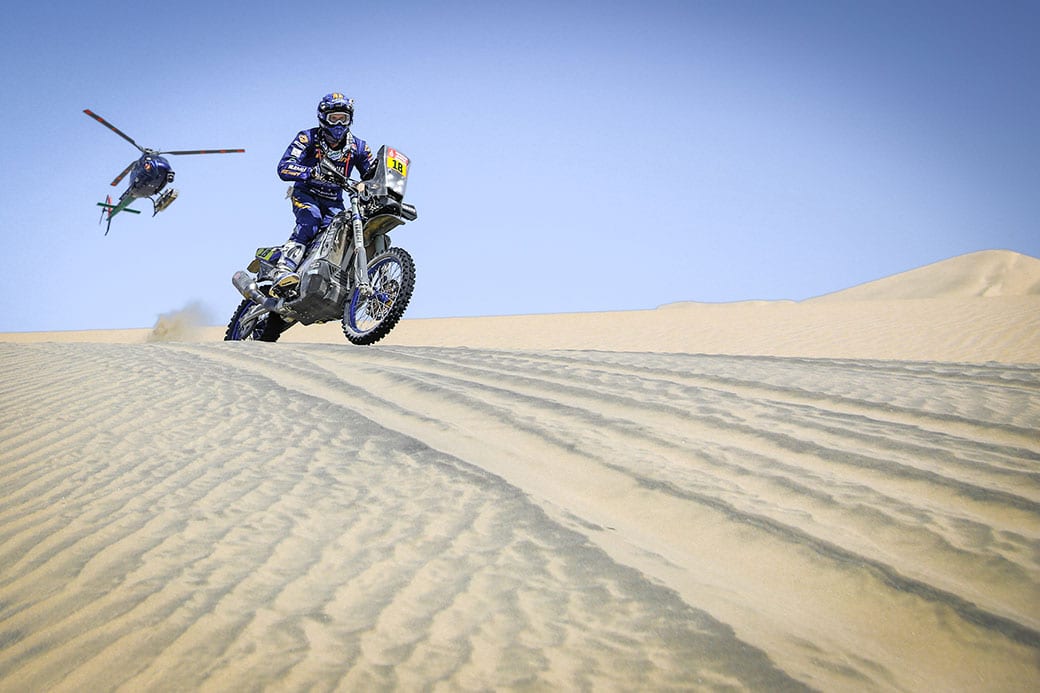 Catching up with the leading group inside the special stage, Xavier de Soultrait earned a seventh-place result on today's stage seven. Picking up a small one-minute penalty for exceeding the limit in a 30 km/h speed zone, Xavier is now 10th in the provisional overall standings. The Frenchman now his eyes set on moving higher up in the overall rankings during the remaining three days of the Dakar.
Tuesday's stage eight will feature a mass start, with the highest placed motorcycle, car and truck racers starting together. With Adrien in the first wave of riders to start the 360km timed special, Xavier will look to take advantage of his starting position from the second wave. The stage will lead competitors to the penultimate bivouac in Pisco.
Xavier de Soultrait (7th Stage 7 / 10th Overall): "It was a much better day for me and my speed was on point today. I was fast while also riding safely and not taking any big risks. I caught up with the leading group of riders in the special and decided to attack. Unfortunately, then I started feeling the effects of my sea sickness and was unable to give 100 per cent. I took some more pills and I feel better now. Tomorrow we will have a different stage, with bikes, cars and trucks starting together in large groups. The stage will again be in the dunes so navigation will be the crucial factor."
[more-from heading="More Dakar" tag="dakar"]