Last week Sherco Factory Racing's Wade Young become the youngest ever winner of Red Bull Romaniacs, round four of the World Enduro Super Series. For five epic days of Enduro racing the 22-year-old South African battled both his rivals and the elements to secure the biggest victory of his career to date.
Pushing to his absolute physical limits during each of the long and demanding days of racing, Young conquered the toughest Enduro terrain Romania had to offer and etched his name onto the winner's list of the world-famous Hard Enduro Rallye.
Congratulations Wade, how does it feel to have won the 15th edition of Red Bull Romaniacs!
Wade Young: Thanks. This race is probably the toughest Enduro race around so I'm really stoked on the win. It's a hugely demanding event. It's five days on a bike and you get pushed to your absolute physical limit. I've been trying for a while now to get it done and finally the winner's trophy is mine. But thanks also go to my whole Sherco Factory Racing team, my mechanic and family and friends who've kept me going all week.
Entering the final day of racing you only had a small four-minute lead, were you nervous about that?
I felt like I was riding well all week and knew that I could do it. But also, Manuel Lettenbichler was riding good too and was keeping me honest. He was fast on the uphills but I managed to reel him in on the downhills and flowing sections of the course. It went like that for the whole day right until the last couple of checkpoints. I knew then it was a case of now or never and I just gave it everything I had. I rode at maximum attack for the final 20 kilometres.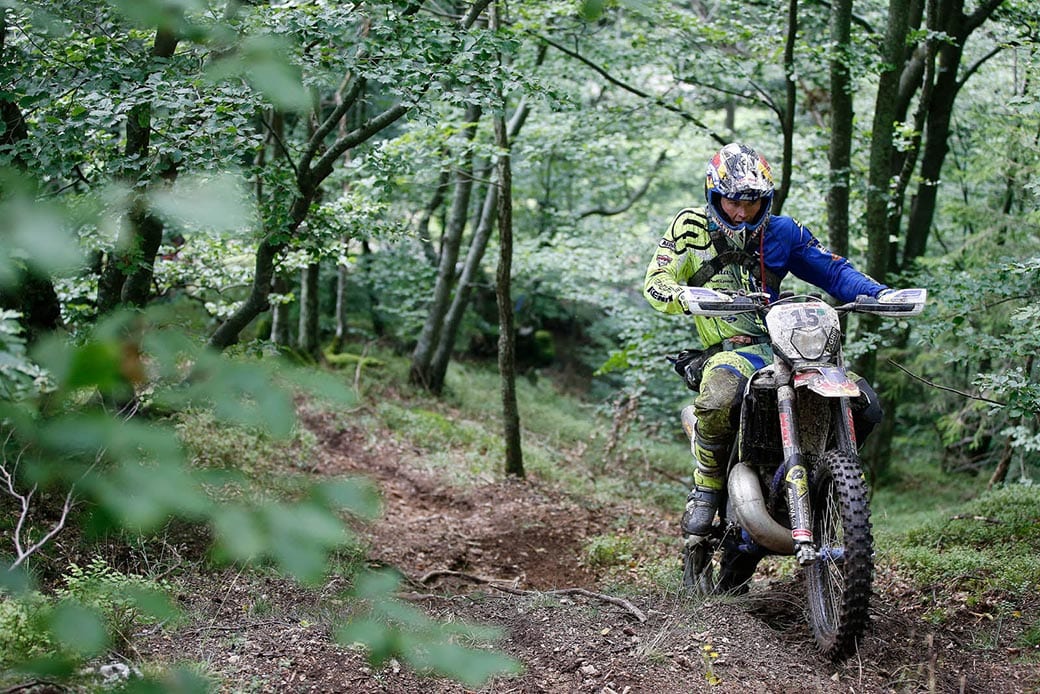 What was the feeling like entering the final hillclimb in Gusterita, knowing you'd done enough to win?
I could hear the crowd cheering and the atmosphere was just pumping. The final hillclimb is always nervy because it's so steep and easy to make a mistake. With the gap being so tight crashing there could have lost me the entire race. I wanted to celebrate but held back until the finish line and then once I passed the chequered flag the enormity of it all hit me. It was an unreal moment in my Enduro career.
Aside from winning the race, were there any other highlights for you during the Red Bull Romaniacs?
Probably just before the service point on off-road day three. There we had the hardest climb of the race and I managed to pull a gap on the guys. Up until then the climbs were not my strongest asset and to just get it right and build a small lead felt awesome. It was a little victory in itself.
You've had multiple podium results here and now a win, what is it about the Red Bull Romaniacs that suits your style of riding?
I think it's the long days — it's not just all about technique. Somewhere like the Erzbergrodeo relies a lot on technique and trials riding, where for me Red Bull Romaniacs is a pure form of Enduro riding. It's man and machine against the elements for as long as it takes each day. It's the toughest and most physically demanding Enduro race in the world. It requires you to dig deep and that's something I can do when the going gets tough. I feel like I showed that this week — there were some gnarly days for sure.
Finally, with a debut Red Bull Romaniacs win do you think you can keep that momentum going and claim a debut Red Bull 111 Megawatt victory?
I'd definitely like to. Although it's completely different to here in Romania, it's a race where I've finished on the podium before. I'm riding well and I've always been strong there, so I'll try to fight for the top step of the podium again.