Spain's Mario Roman drew first blood as the opening round of the World Enduro Super Series got underway in spectacular Portuguese Hard Enduro style at the Toyota Porto Extreme XL Lagares.
Making it a Sherco Factory Racing 1-2, Wade Young finished as runner-up to Roman, while Manuel Lettenbichler (KTM) completed the top three.
While there was no podium success for the British contingent, elder statesman Graham Jarvis (Husqvarna) narrowly missed out on a top three spot, finishing six seconds behind Lettenbichler in fourth.
Back in action after a winter recovering from a serious leg injury, defending WESS champ Billy Bolt started his season with fifth, while Jonny Walker – Friday's Endurocross winner – ended Sunday's main event in a solid sixth.
"I feel amazing, it's so good to get the win," said an ecstatic Roman at the finish line following four hours of intensely-fought racing. In 2016 I finished about a minute behind Alfredo and then two years in a row I had mechanical issues with my bike, but I always believed in myself and knew I could do it this year.
"On the first lap I was lying fifth or sixth and I couldn't see the top two guys, but as the race went on, I started to feel stronger and was able to able to push 100 per cent and pass the others one-by-one. The track was so much more difficult on the second lap and I knew I would be able to make up time on those tricky sections."
The opening round of WESS got underway at Portugal's toughest Hard Enduro – Extreme XL Lagares.
Now in its 15th edition, this year saw the usual Friday Endurocross shakedown for the riders before Saturday's infamous blast around nearby world heritage city Porto. Sunday was Hard Enduro mode with the 54-strong Pro class faced with two laps of slippery, rocky riverbeds in blisteringly hot sun. The remainder of the 300 entry needed only to complete one lap, but it was still a daunting task.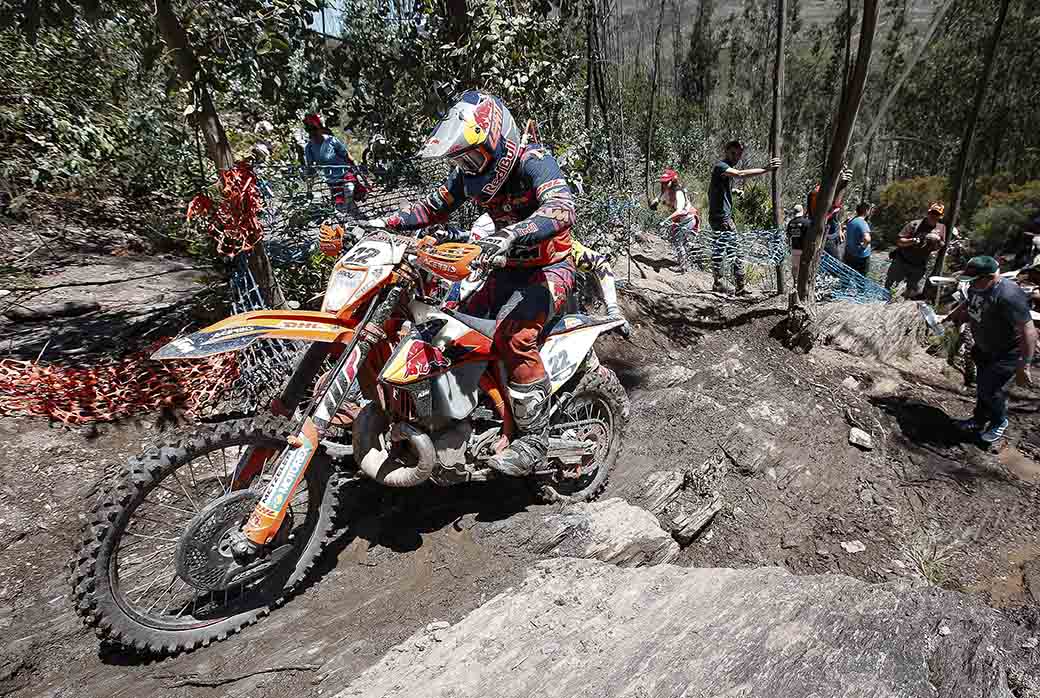 Walker off to a winning start
Rain in the build-up to the event, ensured not only that the riverbeds would be full for Sunday, but also a muddy start on Friday. Through a series of heats, the Pro class were whittled down to a final 10.
Jonny Walker, keen to show his form, slotted into third being Blazusiak and Lettenbichler on the opening lap. Then a mistake by both allowed him to lunge through on lap two and take the lead.
It was one he wouldn't let go of either and herode clear to take a confidence inspiring win.
I'm delighted with that," said Walker. It's not a huge win, but it's a big milestone for me in my recovery. I just did what I had to do and made a break for it when I got the chance.
"Hopefully things continue like this for the rest of the weekend."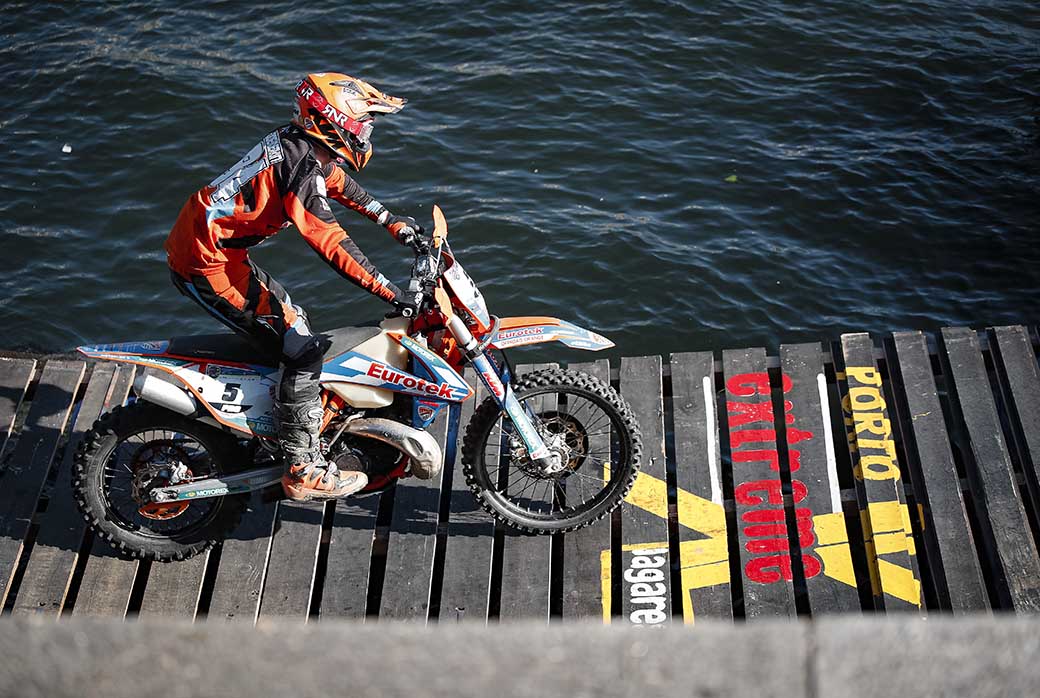 Gomez masters the Porto cobbles
Moving to Porto it was time for the City Prologue. On the bustling tourist quayside the narrow cobbled streets were taped off and the riders went head-to-head. A master of the prologue, Alfredo Gomez (Husqvarna) was the rider to beat. Inch perfect he put himself out front as they dashed under the archway into the staircases and took an untroubled win.
"The start was key to winning the prologue final. I managed to get into the lead and was able to control the pace. I'm not sure why but I always enjoy riding it – I think it's because you are so close to the spectators on the track," said Gomez.
Behind him the battle for the remainder of the podium was played out between Blazusiak, Bolt, Walker and Lettenbichler. Holding firm despite a few mistakes, Blazusiak grabbed second.
In a showdown for third, Bolt held off a late attack from Walker to complete the top three.
In his bid for the podium, Walker misjudged the floating bridge and ended up in the river. With Walker taking an unplanned bath, Lettenbichler capitalised to take fourth, with Young fifth.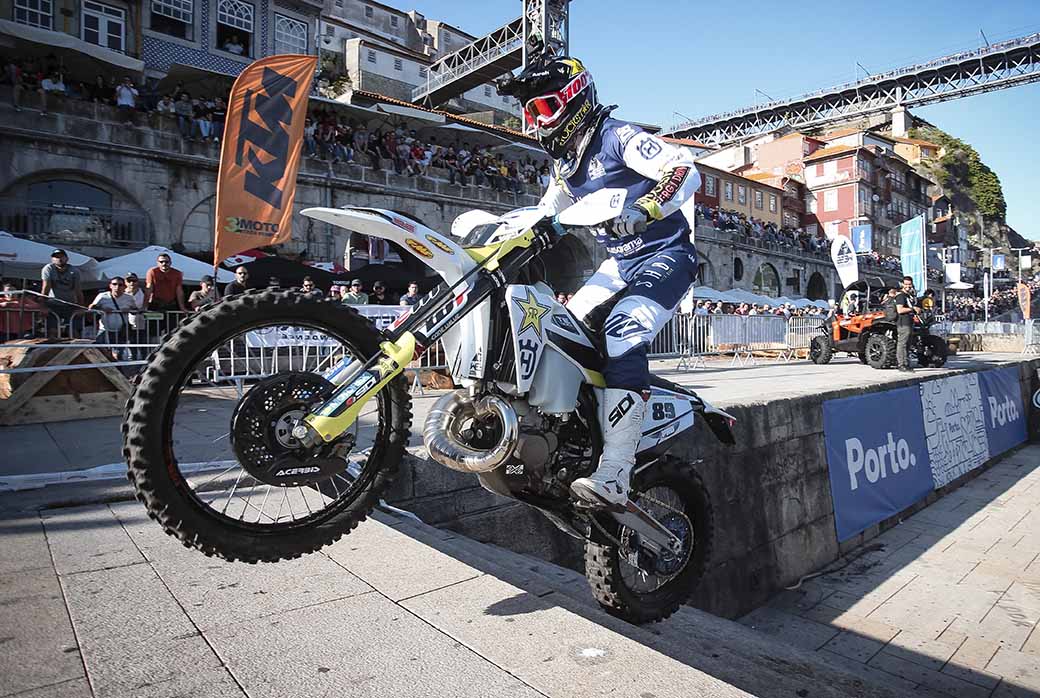 Tension builds for Sunday's action
Getting down to the business end of things, tension was high on Sunday morning as the world's best Enduro riders gathered to take the start. Setting off at 15-second intervals, it was Gomez who led the field away with Blazusiak, Lettenbichler, Bolt, Young, Walker and Roman in tow.
[inline-teaser article="video-wess-extreme-xl-lagares-2019″ class="watch" align="left"]
At the first major riverbed rock step, Blazusiak had reeled in Gomez, with Lettenbichler hot on his heels, having also caught up to and overtaken the Spaniard. Midway through lap one the running order changed. Setting an intense, fast pace, Lettenbichler moved into the lead and opened up a five-minute advantage over Young with Bolt, Walker and Jarvis. Just behind them sat Roman, waiting.
Heading out for lap two, Lettenbichler was now six minutes clear and looking strong. But Roman and Young had other ideas and impressively upped their pace in the deteriorating conditions.
The duo reeled in the young German who appeared to have run out of steam at the crucial moment.
Breaking both Young and Lettenbichler, Roman put his Sherco in front and charging all the way to the finish claimed a memorable victory at the opening event of the season. Young finished four minutes behind as runner-up.
Jarvis misses podium by seconds
Jarvis quietly worked his way up the leaderboard on lap one to position himself for an attack on the podium on lap two. Gaining ground on the early leaders, he worked his way up to second midway round the lap before a couple of small mistakes saw him lose touch with the Sherco duo.
Initially looking to have snatched third from Lettenbichler on corrected time, the German was awarded time he lost on lap one due to a track marking error and finished on the podium, slotting Graham back to fourth.
"I was feeling a bit tense on the first lap, but loosened up on the second and was able to up my pace a little," said Graham. "The bike felt great today and I was really able to attack the gnarly stuff – some of it I was able to get up in one go.
"It feels good to get a top result, even if I did just miss out on the podium. I'm looking forward to my next race now (Erzberg)."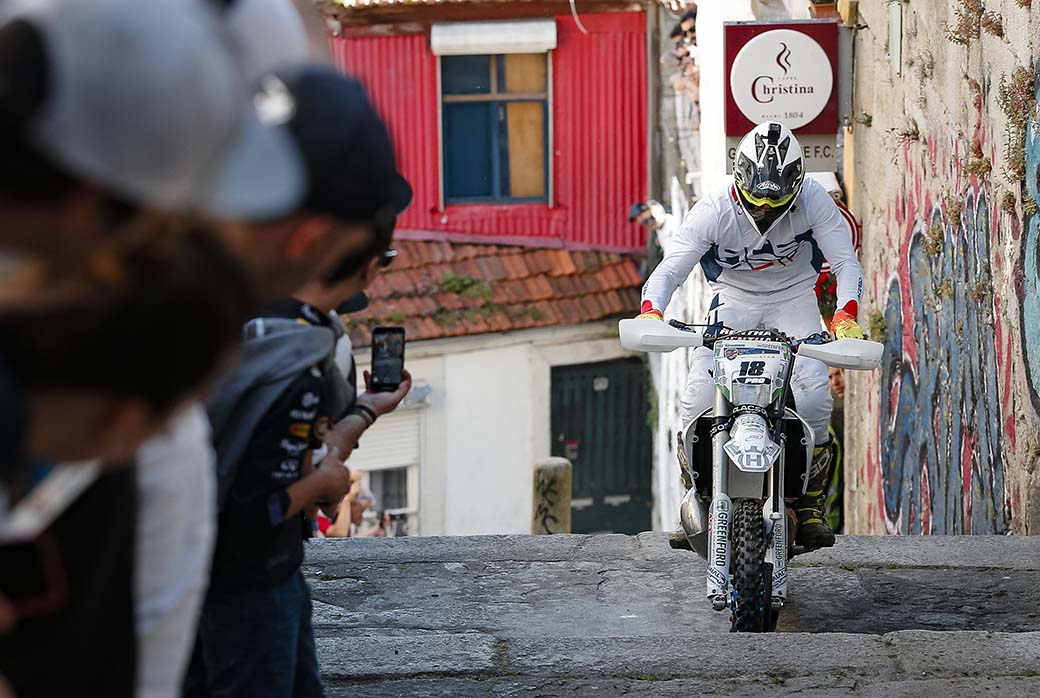 Bolt digs deep for fifth
With Jarvis content in fourth, Bolt completed the top five, while Walker rounded out the top six. "I'm over the moon with the result – it feels like a win," admitted Bolt. "Six weeks ago, it didn't look like I would be ready to ride here after my injury, so to be able to finish with such a strong result feels amazing.
"I didn't really have a plan coming into today's race, I just wanted to try and stick with the other guys for as long as I could. My pace on the first lap was good, I just didn't quite have the energy to keep up when we got back into the technical stuff on the second lap. I gritted my teeth and kept going, but it was quite a lonely second lap to be honest."
Putting in a solid ride on some of the toughest terrain around, Jonathan Richardson (Husqvarna) carded an impressive top 10 result. Just missing out on a top-15 result, KTM's William Hoare ended his day in 16th.
"It was brutal out there at times," said Richardson. "You were constantly fighting for traction on the climbs. One section had grip, the other was like riding on glass – nothing. Lap one was good and I held my ground well and didn't make too many mistakes.
"Lap two was harder as we hit traffic with riders still on lap one. In this heat that took a lot of energy. I'm pleased with 10th in company like this it's been a good result."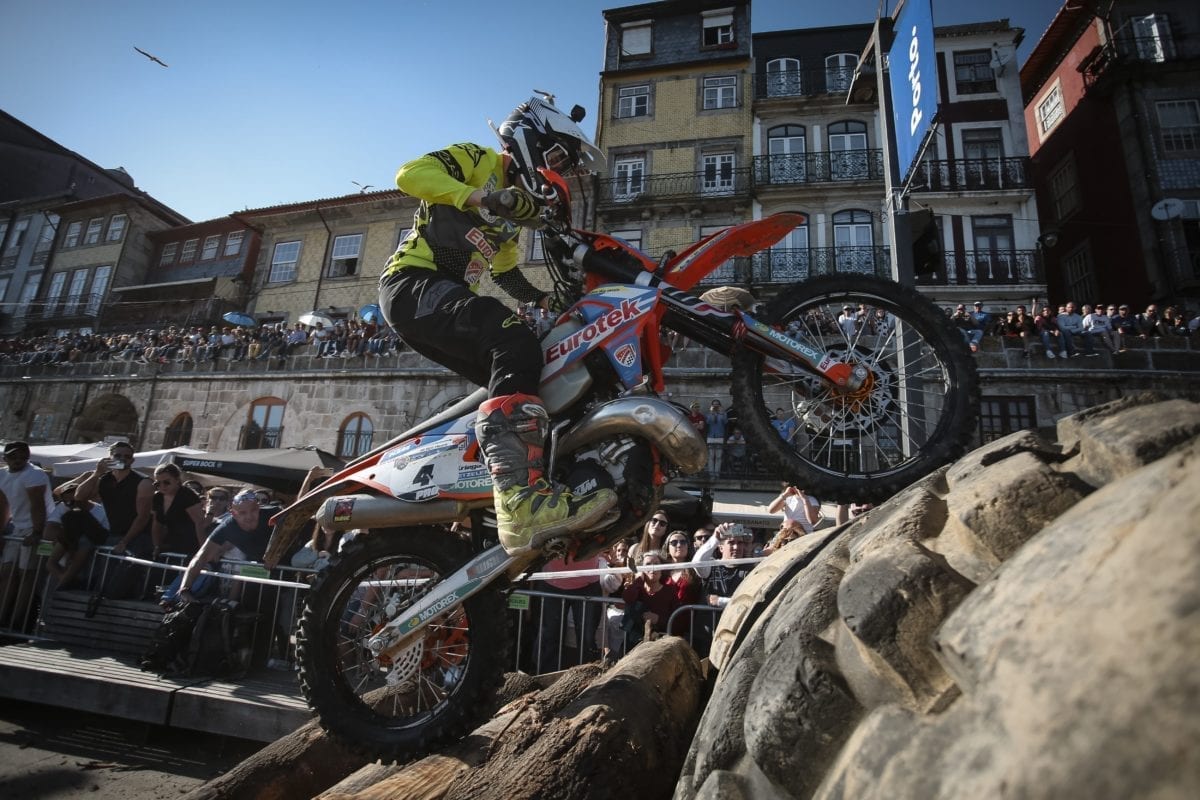 Frost takes sixth in Experts
In the Expert class it was a good ride for Charlie Frost. Just missing out on a top-five finish by two minutes, Frost was sixth. Adam Giles completed the top 10, with Josef Westgarth, Ben Wibberley, and Mark Jackson finishing 11th, 12th and 13th respectively.
In the Vets class there was a podium result for Harold Crawford with third, while Mark Houson was fifth, with Tim Hunt in seventh.
The World Enduro Super Series continues with round two at France's Trefle Lozerien AMV this weekend, May 17-19.
Toyota Porto Extreme XL Lagares Results
Mario Roman (Sherco – ESP)
Wade Young (Sherco – RSA)
Manuel Lettenbichler (KTM – GER)
Graham Jarvis (Husqvarna – GB)
Billy Bolt (Husqvarna)
Jonny Walker (KTM – GB)
Alfredo Gomez (Husqvarna)
Taddy Blazusiak (KTM)
Travis Teasdale (KTM)
Jonno Richardson (Husqvarna)
[table "1032" not found /]
[more-from heading="More Enduro" category="enduro"]