Germany's Manuel Lettenbichler (KTM) became the 2019 WESS Enduro World Champion by claiming an emphatic win at the GetzenRodeo World Enduro Super Series finale.
Entering the prestigious Hard Enduro event as world champion elect, Lettenbichler didn't disappoint in front of his thousands of adoring fans. Winning the morning GetzenRace qualifier, he then rode a near mistake-free race during the all-important GetzenChamp finale, shown live on Red Bull TV, to victoriously arrive onto the podium.
Exhausted and clearly emotional, the crowning of Lettenbichler brought to a close to what has been an incredibly thrilling second season of the World Enduro Super Series. Now, with the championship celebrations taken care of, it is time to catch up with Lettenbichler – the new WESS Enduro World Champion…
Mani, firstly congratulations on your GetzenRodeo victory and becoming the 2019 WESS Enduro World Champion. Despite the enormity of the occasion you seemed to take the race in your stride?
Manuel Lettenbichler: "It was an incredible day. So amazing. Actually, I struggled on the opening laps of the morning race because I was too nervous and riding stiff. But after that I relaxed and got my head into it. I'm happy with how the second race went.
"I was exhausted during the final few laps and was simply trying to avoid entering survival mode. When Taddy passed me it fired me up and the race was back on. I managed to pass him back to get the win. I think we put on a great race for the fans and made for a great end to the season."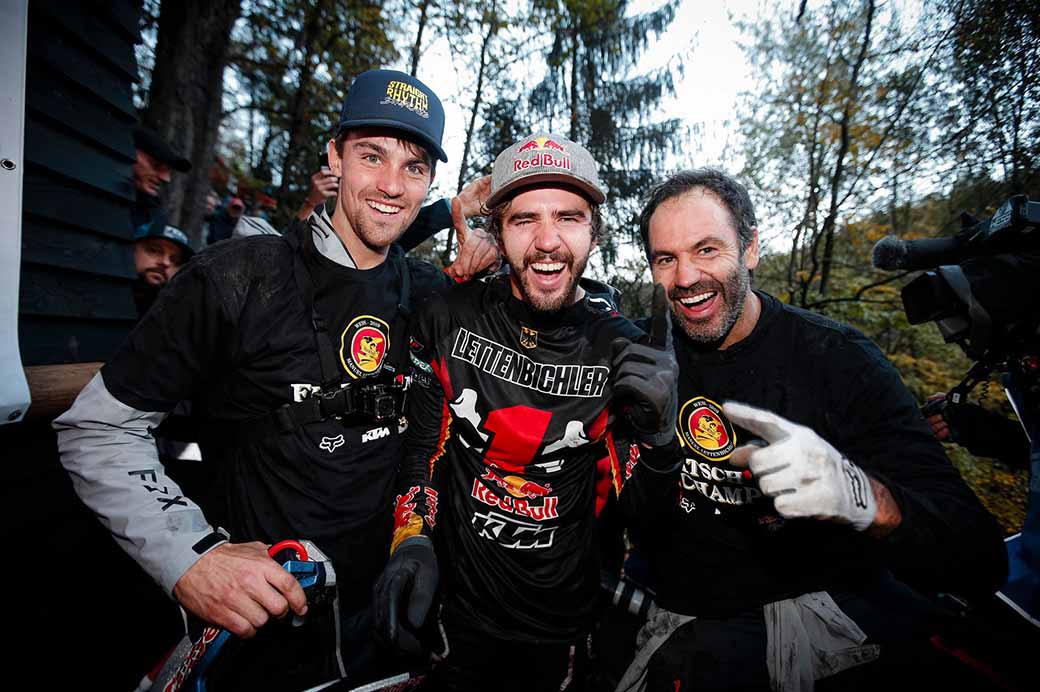 What made GetzenRodeo so demanding this year?
ML: "All of the sections are proper hard and technical and there's not much chance to rest in between. I was just trying to take them individually. I tried not to rush them and clean each one as best I could. Once you started struggling you lost a lot of power and energy."
Along with what you've just achieved at GetzenRodeo, your Red Bull Romaniacs win must also stand as an incredible moment of the year?
ML: "Winning at GetzenRodeo matched what I felt at Red Bull Romaniacs, but to win there was a step higher than the rest. It's such a gnarly race with so much history. It's five days on the limit – I'm super happy to have got both wins."
As the championship leader after Red Bull Romaniacs, were you nervous that races like the Hawkstone Park Cross-Country or BR2 Enduro Solsona could change things?
ML: "Of course, I was super worried because I am a Hard Enduro rider. But I surprised myself with those events, especially at Hawkstone Park Cross-Country. I hoped for a top-five there at best, but I went and finished second, which was amazing."
Do you feel you've shown that you're more than a Hard Enduro rider, that you're now a complete all-rounder?
ML: "Honestly, I just try my best everywhere I race. In rounds I didn't think I could win I made sure to collect as many points as possible. And at the end of the year that made the difference. I'm naturally better at the Hard Enduro races, but now I'm beginning to bridge that gap in the faster conditions. I feel like I've a long way to go to match guys like Josep Garcia or Nathan Watson, but I'm getting closer."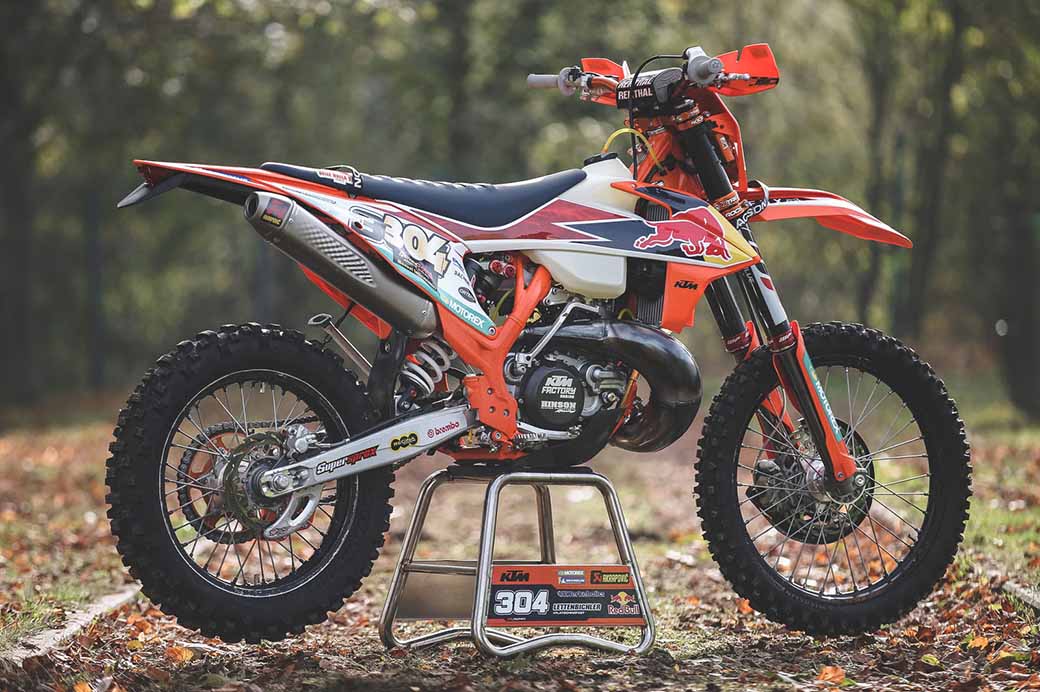 Did you feel under pressure to win the title this year, having finished as runner-up in 2018?
ML: "Yes, for sure because people started to talk about how I could win this year. But in the end, I tried not to think about it. The more you stress, the less you perform and I knew what I achieved in 2018 was good, but also that it was last year. For me, that was in the past and it was only what I could do this year that would matter. Going for it at every race without thinking about the season as a whole was the best thing I could do."
The calendar for the 2020 WESS Enduro World Championship has been announced. As a recent winner of Tennessee Knockout, what's your thoughts on going to the USA next year?
ML: "I'm excited to go to the USA with the series. I won Tennessee Knockout this year and I really enjoyed the experience. The race is gnarly and the American fans are super passionate about Enduro. With guys like Cody Webb there, it's going to be a big fight to win again. Going to America will help grow the series more, which is important for the sport and with Red Bull Media House putting it on our TV screens it will make Enduro even bigger."
Your tight team of Flatschingfast Factory Racing has become like a movement of 2019, everyone is talking about it. What's the secret because you guys have nailed it!
ML: "Yeah, we've nailed it for sure – everyone is talking about Flatschingfast now, it's so funny. It's crazy. It's just a made up name, like a joke, but everyone knows it and fans are even making posters about it, too. It's trending! It's a cool thing because it's doesn't really mean anything. It's not actually a word, but it's cool that it has become something to represent having fun."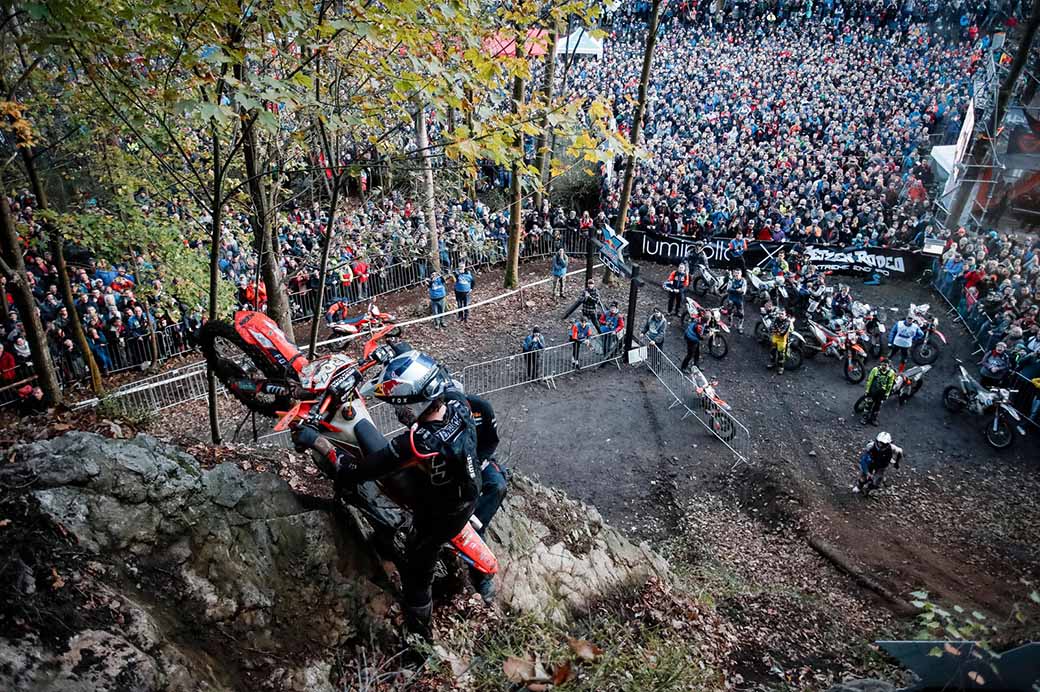 Finally, win, lose or draw you're always happy and smiling – has that been the key to your success this year?
ML: "I always want to have fun. Of course, results are important, but it's not just about that. You've got to enjoy the moment too. I feel humbled to be out there riding bikes as my job. We all started to ride Enduro because it's a fun thing to do – it takes you to places you only dreamed of and you become friends with people you otherwise would never have met. For me, that's what our sport is all about. Keeping a smile on my face reminds me of that every time I ride."
[more-from heading="More Enduro" category="enduro"]