Claiming his second win in the 2019 World Enduro Super Series, Rockstar Energy Husqvarna Factory Racing's Graham Jarvis has topped the Hixpania Hard Enduro in Spain.
Battling his way to a well-deserved overall victory in the three-day event, Jarvis also moves to the top of the championship standings heading into the second half of the season. Giving Jarvis a fight for the top spot throughout the event, Alfredo Gomez won the opening two days to finally place as the overall runner-up.
Completing a strong team performance, Billy Bolt enjoyed a positive performance to claim fourth.
After his winning result in round three at Erzbergrodeo, Jarvis headed to the fourth stop of WESS confident of adding to his win tally.
Last topping the race in 2017, he arrived in confident spirits, but with team-mate Gomez also a previous winner knew he would have to give his all in order to challenge for the win.
Staged over three days, racing began on Friday with the SuperEncierro Prologue in Aguilar de Campoo's town square, followed by Saturday's Campoo X-Treme cross-country and concluding with Sunday's feature race the Lost Roads hard enduro.
From the off Rockstar Energy Husqvarna Factory Racing set the pace with Gomez securing a solid victory in Friday's prologue. Determined to put in a good showing in front of his home crowd, Gomez didn't disappoint. Joined on the podium by teammate Bolt, it was immediately clear the fight for victory would be closely contested.
Faced with a challenging 50-kilometre cross-country loop, that was ridden three times, Saturday's Campoo X-Treme saw the Husqvarna trio take command of proceedings. Gomez and Jarvis led for the majority of the outing, with Bolt always within striking distance. Pushing a little harder, Gomez was able to break away from Jarvis in the closing stages to record his second win of the event and take a six-point lead over his teammates, headed into Sunday's Lost Roads race.
In determined mood, Jarvis was immediately up to speed, working the incredibly technical sections of the course to his advantage. Moving up to the head of the field, he battled back and forth with eventual race winner Mario Roman. A mistake on the penultimate climb while leading meant Jarvis dropped a place, but in crossing the line in second he secured the overall Hixpania Hard Enduro victory, and with it moved to the top of the WESS standings.
Hopes of a home win for Gomez were dashed on the final day, despite dominating the majority of the event. Making energy-sapping mistakes early on, Gomez never quite settled into a fast rhythm. Finishing fifth on Sunday, he ended the event as runner-up.
For Bolt, the weekend was a huge confidence boost as he begins to regain his form following a serious off-season leg injury. Runner-up in Friday's prologue, he then backed that up with an impressive third on Saturday. With an overall podium result within his grasp, the defending WESS champion pushed hard but wasn't quite able to make his way inside the top three. Finishing fourth, he signed off on Hixpania Hard Enduro in a hard-fought fourth overall.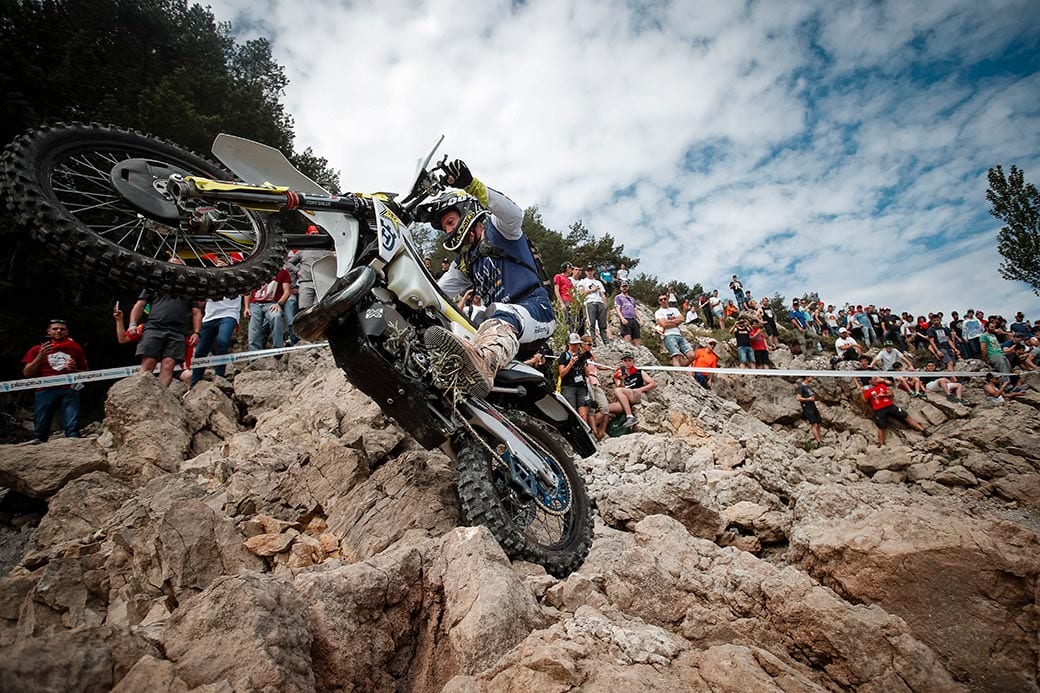 Graham Jarvis: "What an event. It's crazy to think I'm leading the WESS championship now. It was a tough race today and I was still tired from yesterday. It was fast but there were still some technical bits. I think everyone was really feeling it, I know I was on the limit today. I never had plans to win the WESS series this year – I just wanted to concentrate on the hard enduros. I guess this changes things. I'm not going to get too excited just yet though, my plan is to take each race as it comes. Romaniacs is going to be the game changer – hopefully I can at least finish it this year and then we'll see how things are looking."
Alfredo Gomez: "I tried to push as hard as I could today, but just ran out of strength in the last half of the race – no power at all. All I could do was to keep on going, try not to crash and stay on the bike. It was great fun racing out there with all the home fans cheering. I'm sorry I couldn't bring home the win for them and the team and get the overall win. I am happy with how the race has gone and I gave it my all. Congratulations to Graham, he did it again."
Billy Bolt: "I'm so happy with my result today I really wasn't expecting to do so well. I didn't get a good start and was down in ninth for the first few laps. I was really feeling it and after hurting my shoulder yesterday I just had no power at all today. I tried to stay mistake-free and avoid having to muscle the bike around too much. I was making a good pace and started picking off the riders in front. I saw Alfredo towards the end and really went for it to catch and pass him. There's still a lot of work to do to get somewhere close to where I was last year, but I've definitely achieved a lot of personal goals this weekend."
Rockstar Energy Husqvarna Factory Racing will return to the World Enduro Super Series at round four, Romaniacs in Sibiu, Romania on July 30 – August 3.
[more-from heading="Latest News" category="news"]