Husqvarna's Alfredo Gomez has extended his lead at Spain's Hixpania Hard Enduro, round four of the World Enduro Super Series, following victory on day two in the Campoo X-Treme.
Putting in a strong and commanding ride on the second day of racing at Hixpania Hard Enduro, the Rockstar Energy Husqvarna Factory Racing rider once again triumphed in front of his home crowd to claim victory in the three-lap Cross-Country.
In what proved to be an excellent day for Husqvarna, Gomez was followed home by his teammates Graham Jarvis (GB) and Billy Bolt (GB) in second and third respectively.
Building on Friday's SuperEncierro Prologue, day two at the Hixpania Hard Enduro saw the 350 competitors compete in a challenging Cross-Country race. A tough 50-kilometre loop marked out around the town's nearby lake, it saw the pro riders in the Knight category complete three energy-sapping laps.
With a mass start at precisely 9.05am, it was Red Bull KTM Factory Racing's Josep Garcia (ESP) who grabbed the holeshot. But with a wealth of riders chasing him down, the battle for victory was most definitely on.
All eager to establish control, Jarvis took over the race lead halfway around lap one, joined by Gomez, Bolt, Manuel Lettenbichler (KTM), Jonny Walker (KTM), with Garcia in touch. On lap two it was clear the Husqvarna trio were on top form as they pulled away from the chasing pack.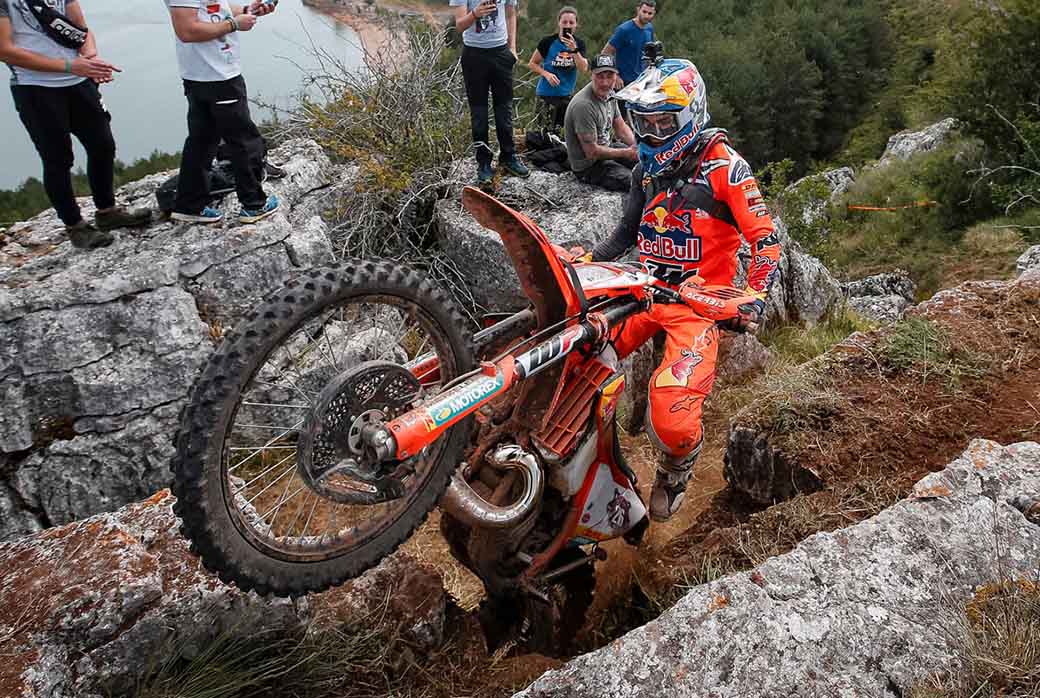 Taking over the race lead early on lap two, Gomez worked hard to break away from Jarvis. Finding a little more pace, the Spaniard charged on to remain unbeaten so far in this year's Hixpania Hard Enduro and take a six-point lead into Sunday's final day of racing.
Giving Gomez a good run, round three winner Jarvis just didn't have an answer for his teammate in the closing stages and had to settle for the runner-up result – finishing 26 seconds behind after almost five-hours of racing.
Coming in just two minutes behind Jarvis, Bolt showed he's returning to top form following a slow start to the season. In contention for a top-three result, the defending champion will leave nothing on the line during Sunday as he chases his first podium of 2019.
Unable to match the pace set by the top three during the latter stages of the race, 2018 Hixpania Hard Enduro winner Mario Roman (Sherco) ended his race in fourth. Sitting four points behind Jarvis in the provisional standings, a visit to the podium is not out of reach if he puts in a strong ride tomorrow.
Admitting to making a couple of mistakes early on, Lettenbichler began to find his speed after lap one and fought his way back to fifth ahead of Jonny Walker and Taddy Blazusiak (KTM).
Delivering one of the standout performances of the day, Garcia – with the support of his home crowd – challenged the Hard Enduro specialists during the opening two laps, only to crash on the final lap knocking him back to eighth.
Mario Roman (Sherco ): "It's looking like this year is going to be tough and not so easy to defend my title from 2018 – I didn't score any points yesterday and just 18 today, so I really need to try my best again on the final day.
"I know tomorrow's track is really, really difficult, so I just need to keep going in the right direction. I can't complain as it's been a good season so far and it feels good to be able to fight for the podium."
Manuel Lettenbichler (KTM): "It's been a really hard day today. I'll try to get some rest and a good sleep tonight and hopefully will be able to have a good day tomorrow and fight for the overall podium. We set the bikes up quite soft today to handle the really tricky sections but then when riding the fast sections with the bike set-up like that it makes you tired.
"Tomorrow looks like it's going to be really gnarly, especially the downhills. My plan is to ease off a little and try to ride smooth so I don't make any mistakes – hopefully that will work out. I hope I can recover well now from today and I'm looking forward to tomorrow."
Josep Garcia (KTM): "I had a really good day today. Before the race I expected this to be more of a standard Cross-Country, but there were lots of crazy sections on the track. I got out into the lead at the beginning and I felt really good, so I was able to push.
"When we reached the extreme sections I struggled a little but it still felt good to be able to take the battle to the more experienced Hard Enduro guys. I was running seventh but had a big crash on the last lap and Taddy was able to pass me. My pace on the extreme stuff is getting better but the top guys still have those trials skills that give them an advantage."