Steve Holcombe has won the 2017 FIM EnduroGP World Championship title to become a double world enduro champion.
His victory came on day one of the series' final event in Zschopau, Germany.
He went into the race with a 40-point advantage over his closest rival Loic Larrieu, but was able to wrap up the title in the best way possible.
Cautiously completing the event's Friday night super test to finish seventh in class, Holcombe made a winning start to the first full day of competition in Germany.
He topped the opening enduro test by seven seconds, going on to win a total of five of the day's nine special tests.
Holcombe finished an eventual 20 seconds ahead of runner-up Christophe Nambotin and a further eight seconds ahead of third-placed Loic Larrieu.
"It feels so good to be able to call myself a double enduro world champion," said an elated Holcombe. "Winning my first title last year was incredible – something I will never forget – but claiming the EnduroGP title this year means so, so much.
"I'd hoped to wrap up the title in the UK, at my home round of the series, but to win here in Germany with so many true enduro fans is incredible.
"I've had such an enjoyable season – battling with Matt Phillips, Loic Larrieu, Nathan Watson and Christophe Nambotin has been so much fun.
"I always knew that to win this year I'd have to be even better prepared than I was in 2016. It's been a lot of work, focus and preparation, but it's been so worth it.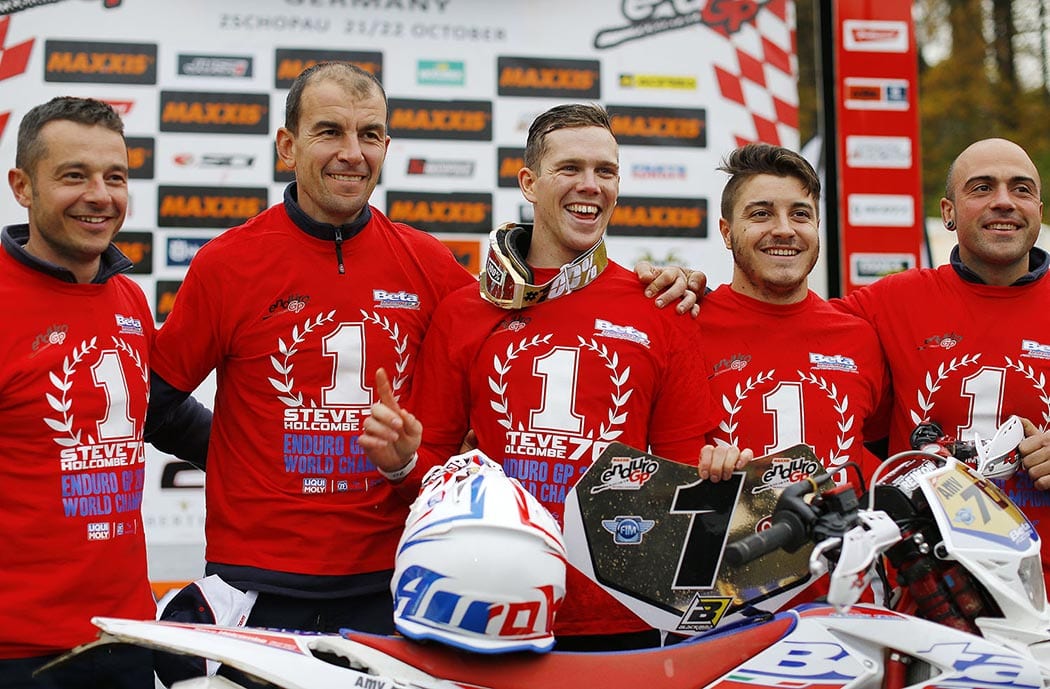 "I felt confident coming into this event, but also a little apprehensive. Knowing that I needed just a handful of points was a strange feeling.
"I don't feel like I rode at my best at all, but I was relaxed and didn't make any mistakes. The special tests and the trails here in Zschopau were really cool – real enduro.
"Winning the championship by topping the EnduroGP podium makes this just that little bit more special.
"I want to say a huge thanks to my Beta team and all of my sponsors and supporters, their encouragement has had a hugely positive impact on my season. Now it's time to celebrate!"
Results – EnduroGP of Germany (day one)
Steve Holcombe (Beta) 53:42.03 (WORLD CHAMPION)
Christophe Nambotin (KTM) 54:02.42
Loic Larrieu (Yamaha) 54:10.58