The second of four stand-alone races running under the banner of the Ecosse XC Rock Oil Winter Series, again enjoyed a tremendous turn out of riders on Sunday, January 7 2018.
Over 200 riders turned up to the meeting sponsored by Rock Oil, Drysdale Motorcycles and Wulfsport and were swiftly out on the track that, despite overnight temperatures plummeting to minus nine, was in excellent condition thanks to the farmer having rotovated the ground prior to their arrival. Racing was, once again, underway promptly for the eight packed classes and, whilst cold, the day stayed dry.
Carlton Husband dominated the A group with three wins from three starts – such is his form that he was even happy to take a handicap in the final race and lined up facing the wrong way. It took him three laps to catch the front-runners and take the lead but he still managed to blitz the pack. Jay Hague was only rider who managed to keep Husband honest with three clear second places and second overall. A close battle ensued for third place with Nathan Claugan just pipping Ryan McLean to the post. Nathan's two thirds and a fifth was enough to get him on the podium in third, with McLean fourth which was a cracking result for the youngster in his first event after a year out due to injury. Fraser Flockhard rounded out the top five in the A group.
Next to the line were the Rookies and Vets. Again running together but in separate groups, the Vets were set off first with a 10-second advantage, but it wasn't long before the youngsters had caught most of them. Scott Murray was the only Vet who managed to fend off the 'nippers' and all of his Vet rivals. Three wins from three starts secured his overall win on day. Alan Thain nearly let second place slip away with a poor final race, but his two seconds were enough to push Barry Gillan into third. Daniel Haswell finished fourth and Ian Wilson fifth.
Ryan Thomson led the field of Rookies through the swarm of Vets. After a little off in the first race he dominated the final two with two wins. Andrew Pohlen had a ding dong of a battle with Gregor Campbell who switched places with each other nearly every lap. Pohlen finished on top for second overall and Campbell secured a solid third. Andrew Williams was fourth and Kyle Haddow fifth.
An interesting shakeup in the B class saw Paul Benham, the winner of the second two races, eventually finish third thanks to a poor opening moto. Ivan Williamson's consistent day with a win, third and second was enough to give him top points and the B class win. John Bennett took second overall.
An incredible 41 riders lined up for the hotly-contested C class, with a different winner for each race. Gavin Lowes, out testing his own G Force suspension, ran out as the overall winner, finishing off his day with a win in the final race. Stephen Cown also had a win and finished second overall. Jordan Gill, not to be outdone, also took a race win to finish third overall.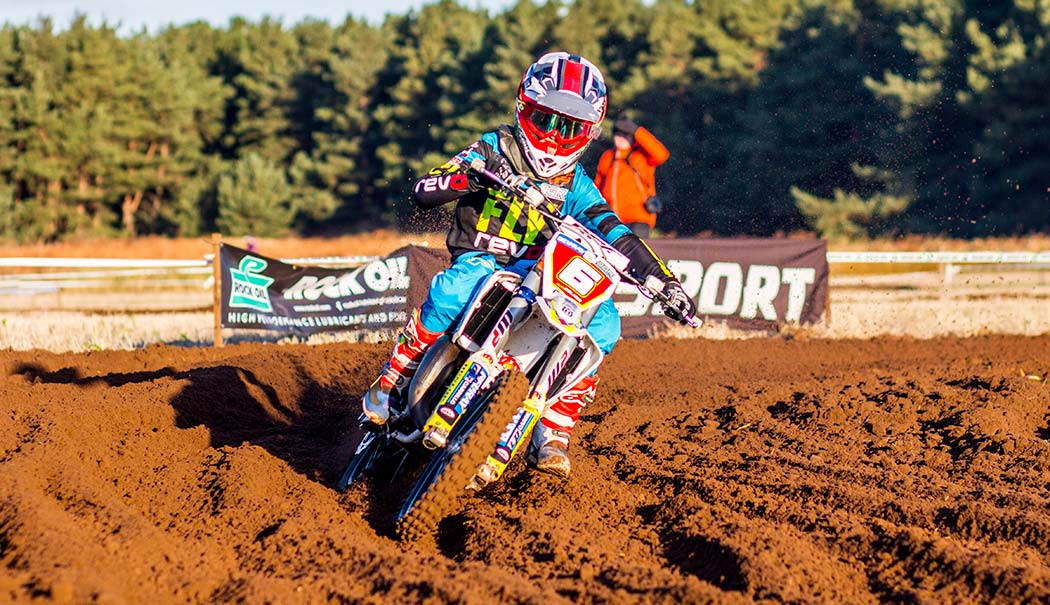 The BW 85 category saw Sam Atkinson take three clear wins for first overall. Jack Winthrop finished second, in front of Jay Clark. Newcastle-ace Ollie Colmer again dominated the SW 85 group with three wins, whilst Jay Cheel and Jack Fletcher battled hard for the duration of the race to take second and third overall. Ryan Lowes – son of the C class winner – was fourth overall. Cristina Palmer continues to fly the flag for the girls and even though suffering from tonsillitis, still went out and did her best to finish eighth overall.
Ryan Waggott, another of the Newcastle contingent, had a busy weekend by contesting the Arenacross youth class at Manchester on the Saturday night, and then hot-footing it to Dunbar to win all three 65cc races. He had the close attention of Graham Haddow who finished second in every race who, in turn, had a nice tussle with Connor Smith in third.
Ecosse CX returns to Hadderwick Hill Farm, Dunbar on January 28 and again on February 25 2018. Entries will be available via www.mcfederation.com
Ecosse XC Winter Series Round Two Results
Adult A
1. Carlton Husband. 2. Jay Hague. 3. Nathan Claugan. 4. Ryan McLean. 5. Fraser Flockhart. 6. Sean Williamson.
Adult B
1. Ivan Williamson. 2. John Bennett. 3. Paul Benham. 4. Ross Neville 5. Harry Fenwick. 6. Steven Lennie.
Adult C
1. Gavin Lowes. 2. Stephen Cown. 3. Jordan Gill. 4. Gordon Peterson. 5. Stuart Wilson. 6. Daniel McNally.
Vets
1. Scott Murray. 2. Alan Thain. 3. Barry Gillan. 4. Daniel Haswell. 5. Ian Wilson. 6. Les Winthrop.
Rookies
1. Ryan Thomson. 2. Andrew Pohlen. 3. Gregor Campbell. 4. Andrew Williams. 5. Kyle Haddow. 6. Mitchell Raine.
85cc BW
1. Sam Atkinson. 2. Jack Winthrop. 3. Jay Clark. 4. Tom Hume. 5. Callum Forsyth. 6. Jacob Cartwright.
85cc SW
1. Ollie Colmer. 2. Jay Cheel. 3. Jack Fletcher. 4. Declan Taylor. 5. Billy Maxwell. 6. Ryan Lowes
65cc
1. Ryan Waggot. 2. Graham Haddow. 3. Conner Smith. 4. Rhys Whyment. 5. Daniel Goodman. 6. Zac Cheel.