The Rock Oil/Michelin/Wulfsport Ecosse XC championship returned to Tyninghame Links last weekend and again welcomed a bumper crop of riders, with multi Scottish and British MX champ Billy Mackenzie back in its midst.
The weather held well for the 200-plus riders that turned up for another solid day of fast-paced racing and the track conditions changed after each block, with the sand track forming deeper holes and huge berms, creating different lines throughout the day.
Epic racing in the A group saw overall winner John Adamson and Mackenzie fighting tooth 'n' nail for the win and the former champ certainly didn't get it all his own way, with Adamson making bold moves and protecting his lines to take the opening and closing moto wins. Ivan Williamson took two wins and a second in the B class to win overall and Zack Frost cleaned up in Cs, taking flag to flag wins in all three races.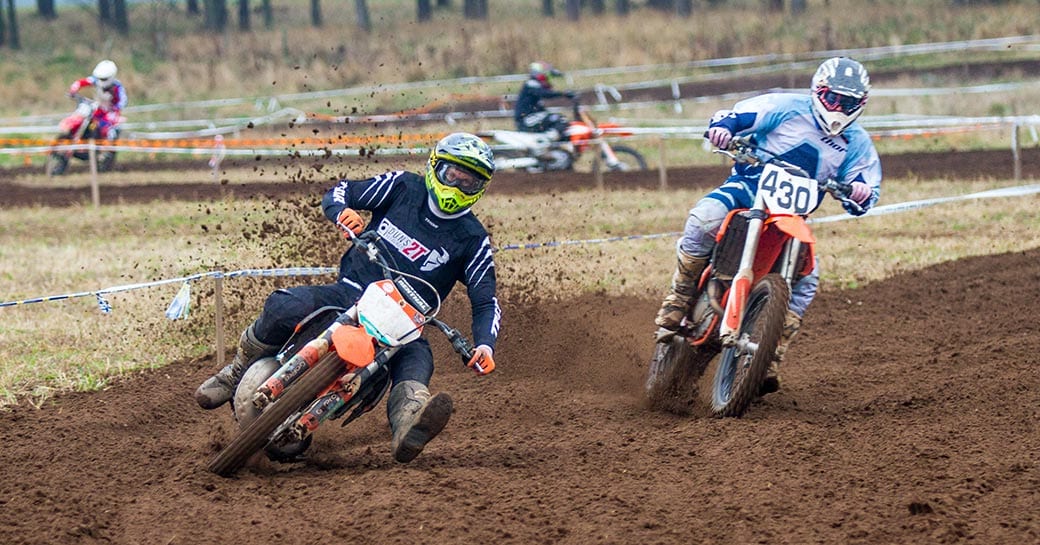 A triumphant Buster Hart returned to the Rookies and simply blitzed the whole Vets/Rookies combined class. He won all three races; on track and in class, working his way up from seventh in the first, fourth in the second and then holeshot to chequered flag in the final.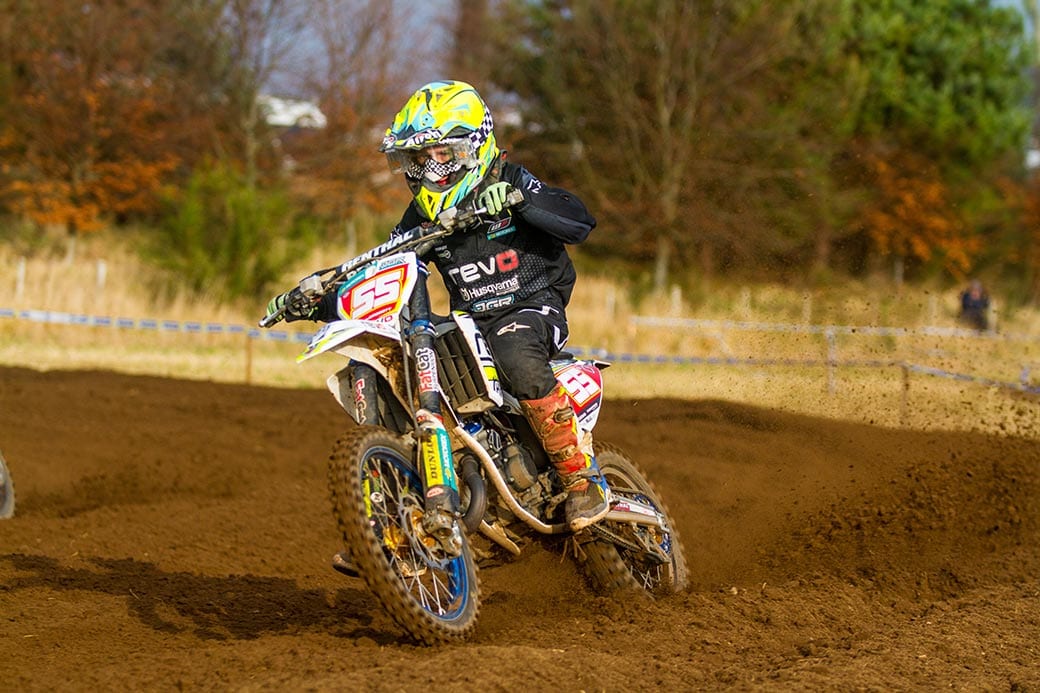 The BW and SW85 groups witnessed some great battles with Sam Atkinon and Ollie Colmer getting stuck in in the big-wheel. Atkinon took wins and Colmer secured the other. Young Ryan Waggot was on a mission in the small-wheel; smooth, clever and untouchable. He took three wins ahead of Jack Fletcher, with a fired-up Cristina Palmer close behind in all three. A newcomer to the 65s in the form of Haydon Statt proved to be too fast for the rest of the class. He was pushed by Rhys Whyment but took the overall with two wins and a second.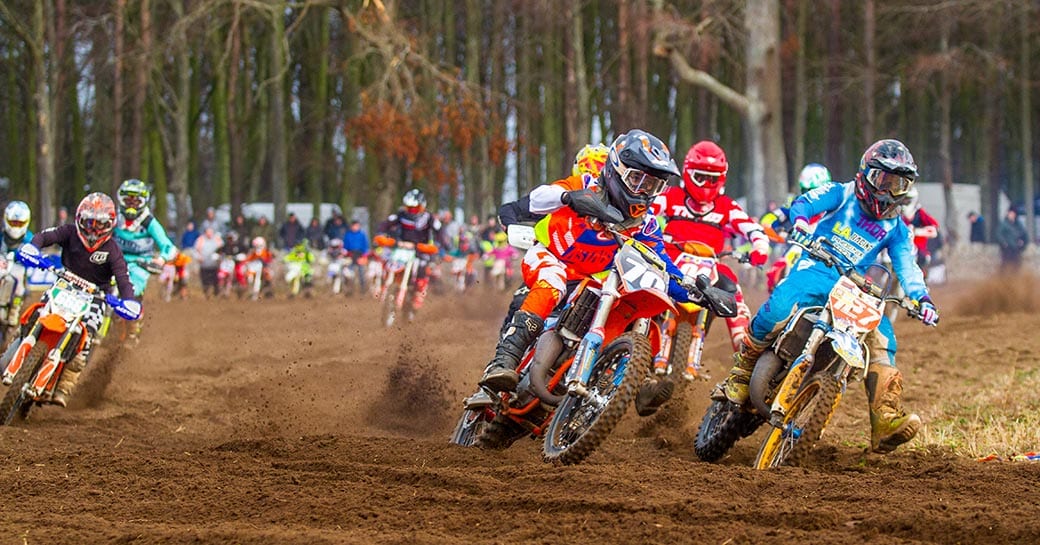 Over on four wheels and Robbie Wood, the youngest rider in the pack took the first race holeshot, closely followed by Rookie Hugh Beattie, riding only his second event. Scottish Champ Paul Davie was next up, with Sinclair trailing down in fourth. But, by the end of the first lap, Sinclair had climbed to second and a half lap later, he picked off Wood to take the lead, the win and the fastest lap.
The holeshot on race two was taken by Davie, with Beattie again just behind the leader, followed by Sinclair and Wood. Beattie ran wide towards the end of the first lap, making it easy for Sinclair to zip past both him and Davie, and Wood followed suit, moving comfortably into second. While the two teenage riders held their 1-2 positions for the rest of the race, Beattie and Davie did likewise, finishing third and fourth.
The final race of the day again saw veteran Davie take the holeshot, but three bends later Sinclair was back in command, with a lead that kept stretching right to the finish line. Behind him, three bikes clung together, led by Davie, then Beattie and Wood. By the end of the second lap, Davie had dropped back to fourth and Wood had passed Beattie but this time, the dogged Beattie wasn't giving up, forcing schoolboy Wood to defend his second place right to the chequered flag.
Ecosse XC championship Round two Results
A-Group; 1. John Adamson, 132 points, 2. Billy Mackenzie, 129, 3. Ryan McLean, 118, 4. Michael Ogden, 105, 5. Barry Turnball, 103.
B-Group; 1. Ivan Williamson, 132 points, 2. Steven Lennie, 120, 3. Steven McCormack, 117, 4. Nieve Howes, 116, 5. Ross Neville, 104, 6. Michael McLarty, 102.
C-Group; 1. Zack Frost, 135 points, 2. Scott Foote, 124, 3. Bryan Millar, 107, 4. Christopher Walker, 105, 5. Grant Aitchison, 103, 6. Stuart Wilson, 102.
Vets; 1. Stuart Mowbray, 127 points, 2. Gordon Morrison, 126, 3. Tom Grant, 124, 4. Alan Thain 108, 5. Morton Hannah, 107, 6. Peter O'Neill, 106.
Rookies; 1. Buster Hart, 135 points, 2. Shay Page, 126, 3. Logan Fereguson, 116, 4. Logan Hendry, 110, 5. Josh Buchanan, 107, 6. Jake Sharky, 105.
BW85; 1. Sam Atkinon 132 points, 2. Ollie Colmer, 129, 3. Ayden Smith, 120, 4. Jay Cheel, 114, 5. Mark Parker, 107, 6. Kieran Sives, 106.
SW85; 1. Ryan Waggot, 135 points, 2. Jack Fletcher, 126, 3. Cristina Palmer, 120, 4. Dylan Davison, 107, 5. Zac Cheel, 106, 6. Ryan Lowes, 105.
65s; 1. Haydon Statt, 132 points, 2. Rhys Whyment, 127, 3. Jamie Prentice, 118, 4. Jazon Haswell, 114, 5. Leo Self, 108, 6. Haydon Steel, 105.
Quads; 1. Lorne Sinclair, 135 points, 2. Robbie Wood, 126, 3. Hugh Beittie, 120, 4. Paul Davie, 114, 5. Richie Cornet, 108, 6. John Peters, 103.
The Ecosse XC club would like to extend its best wishes to A-group rider Seth Moir who crashed and sustained head injuries – feedback from the hospital is that he is okay.
The next round of the Ecosse XC winter series is on February 3 with the last round on February 24. Rumour has it that the legendary Bill Brown of Wulfsport may even dust off his boots for one of the races.
[more-from heading="Latest News" category="news"]