Sam Winterburn, now back in the UK fresh from his WESS adventures went back to his MX roots last Sunday at Dean Moor at RAW Enduro's Rock Oil Championship.
Winterburn remembers his 2006 Champion of Champions ACU Youth MX there when he rode alongside the likes of Ben and Nathan Watson and Adam Sterry.
This visit to Dean Moor 13 years on saw a smiling Sam dominate the Expert race from lap one to the flag.
First up Sunday morning was the Largest line up of Youth riders RAW Enduro have ever seen, no less than 61 Youths were set ready for their very own tailored one-and-a-half-hour race, this event including an Auto Only friendly route.
John Stanley overcame a poor start to work his way to the front of Youth A, there, was a lap on lap battle taking place between Frazer Hansen and Brandon Burns both on 125's.
Dominate
Stanley calculated the race to perfection making a pass and then gapping the front two by just over one minute at the flag. Hayden Stansfield continues to dominate the Youth B class despite having Harry Walker running a close second at Dean Moor.
James Lindsey made the journey to Dean Moor a successful one taking the Auto/65cc class victory. A packed to capacity adult AM race lined up in windy but very dry conditions. Having watered the track Saturday night, and again at 7am Sunday morning, the ground held together just as planned during the two hour Morning race.
Sportsman Elite riders were first away and Jack Winn ripped his 125 Beta to a controlled win with Championship leader Nick Manger in runner-up spot. Stuart Mowbrey ran out clear Sportsman Vets winner ahead of David Williams.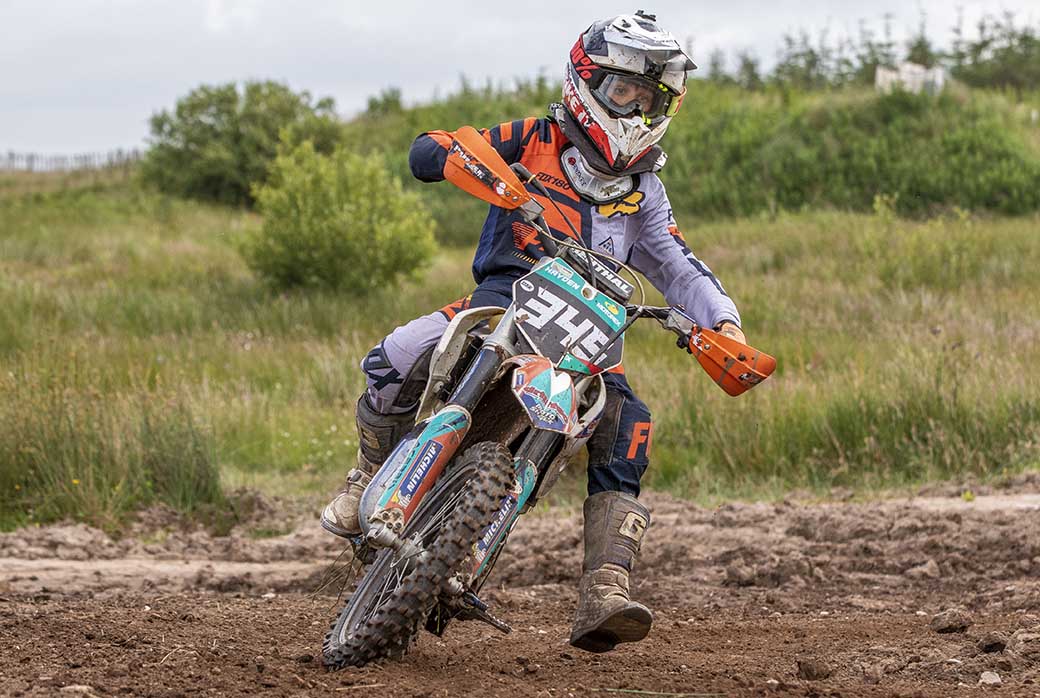 The sportsman Vets class Championship is currently a five-way battle. Scott Hipwell took the sportsman class win, and was third overall on the day.
In the old lads Over 50 class, it was smiles all the way as Dean Moor provided some super close racing. Colin Mills grabbed the Win from Rob Swinbank in runner up place.
Just two Expert riders completed 16 laps around dean moor in the two-hour race duration. Both riders are class acts when it comes to MX, and it showed around the Dean Moor complex.
Sam Winterburn overcame a first turn fall to lead the field around lap 1, his domination saw him manage the gap during fuel stops and cruise to a solid win.
Enduro newbie Ryan Crowder from ACE suspension was a favourite going into this race, in only his second enduro Crowder ran a cool race to place runner up behind Winterburn.
The clubman class looks set to be another class with a titanic battle to the final round. Championship leader James Clark rode a faultless race to take the win, another WESS regular, Jamie Williams, placed runner up on the day.
Finally in the Elite Vets class just six seconds separated the top two riders. Anthony Crowe led the entire race on his New Six days KTM, shadowed by RAW regular and ex MX rider Paul McSorley for most laps.
McSorley admitted after the race, he was using is head to work out where he felt he could pass and try to Gap Crowey if the opportunity arose. In the closing stages McSorley made a pass and put the hammer down to get to the flag just before Anthony Crowe in runner up spot.
Massive gratitude goes to Dean Moor for again allowing RAW to have sole Enduro use of this fantastic venue.
Dean Moor – RAW Enduro Rock Oil Championship Results
Expert: 1 Sam Winterburn 16 Laps, 2 Ryan Crowder 16, 3 Lewis Ellis 15, 4 Marc Vardy 15, 5 Robbie Wallace 15, 6 Kieron McAvoy 15
Youth A: 1 John Stanley 11 laps, 2 Frazer Hansen 11, 3 Brandon Burns 11, 4 Jay Cheel 10, 5 Ryan Maudsley 10, 6 Sam Boyd 10
Youth B: 1 Hayden Stansfield 9, 2 Harry Walker 9, 3 Hayden Moody 9, 4 Joe Dakin 9, 5 Ryan Stoneley 8, 6 Jacob Hayes 8
Junior / Auto: 1 James Lindsey 8, 2 Ashton Crossley 8, 3 Juddy Kearford 7, 4 Manson Cuthbert 7, 5 Brooke Mudie 7, 6 Jack Houghton 7
Sportsman Elite: 1 Jack Winn 14, 2 Nick Manger 14, 3 Ben Fenton 14, 4 James Allinson 14, 5 James Scowcroft 14, 6 Carlton Timmins 14
Sportsman Vets: 1 Stuart Mowbray 14, 2 David Williams 14, 3 Kris Farrar 13, 4 Mark Vardy 13, 5 Andy Kirby 13, 6 Fred Farquarson 13
Sportsman: 1 Scott Hipwell 14, 2 Phil Taylor 14, 3 Ian Taylor 14, 4 Steve Butterfield 13, 5 Matt Holmes 13, 6 Ashley Carroll 13
Novice: 1 Steph Mudie 13, 2 Tom Slater 13, 3 Carl Elliott 13, 4 Alan Waller 13, 5 Oliver Baker Haste 13, 6 Matt Wakefield 13
Over 50: 1 Colin Mills 14, 2 Rob Swinbank 14, 3 Neil Crayston 14, 4 Mark Stoneley 14, 5 Rob Elston 13, 6 Bill Forsyth 13
Clubman: 1 James Clark 15, 2 Jamie Williams 15, 3 Ryan Crayston 15, 4 Brodie Heyes 14, 5 Ben Walker 14, 6 Neil Marshall 14
Elite Vets: 1 Paul McSorley 14, 2 Anthony Crowe 14, 3 Shaun Woffinden 14, 4 Dirk Sewed 10
[more-from heading="More Enduro" category="enduro"]