The weekend saw the Hafren Dirt Bike Club host their Hafren 2 Day Enduro, and for a change the Welsh weather was fairly kind!
A line-up full of international racing stars meant that spectators were in for a treat as TM Factory rider Danny McCanney, his brother Jamie, Factory Sherco duo Jack Edmondson and Dan Mundell and Joe Wootton headed the line-up alongside your usual British Championship contenders!
Jamie McCanney got off to a great start winning the opening tests before brother Danny put the hammer down on the Enduro tests. In the second Enduro test Jamie hit the deck quite hard and tweaked his hand which lost him his lead.
Danny and Joe Wootton were then setting the pace with Dan Mundell following them home in a bit of a battle with Jamie. At the end of the day it was Danny who came out on top, Joe in second with Jamie third.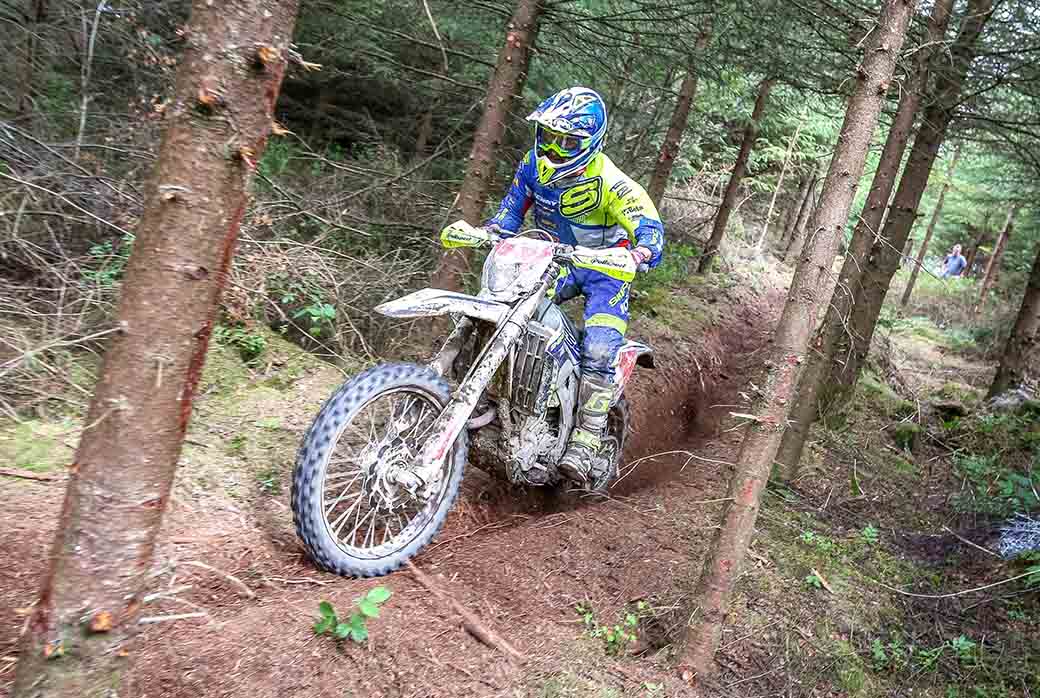 Dan Mundell was fourth and Jack Edmondson came home in fifth place. On day two Jamie retired early at the end of the first Enduro test after struggling to find a good feeling on the bike with his hand injury playing up.
Daryl Bolter was on the pace early on down at the grass test, but he eventually slipped back throughout the day to finish sixth. Mundell had a terrible first Enduro test with a crash and was 20 seconds off of Danny McCanney, putting himself on the back foot.
Things were tight on the next lap with Danny McCanney, Joe Wootton and Dan Mundell all within a second in the second test. Edmondson didn't have the fastest of starts either but he was consistent all day to finish fourth, and he also set some fast times on the grass.
The overall win went right down to the wire but McCanney just pipped Wootton by less than a second to seal the victory! Mundell was third.
In the Expert class, MRS Sherco pilot Aaron Gordon took top honours on day one and came away with second on day two to collect some great points for his championship assault.
Max Ditchfield matched Gordon's results for overall second while Harry Edmondson was third on both days, and considering he was carrying a thumb injury from the week before, he did a sterling job to keep his championship hopes alive.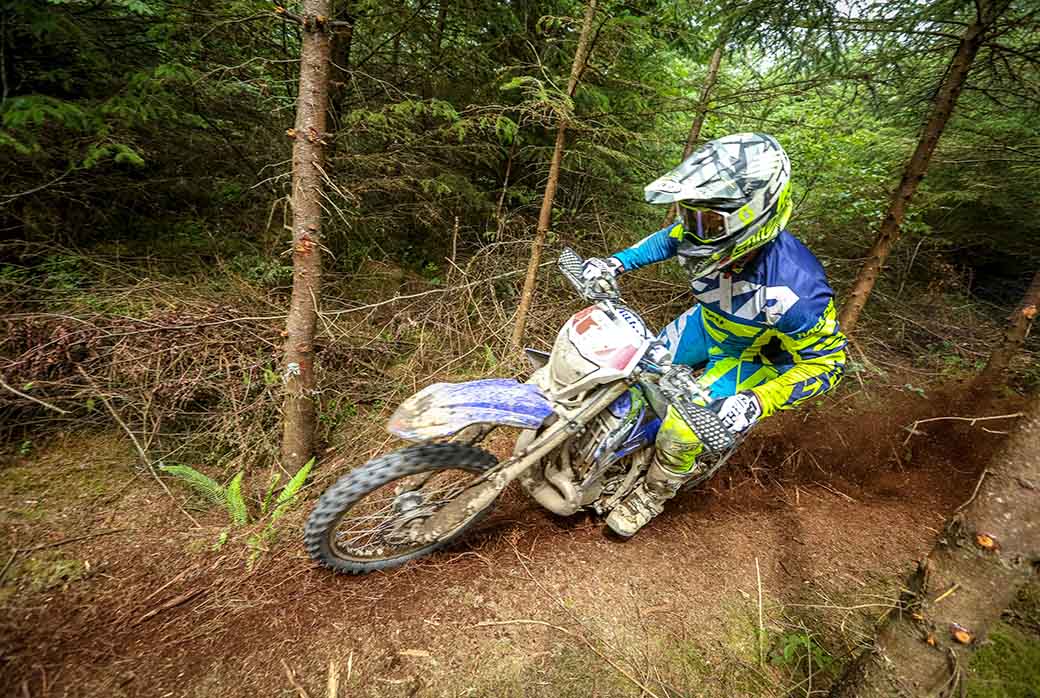 In the highly competitive Clubman category, James Palmer asserted his dominance by winning both days and edging closer to his first BEC title.
On day one Josh Kirby took his 250F to a great runner-up, and his sub-class win. Jordan Young rode brilliantly to take his first overall top three! On day two young gun Matthew Harries took the runner-up position with Josh Kirby bringing it home in third.
In the Over 40s Andrew Edwards was, as ever, on fire and took the win on both days. Gas Gas UK boss John Shirt was second on day one before leaving to support his trials riders at the British round on the Sunday. Andrew Reeves had a great weekend with a 3-2 scorecard.
Vincent Harker filled the final podium spot with a consistent weekend. Richard Hay was the man to beat on both days in the Over 50 category.
The flying Scotsman took top honours ahead of the real GMC (Gary McCoy) on both days, while Manxman Russel Millward rounded out the top three both times around.
All we needed was a Welshman and an Irishman to round out the top five and we could have had the full set.
Hafren BEC Results
Day 1
Championship E1/4: 1 Daniel Mundell, 2 Alex Walton
Championship E2: 1 Joe Wootton, 2 Jamie McCanney, 3 Jack Edmondson, 4 Tom Sagar, 5 Daryl Bolter, 6 Thomas Ellwood
Championship E3: 1 Daniel McCanney, 2 Alex Snow, 3 Jed Etchells, 4 Joshua Gotts, 5 Luke Parker
Clubman E1/2: 1 James Palmer, 2 Mathew Harries, 3 Jacob James, 4 Luke Murphy, 5 Ben Williams, 6 Frazer Buckingham
Clubman E1/4: 1 Ross Kerr, 2 Nathan Baggott, 3 Stuart King, 4 Ben Key, 5 Steven Baldock, 6 Joe Sullivan
Clubman E2: 1 Joshua Kirby, 2 Jordan Young, 3 Jack Collins, 4 Rosie Rowett, 5 Jack Nicolaou, 6 Lewis Townend
Clubman E3: 1 Darren Kiff, 2 Gareth Jones, 3 Gareth Jones, 4 Oliver Allbones, 5 Lewis Moore, 6 Chris Brown
Expert E1/2: 1 Max Ditchfield, 2 Harry Edmondson, 3 Henry Yardley, 4 Charlie Chater, 5 John Ridgway
Expert E1/4: 1 Harry Houghton, 2 Jack Ditchfield, 3 Harry Hillier-Rees, 4 Roger Holland, 5 Jane Daniels, 6 Luke Thomas
Expert E2: 1 Aaron Gordon, 2 Ben Murphy, 3 Jack Cadwallader, 4 Alun Jones, 5 Aaron Coupland, 6 Tom Knight
Expert E3: 1 Ricky Wiggins, 2 Richard Tucker, 3 Oliver Lawer, 4 Aled Price, 5 Gareth Davies, 6 Hayden Maller
Over 40: 1 Andrew Edward, 2 John Shirt, 3 Andrew Reeves, 4 Vincent Harker, 5 Anthony Griffith, 6 Jonathan Tarr
Over 50: 1 Richard Hay, 2 Gary McCoy, 3 Russell Millward, 4 Karl Greenall, 5 Darren Osborne, 6 Lawrence Catt
Day 2
Championship E1/4: 1 Daniel Mundell, 2 Alex Walton
Championship E2: 1 Joe Wootton, 2 Jack Edmondson, 3 Daryl Bolter, 4 Thomas Sagar, 5 Thomas Ellwood, 6 Charles Evans
Championship E3: 1 Daniel McCanney, 2 Alex Snow, 3 Jed Etchells, 4 Joshua Gotts, 5 Luke Parker
Clubman E1/2: 1 James Palmer, 2 Mathew Harries, 3 Jacob James, 4 Ben Williams, 5 Frazer Buckingham, 6 Rhian George
Clubman E1/4: 1 Ross Kerr, 2 Nathan Baggott, 3 Stuart King, 4 Ryan Borthwick, 5 Ben Key, 6 Steven Baldock
Clubman E2: 1 Joshua Kirby, 2 Jordan Young, 3 Jack Nicolaou, 4 Lewis Townend, 5 Jack Collins, 6 Rosie Rowett
Clubman E3: 1 Gareth Jones, 2 Darren Kiff, 3 Gareth Jones, 4 Jack Kitching, 5 Oliver Allbones, 6 Chris Brown
Expert E1/2: 1 Max Ditchfiel, 2 Harry Edmondson, 3 Henry Yardley, 4 Charlie Chater, 5 John Ridgway
Expert E1/4: 1 Jack Ditchfield, 2 Harry Hillier-Rees, 3 Roger Holland, 4 Harry Houghton, 5 Jamie Buckingham, 6 Jane Daniels
Expert E2: 1 Aaron Gordon, 2 Richard Ely, 3 Ben Murphy, 4 Aaron Coupland, 5 Tom Knight, 6 Alun Jones
Expert E3: 1 Ricky Wiggins, 2 Aled Price, 3 Hayden Maller, 4 Gareth Davies, 5 Craig Norrey, 6 Ashley Maller
Over 40: 1 Andrew Edwards, 2 Andrew Reeves, 3 Vincent Harker, 4 Jonathan Tarr, 5 Rudy Austin, 6 Paul Davies
Over 50: 1 Richard Hay, 2 Gary McCoy, 3 Russell Millward, 4 Darren Osborne, 5 Lawrence Catt, 6 Colin Blunt
[more-from heading="More Enduro" category="enduro"]