Team REME hosted its annual Natterjack Enduro at Eelmoor Camp, a venue last used in 2016. This was the location for the British Enduro Championship showdown where this year's champions would be crowned.
Danny McCanney did exactly what he needed to do to wrap up his second British Enduro Championship in a row on the first day by taking the overall win which meant he couldn't be caught in the Championship standings!
Alex Snow was on top form and he took home two very good results (2-2) and even held the lead for a while on Sunday after McCanney made some costly mistakes in one of the opening tests!
Alex's results were good enough to give him and Gas Gas second in this year's championship!
Dan Mundell was flying early on Saturday with the opening test win but a big crash on test two set him back a long way.
He carried on to score valuable points and also rode well on day two to finish third and card another podium to cap his year off.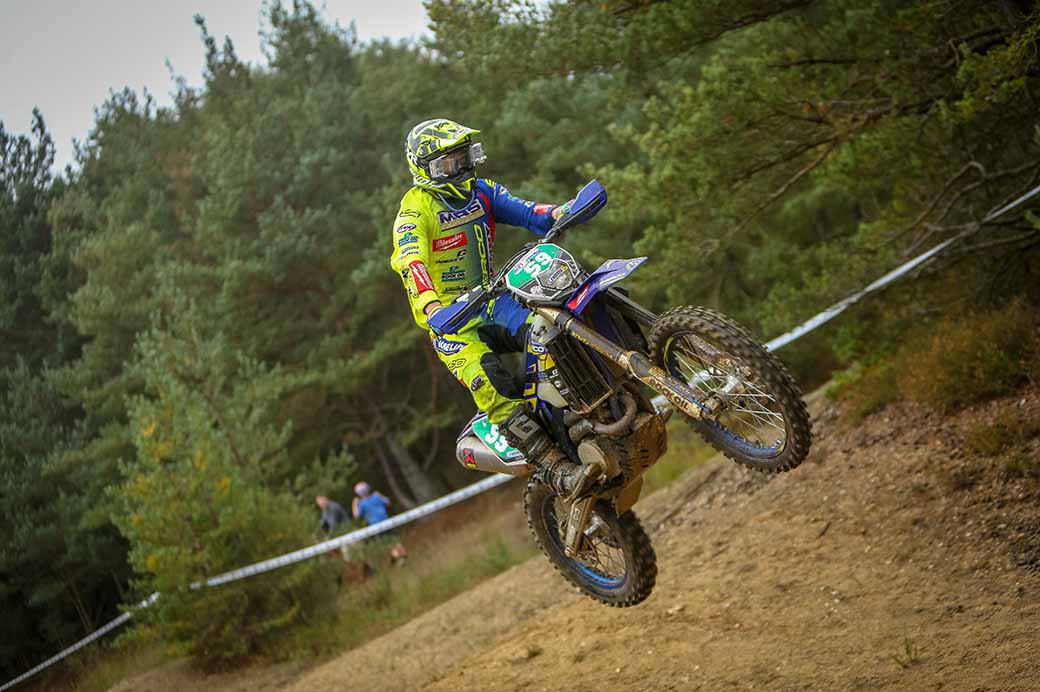 Despite missing round two due to injury, Mundell amassed enough points to finish third in this year's British Enduro Championship!
Jack Edmondson rode day one with his injured wrist to score enough points so that he could claim the E2 British title and claim fourth overall in the Championship.
Matt Bayliss picked up the pieces with BEC regulars having a disastrous day one and finished in third which was a great result.
Alex Walton was fourth on day one and sixth on day two while Will Hoare, Junior Super Enduro World Champion, was fifth day one and seventh on day two.
In the Experts, Aaron Gordon stormed to two victories on his MRS Sherco and in doing so, secured the Expert British title and Expert E2 along with it. He was also best Under 23 Expert!
Harry Edmondson was his nearest championship rival but struggled with illness over the weekend. He still managed second on day one but retired on day two.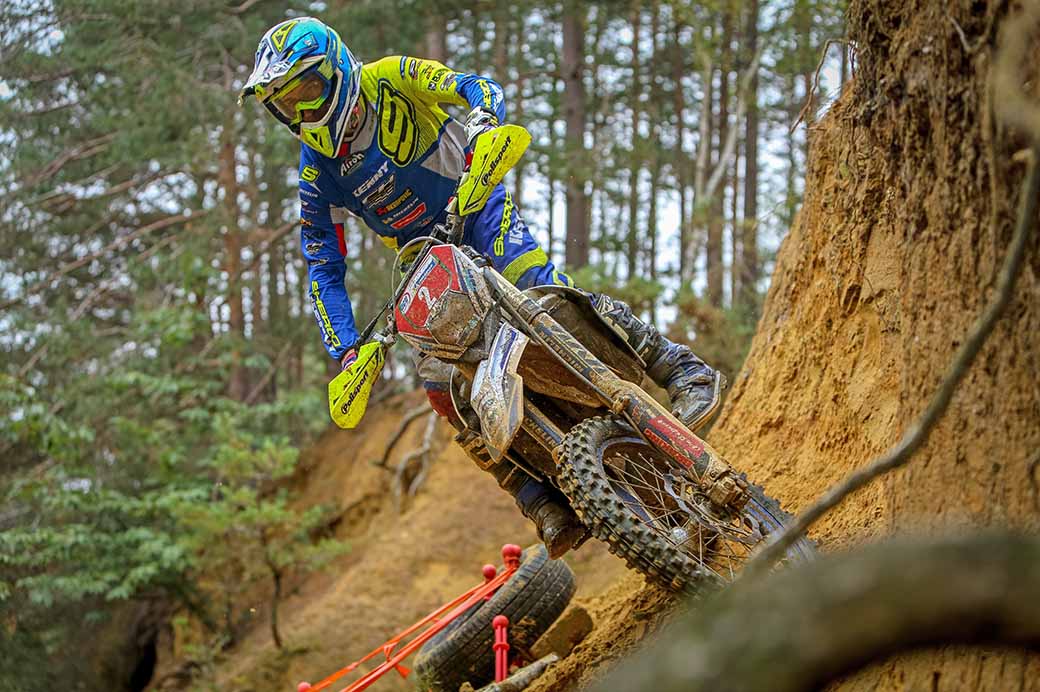 On day one Henry Yardley stormed to third overall while Richard Ely was fourth. Ricky Wiggins finished fifth overall and was first E3.
On day two Wiggins upped his game and finished second overall which was a fantastic result for him.
Richard Ely always loves the muddier and tougher conditions which showed in his result – third overall in the Experts. Yardley was fourth while Charlie Chater broke into the top five!
Jordan Ridgway made a return to the enduro scene and was rewarded with sixth on day two! In the Clubman class, James Palmer did the double and claimed the British Clubman Championship.
He will be very pleased with that after a consistent year which saw him near the front of the field at every event. Matthew Harries was second on day one but slipped back a bit on day two into fourth.
Jac George filled Harries' boots on day two and finished second which complimented his sixth place on day one. Alan Morrison was third on day one while Josh Kirby took third on day two. Ross Kerr was fifth day one and Jacob James rounded out the top five on day two.
In the ever-competitive Over 40 class, it was Andrew Edwards who showed his power yet again by winning both days and taking the title away with him too. Andrew Reeves was second on day one while Vincent Harker rounded out the top three.
On day two Gas Gas UK importer John Shirt was on form and finished second to Edwards with Reeves coming home in third. The Over 50 class saw the wins shared by Scotsman Richard Hay and Manxman Russel Millward.
Day one went to Hay but Millward thrived in the wetter conditions to win the final day of the year!
Gary McCoy from Devon finished his night shift and came to the event and still managed two third-placed finishes in a competitive class so credit where it is due. Karl Greenall was fourth both days.
BEC Naterjack Day One Results
Championship E1/4: 1 Mathew Bayliss, 2 Alex Walton,3 Will Hoare, 4 Daniel Mundell
Championship E2: 1 Thomas Ellwood, 2 James Dent, 3 Charles Evans, 4 Jack Edmondson, 5 Bradley King
Championship E3: 1 Daniel McCanney, 2 Alex Snow, 3 Joshua Gotts, 4 Jed Etchells
Clubman E1/2: 1 James Palmer, 2 Mathew Harries, 3 Jacob James, 4 Jac George, 5 Frazer Buckingham, 6 Eddie Craker
Clubman E1/4: 1 Alan Morrison, 2 Ross Kerr, 3 Daniel Willis, 4 Ben Key, 5 Stuart King, 6 Ryan Borthwick
Clubman E2: 1 Lewis Townend, 2 Joshua Kirby, 3 Tommy Clark, 4 Conor Scott, 5 Morgan Deakin, 6 Jordan Young
Clubman E3: 1 Martin Jessopp, 2 Jack Nixey, 3 Chris Brown, 4 Ryan Letts, 5 Oliver Allbones, 6 Adam Mussell
Expert E1/2: 1 Harry Edmondson, 2 Henry Yardley, 3 Charlie Chater, 4 John Ridgway, 5 George Yardley, 6 Alfie Webb
Expert E1/4: 1 Jack Ditchfield, 2 Roger Holland, 3 Harry Hillier-Rees, 4 Tom Knight, 5 Jane Daniels, 6 Jamie Buckingham
Expert E2: 1 Aaron Gordon, 2 Richard Ely, 3 Ricky Wiggins, 4 Ben Murphy, 5 Fergus Lamb, 6 Aaron Coupland
Expert E3: 1 Richard Tucker, 2 Craig Norrey, 3 Ashley Maller, 4 Jacob Joyce, 5 Mark Hillier-Rees
Over 40: 1 Andrew Edwards, 2 Andrew Reeves, 3 Vincent Harker, 4 John Shirt, 5 Robert Warner, 6 Mark Kirby
Over 50: 1 Richard Hay, 2 Russell Millward, 3 Gary McCoy, 4 Karl Greenall, 5 Colin Blunt, 6 Lawrence Catt
Day one Overall: 1 Daniel McCanney, 2 Alex Snow, 3 Mathew Bayliss, 4 Alex Walton, 5 Will Hoare, 6 Thomas Ellwood, 7 Daniel Mundell, 8 Joshua Gotts, 9 James Dent, 10 Charles Evans
BEC Naterjack Day Two Results
Championship E1/4: 1 Daniel Mundell, 2 Mathew Bayliss, 3 Will Hoare, 4 Alex Walton
Championship E2: 1 Thomas Ellwood, 2 James Dent, 3 Charles Evans
Championship E3: 1 Daniel McCanney, 2 Alex Snow, 3 Jed Etchells
Clubman E1/2: 1 James Palmer 2 Jac George, 3 Mathew Harries, 4 Jacob James, 5 Frazer Buckingham, 6 Eddie Crake
Clubman E1/4: 1 Alan Morrison, 2 Stuart King, 3 Ross Kerr, 4 Ben Key, 5 Ryan Borthwick, 6 Jon Alldritt
Clubman E2: 1 Joshua Kirby, 2 Lewis Townend, 3 Tommy Clark, 4 George Eustace, 5 Adam Brady, 6 Jordan Young
Clubman E3: 1 Darren Kiff, 2 Martin Jessopp, 3 Jack Nixey, 4 Chris Brown, 5 Oliver Allbones, 6 Ben Stark
Expert E1/2: 1 Henry Yardley, 2 Charlie Chater, 3 John Ridgway, 4 Alfie Webb, 5 George Yardley, 6 Bill Farrington
Expert E1/4: 1 Roger Holland, 2 Harry Hillier-Rees, 3 Tom Knight, 4 Jane Daniels, 5 Jamie Buckingham, 6 Jack Ditchfield
Expert E2: 1 Aaron Gordon, 2 Ricky Wiggins, 3 Richard Ely, 4 Fergus Lamb, 5 Ben Murphy, 6 William Hughes
Expert E3: 1 Craig Norrey, 2 Richard Tucker, 3 Ashley Maller, 4 Mark Hillier-Rees, 5 Jacob Joyce
Over 40: 1 Andrew Edwards, 2 John Shirt, 3 Andrew Reeves, 4 Vincent Harker, 5 Michael Ridge, 6 Mark Kirby
Over 50: 1 Russell Millward, 2 Richard Hay, 3 Gary McCoy, 4 Karl Greenall, 5 Lawrence Catt, 6 Colin Blunt
Day two overall: 1 Daniel McCanney, 2 Alex Snow, 3 Daniel Mundell, 4 Mathew Bayliss, 5 Jed Etchells, 6 Alex Walton, 7 Will Hoare, 8 Thomas Ellwood, 9 James Dent, 10 Charles Evans
[more-from heading="More Enduro" category="enduro"]