It's often claimed that great things come in small packages which might well be true but we say screw that and why settle for small when you can get your hands on this enormous prize package that's absolutely awesome and worth upwards of £5,000 instead?
UPDATE: offer/competition now closed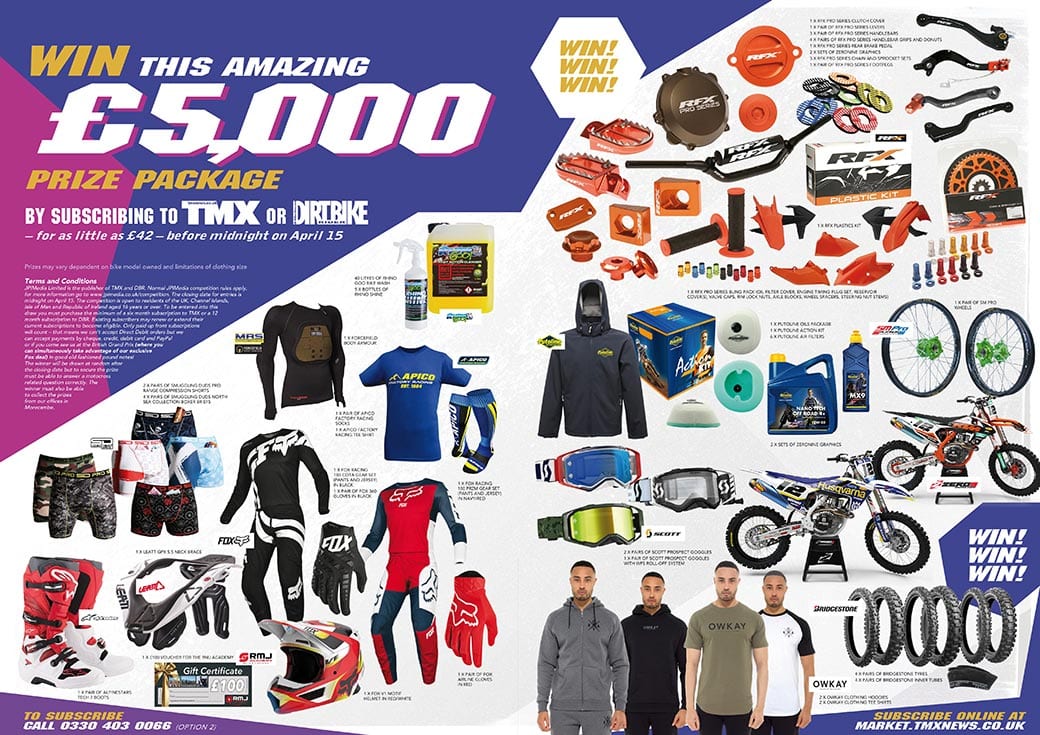 How do you enter to win this amazing £5,000 prize package?
To be in with a chance of winning everything you see here all you need to do is subscribe to TMX or Dirt Bike Rider for as little as £42 before midnight on April 15. You can call 0330 403 0066 (option 2) or buy online – DBR here and TMX here.
Terms & Conditions
Prices may vary dependent on bike model owned and limitations of clothing size.
JPIMedia Limited is the publisher of TMX and DBR. Normal JPIMedia competition rules apply, for more information go to www.jpimedia.co.uk/competition. The closing date for entries is midnight on April 15. The competition is open to residents of the UK, Channel Islands, Isle of Man and Republic of Ireland aged 16 years or over. To be entered into this draw you must purchase the minimum of a six month subscription to TMX or a 12 month subscription to DBR. Existing subscribers may renew or extend their current subscriptions to become eligible. Only paid up front subscriptions will count – that means we can't accept Direct Debit orders but we can accept payments by cheque, credit, debit card and PayPal or if you come see us at the British Grand Prix (where you can simultaneously take advantage of our exclusive Fox deal) in good old fashioned pound notes! The winner will be drawn at random after the closing date but to secure the prize must be able to answer a motocross related question correctly. The winner must also be able to collect the prizes from our offices in Morecambe.
[more-from heading="Latest News" category="news"]