Yamaha Motor Europe has just announced details of the all-new 2020 Yamaha YZ450F along with its range of off-road 2020 models.
Here's their press release:
Yamaha Off Road competition bikes offer the very latest technology together with performance enhancing designs that enable every motocross rider to push themselves harder and fulfil their true potential.
To ride a Yamaha is to be at one with your machine, and this enables every YZ owner to enter the victorYZone and get on top of the podium. Yamaha is more committed than ever to racers of all ages and abilities, and the 2020 range is the company's most comprehensive line-up of state-of-the-art motocross bikes.
Introduced for 2019, the outstanding YZ65 and YZ85 have firmly established themselves as front runners in the important youth MX scene. With their winning performance and class-leading durability, these high-tech 2-strokes offer tomorrow's champions the chance to demonstrate their winning abilities at an early age before they graduate to the YZ125. Having won the European and World 125cc Championships in 2018, this outstanding competition bike has proved itself to be the leading model in the class, and is regarded as being the ideal stepping stone between youth and adult MX.
Completely redesigned for the 2019 season, the YZ250F is undoubtedly regarded as being one of the best factory MX2-class machines. Since its launch this sophisticated race bike has proven itself to be one of the most competitive machines in the class at international, national and local levels.
With its all-new engine and chassis, the YZ450F offers racers the opportunity to experience the ultimate performance and the most advanced technology. Having won numerous MXGP and MX1 championships – as well as helping to power the French team to numerous MXoN wins in recent years – the YZ450F is established as a main contender in this prestigious class.
Joining these two winning 4-strokes in the adult range for 2020 is the remarkable YZ250, the company's legendary 2-stroke that is loved by motocross riders all over the world. With its raw power, ultra-light handling and mechanical simplicity, the YZ250 combines thrilling performance with serious race-winning potential.
From the YZ65 through to the all-new YZ450F, Yamaha offers today's MX riders the ultimate choice of high-performance machinery, each one of them built to take its rider to the top. Together with the bLU cRU programme that is designed to nurture and support tomorrow's stars, Yamaha demonstrates its absolute commitment to the world of motocross.
bLU cRU Masterclass – developing future talent
In order to develop and encourage new talent, Yamaha recently expanded the bLU cRU programme to encompass all three youth classes. Open to YZ65, YZ85 and YZ125 youth riders in Europe, the 2019 bLU cRU Cup sees the top 40 riders in each category racing in the 2019 Monster Energy FIM Motocross of Nations at Assen.
The top three riders plus two wildcards in each class from the MXoN event will be invited by Yamaha to attend the exclusive bLU cRU Masterclass where they will participate in a 3 day training camp under the supervision of a team of bLU cRU ambassadors including Yamaha MX racing superstars. The Yamaha jury will then select 3 lucky riders who will receive official factory support in the European Championships.
The bLU cRU programme offers every rider the chance to realise their dreams, and when the time comes to move on up to the adult classes, Yamaha once again offer the ultimate choice of MX weaponry.
All-new YZ450F: Tune in to Victory
For 2020 the all-new YZ450F comes with less weight, more power and sharper handling, making it the most competitive 450cc model that Yamaha has ever produced.
In order to create a motocross bike that can race and win at every level against the toughest opposition, Yamaha's engineers have analysed every single component and made a wide range of major and minor improvements wherever possible.
As a result of this intensive part-by-part analysis the entire motorcycle has been subject to an extensive redesign, and the team of engineers has succeeded in achieving significant weight savings together with power gains and enhanced handling performance for the 2020 YZ450F.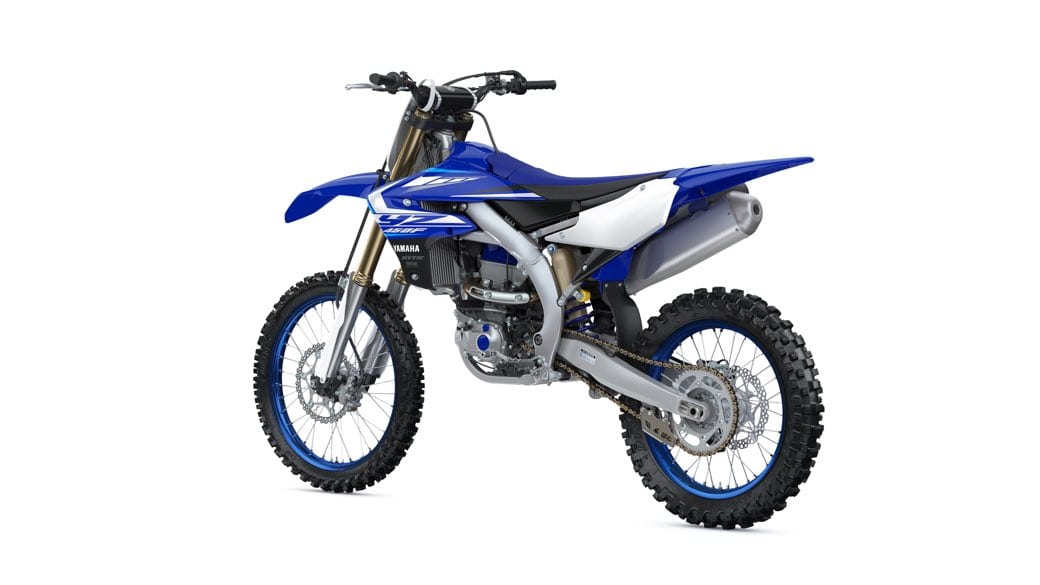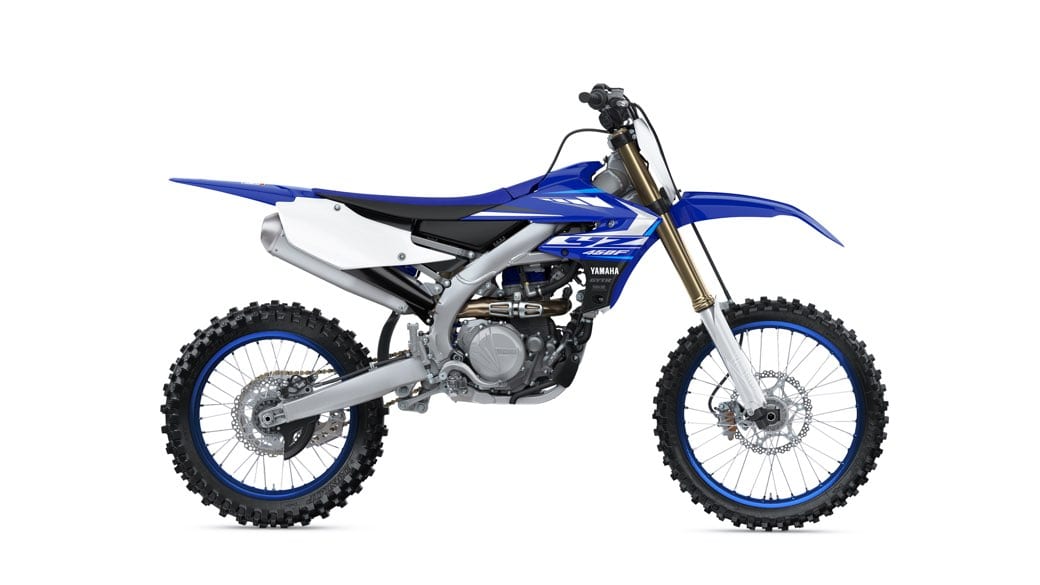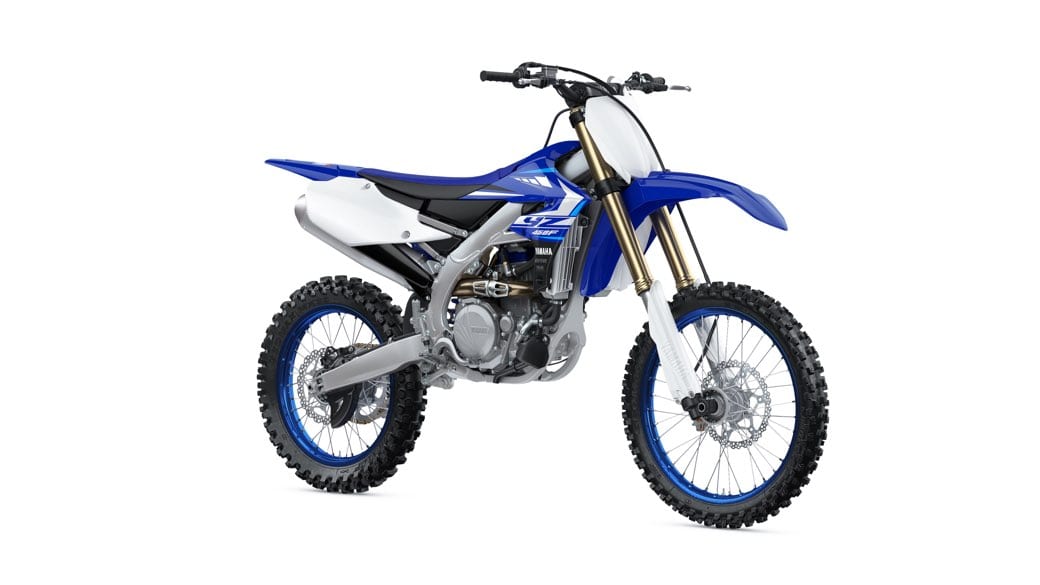 More powerful and compact new 450cc engine
Already renowned for its enormous power output, the YZ450F engine has been thoroughly redesigned for 2020 to deliver stronger and more controllable performance. The new engine is significantly more compact and lighter, and the revised configuration enhances the bike's mass centralised design to make it one of the easiest-handling open class motocross machines.
Featuring a high compression reverse cylinder head as well as a durable forged piston and aggressive cam profiles, the compact new 450cc engine is designed to deliver the best balance of race-winning performance together with ultimate controllability.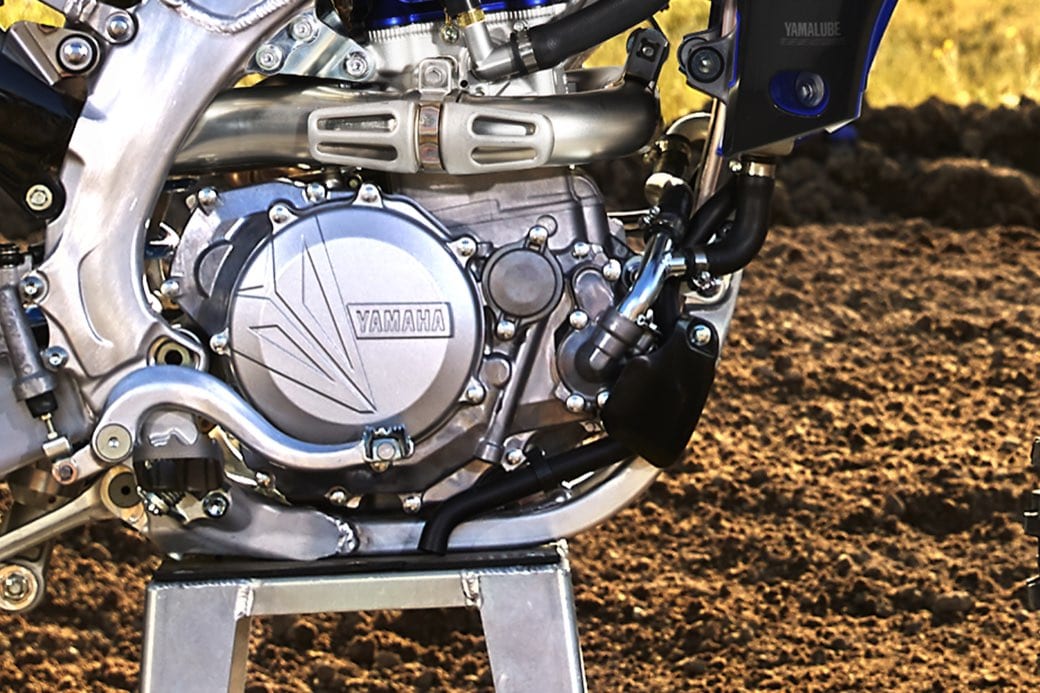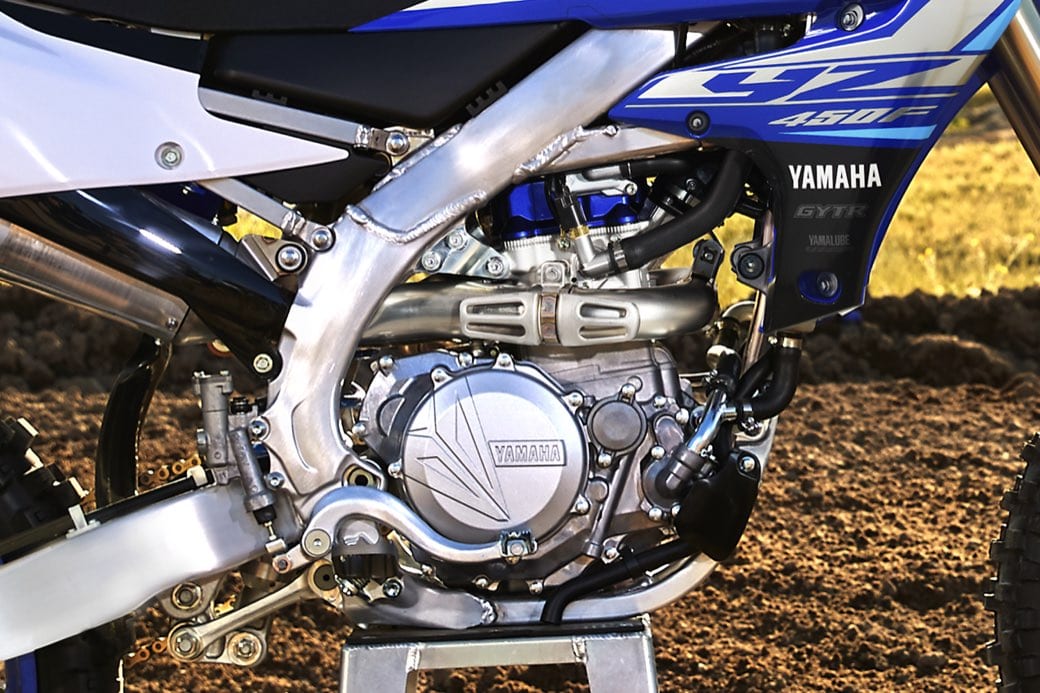 All-new rearward-slanted cylinder
One of the key engine improvements for 2020 is the new rearward-slanted cylinder that is both lighter and more compact. Because this innovative design is positioned closer to the bike's mid-section it helps to achieve an idealised mass centralisation, and this contributes enormously towards the YZ450F's dynamic handling characteristics.
The new rearward-slanting cylinder is equipped with a high compression bridge-box design piston, and together with the high-efficiency reverse cylinder head with its long and straight inlet, this industry-leading design produces a fine balance of 450-class power combined with exceptional controllability.
Yamaha Power Tuner
The Yamaha YZ450F was the first motocross bike with inbuilt connectivity, that enables remote wireless tuning using a smartphone, and the 2020 model continues to lead the field in terms of digital technology.
By downloading the free Power Tuner app for IOS or Android devices, YZ450F riders or mechanics can easily adjust the fuel/air mix and ignition timing to set the bike up for different tracks and changing riding conditions. This feature makes the 2020 YZ450F the most adaptable motocross machine that can be tuned instantly at the trackside, enabling its rider to master a wide range of surfaces and weather conditions.
In addition to its engine re-mapping function, the Power Tuner app can also record race log information and monitor a range of data, including system diagnosis, engine run time and more, making it an indispensable part of every rider's toolkit.
Handlebar-mounted adjustable mapping switch
After pre-programming the 2020 YZ450F with the Power Tuner in the paddock, there's a handlebar-mounted mapping switch that enables the rider to select the map of their choice. This simple on-the-fly adjustment allows instant mapping changes to suit changing track or weather conditions, from a super-aggressive map for fast dry tracks to a more useable map on muddy surfaces.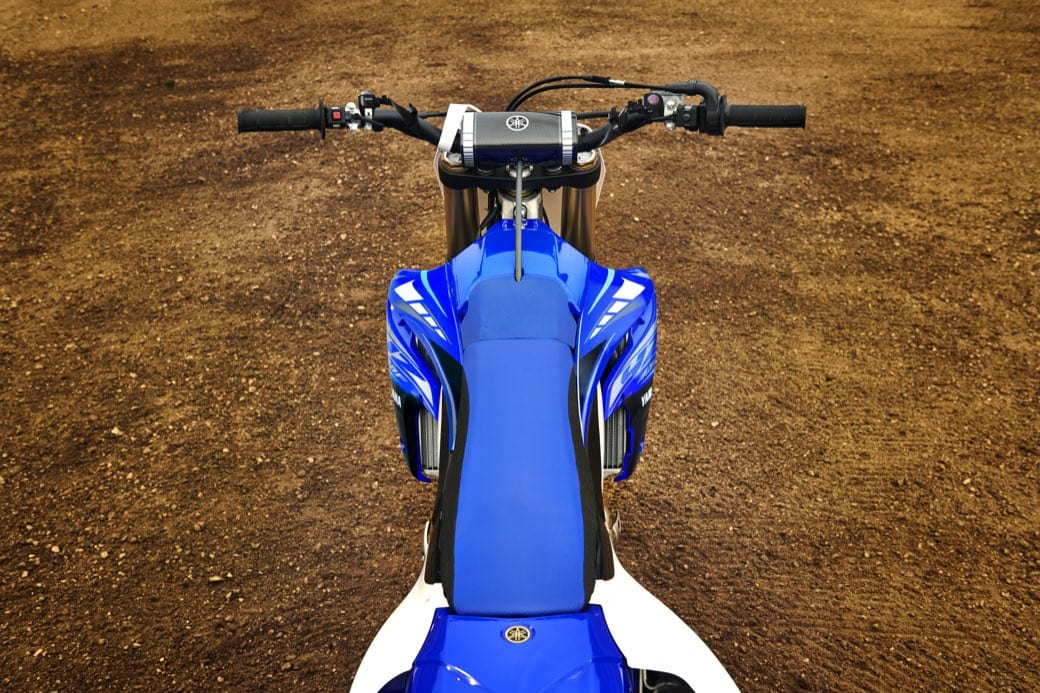 Compact electric starter
The new 450 engine is equipped with a compact and lightweight electric starter that gives push-button convenience and saves valuable seconds when restarting under pressure during a race. Powered by a high capacity four-cell lithium-ion battery, it keeps the 2020 YZ450F's weight down to a minimum.
Launch Control System
The YZ450F's Launch Control System (LCS) optimises the engine's power output and running characteristics during the first few seconds of the race after the gate drops. By helping to transmit power more efficiently, the LCS gives greater controllability and traction off the line, increasing the rider's holeshot-winning performance and giving a real advantage in the crucial charge to the first corner.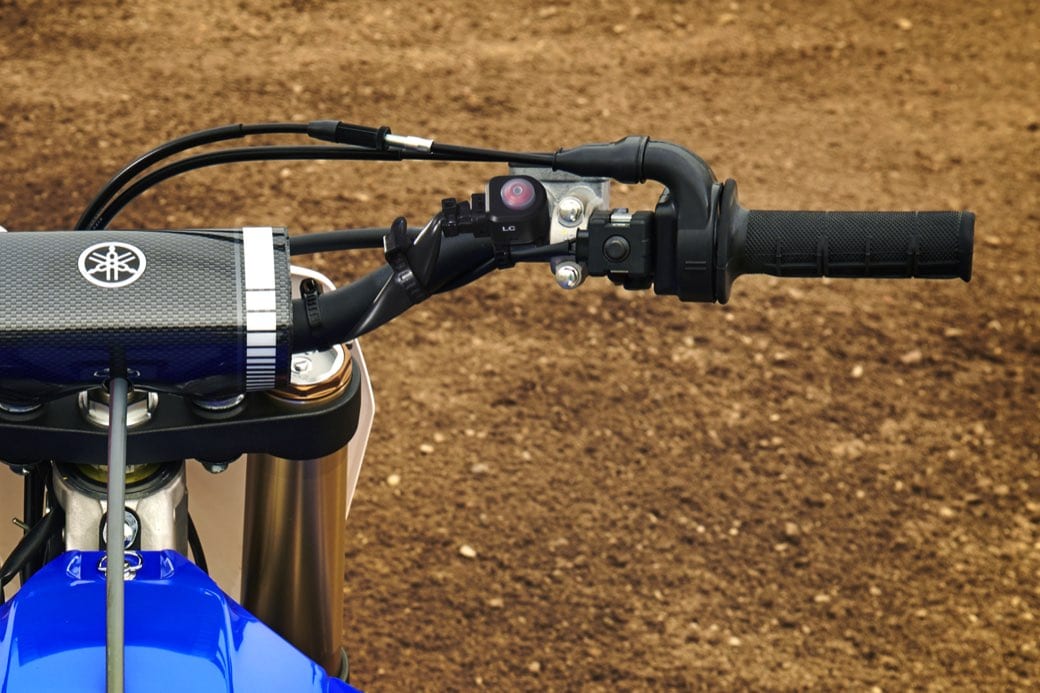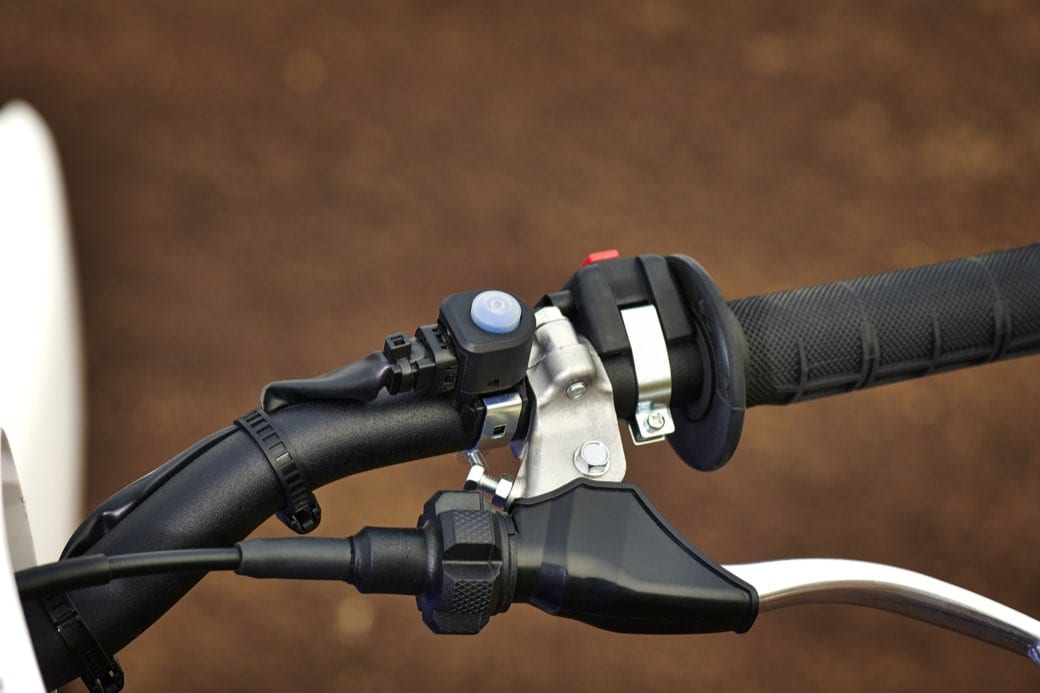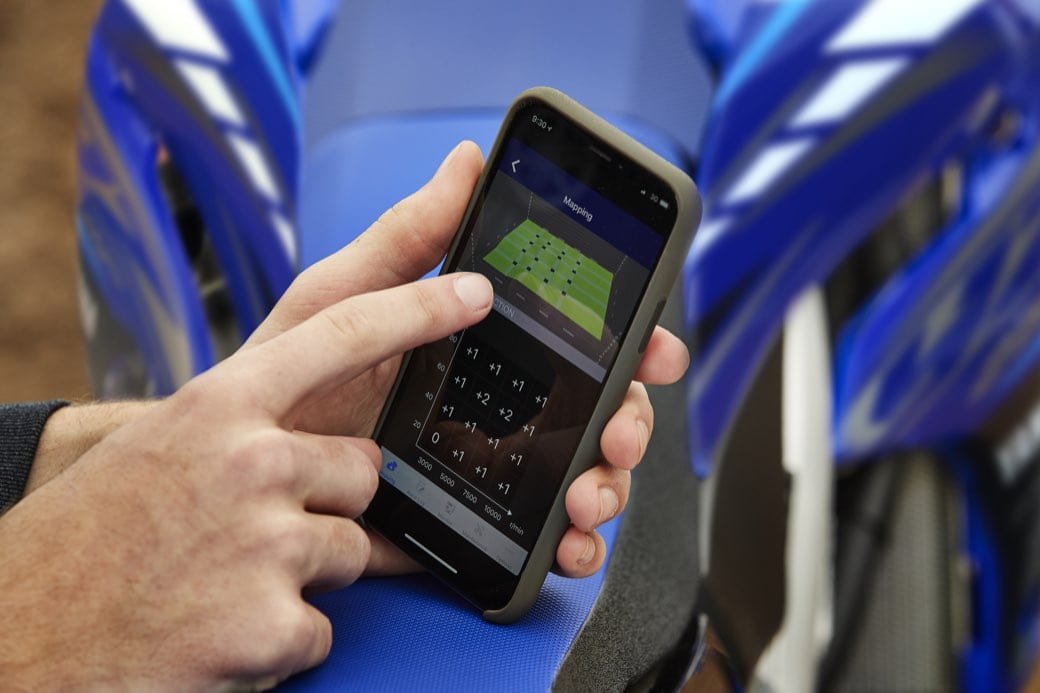 Advanced fuel injection system
The compact new engine is equipped with a highly advanced Mikuni® fuel injection system that features a light and ultra-compact 44mm throttle body. Delivering the fuel/air mix via a long and straight forward facing inlet, this advanced fuel injection system benefits from a high pressure electric pump that ensures optimum atomization for excellent running performance in a wide range of riding conditions
High efficiency angled radiators
To ensure that the new more powerful engine runs efficiently in all conditions, Yamaha's engineers have developed enhanced radiators that are angled to directly face the incoming air. By maintaining a consistent airflow, this angled radiator layout delivers more effective engine cooling for winning performance.
Robust 5-speed transmission
The YZ450F's robust 5-speed transmission is built to handle even the most aggressive left foot. The specially-developed gears feature a large surface area that spread the load, and together with an updated clutch this delivers high levels of durability – while the shift drum and selectors are designed to give improved feel and a shorter stroke when shifting gear.
Mass-centralised wraparound exhaust
A key feature of the YZ450F is its mass centralised design, in which major components are located as close to the bike's centre of gravity as possible. One example of this is the wraparound exhaust that snakes around the cylinder, and this design also enables the fitment of a muffler that is mounted further forwards and closer to the bike's centre.
Combined with the new rearward-slanted cylinder, this centralises the mass which contributes significantly towards achieving lightweight and dynamic handling performance.
Lighter aluminium frame for sharper handling
The YZ450F is already regarded as being one of the best handling bikes in the open class, and for 2020 the compact aluminium frame has been carefully retuned to match the new more powerful engine.
To reduce weight and fine tune the bike's instinctive handling performance, the new bilateral frame features thinner main spars together with thicker down tubes and new engine mounts. These significant changes – together with the mass centralised design and class-leading suspension – help to deliver even sharper handling for reduced lap times.
Slimline body and seat
The YZ450F's compact fuel tank and radiator shrouds as well as the slim seat not only enhance rider mobility and enable an effective knee grip, they also underline the bike's feeling and impression of lightness and manoeuvrability to give the rider a psychological advantage before the race even starts.
By enabling the rider to shift their body weight quickly and easily, the ergonomic design helps to improve controllability and reduce fatigue.
Industry-leading suspension systems
The YZ450F is equipped with fully adjustable coil spring KYB® forks that are widely regarded as being the ultimate in off road suspension design. Featuring speed sensitive damping that gives the idealised balance between handling and bump absorption, these exceptional front forks deliver best-in-class performance.
The fully-adjustable link-type rear end features a specially tuned KYB® shock that delivers high levels of traction together with smooth suspension action at low and high speeds, giving exceptional handling in a range of track conditions.
Lightweight wheels
Featuring factory-bike style blue anodized rims, the wheels have been refined using computer aided design to create a lighter design for lower unsprung weight, while maintaining their renowned durability.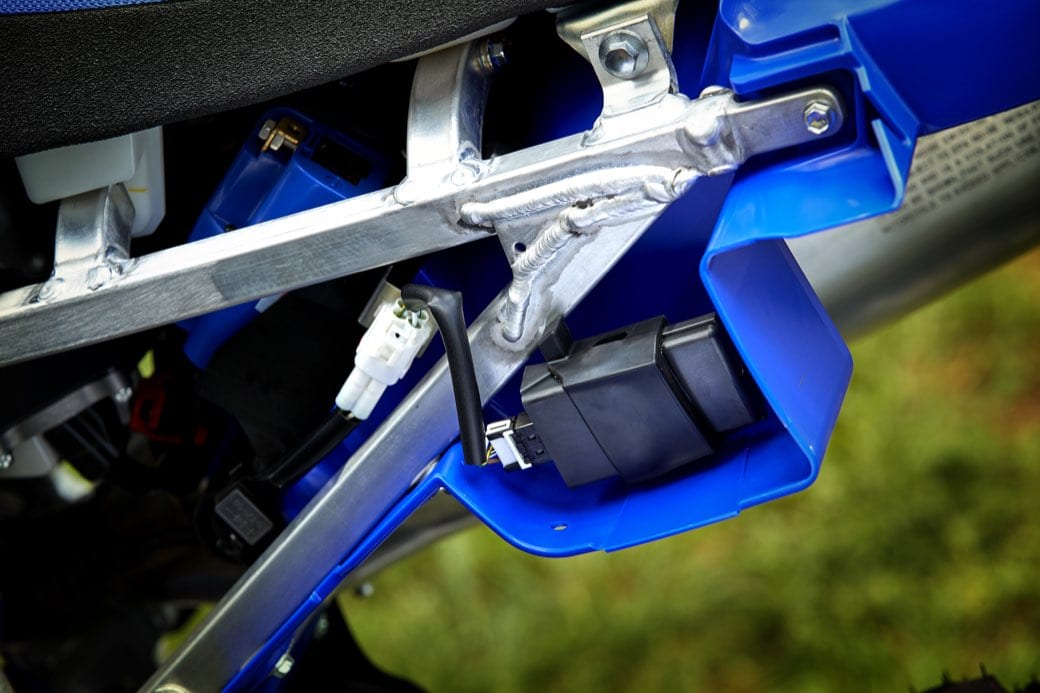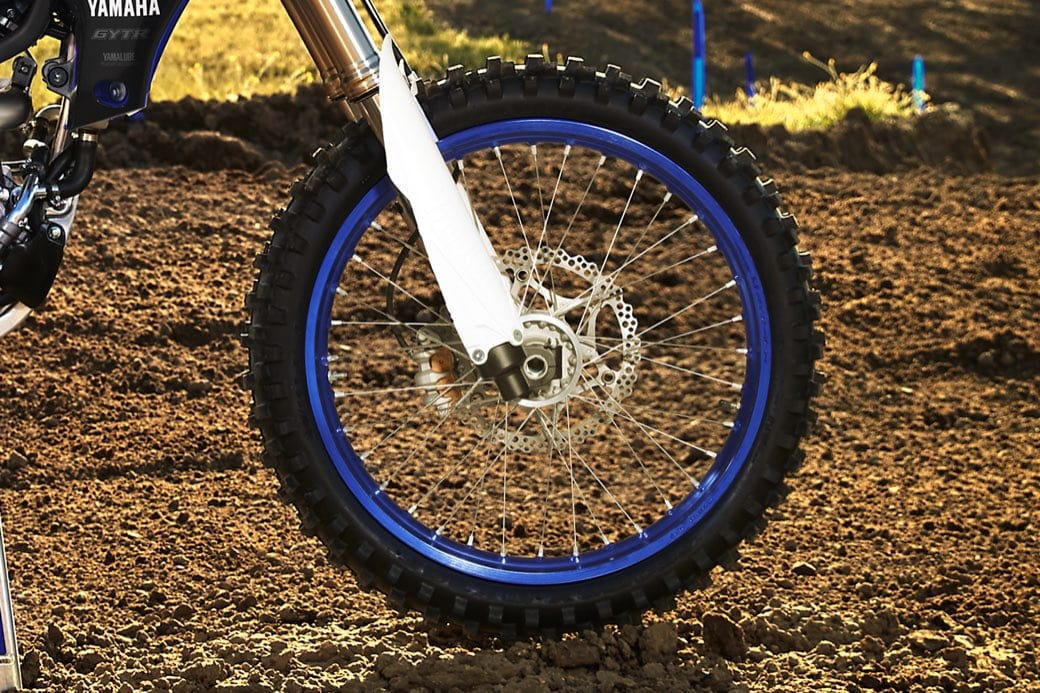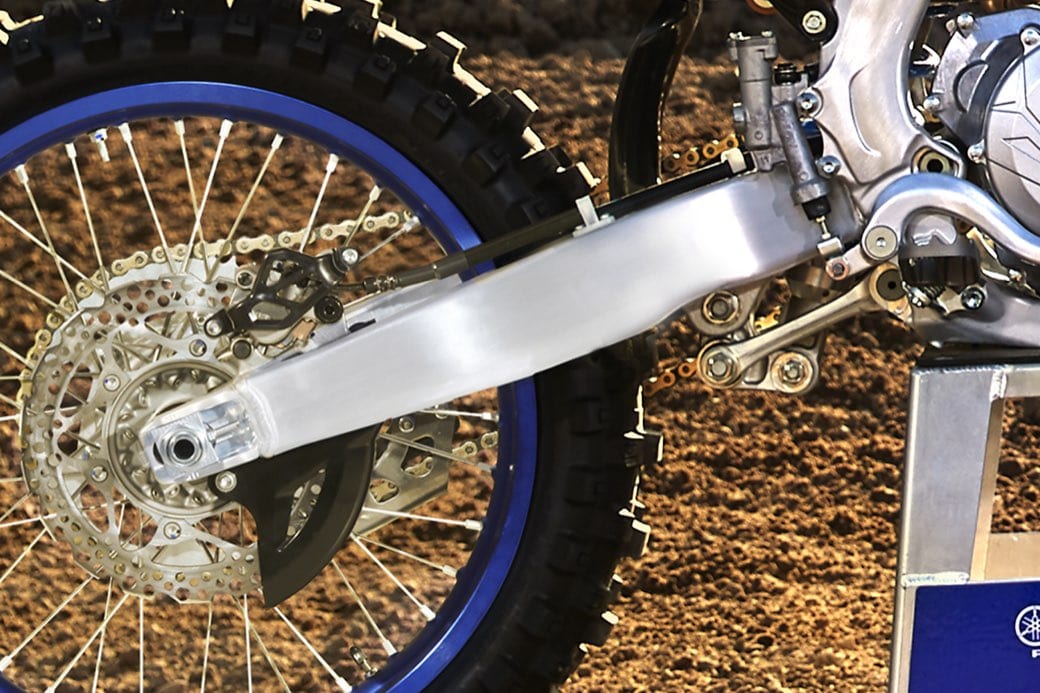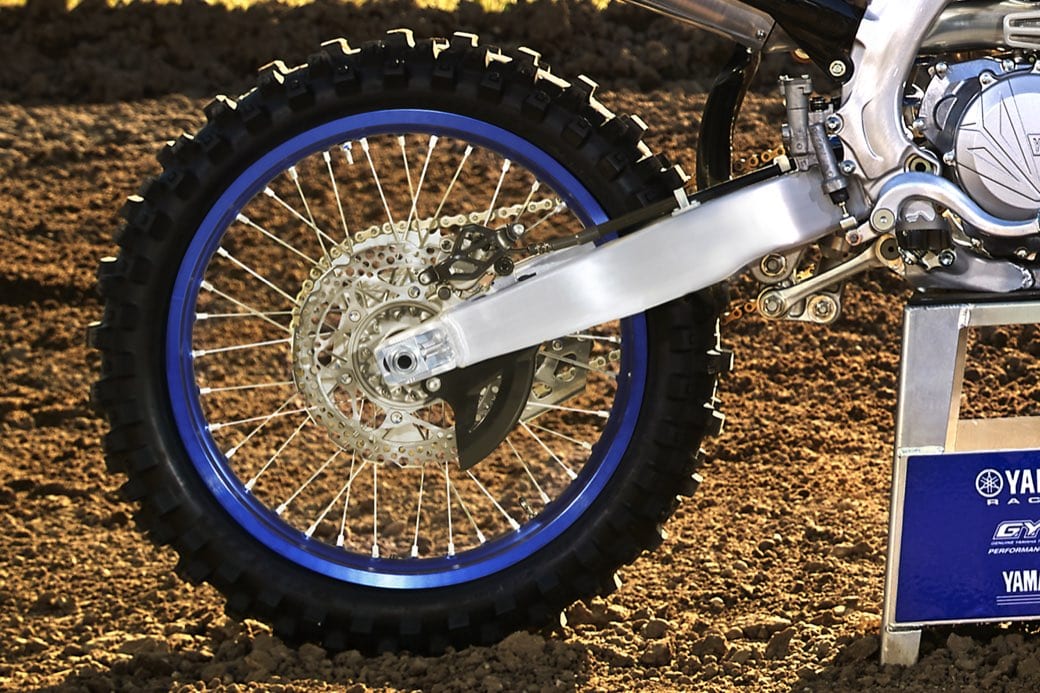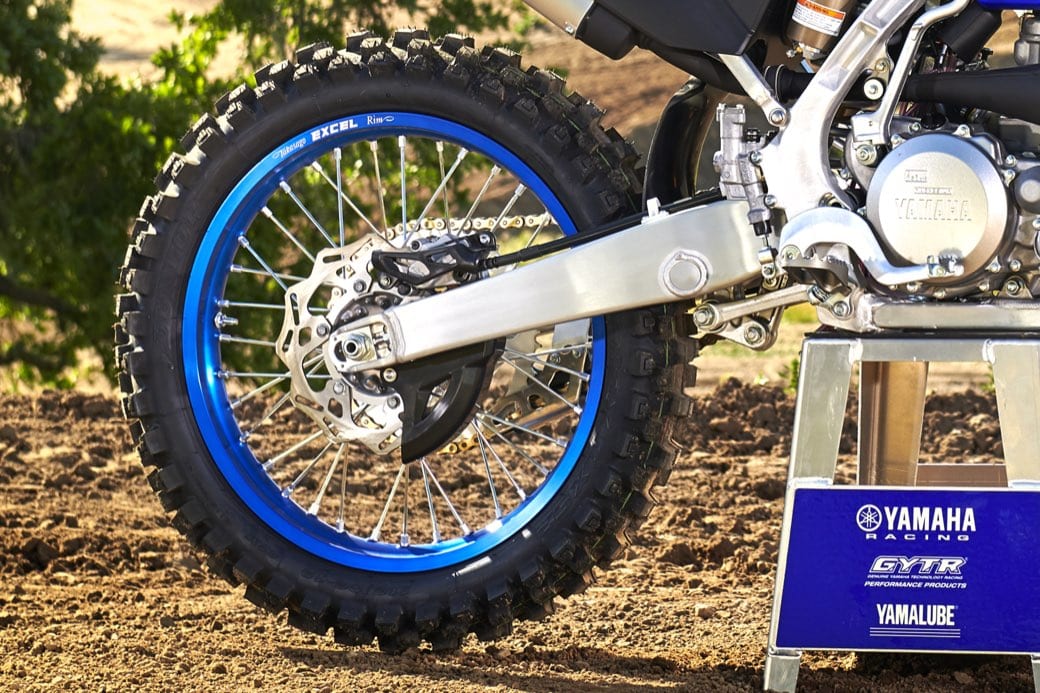 Uprated brakes
A more rigid front caliper with an aggressive pad material works with the 270mm front disc for outstanding braking performance, while a new lightweight rear caliper and new rear disc reduce unsprung weight.
YZ450F Technical Highlights
Ultra-compact new 450cc engine, increased power with total control
Lighter and more compact rearward-slanted cylinder
Mass centralised design
Yamaha Power Tuner for instant track-side tuning via a smartphone
Handlebar switch for easily adjustable mapping
Compact electric starter with ultra-light battery
Launch Control System (LCS) optimises engine output for quicker starts
Advanced fuel injection system for optimum power
Angled radiators ensure effective engine cooling
Robust transmission and clutch for positive shifting
Compact mass-centralised wraparound exhaust
Forward mounted muffler
Lighter aluminium bilateral frame delivers sharper handling
Slimline body and seat for ultimate ergonomics
Class-leading KYB® coil spring-type speed sensitive front suspension
Link-type rear suspension with specially-tuned KYB® shock
Lightweight wheels with blue rims
270mm front disc with uprated caliper aggressive pad material
New rear disc and more compact caliper
4-position adjustable rubber-mounted handlebar clamp
Embedded graphics give extended durability
Tapered aluminium handlebars with quick-adjust clutch perch
Wider and lighter footrests
YZ250F: Tune, Race, Win
Following its complete redesign for 2019, the YZ250F is proving to be one of the most competitive 250cc 4-strokes, with Dylan Ferrandis winning the AMA Supercross West Championship. In the 2019 MX2 World Championship Yamaha YZ250F riders Jago Geerts and Ben Watson are amongst the main contenders, and at local and national level the YZ250F continues to impress.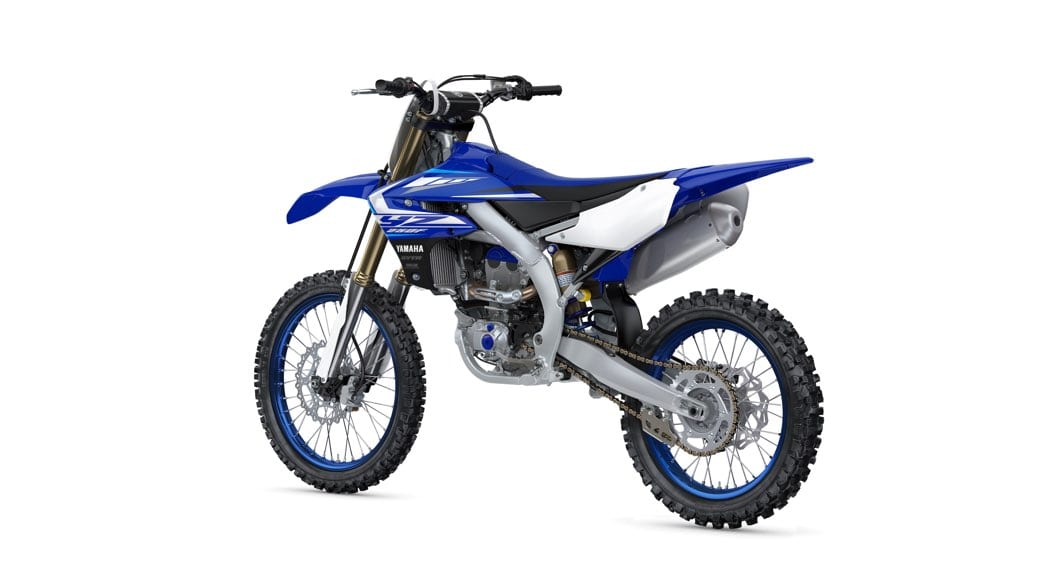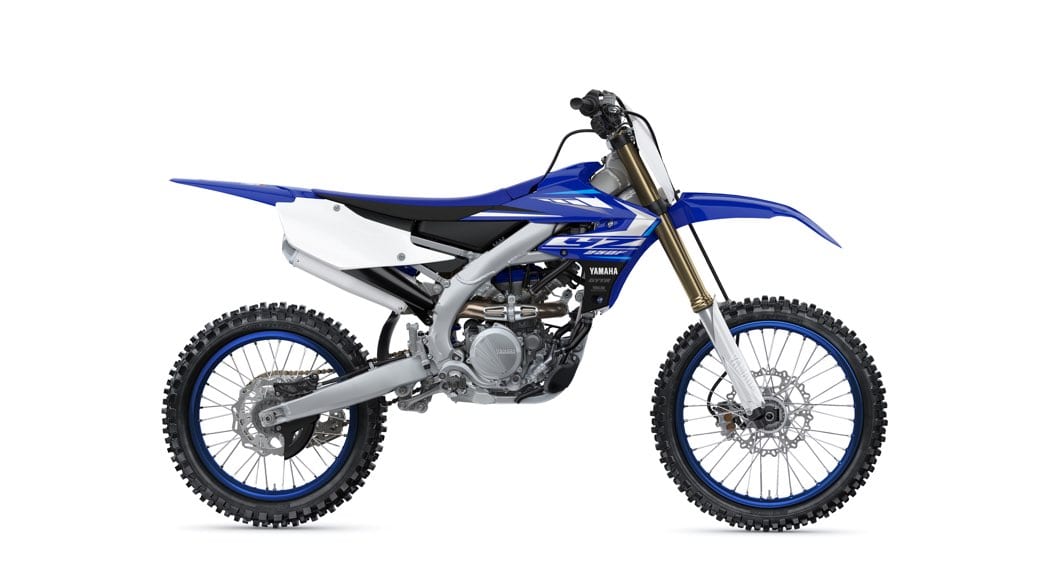 Sporting an electric start, and a 250cc, liquid-cooled, four-stroke engine housed in an aluminium bilateral beam frame, as well as being suspended by industry leading KYB spring type forks and KYB rear shock, the 2020 YZ250F provides the ultimate balance of race-winning performance, rideability and comfort. It also continues to feature Yamaha's advanced racing technology including dual-mode switchable engine mapping and wireless connectivity for the Yamaha Power Tuner App.
YZ250F Technical Highlights
DOHC 250cc liquid cooled 4-stroke engine
Reverse cylinder head with high-efficiency straight inlet tract
Power Tuner smartphone app for trackside tuning
'On the fly' 2-position engine mapping switch
Lightweight electric starter with lithium-ion battery
Slim and compact bodywork and seat
Strong bilateral aluminium beam frame
Class-leading KYB® coil sprint front forks with speed sensitive damping
Link-type rear suspension with lightweight KYB® rear shock
Heavy-duty clutch with lighter feel at lever
High-efficiency angled radiator design
Other models in the 2020 Off Road range
Yamaha's 2020 range is designed to give everybody the chance to enjoy the thrill of leisure riding and off road racing, whatever their age or experience level.
In addition to the YZ65, YZ85 and YZ125 youth MX bikes and the YZ250F, YZ450F and YZ250 adult race bikes, the 2020 Off Road range also includes the PW kids' bikes. Aimed at younger riders from 4 years upwards, the PW is the ideal way to get into two wheels, and many of today's champions started with one of these user-friendly models.
2020 Colours
YZ450F: Racing Blue with new graphics
YZ250F: Racing Blue with new graphics
YZ250: Racing Blue with new graphics
YZ125: Racing Blue with new graphics
YZ85LW: Racing Blue with new graphics
YZ65: Racing Blue with new graphics
PW50: Racing Blue with new graphics
2020 model price and availability.
YZ250F will be available from July 2019.
YZ450F will be available from August 2019.
GYTR race part kits
Yamaha produce a range of dedicated GYTR (Genuine Yamaha Technology Racing) High Performance kits specifically designed for the YZF 4-stroke and 2-stroke models. Individual GYTR performance parts are available for the YZ450F and YZ250F, while YZ125 riders can order a dedicated GYTR YZ125 kit for their bike containing all the necessary parts required to achieve optimum performance. Both the 2018 European 125 Champion Thibault Benistant and 2018 World 125 Champion Bailey Malkiewicz won their titles using GYTR kits on their YZ125 motocross bikes, underlining the high performance and durability of these purpose-made components.
YZ65 and YZ85 riders will have the possibility to order a GYTR High Performance Kit as well to reach an even higher winning performance. The YZ65 High Performance kit features a new cylinder head, exhaust system, CDI unit, reed valve, radiator hose and cap, and a manual, while the YZ85 High Performance kit includes a new cylinder head, ported cylinder, exhaust system, CDI unit, reed valve, radiator hose and cap, Vforce reeds, needle kit and a manual.
Both of these GYTR High Performance kits substantially boost high rpm power and torque with a stronger over rev character, whilst maintaining Yamaha's high levels of reliability and durability. For full information please visit www.yamaha-motor.eu
Yamaha also offer a wide range of individual performance parts including slip-on mufflers, exhaust pipes, billet clutches, wheels and more.
New 2020 MX riding gear
Yamaha has developed a new range of blue/black/fluo green MX riding gear that will be available from July 2019 onwards. The new line includes jerseys, pants, gloves, bodywarmers and caps, as well as body armour for adults and kids, and also Enduro gloves.
Test the 2020 YZ models at the MX Pro Tour
Yamaha will once again visit various tracks around Europe during 2019 where customers will be able to test, feel and gain knowledge about the 2020 YZF and YZ range, as well as find out more about Genuine Yamaha accessories and GYTR high performance products. Details about dates and venues will be live on national Yamaha websites in June 2019.
Full details at www.yamaha-motor.eu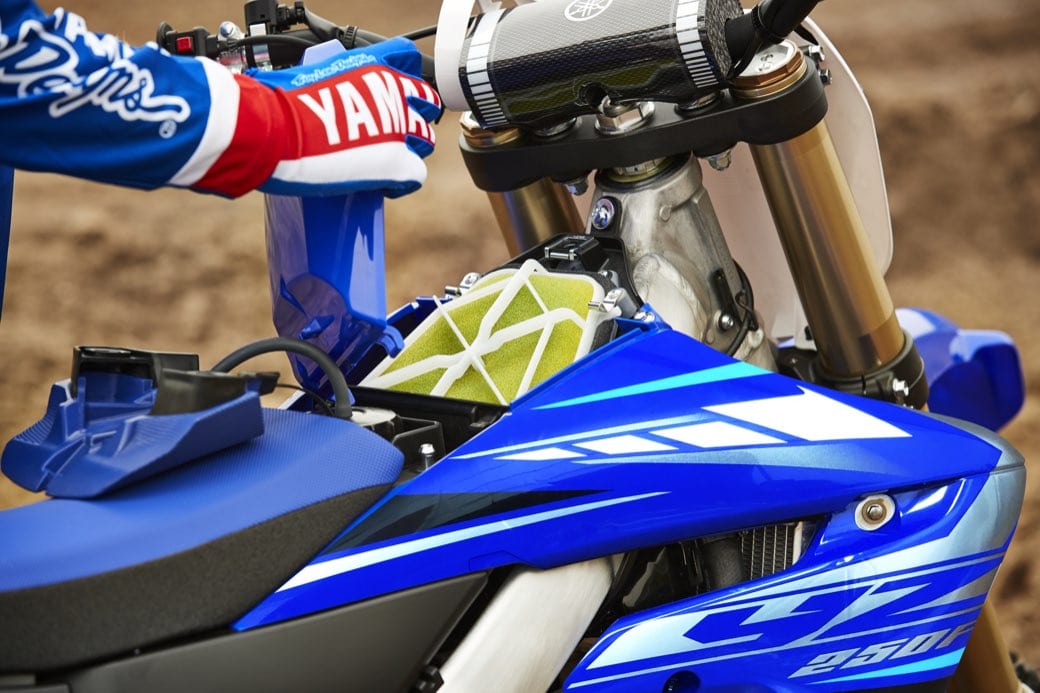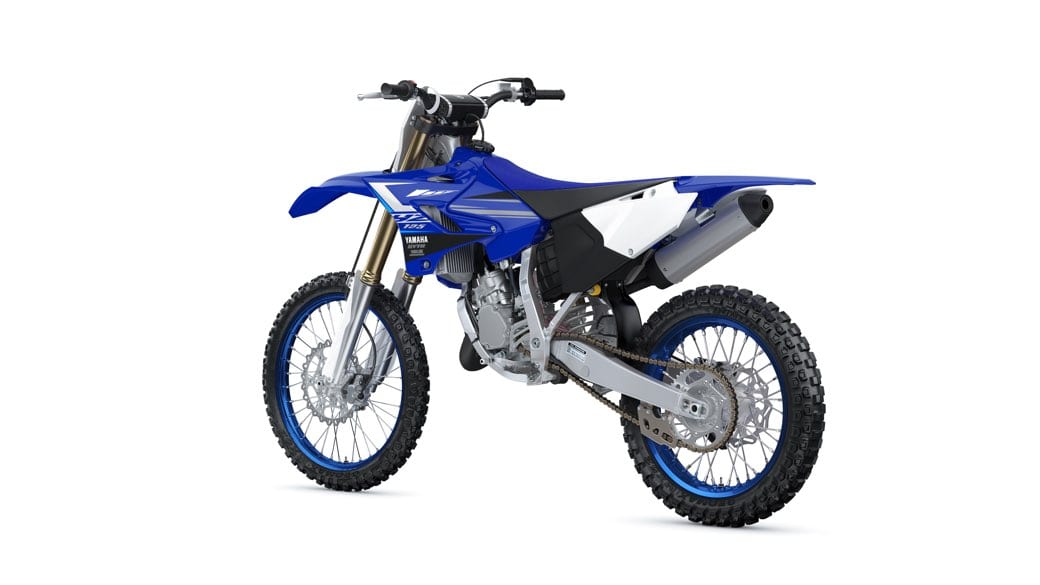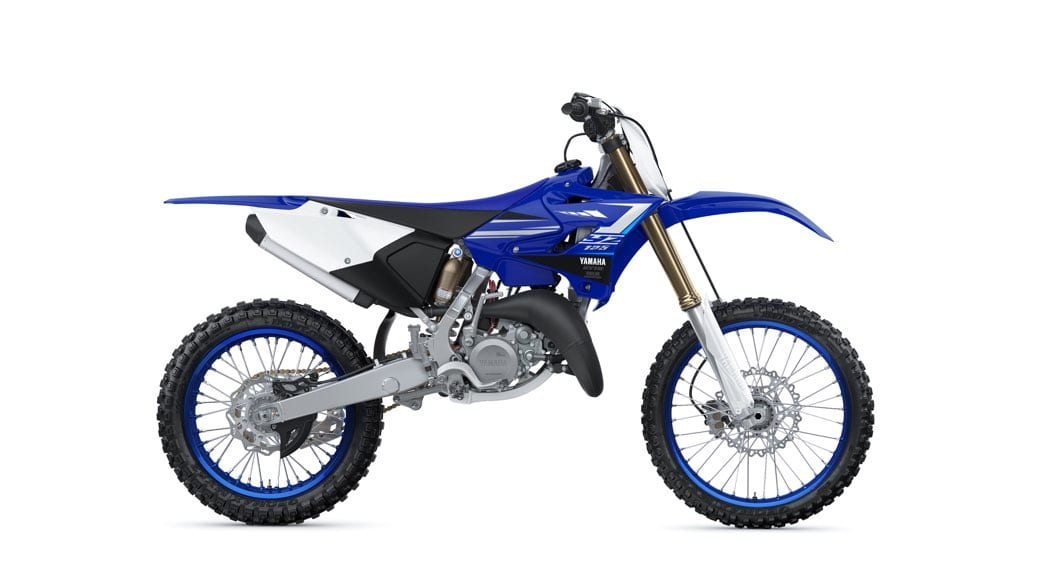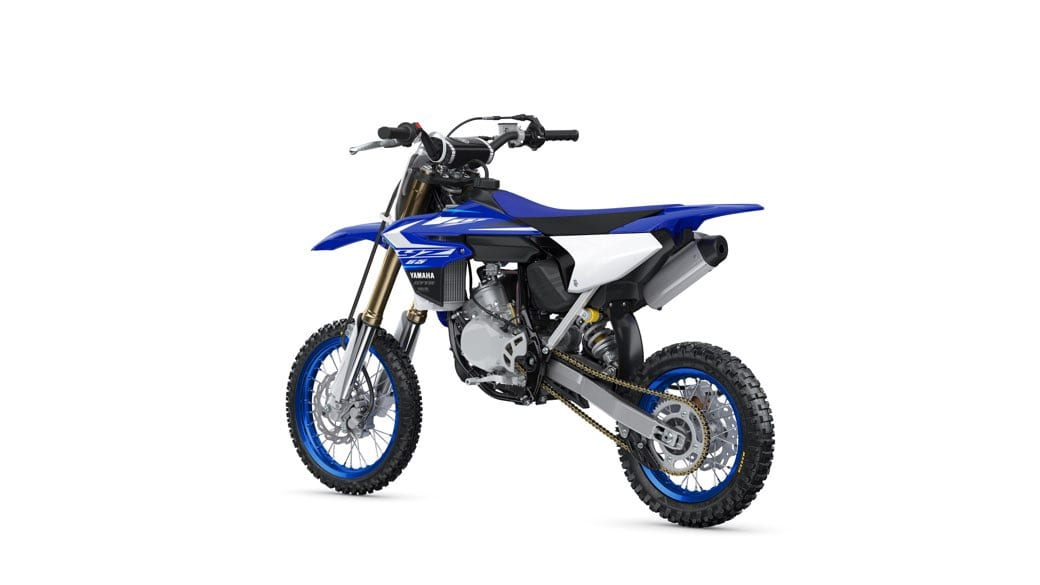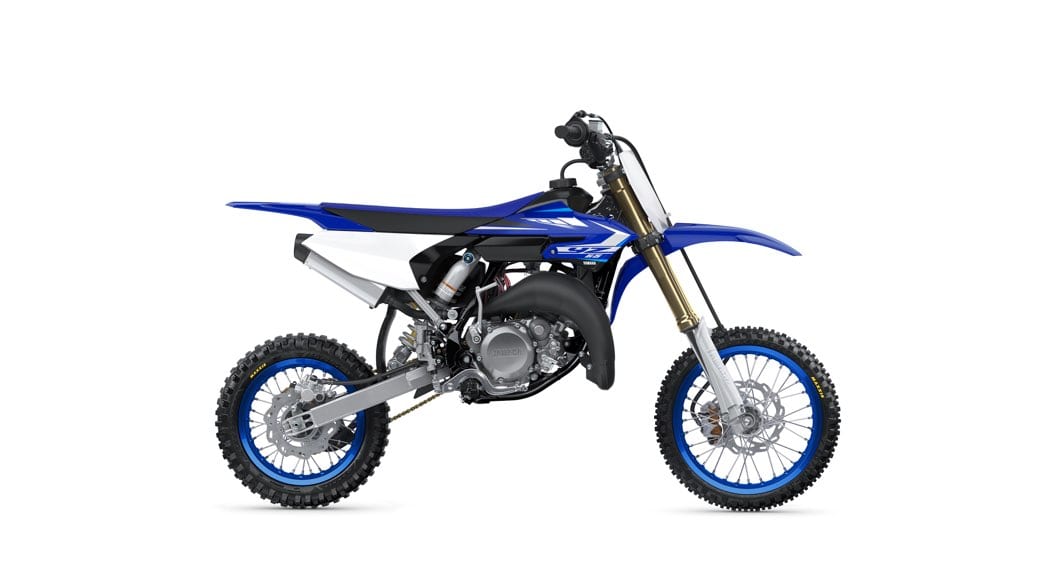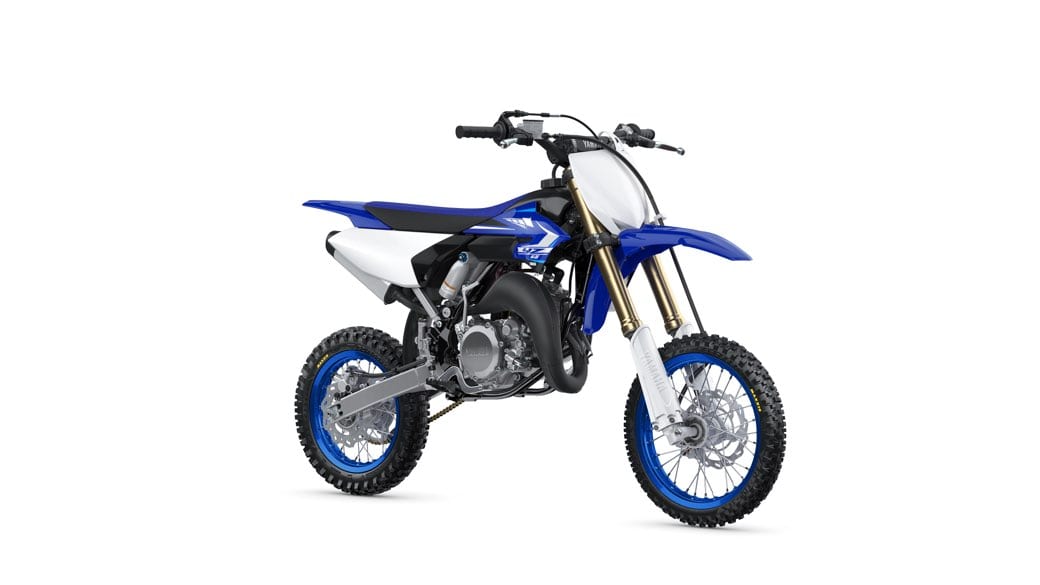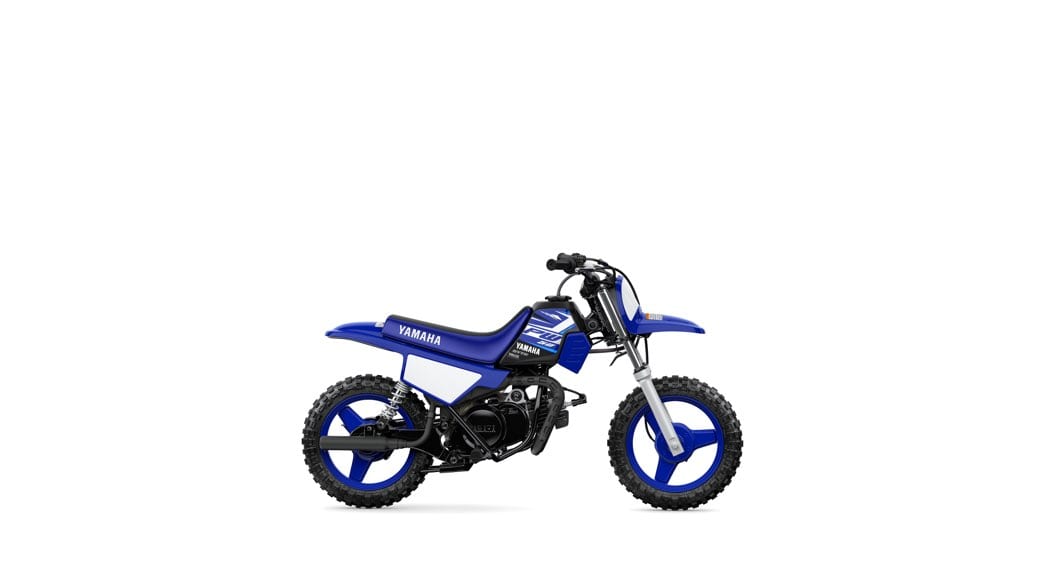 [more-from heading="More New Products" category="new-products"]