Taking advantage of a very brief gap in his CFS French Beach Championship schedule, Todd Kellett returned to the UK to bag another great win in the main Solo race at the Skegness Beach race.
Great action, the biggest entry so far and hundreds more spectators meant the 10th anniversary Visit Lincs Coast and AMCA Skegness Beach Race had it all.
Putting on a smooth beach race masterclass, Drag'on Tek Yamaha ace Kellett finished a massive three laps clear of runner-up John Robson and third-placed Tom Neal, who was making his Skeggy debut.
Also adding to their impressive Skegness roll of honour totals, Harry Walker made it a Quad race hat-trick, while Welsh crew Alun Davies/ James Ferguson incredibly scored an eighth Skegness success.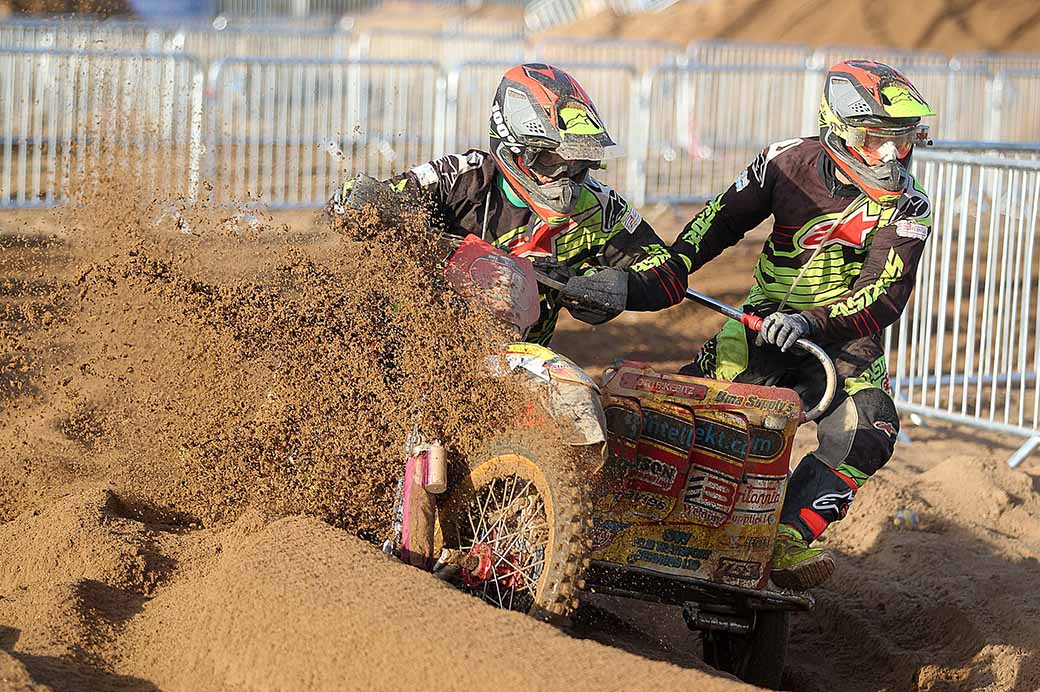 Other riders topping podiums on a frantic weekend were John Robson (Clubman), Alex Owen (Vets), Jack Beniston (Clubman Sprint) and Sean Smith (Vets Sprint).
On a track this year built by Phil Roberts and his team, the weekend started with a 1.5hour contest for Solo Clubmen and Vets on Saturday morning – and it was brutal. After the normal first-dune carnage Scott Aldridge broke clear of the massive entry to lead the early exchanges.
Despite only having the 130th gate pick and never previously finishing a beach race, Scott was on a mission as Ryan Crowder, Jack Beniston, John Robson and Ian Roberts gave chase. Three laps in and Robson was now at the front with the North East KTM ace looking in control as the contest finally settled down.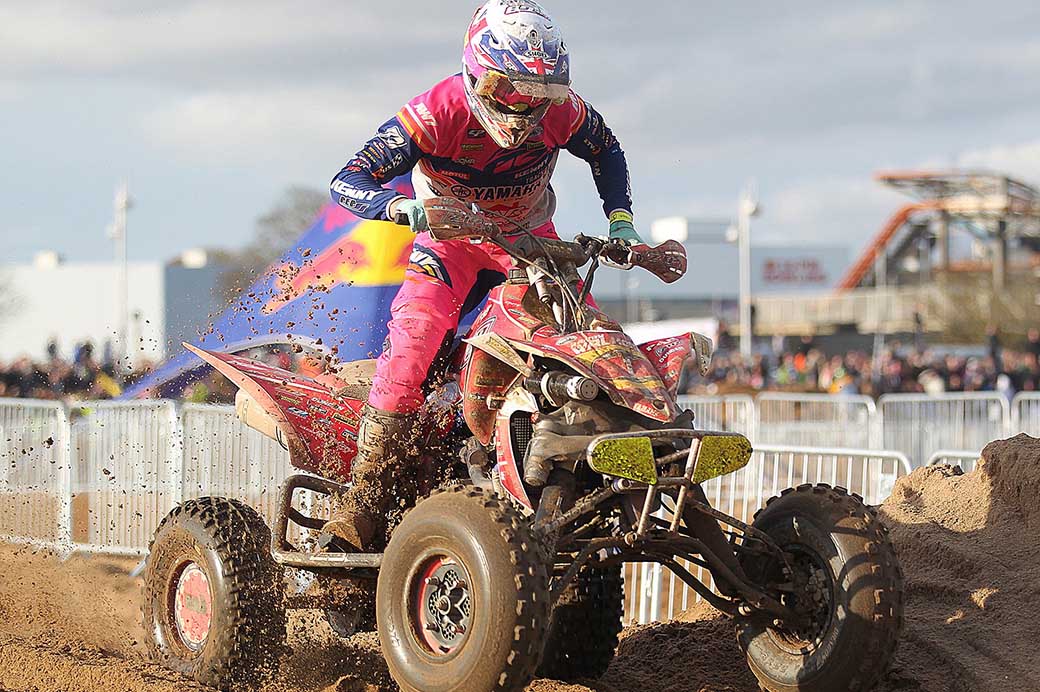 Gating down in 23rd place, Sean Wainwright came storming through to slot into second after battling with and eventually seeing off Aldridge, while Skegness regular Brad Thornhill sat in fourth. The initial results then controversially awarded Wainwright the top podium spot from Thornhill and Aldridge, while a perplexed Robson was listed as fourth.
However, on investigation, it became clear that a transponder glitch had meant two of Robson's final few laps had not recorded on the electronic timing system.
So with the very sporting and honest backing of his rivals, the result was corrected to read Robson as the worthy winner from Wainwright and Thornhill.
In the Vets class, Alex Owen took home another first-place trophy with Sean Smith second and David Dunn third. Despite being disappointed to not actually bag the win Wainwright later said.
"That was so tough early on and I got stuck four times and crashed once. Then three laps from home I could feel a juddering in the back end and realised that the nut holding the rear wheel
spindle had worked loose. I have only myself to blame as I do all the work on my own bikes!"
Meanwhile Thornhill was pretty satisfied with third. "I had a half-decent start and put in some strong, early laps finding some good lines," he said.
"I messed up a little bit by going in for my pit stop too early but I really enjoyed it out there.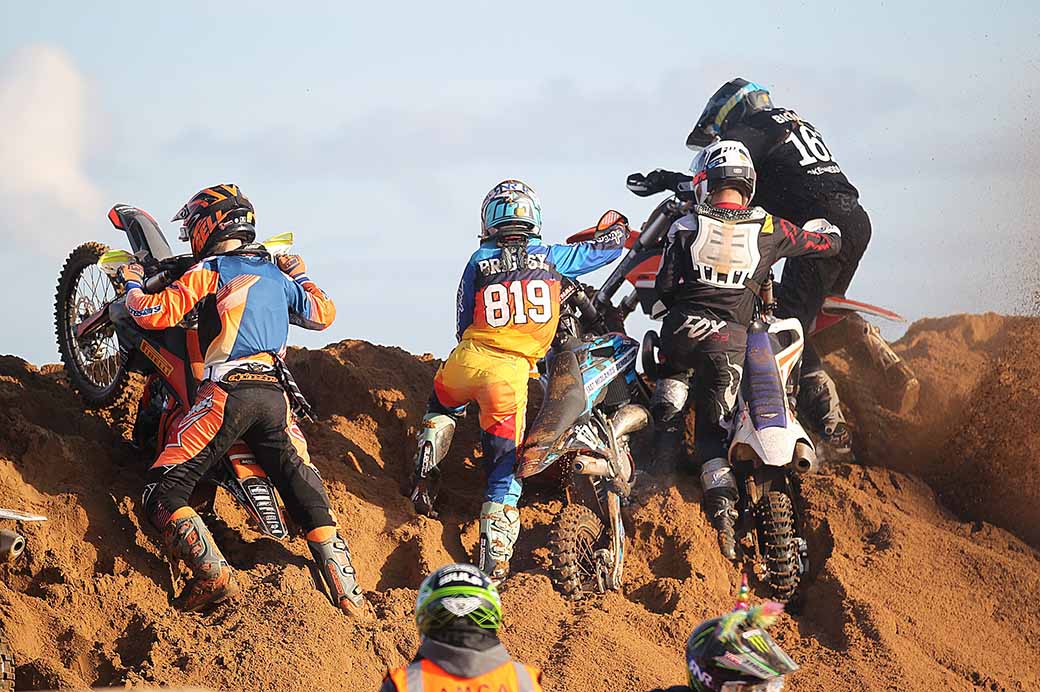 "The track was tough and the sand was different due to it having been so wet recently." The combined Quads and Sidecars class both had
entry levels which were up on previous years and looking for a Skegness hat-trick, Harry Walker led the early charge with Jamie Morgan, Oliver Sansom, Carl Bunce, Sheldon Seal and Harry
Hinkley in tow. Three laps in, though, Morgan slipped through into first place when Walker had his route totally blocked off due to major congestion on a dune. With Seal also getting past Walker, the young star now had it all to do if he was to claim Skeggy win No.3.
In another twist, Seal then crashed and lost second spot on lap six. The chase was on as Walker now went back after the flying Morgan. Morgan was in a very confident and determined mood, though, hanging on to his hard-earned advantage right through until lap 12.
Eventually, both eventual winner Walker and Seal found a way past Morgan as Sansom got home in fourth ahead of Harry Miller.
Having made the long seven-hour journey to Skeggy from their Welsh home, Alun Davies/ James Ferguson were the first Sidecar crew home in 28th place, one spot ahead of Sidecar runner-up Daniel Lawry/ Sam Wilkinson and Keith Halliwell/ Gavin Zembrzuski.
That third-placed outfit was interestingly designed and built by the passenger Zembrzuki of Offroad-Only, who bought a 2019 KTM EXC engine then fabricated the chassis and frame which wrapped around it.
Quad winner and Skeggy hat-trick man Walker said: "That was so hectic early on and you had to make sure you rode with care in the early few laps. "I then got stuck in a big jam on one of the dunes and was passed by both Jamie Morgan and Sheldon Seal. I regained second when Sheldon crashed then eventually got past Jamie.
"My bike set-up this year as been amazing and I would like to say a massive thank-you to everyone involved. For me, that's it for this season except maybe one French CFS Championship round.
"The idea was to do the whole series but I missed a meeting when it clashed with Weston so I am too far behind in the points standings."
Third-placed Morgan said: "I made a decent start and when Harry got stuck in heavy traffic on that dune I found a way through.
"Once in front I put the hammer down and tried to build a big advantage but knew that both Harry and Sheldon with more stamina and speed would come back at me.
"Although they passed me I am more than happy to finish third at Skeggy again. It's been a good year after winning at Weston and also bagging a couple of Hare and Hounds Enduro Championship titles."
For Sidecar winners Alun Davies/James Ferguson it was a remarkable eighth Skegness success but their participation in 2019 was in-doubt until recently as Alun said: "During the Welsh 2-Day Enduro we had a big crash and rolled the outfit which then came down on my leg and crushed my femur.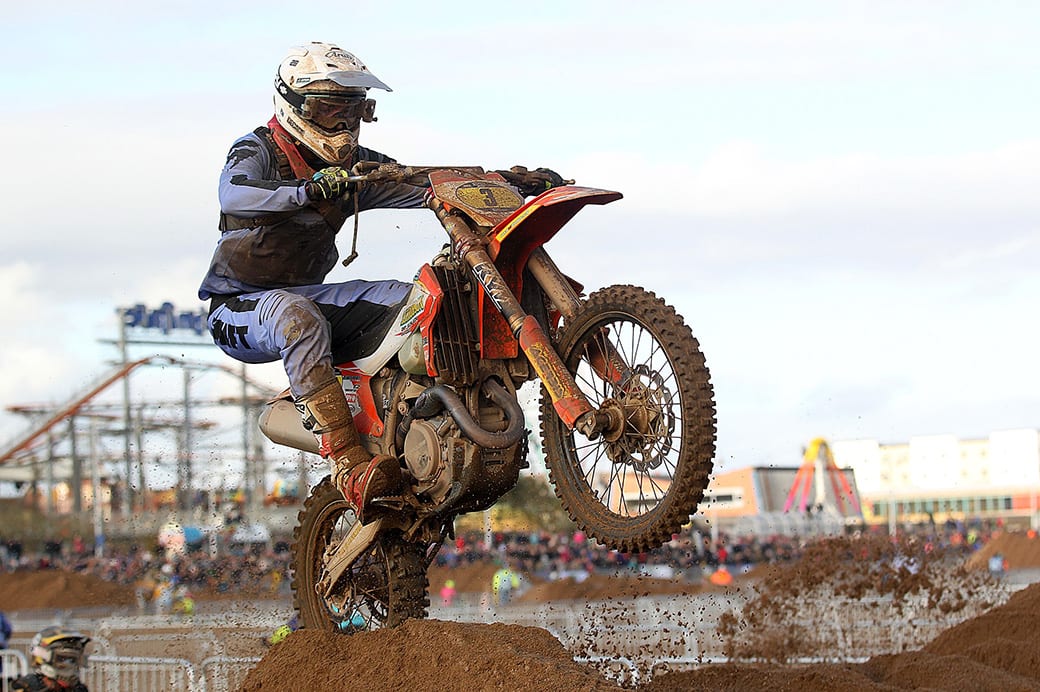 "We were out of action for nearly five months and only returned just before Weston. We gave that a go and ended up winning it for the third time so decided to enter Skeggy again.
"We really like it here and it's such a good atmosphere."
Following the excitement of the opening day's action, it was on to Sunday and the main Solo race, after a two-minute silence had been impeccably observed by everyone present.
So at 11.30am, the big three-hour Skegness race thundered off and over the first dune as John Robson led the charge followed by Todd Kellett, James Wainwright, Liam Knight, Tom Neal, Lee Harrison and Robbie Dowson.
By lap two Kellett had hit the front and he stayed there for the entire duration but although Todd dominated there was still to be plenty of other leaderboard changes going on behind him. Six laps in and it was heartache for the very talented young Wainwright as his clutch failed.
He headed back to the parc ferme where a new clutch was quickly fitted, only for it to again expire later in the race! With expected challenger Wainwright out, Knight was on a charge and moving up into second on lap 21, while Josh Bentley slotted into 4th.
In another leaderboard change, the very impressive Knight then disappeared from proceedings on lap 28, while after dropping down to sixth, Maxxis MX2 runner and Yorkshireman Neal – making his beach racing debut – found some late stamina to climb back to third.
So with 180 minutes of tough, gruelling sand surfing completed, victory and the £1,000 winner's cheque belonged to the super-smooth Kellett, who finished a remarkable three laps clear of his rivals.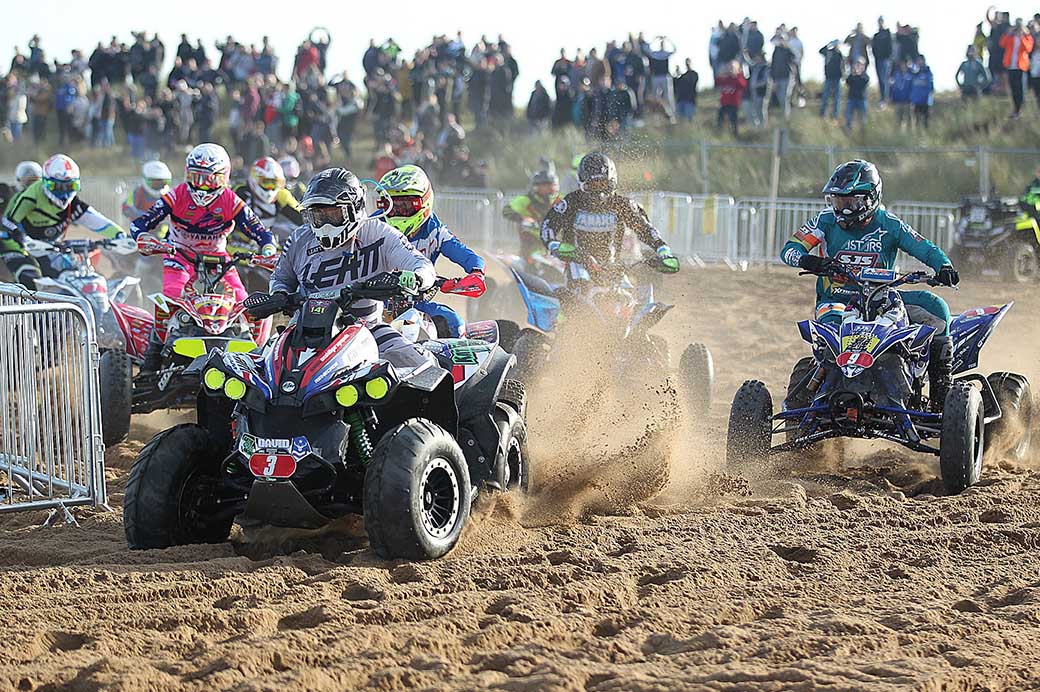 After being denied a chance to stand on the podium on day one, John Robson was definitely on it this time as runner-up with Neal third. Sean Wainwright took a great fourth ahead of Bentley and the consistent Thornhill.
In the Vets class Sean Smith was the first rider home in a superb 21st, enough to also give him the Vets Clubman Sprint overall verdict. Clubman Sprint Solo overall winner was Jack Beniston, who got home in a fantastic 11th.
After bagging his second Skeggy win a happy Kellett said: "Gating behind John Robson I quickly got through and despite a little bit of rider error when I made a couple of mistakes it was a smooth race.
"There are not enough Beach races in the UK so it was good to be able to compete in this one again. I really like it here and the sand is so nice. "The track layout was good and it flowed better than in 2018. I want to come back again in 2020."
Runner-up John Robson was also happy to have the chance to climb that podium,
"It was hard work out there after also competing yesterday," he said. "When the clock was down to the last 30 minutes I just told myself that it was a new race and that I had to finish and get on the podium.
"We made three pit stops and on the last one I had to bleed my back brake after it had failed. It was far too dangerous to go out there with it not working!
"The final step on the podium went to Tom Neal and he was delighted with the result. I only decided to enter at the last minute but am so glad I did," he said.
"I have never been in a three-hour beach race before. I tried to pick my lines and make sure I didn't crash but still found myself upside down on several occasions. I have been training hard at FatCat to try and improve my sand-riding skills and we bought a bigger tank for the bike.
"I loved it out there today and definitely want to come back next year, after all I need to get some use out of the new tank!"
So that's the 10th Anniversary Skegness Beach race done and dusted thanks to the continued support of Visit Lincs Coast, Magna Vitae Trust, East Lindsey District Council, all of the event sponsors and the very supportive local community.
Here's to the next 10 years!
[more-from heading="More Enduro" category="enduro"]