Fans of motocross in the 1980s will remember the Hants Grand National, the traditional Good Friday international held at Hammer Warren or Matchems Park in Ringwood. Sadly the race and tracks have long since disappeared.
But a new classic is set to take its place, The Huck Cup at Marshfield.
The Marshfield club has held their Good Friday meeting for over 30 years, which has incorporated the Mike Brown Memorial Old Friends race since 1989, in memory of one of their members who was tragically killed at work.
The Huck Cup was added last year, a pro race to commemorate Mark Hucklebridge who passed after a long battle with cancer. Huck lived in the village and had a successful career in grand prix and British motocross. With prize money on the line, a host of former and current top riders lined up for this invitational race with the hope of lifting the Huck Cup.
The British weather can make life difficult and this year there's been more cancellations than usual, but the Huck Cup was going ahead come-what-may.
Mist shrouded the valley track as riders set out for practice, the track looking very muddy already. The rain started to fall by 11am making conditions even more slippery.
In practice Hitachi ASA KTM team-mates Graeme Irwin and Conrad Mewse made the conditions look easy, as did last year's winner Luke Hawkins.
Josh Coppins was out on a two-stroke YZ250, his style immediately showing, and Ryan Houghton also looked racy on his Rob Hooper Yamaha.
When Brad Wheeler and his dad, Brian, topped the timesheet, more than 10 seconds quicker than everyone else some eyebrows were raised.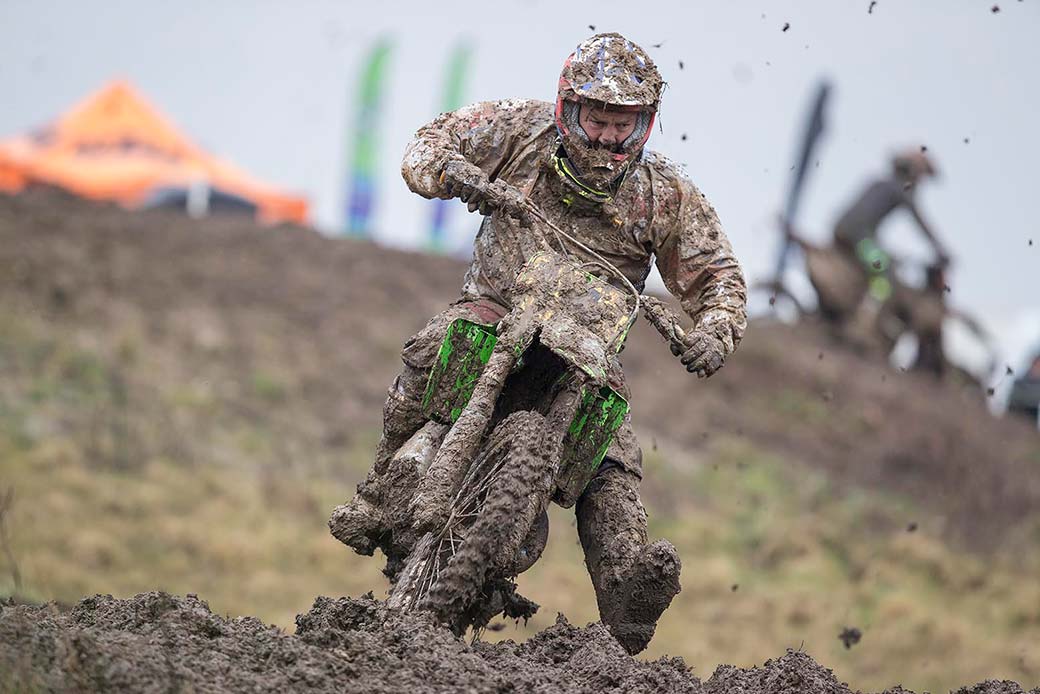 Was two-stroke power the secret of their success or a short-cut at the bottom of the track?
Former M.J. Church Kawasaki team-mates Tom Church and Stephen Sword have done countless laps at this place.
A muddy looking Sword said: "Yeah, we've done a few laps around here, not usually when it's this wet, but today is about getting together, having a go and making the best out of it. Everyone's put a big effort in and it's for a good cause. This is my second family and I always enjoy coming up here."
Race 1 was 20 minutes plus a lap, and with rain falling it was Graeme Irwin who showed just why he's racing in MXGP, one of the few riders able to clear the table-top jump. Luke Hawkins gave chase but would eventually succumb to Irwin's team-mate Conrad Mewse, riding his 250.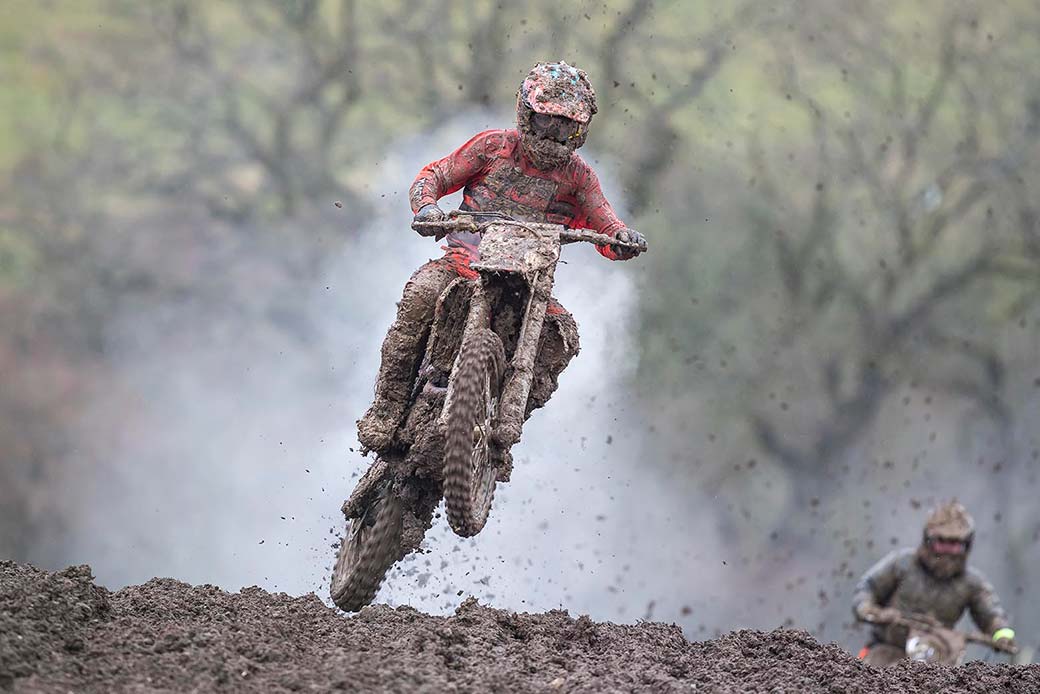 Ryan Houghton looked like he's had a good winter, keeping the KTM duo in sight as the hill at the end of the circuit started to catch a few riders out, even Brian Wheeler's big KX500 proving no advantage.
At the flag Irwin took a comfortable win from Mewse, Houghton, Hawkins and Josh Waterman.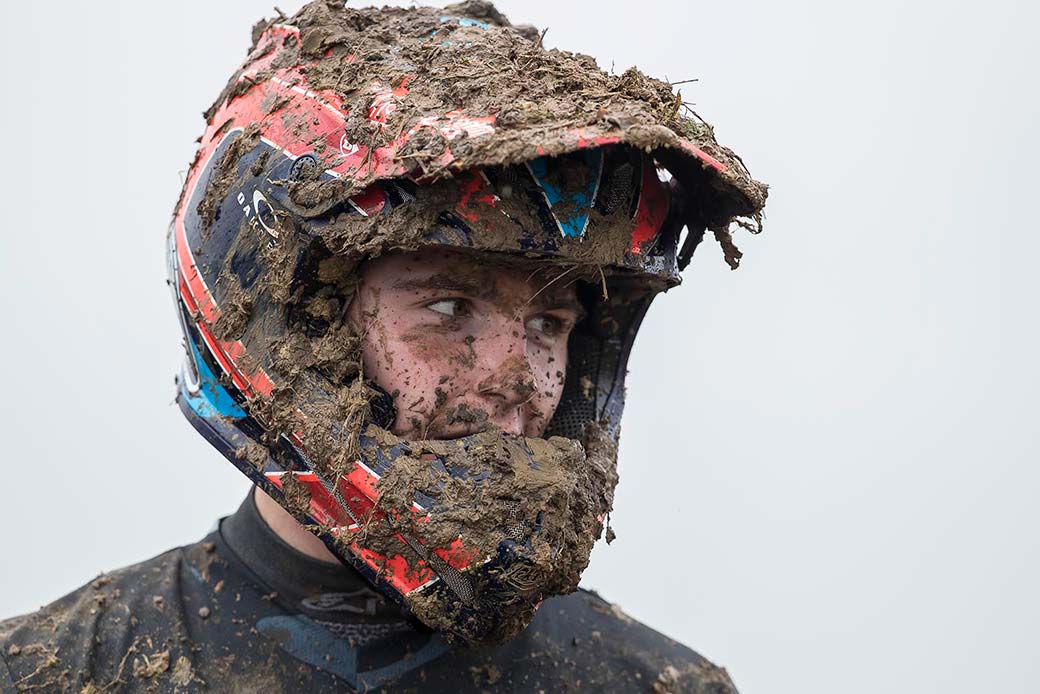 Race 2 was shortened as the rain had made the track virtually unrideable for the club racers in the support classes.
Luke Hawkins wanted to defend his title but lost his front wheel on the first lap, ending his chances and gifting Mewse the lead.
By Lap 3, Irwin was through to second place but 10 seconds behind – the chase was on.
Josh Waterman started in third but a mistake on the treacherous track dropped him to fifth behind Houghton in third and Todd Kellett fourth on his Verde KTM 250.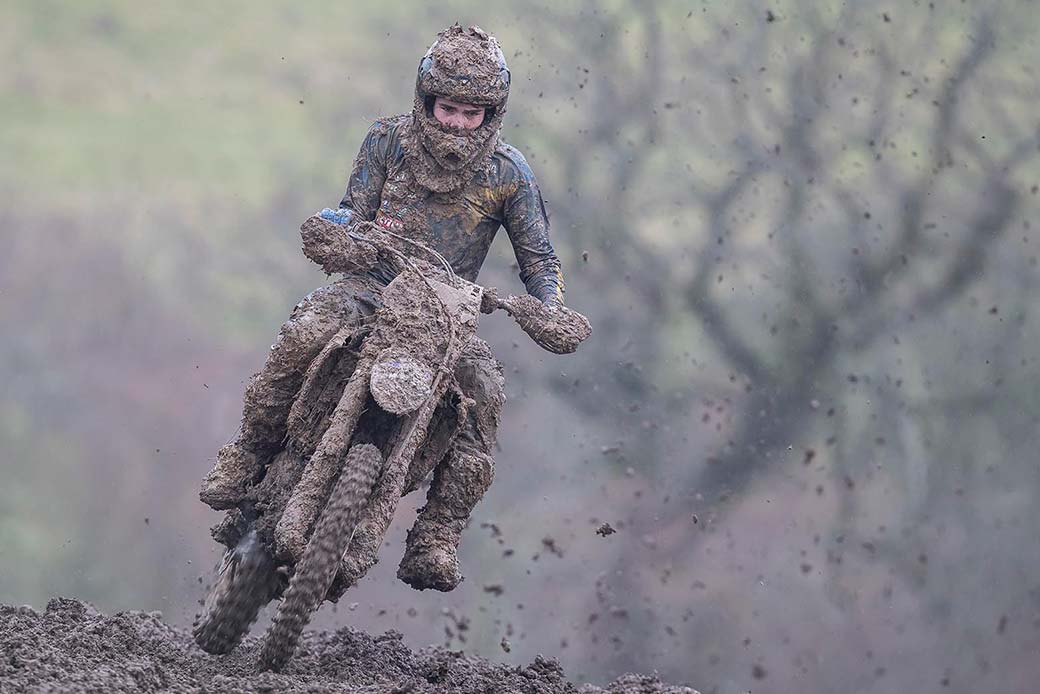 At the front, Mewse and Irwin put on a mud riding display, Irwin cutting the gap to a couple of seconds but getting filled in with roost and unable to make a move as they lapped fifth-placed Waterman.
Mewse took the victory, his 2-1 beating Irwin's 1-2 with the consistent Houghton third.
After the race, a beaming Mewse said: "It might have been a disadvantage on a 250 today but I enjoyed it so much. The track was treacherous, and I haven't ridden in conditions like this in England since I was in schoolboys."
Irwin enjoyed the event too, saying: "After a crash on the first lap I thought I could still do it [catch Mewse]." Houghton agreed: "It was such a fun meeting, nice to get behind a start gate after so much bad weather and great practice for Culham [opening round of the British championship]."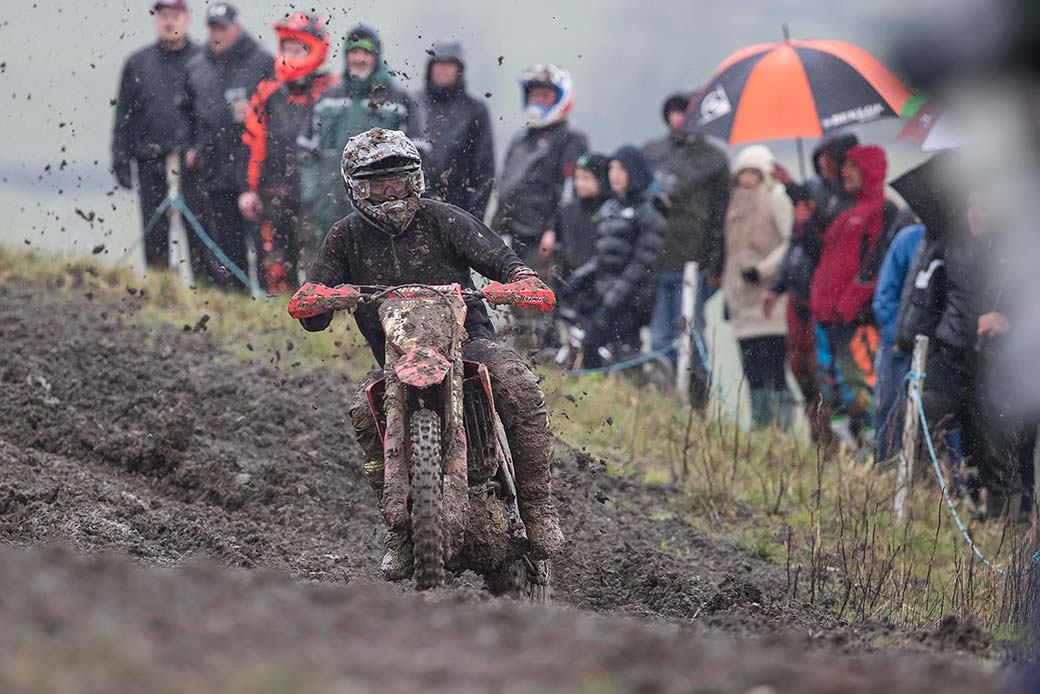 The Mike Brown Memorial Old Friends race was won by a delighted James Baker on his old KX250 two-stroke. He also won the Buzby Cup in memory of Paul 'Buzby' Coombs, this trophy awarded by the promoter for the hardest charger in the two classes. Cameron Curtis was second with Billy Saunders in third.
Perhaps the final word should go to Alan Brown, Mike Brown's younger brother, owner of local dealer Motoxtreme with his son Tom. Long-time sponsors of Mark Hucklebridge, both have worked tirelessly to support this event for years. "It's my dream to make this Good Friday meeting and the Huck Cup a major feature on the motocross calendar, just like the Hants Grand National. I hope everyone enjoyed the day despite the weather. The best comment I had today was from Conrad, he said it was great fun and proper motocross. Him and Graeme have signed up for next year already!"