CAKE world race took place a few weeks ago showcasing the brand new electric bike models, raced by some of the worlds best motorcycle athletes.
Based in Stockholm, in Sweden the CAKE brand is starting to take the industry by storm as more and more people are testing and checking out the product. DBR caught up with one of CAKE's lead designers Oskar Milke, to talk all things electric.
DBR: Firstly Oskar, can you talk us through the CAKE models?
OM: "KALK is our performance bike. Design to be light and fun, pushing power and performance. The perfect mix between a downhill bike and motocross. We like our bike to be including not excluding. a bike that has no gender."
"That in the end will give us a sport where both boys and girls can compete against each other. The KALK comes in three different categories. OR, Is the off-road and original version. Made for fast and thrilling backcountry exploration. Go out in nature without polluting or disturbing, which means you can explore with respect."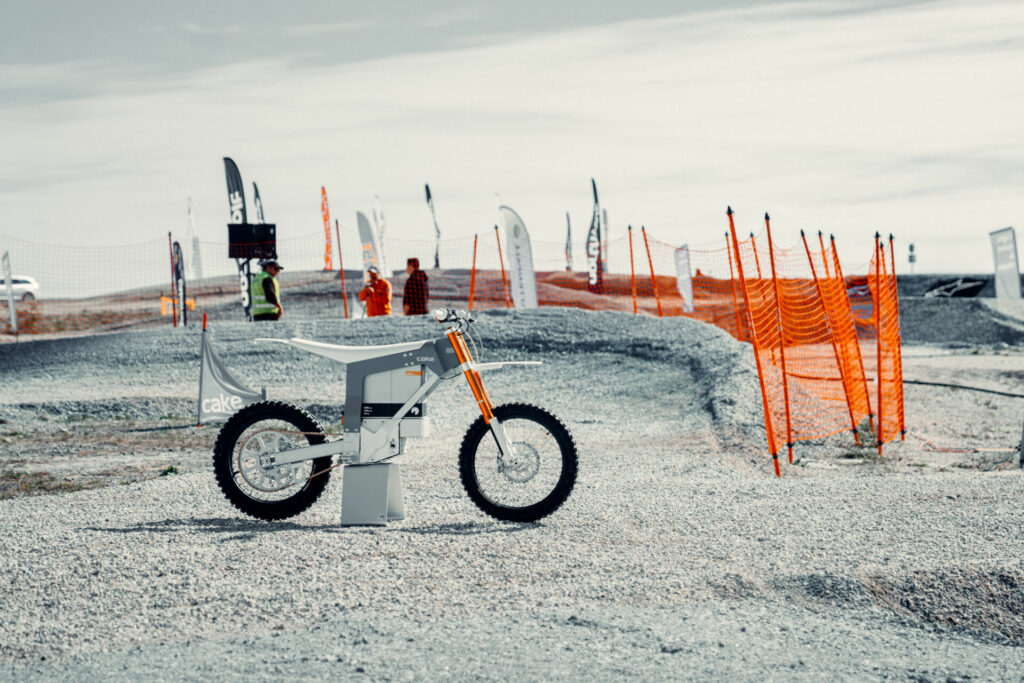 "Then you have the KALK, we tried to make as little changes as possible, Just to make it possible to take your favourite off road bike out on the streets on your daily commute. Then the KALK race, its an upgraded race version, made for racing. Stronger rimes, fat motocross tires, and higher fenders. These three comes in a grey, version with ohlins suspension in front and back and a INK version witch is black and with simpler suspension."
"Then we have the ÖSA. Inspired by the classic working beach. The main bean of the bike can be use to attach clamps where you can chose to put what whatever you prefer. an extra seat, baskets. small or big,  one in the front and or one in the back, racks for surfboards, or if you need some planks for your house. whatever. ÖSA is your everyday utility bike. back and forth to work, or use it in work, deliver food or be a carpenter."
DBR: How do you think CAKE has paved the way for electric motocross bikes in the industry?
OM: I think CAKE has inspired many, we show there is an other ways, then the traditional motorcycles. We believe that lightness is the key, and there for you don't need as much power to be stronger and fast."
"Now with the race we also show the professional riders how fun it is. Now you can have races in the middle of the city's, normally this would be really enjoying, disturbing sound and a lot of pollution, now is like watching a football game and the riders can hear the fans cheering them."
DBR: What are CAKE'S plans for the future?
OM: "We will of course continue the the journey and inspire more people and company towards a zero emission society, both in the everyday use but also in performance bikes. We will continue building on the category we have started. where light vs power ratio is the recipe."
"To continue being the leader of this category, and the most important. To also build good quality bikes to expand the life cycles of each bike. So every bike will last longer and therefore make smaller impact on our planet."
DBR: What can we expect to see from CAKE next?
OM: "Our third platform, the MAKKA, A small scooter made for everyday commute. Easy to step in and out. Bring you shopping bag or gym bag between your legs. Build with a hub motor and a easy to take out and carry upstairs battery."
"Comes in a lower price range but still with same good quality, feeling and a lot of nice small aluminium details. As a hook, new stem and display. And many things more."
If you are interested in booking a test ride on board the CAKE models, you can click HERE.