Scotland's Shaun Simpson has been a firm favourite across the newly-branded Revo MXGB Championship over the years, winning his last British title in 2015.
After some bad luck over the last two seasons which included breaking his back last September, Simpson sat down with DBR to chat through his 2021 plans.
DBR: Shaun, talk us through your pre-season training and testing, and what you're expecting this year…
"It's been strange because I was pretty set up midway through 2020 to getting back to doing the sort of triple-header GPs to finish out the MXGP season obviously with no British Championship last year. That was my main focus, but breaking my back in September, I kind of missed the run into the end of the season. So what we've been working on during lockdown and things last year, we haven't really been able to test at any races really.
"I was quite eager to get back on the bike in December and start going back through those testing areas that we had done in lockdown. I was actually quite happy with the bike, to be honest, with KTM not really changing too much in the 2021 model, I just sort of started with that same package.
"We've just been slowly riding some private tracks and just trying to develop things a little bit more, mainly with the suspension just to try and get me as comfortable as I can on as many different tracks as I can as well, because you need to get comfortable on one track and then you go somewhere else and you've got to completely change a few things.
"So it's just trying to hit a happy medium with all the tracks that you go to. I've been quite spoiled. I've stayed in Scotland and been able to hit four or five really good tracks. We've had some decent weather as well. Training camps and training in the south of France and stuff just weren't necessary this year just because with the racing getting pushed back as far as it did, I didn't know when to start pushing hard.
"I know that I need to start pushing a bit harder now because we've got a month to get ready. But all the base training and base fitness and stuff, base bike time, that's all sort of done."
"everyone is sceptical about the Mxgp calendars"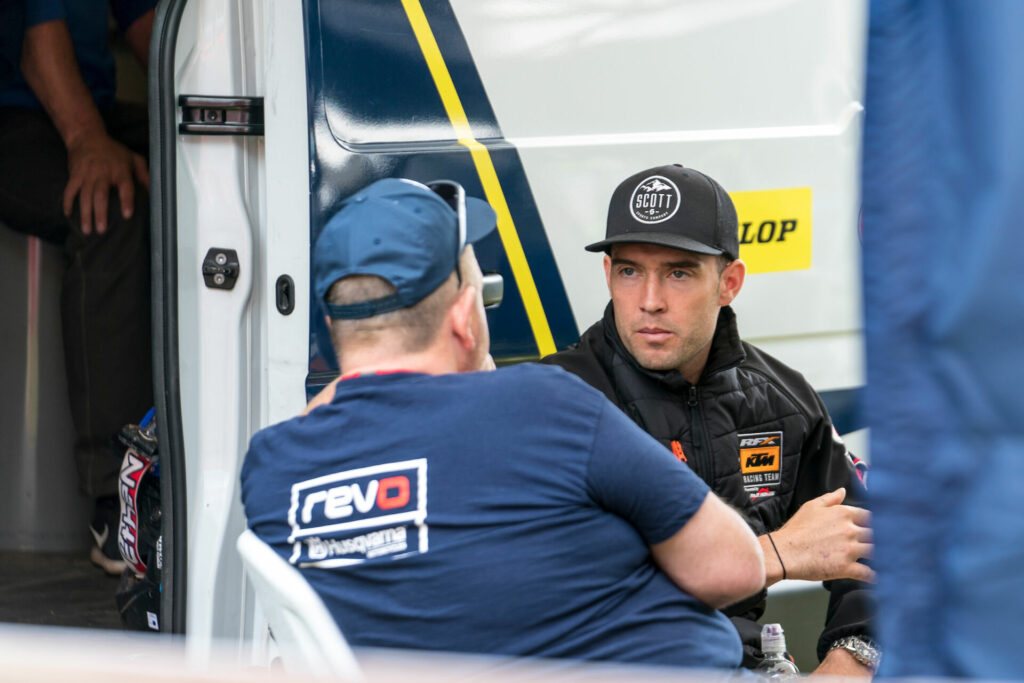 DBR: With flying the flag as your own team, what has that been like for you getting it all in place? Or have you been able to carry it over from last year?
"I'm very happy that I started at the end of 2019 and ran through the first lockdown and before coronavirus, because had I tried to do what I did then a year later, trying to start out for this year, it would have been impossible, really. I've got a lot of loyal sponsors and I've got a lot of people who are really strong and behind me, but I've got by no means loads of budget to play with.
"Trying to find sponsors at this time is pretty impossible, purely because we don't really have anything to show them with regard to results from last year for myself, and calendars. Everyone is very skeptical about calendars."
"We've got a few people that's even said to me, 'Look, I'd be interested in sponsoring you when you get going. If we see things are starting to happen, then we can maybe jump on board'. So a few very loyal sponsors behind me at the moment, which is keeping us ticking over.
"I'm sort of of the opinion that once we get started, that's when I can try and jump on the back of a few good results and try and get a few people to kick in some support after they've seen me out on track and use that sort of momentum and good form to rake in a few more sponsors. Hopefully in a couple of months' time as well businesses will be back up and running. Hopefully there will be some people wanting to spend some money."
DBR: Coming back from injury, have you found that the restrictions have altered the way you've had to train and recover during that time?
"I would say I've been very fortunate with the amount of time that I've had to recover. If the season had kicked off in February at Hawkstone Park as it usually does, I think I would have been behind the eight-ball a little bit. Having this extra amount of time to spend at home with my family, we had a little girl in January so it's been nice to spend that family time at home. I'm from quite a rural part of Scotland where can almost go about our day-to-day lives without really realizing the coronavirus is around us.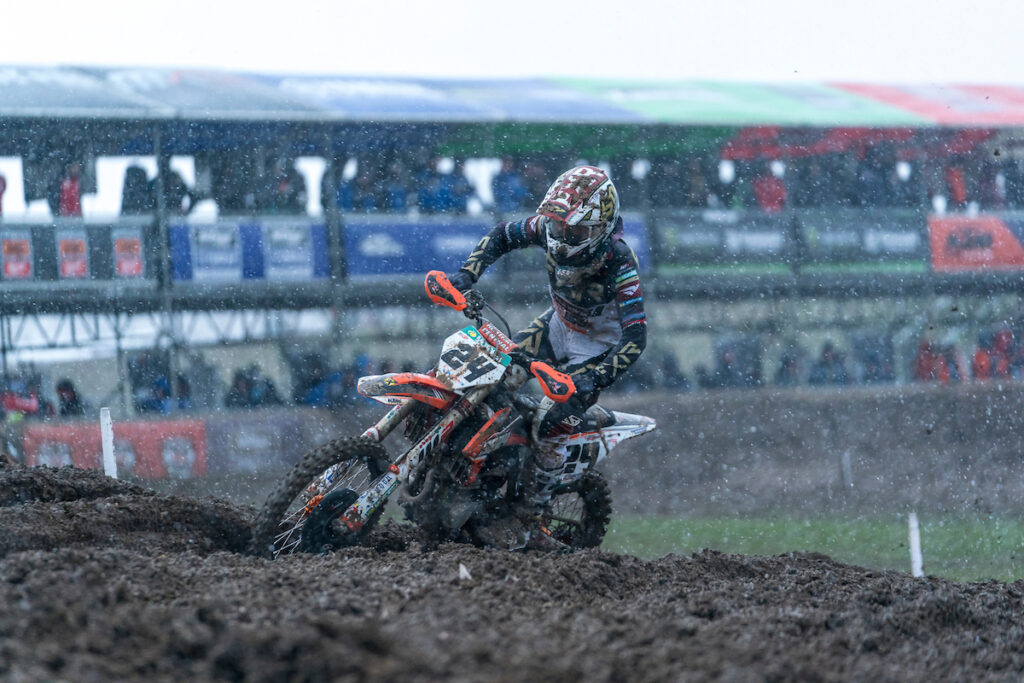 "I am close to a couple of big cities and things, but with us being professional athletes and being allowed to train and things like that, it's just been finding tracks that are open or getting private pieces of land's permission to get on them. Other than that, I live quite a simple life with my trainer and my family.
"I must admit that coronavirus hasn't been a disaster for me, It's just been a disaster in the fact that we don't know when we're going to be racing. As much as riding my bike and practicing and getting ready for a season is great, I didn't still just realize how much I love the racing part of it.
"The practicing for me is something I have to do to be ready to race. It's not the bit that I get the most enjoyment out of. That's the bit where you have to do the work, and the sort of enjoyment comes from the racing. But if you've had a good result, then you can live off that from week to week, or if you've had a bad result, you get home on Monday morning and you start working your ass off to be better for the next week.
"That's what the racing is actually about. That's what drives me. Without that, it's been tough to motivate myself at times because with no end goal or no date to sort of aim for, it's kind of felt like you were sort of training for nothing."
DBR: I think quite a few of the lads feel that way as well. Hopefully, I think they might be feeling a bit more keen about the championship.
"Overall I think we're in a good position with the British Championship, the UK-based races. I don't feel as optimistic about the world championship because we're going to be traveling between countries and different countries are going to have different rules. I think the British Championship is in a good spot because apart from one round in Ireland and one round in Scotland, the rules are going to be relatively the same within the United Kingdom. So I think the British Championship this year should be as normal as we would be used to seeing."
"british Champion, that's my goal"
DBR: We spoke about the British and obviously MXGP and fly-aways, but what would you main goals be for either championship across the board?
"It's quite simple, It's been the same for the last couple of years. I still genuinely believe I'm fast enough to win the British Championship. I feel like I've had a couple of titles stolen away from me, by no real fault of my own. A couple of injuries and a couple of bike failures really cost me."
"A couple of championships that Tommy (Searle) managed to steal from me, I feel. But it is a championship with 16 races in 8 rounds and you have to be the most consistent rider over those. At times I felt like I was definitely the fastest, but that doesn't always bring you the championship.
"So my goal is definitely to win my fourth British Championship title. I haven't won one since 2015, so that's definitely my main goal in the UK. In the GP's, there's a lot of young talent coming through, but I still believe being experienced and being sort of the old dog amongst all these young guys who can get a little bit too excited, I think that will pay off for me. I genuinely believe as well that I can be inside the top ten. So, top ten in world championship, British champion. That's my goals, quite simply."