S2007 was a great year for Suzuki, with Ricky Carmichael finishing off his upercross career on-board an RM250 two- stroke, which in turn has inspired plenty of riders across the world over time and even now, to collect and build the iconic machines.
James Harris did exactly that, rebuilding a beautiful 2007 model in all its glory.
"The reason for this build had started with my love of Suzukis, and my Grandad was Graham Beamish of Beamish Suzuki," said Harris.
"Graham had a huge input into my schoolboy racing career, living next door and having Golding Barn Raceway in my garden meant he spent a lot of time watching, advising and helping with my bike setup."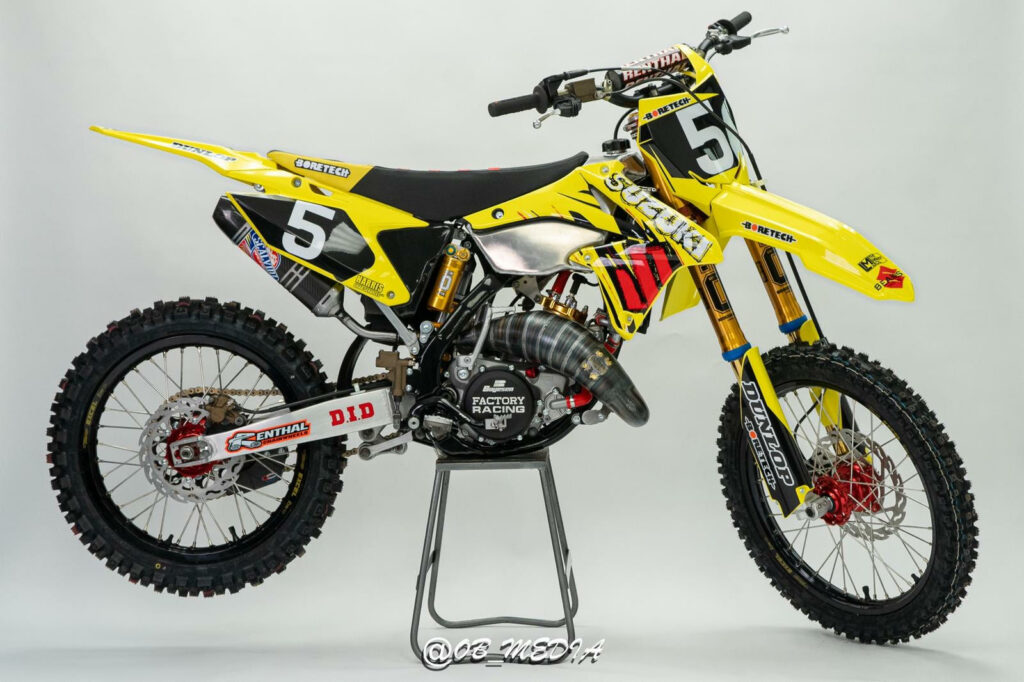 "I also had my ex-GP racing uncles always offering support, and after the passing of my grandad I have only been able to buy Suzukis, as they handle better than any other bike I've ridden and being based at a track that is harder than concrete in the summer, handling is everything.
"Knowing that Suzuki RM125s are dying off through lack of production I wanted to build something special, and I wanted all the parts I always wanted when I was growing up like the aluminium tank and the Scalvini pipe. These are the parts my grandad always said, 'These won't make you faster so they're not needed'.
"I look at this bike as a tribute to the hours he put into my racing and a thank you for being such a legend in my eyes."
"The bike cost a hell of a lot to build, I've got a figure but would rather not disclose it as it might a tad more than what I told my wife. I'm looking forward to getting out on it to see how it goes but I might end up letting my little cousins (Charlie and Ollie Beamish) ride it instead as I'm sure they'll do a better job."
Check out the modifications James has made to the Suzuki below:
Chassis
Original bike fully stripped
Frame shot blasted and powder coated gloss black
All bearings removed from swingarm and linkage
Swing arm and linkage shot blasted, hand polished and new bearings, seals and sleeves fitted
All brake calipers ad master cylinders stripped, shot blasted, crerekote painted in burnt bronze then rebuilt with new pistons and seals
Genuine front brake lever and clutch perch assembly fitted
New braided brake lines made and fitted
Pro taper RMZ foot pegs modified to fit the RM125 fitted
RFX rear brake lever
Rear subframe shot blasted and hand polished
2021 RMZ250 x-trig clamps modified to fit the RM125 frame
Renthal fat-bars, billet alloy throttle tube
2021 Ohlins RXF48s front forks and Ohlins rear shock
Full scalvini pipe with carbon silencer
Talon wheels
Motomaster overside front disc and carrier and motomaster rear disc
Dunlop mx53 tyres
Renthal sprockets
DID chain
Genuine Suzuki gear lever
Lectron Carb
Engine
Completely stripped
All internal bearings and seals removed
Engine cases vapor blasted
Engine cases and cylinder blueprinted
Cylinder tuned
New bearings and seals re fitted
New con-rod, cylinder replated and new piston fitted
Wiseco clutch basket fitted with new clutch boss, pressure plate and new genuine Suzuki clutch plates
Boysen rad valve fitted
VHM head fitted
Power valves machine polished
Boyesen engine covers fitted
Running on Sunoco race oxygenated race fuel
Bodywork
Polisport 2021 RMZ front end
Acerbis RMZ450 rad scoops
Polisport re-styled back end
Custom Decals By Unbounded Designs
Custom seat cover