Once more in the history of the event, the first night of racing at the Paris Supercross ends with an American podium and another win in the French capital for Justin Barcia.
Winner of the first races tonight, both Dylan Ferrandis and Malcolm Stewart lost all chances in the main event as they crashed in the first corner.
The first SX1 race was for sure the most exciting for the public, as Dylan Ferrandis won the first 'sprint' race when he passed Justin Hill during the last lap of the race; it was a spectacular move as Justin crashed when Dylan passed him to win this race.
The second one was not as good for Dylan and Justin as they both crash at the start!
Malcolm Stewart won this race ahead of Justin Barcia, while Ferrandis came back to fifth. At the start of the main event Stewart and Ferrandis winners of the previous races both crashed, losing all their chances; Vince Friese got the holeshot, followed by Jeremy Martin, Jordi Tixier, Justin Hill and Justin Barcia.
Feeling more and more comfortable through the night, third and second of the previous races, Barcia was strong in the main event and got the lead after the ninth of 22 laps to win easily this race with a five seconds margin over Joey Savatgy – on his new JGRMX Suzuki ride – and Justin Hill, while Martin crashed twice.
Barcia 3-2-1 won this first night, followed by Friese 5-4-4, Savatgy 2-10-2, Ferrandis 1-5-8 and Stewart 9-1-5.
Winner of the two 'sprint' races in the SX2 class Thomas Do wasn't able to repeat this performance in the main event, but a second position behind Brian Hsu was enough to win the overall tonight.
Second and third of the first races Hsu was unbeatable in the main, winning the race ahead of Do and Jace Owen who battled until the last corner.
Do 1-1-2 won the overall tonight followed by Hsu 2-3-1, Owen 4-2-3, Yannis Irsuti 3-4-6 and Lucas Imbert 5-5-7.
SX1 results
Sprint 1: 1.Ferrandis (Yamaha) ; 2.Savatgy (USA, Suzuki) ; 3.Barcia (USA, Yamaha) ; 4.Martin (USA, Honda) ; 5.Friese (USA, Honda) ; etc…
Sprint 2: 1.Stewart (USA, Honda) ; 2.Barcia ; 3.Martin ; 4.Friese ; 5.Ferrandis ; etc…
Main: 1.Barcia ; 2.Savatgy ; 3.Hill ; 4.Friese ; 5.Stewart ; 6.Tixier ; 7.Soubeyras ; 8.Ferrandis ; 9.Izoird ; 10.Reed (AUS, Honda) ; etc…
Podium: 1.Barcia, 6 pts ; 2.Friese, 13 ; 3.Savatgy, 14 ; etc..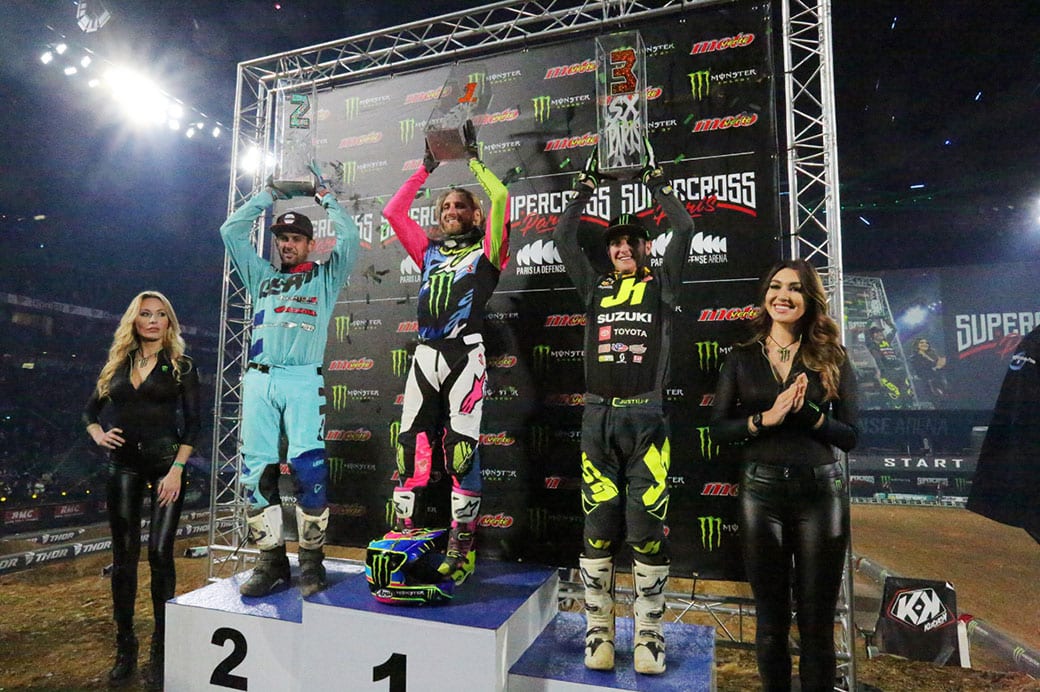 SX2 results
Sprint 1: 1.Do (Suzuki); 2.Hsu (GER, KTM) ; 3.Irsuti (Yamaha) ; 4.Owen (USA, Honda) ; 5.Imbert (Yamaha) ; etc…
Sprint 2: 1.Do ; 2.Owen ; 3.Hsu ; 4.Irsuti ; 5.Imbert ; etc…
Main: 1.Hsu ; 2.Do ; 3.Owen ; 4.Lopes (BRA, Kawasaki) ; 5.Fonvieille ; 6.Irsuti ; 7.Imbert ; 8.Sanayei (USA, Kawasaki) ; 9.Lozzi (Husqvarna) ; 10.Bourdon (Honda) ; etc….
Podium: 1.Do, 4 pts ; 2.Hsu, 6 ; 3.Owen, 9 ; etc….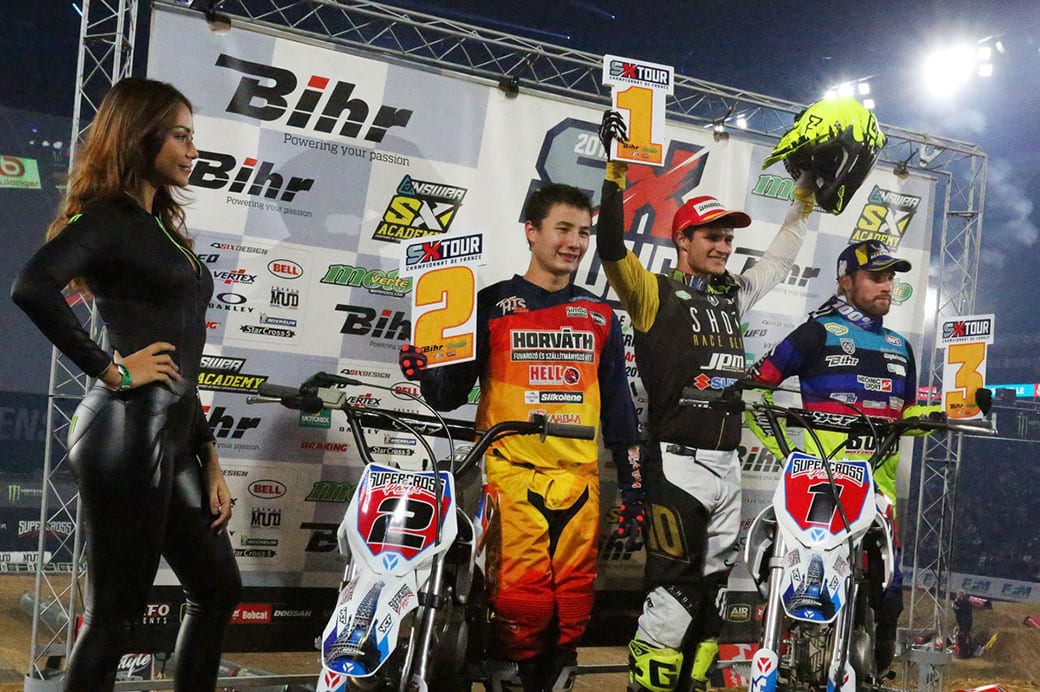 [more-from heading="More Paris Supercross" tag="paris-supercross"]