Already twice winner of the Paris Supercross, Justin Barcia produced a great come back in the French capital as he clinched a third overall win. He didn't win any race on Sunday but secured his 'King of Paris' title with three good results, while Malcolm Stewart won to finish runner up ahead of Dylan Ferrandis.
A full stadium with 35,000 spectators during the weekend, a great atmosphere, an amazing FMX show and some intense racing – once more the Paris Supercross was a huge event and celebrates a great winner in Justin Barcia.
Since his previous wins in Paris – 2010 and 2013 – the factory Yamaha rider had some ups and downs but in Paris on Sunday he rode smart to secure the overall win. Not always among the leading pack at the start of the races, he was fast enough to come back in good positions 4-2-3 and reach his goal with the overall win.
In the SX1 class the boss on Sunday was Malcolm Stewart 3-1-1 who recovered from a bad first race yesterday to dominate the second night with two strong wins – second overall behind Justin, Malcolm beats Dylan Ferrandis 6-4-2, the hero of the French crowd.
Dylan lost some points during the second 'sprint race' as he leads most of the race but crashed when Malcolm made a pass in the last lap – fourth of this race Dylan was strong in the main event but wasn't able to follow Malcolm and scores a second place which offers him an overall podium this year.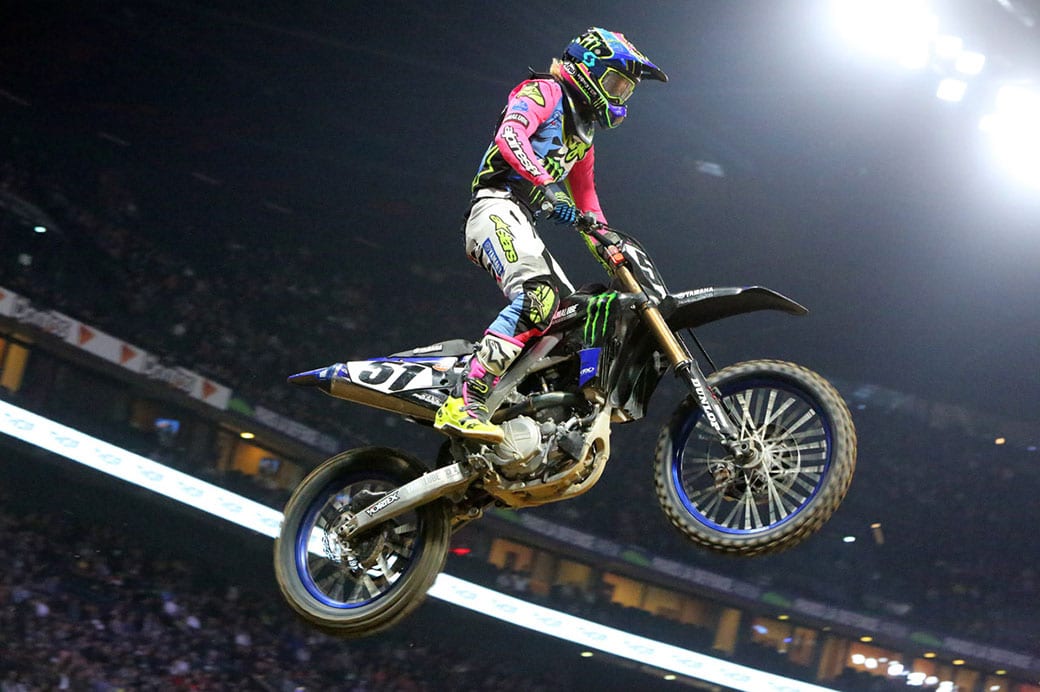 He is the single 'non-American' rider in the top seven of the overall classification, followed by Jeremy Martin 1-3-4 who was strong on the second night (fourth on the day), Vince Friese 7-11-5, Justin Hill 2-5-6 and Joey Savatgy 5-7-14 who crashed and retired in the main event.
Chad Reed didn't line up in the main after a spectacular crash during the second race, and Frenchmen Cedric Soubeyras 8-8-7, Jordi Tixier 10-6-8 and Fabien Izoird 14-10-10 secured a top 10 classification.
He hasn't race that much during the past few seasons due to injuries, but Brian Hsu had an impressive comeback in Supercross this weekend! Winner of all the SX2 races on Sunday, Brian deserves the overall win and is the new 'Prince of Paris'.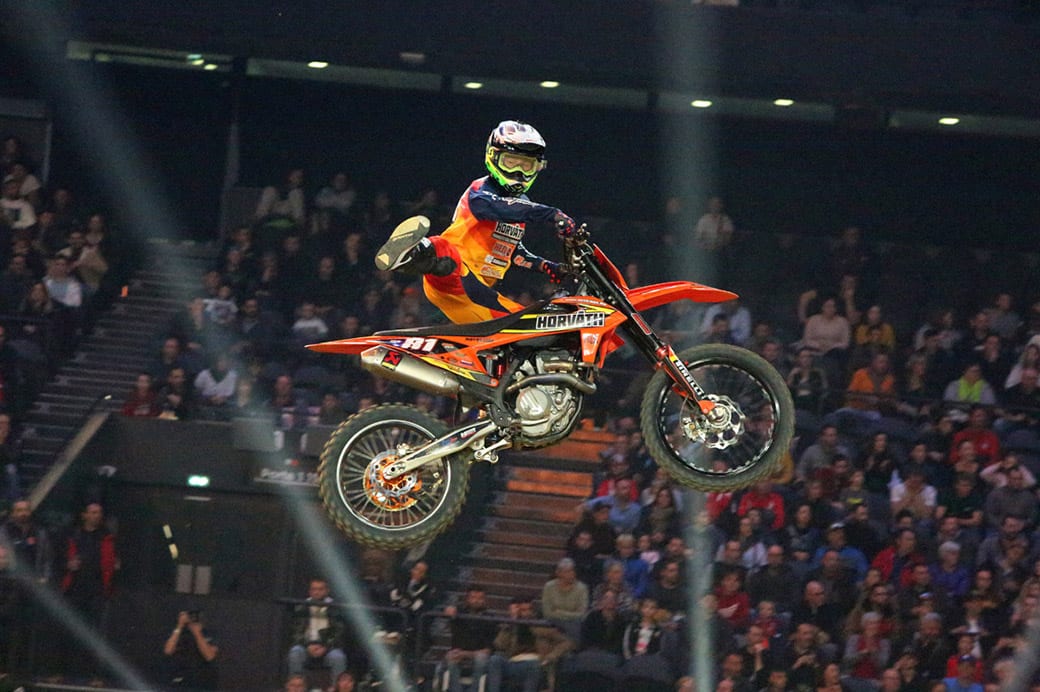 Winner of last year Jace Owen 2-4-2 didn't get any win this year but thanks to consistent races he finished runner up of the event ahead of Thomas Do 4-2-13 who crashed early in the main event and lost the opportunity to be the next French winner of the event.
As usual, the FMX show was great thanks to David Rinaldo, Genki Watanabe, Jarryd McNeil and Nicolas Texier who impressed the crowd with their incredible tricks. But the crowd also discovered Spaniards Rocky Florensa and Antonio Navas who blew the crowd away with an amazing show as they shared the same bike to open a new chapter in the Freestyle history, including an unusual backflip!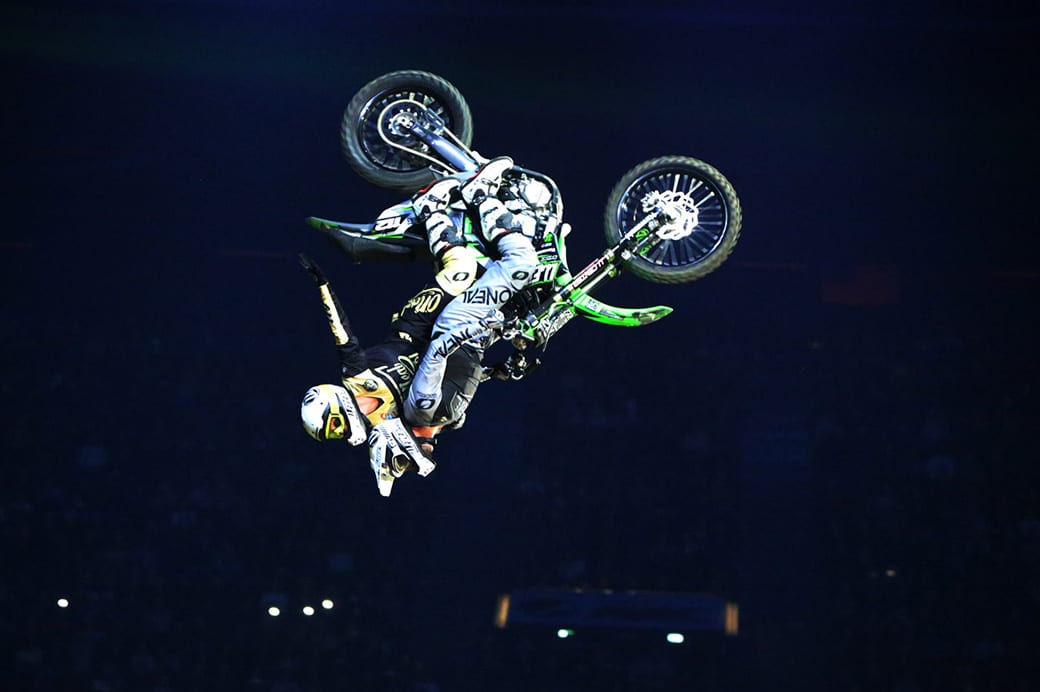 SX1 Sunday results
Sprint 1: 1.Martin (USA, Honda) ; 2.Hill (USA, Honda) ; 3.Stewart (USA, Honda) ; 4.Barcia (USA, Yamaha) ; 5.Savatgy (USA, Suzuki) ; etc…
Sprint 2: 1.Stewart ; 2.Barcia ; 3.Martin ; 4.Ferrandis (Yamaha) ; 5.Hill ; etc…
Main: 1.Stewart ; 2.Ferrandis ; 3.Barcia ; 4.Martin ; 5.Friese (USA, Honda); 6.Hill ; 7.Soubeyras (Husqvarna); 8.Tixier (KTM); 9.Ramette (Suzuki) ; 10. Izoird (Kawasaki) ; etc…
Podium Sunday: 1.Stewart, 5pts ; 2.Barcia, 9 ; 3.Ferrandis, 12 ; etc..
King of Paris : 1.Barcia, 15pts ; 2.Stewart, 20 ; 3.Ferrandis, 26 ; 4.Martin, 29 ; 5.Friese, 36 ; etc….
SX2 Sunday results
Sprint 1: 1.Hsu (GER, KTM) ; 2.Owen (USA, Honda) ; 3.Lopes (BRA, Kawasaki) ; 4. Do (Suzuki); 5.Irsuti (Yamaha) ; etc…
Sprint 2: 1.Hsu ; 2.Do ; 3.Lopes ; 4.Owen ; 5.Fonvieille (KTM); etc…
Main: 1.Hsu ; 2.Owen ; 3.Fonvieille ; 4.Irsuti ; 5.Imbert (Yamaha) ; 6.Bourdon (Honda) ; 7.Roussaly (Husqvarna) ; 8. Lozzi (Husqvarna) ; 9.Malaval (Yamaha) ; 10.Sanayei (USA, Kawasaki) ; 9; etc….
Podium Sunday: 1.Hsu, 3pts ; 2.Owen, 8 ; 3.Fonvieille, 15 ; etc….
Prince of Paris : 1.Hsu, 9pts ; 2.Owen, 17 ; 3.Do, 23 ; 4.Irsuti, 29 ; 5.Fonvieille, 34 ; etc…
[more-from heading="More Paris Supercross" tag="paris-supercross"]