McElrath and Steinke take home decisive Lites Class and Two Stroke Shootout wins, respectively, in front of capacity crowd of 12,500.
Marvin Musquin again asserted his Red Bull Straight Rhythm dominance after a decisive win in the Open Class yesterday to take home the top spot for the second year in a row.
Musquin has never lost a single heat in the race's history, though the rabid pack of Open Class riders were keen to change that this year.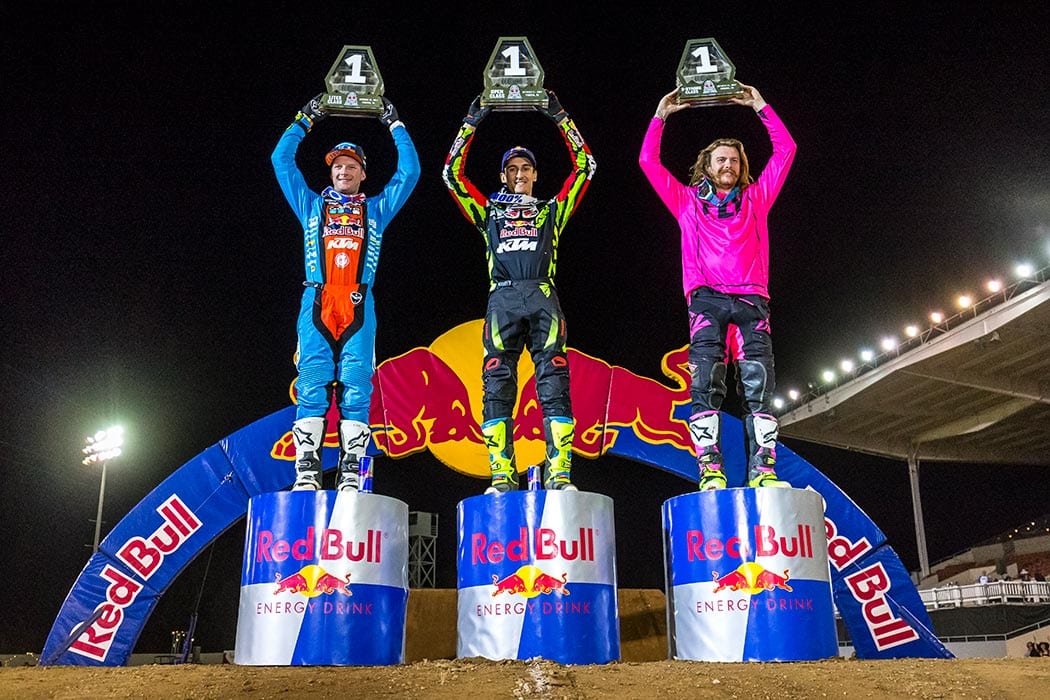 The event, which features a unique form of supercross in which riders race head-to-head on a half-mile track with no turns, once again took place at Fairplex in Pomona. The day's hazy afternoon sunset faded just in time for the night's racing to really heat up.
The 2017 track featured five prominent sections, broken up by four speed-check obstacles. This year's track, while the same distance as last year, featured fewer jumps than last year, 64 in total, which resulted in tighter racing and closer finishes.
In the Open class, Marvin Musquin's legacy rang true as he faced and defeated three separate, but highly qualified opponents to take home another win.
Josh Hansen, who finished third in 2016, showed speed and innovative lines all day to take home second place. Broc Tickle, new to the event, rode smoothly to a third-place finish, showing he has what it takes to compete even in this unique format.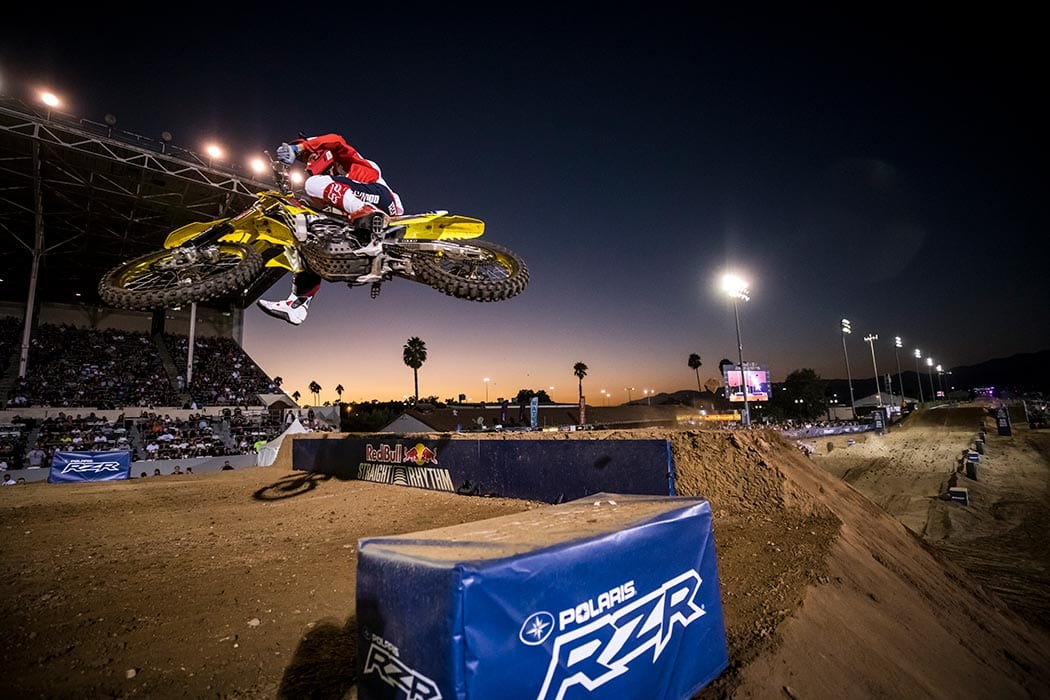 "There is no other race like this," said Musquin. "Racing side-by-side in a straight line has worked out well for me, and I want to keep the momentum going."
Red Bull Straight Rhythm Lites class
The Lites class saw some of the closest racing all day. Alex Martin's first Red Bull Straight Rhythm was a success, finishing a solid third overall, besting Ryan Sipes in a tight final that came down to the last few bike lengths before the finish. The final Lites class race of the night was between Shane McElrath and Sean Cantrell and as they swapped first and second heat wins, the final was one of the closest races of the night with 2016 Red Bull Straight Rhythm winner McElrath taking home gold, yet again.
"Coming into the final (against Cantrell), I didn't want to lose even though I was competing against my team-mate," said McElrath. "This event provides me with the opportunity to work on my technique, drive and having fun with our buddies."
Red Bull Straight Rhythm Two-Stroke
The Two-Stroke Shootout final witnessed a hard-to-predict matchup between active two-stroke racer Gared Steinke and fan favourite, Ronnie Mac.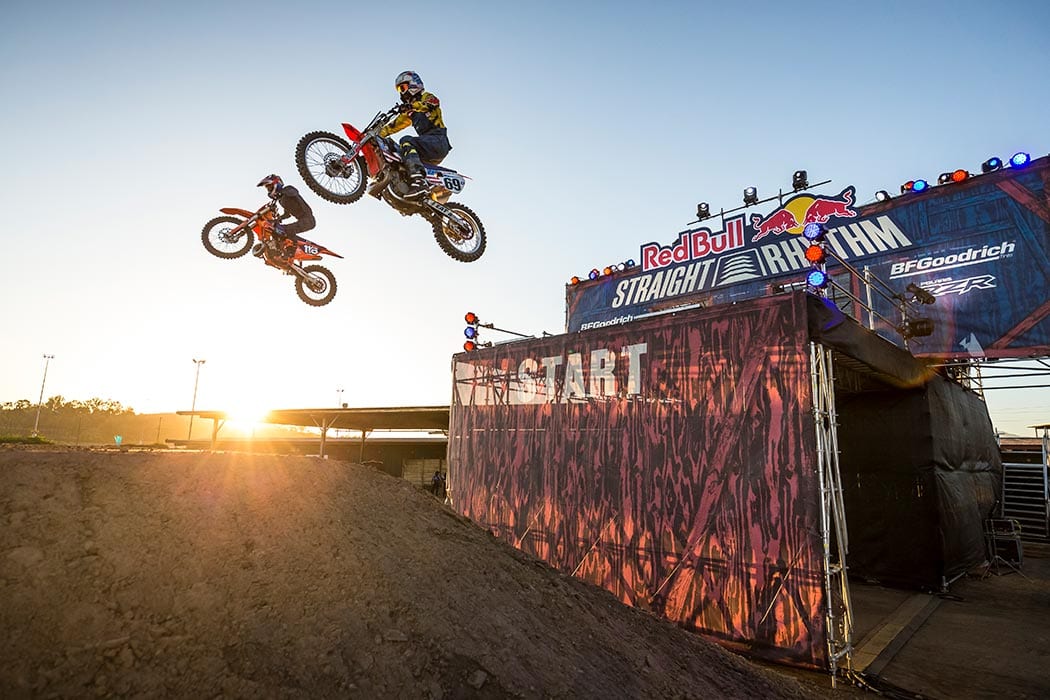 Steinke advanced to the final round by besting none other than four-time Supercross champion Ryan Villopoto.
The first heat of the final round saw an uncharacteristic crash by Ronnie Mac, and after re-orienting the controls of his bike (by pounding on them with his fist), he was back on the line. Ultimately, the two-stroke prowess of Steinke beat him to the finish line, and he took home his first Red Bull Straight Rhythm gold.
"When I first came out here on Thursday, I was a bit nervous, but today during practice it all clicked," said Steinke. "My confidence today quickly rose. I knew I could win and I went for it all. For the two-stroke competition to have past champions and for me to beat riders I've looked up to since I was a boy, it was very special."
Open Class Results
1. Mavin Musquin 2. Josh Hansen 3. Broc Tickle
Lites Class Results
1. Shane McElrath 2. Sean Cantrell 3. Alex Martin
Two-Stroke Shootout Results
1. Gared Steinke 2. Ronnie Mac 3. Ryan Sipes