Edge Offroad crew hosted the opening round of the Eurotek National Extreme Championship, the Buttzen Rodeo, at the awesome Butts Quarry venue.
It featured some tough long and wet hill climbs, steep descents, wooded off-camber climbs and descents, rock steps and a small touch of some classic motocross going – just so riders could have a little rest.
The Kids got the Eurotek Mini Buttzen Rodeo underway on time for a gruelling one-hour event. Weather conditions stayed a bit drier for the Kids but it was still tough going on the youngsters.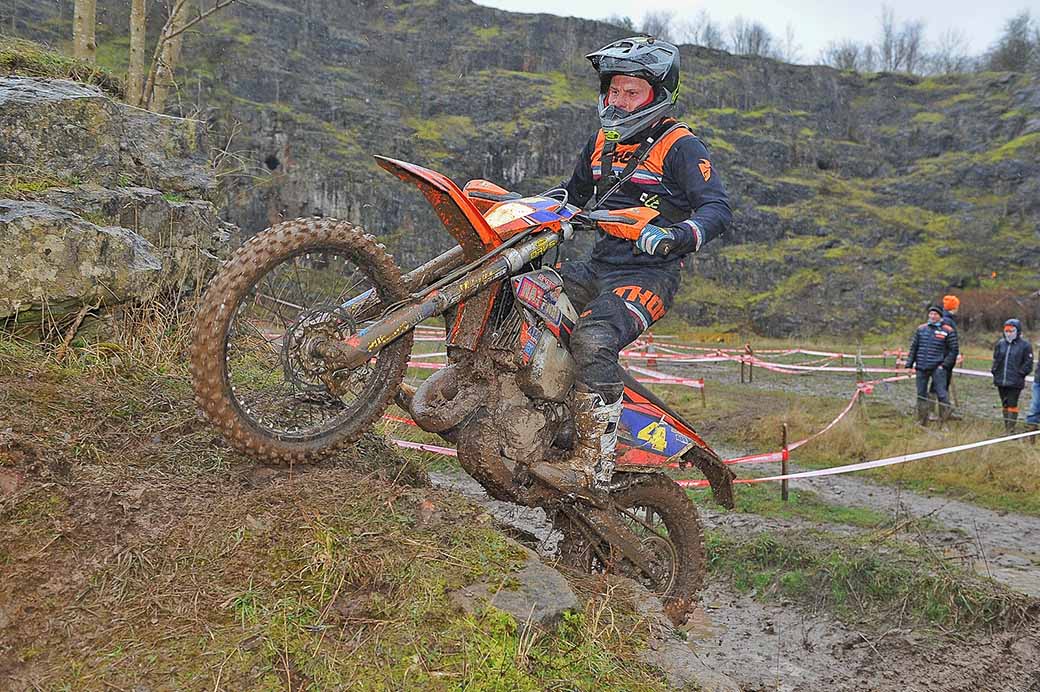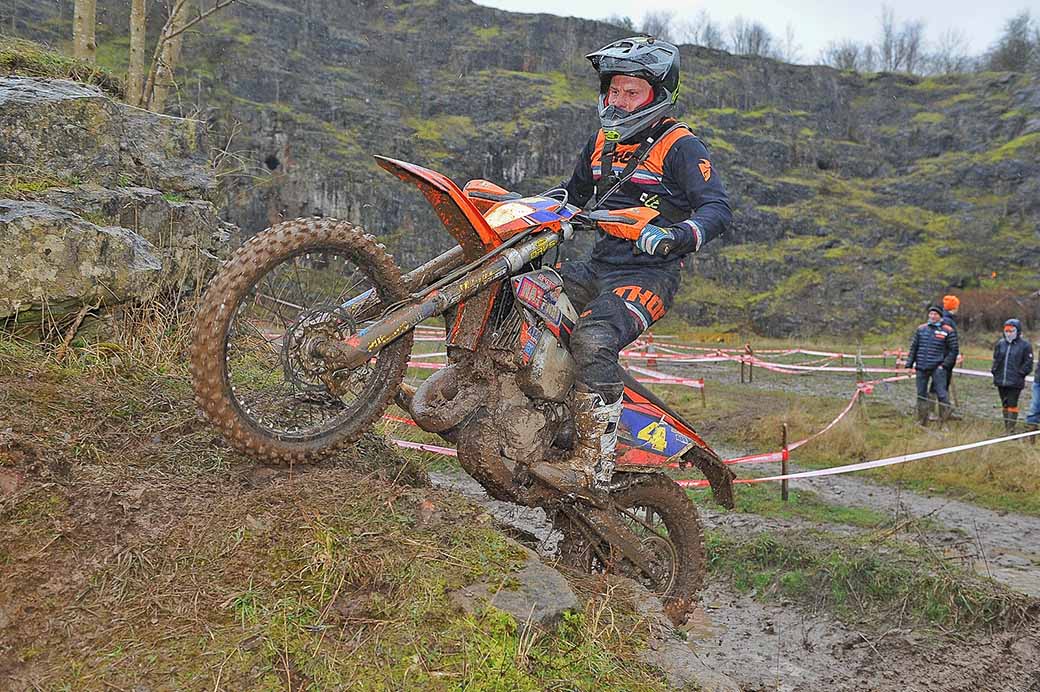 Six Youths and three Juniors ready to go were on a much shorter course than the Adults and in the Youth class, Josh Knight got a great holeshot and rode a faultless race to claim a fantastic win from Mason William-Davies, with Lucas Travers joining them on the podium.
In the Juniors, Oliver Crookes showed his winter training has paid off taking a fantastic win and managing to complete three laps, with Ryan Freeman Junior securing second from his older brother Riley, with the little ones on their 50s doing really well to complete the course!
Once the Kids had finished the Edge crew made the necessary track changes in preparation for the Adult event which was to run for two hours – made an even tougher slog as the rain started to come in not long after the flag dropped.
With the start order in reverse the Novices got underway first, and Ashton Brightmore – who was moved to Sportsman in the results – got a flying start and led virtually the whole race.
Gary Barnfather secured a battling second place and Thomas Thurnham grabbed third by five minutes.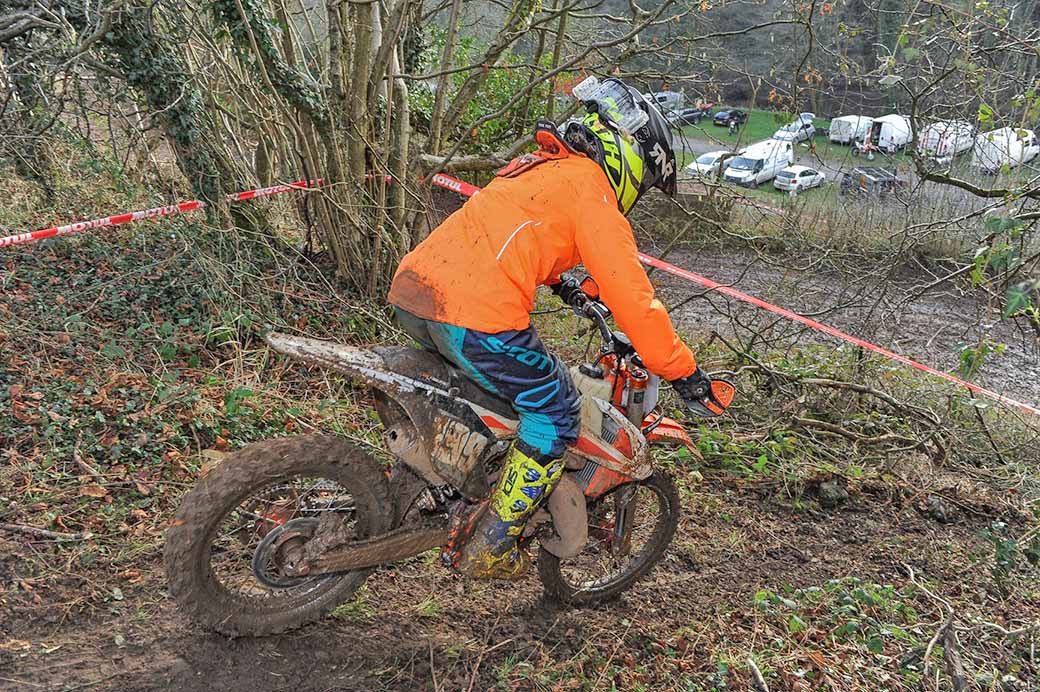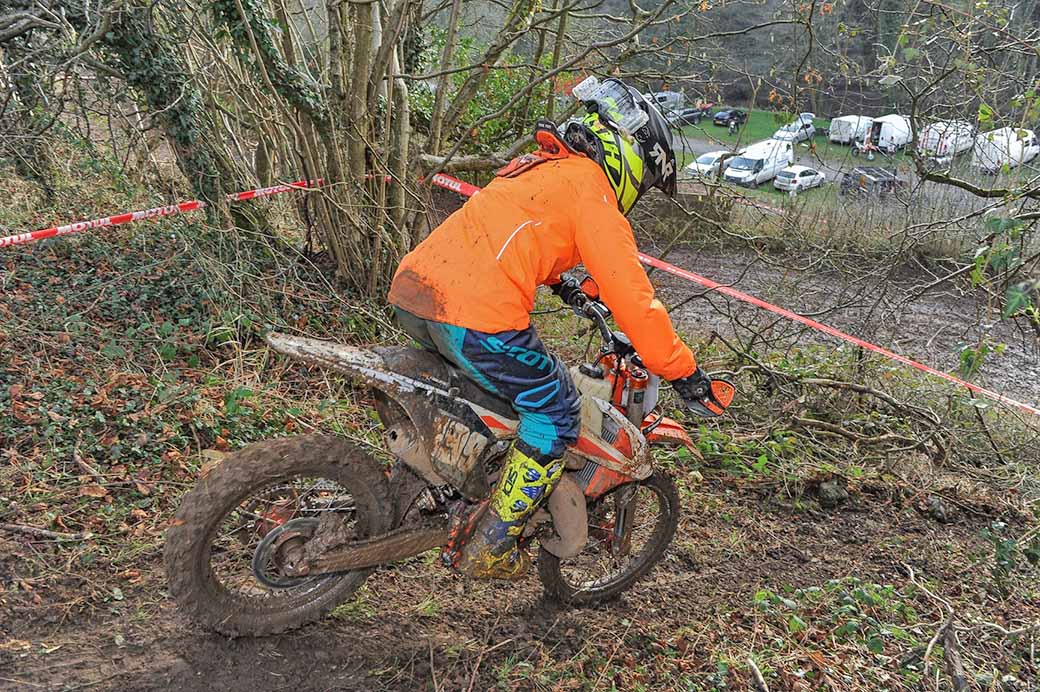 Next off the line were the Vets and new to racing Enduro – never mind Extreme events – Arron Crowder grabbed the holeshot in his class and went on to claim the overall, with Rob Gregory second after a gruelling three laps and Neil Crayston completing the podium.
Sportsman winner Graeme Smith was elated to take top spot with three laps to his name and Josh Barlow completed his first-ever enduro in runner-up spot, with young Elliott Woodall digging deep for third, missing out on second place by just 32 seconds.
Next up it was the turn of the more experienced riders to take on the challenge in weather conditions which had turned worse than expected, the crew having to make some alterations before and during the race.
With the classes again starting in reverse, the Clubman riders went off first and Mike Taylor was first back into the quarry with the last wood to contend with followed in by Mitch Brightmore who ended up winning his class but moved to Experts on the results completing an amazing six laps.
Mike was second on three laps and Jack Adams rounded out the podium also on three laps but a good half-an-hour behind Mike.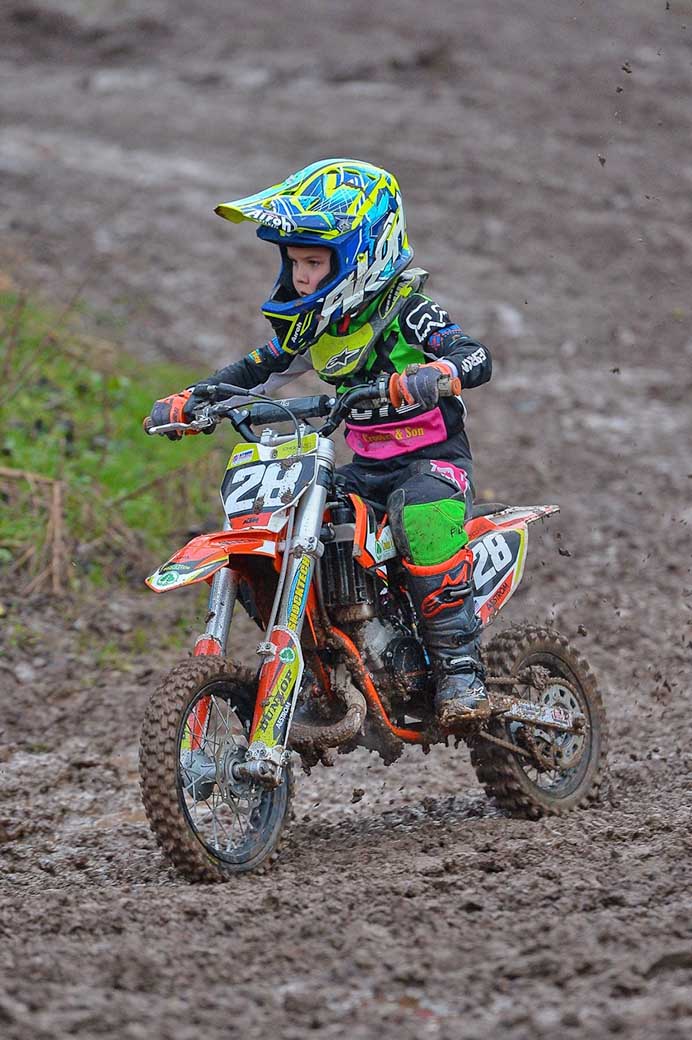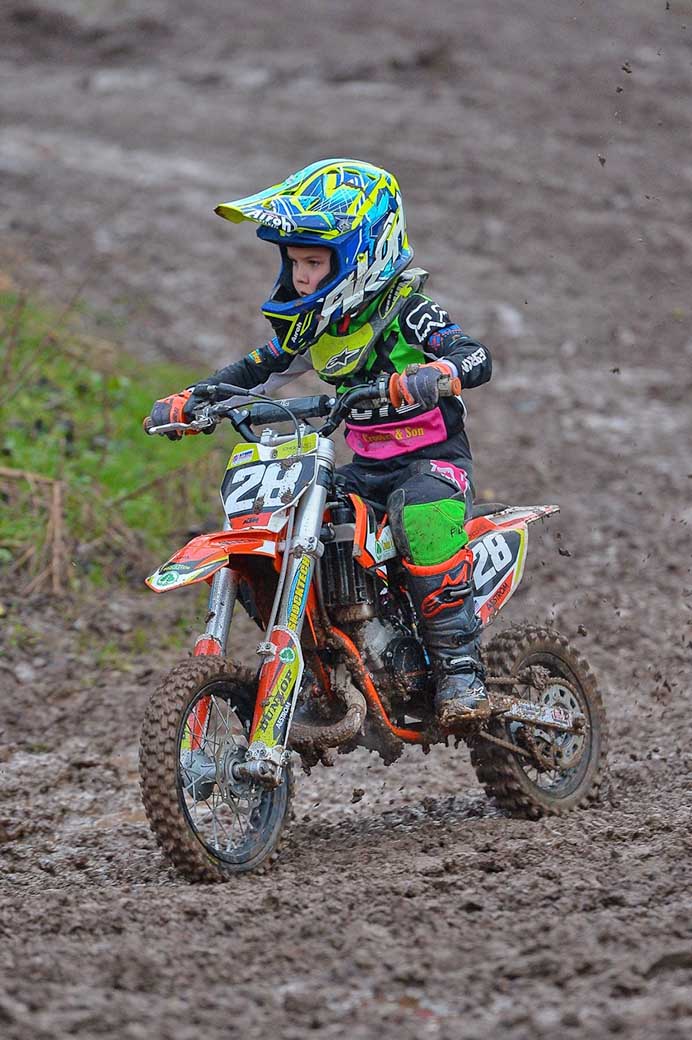 Next off the line was the Masters class and Alex Owen had a storming ride to notch up three laps – an excellent result in the tough conditions while Ricky Tropman was just pleased to finish having not changed his tyres before the day.
There was a great turnout of Expert riders and Josef Westgarth on his Eurotek KTM had a fantastic ride managing to complete five laps, Burt Crayston on his Baydale D3 KTM, only finished a minute behind him, while Eurotek KTM rider James Jackson had a collision with another rider on his last lap which set him back slightly but he still had a superb finish, five minutes down on second.
Finally, it was the turn of the Premier riders and Charlie Frost grabbed the holeshot but got caught in traffic which let the other riders past.
Edge rider Joe Deakin was third into the quarry section despite setting off eight minutes after the Clubman riders and he set a good pace for the rest of the race to claim the win, with Beta UK rider Jack Spencer pushing him hard on the last two laps and ending up only 19 seconds behind in third.
Edge Offroad's Buttzen Rodeo Results
Juniors: 1 Oliver Crookes 3laps 1:00:27:687, 2 Ryan Freeman 2 01:00:23:812, 3 Riley Freeman 1 01:00:03:422.
Youth: 1 Josh Knight 16 01:00:47:356, 2 Mason William Davis 13 01:01:48:664, 3 Lucas Travers 11 01:01:35:014, 4 Ryan Liddle 7 01:02:25:967, 5 Harley Allen 4 01:00:57:080.
Novice: 1 Gary Barnfather 2 02:01:20:641, 2 Thomas Thurnham 2 02:49:22:649, 3 Kyle Strall 1 02:05:59:813, 4 Liam Harris 1 02:10:15:511, 5 Carl Darvell 0.
Vets: 1 Arron Crowder 6 02:07:17:084, 2 Rob Gregory 3 02:34:13:803, 3 Neil Crayston 2 02:05:49:668, 4 Paul Daley Smith 2 02:49:36:377, 5 Nigel Mackenzie 2 02:52:17:720.
Sportsman: 1 Ashton Brightmore 6 02:13:47:221, 2 Graeme Smith 3 02:08:10:601, 3 Josh Barlow 3 02:09:02:556, 4 Elliot Woodall 3 02:09:35:738, 5 Owen Routledge 3 02:16:23:875.
Clubman: 1 Mike Taylor 3 02:02:49:537, 2 Jack Adams 3 02:38:59:634, 3 George Howard 2 02:02:30:880, 4 Tom Slater 2 02:02:46:398, 5 Steven Beddows 2 02:11:48:948.
Masters: 1 Alex Owen 3 02:09:46:312, 2 Ricky Tropman 2 02:39:11:238, 3 Paul Westgarth 0.
Experts: 1 Mitch Brightmore 6 02:08:27:455, 2 Josef Westgarth 5 02:01:43:367, 3 Burts Crayston 5 02:02:53:172, 4 James Jackson 5 02:07:41:227, 5 James Allen 4 02:01:49:135.
Premier: 1 Joe Deakin 9 02:02:04:818, 2 Jack Spencer 9 02:02:23:490, 3 Charlie Frost 7 02:01:40:378, 4 Ryan Crowder 5 02:03:26:040, 5 Barry Turnbull 4 02:01:58:719.
[more-from heading="More Enduro" category="enduro"]