Frenchman Milko Potisek (Yamaha) kept the partisan home crowd happy last Sunday by taking his second win at Le Touquet – the biggest beach race in the world.
Britain's defending champion Nathan Watson (KTM) handicapped himself at the very beginning of the race when he was deemed to have jumped the start.
The organisers gave him a stop and go minute penalty, but despite the added time Watson finished the event in third place and retained his French Beach Race Championship title for the second year.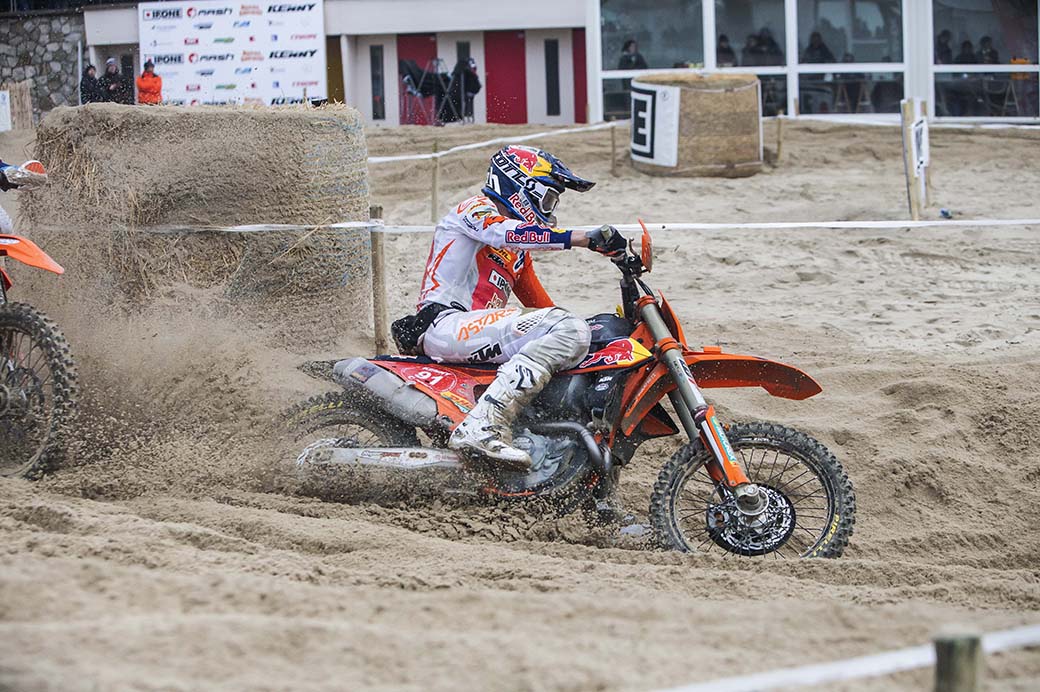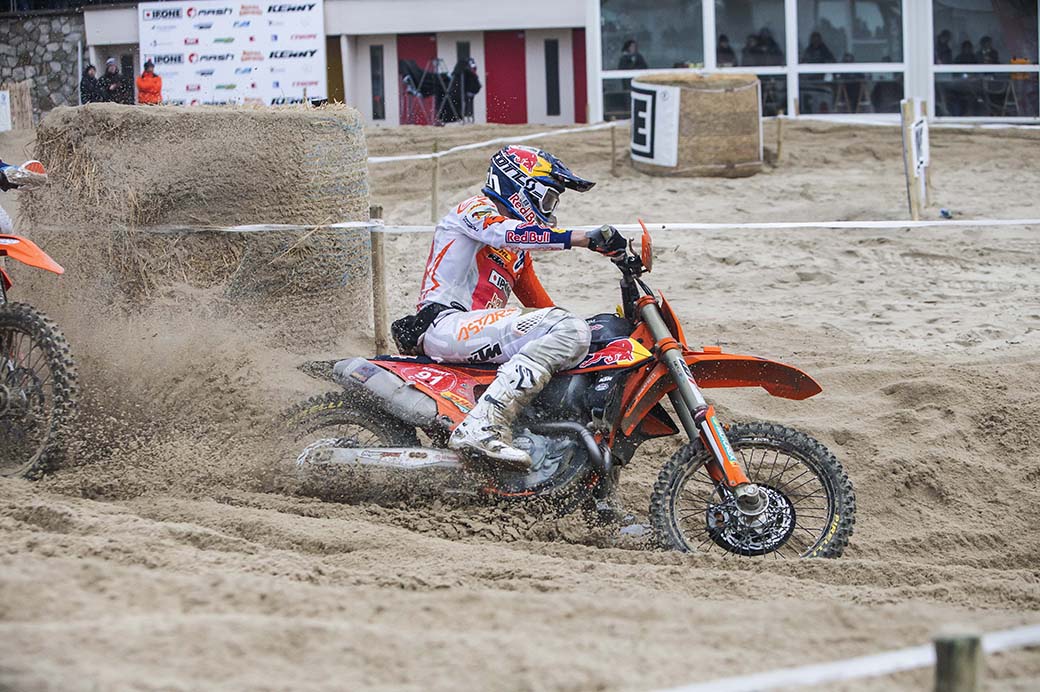 On the penalty incident, Watson said: "I saw another rider move and just went for it. "They say that's what you have to do or get buried in the pack. So, I saw the flinch, went perhaps a bit too quick with all the excitement and paid the price."
It was a great day for the British as no fewer than six home-grown riders got into the top 40 out of a startline of over 1,260 riders in an event that used to be dominated by the French.
The forecast gale-force winds and rain turned out to be just a gusty overcast, gloomy and dry day – which didn't stop the massive crowds of motorsport mad French fans lining the course that stretched five miles down the giant beach for the three-hour event.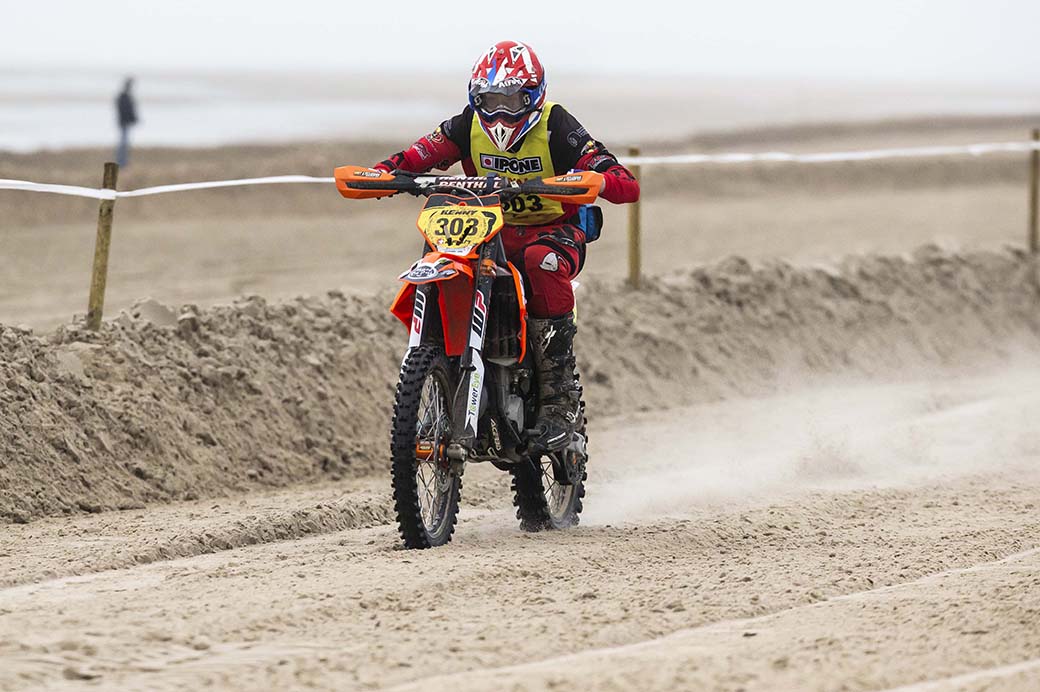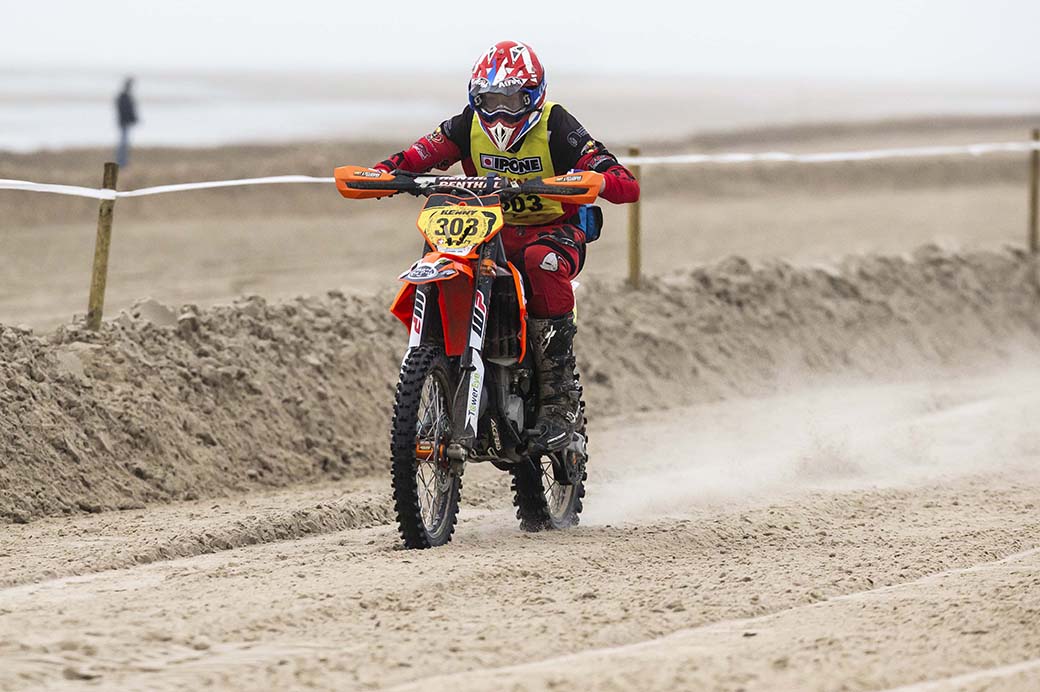 Camille Chapeliere, Watson's KTM team-mate, got the holeshot from Watson, Valentin Guillod (Honda), Matheo Moit (KTM), Axel Van De Sande (Yamaha), Jeremy Van Horebeek (Honda), and Greg Smets (KTM).
But as they came around to complete the first of 15 laps, Chapeliere was chased over the line by Van Horebeek, Smets, Van De Sande, Jeffrey Dewulf (KTM), Kevin Fors (Husqvarna), Potisek and Todd Kellett (Yamaha), with Watson down in 12th.
As the race reached the end of the first hour, Potisek was in the lead, slicing his way through the backmarkers with apparent ease. Van Horebeek was keeping him honest and pushing him hard as one-time leader Chapeliere slipped to third, a victim of backmarkers.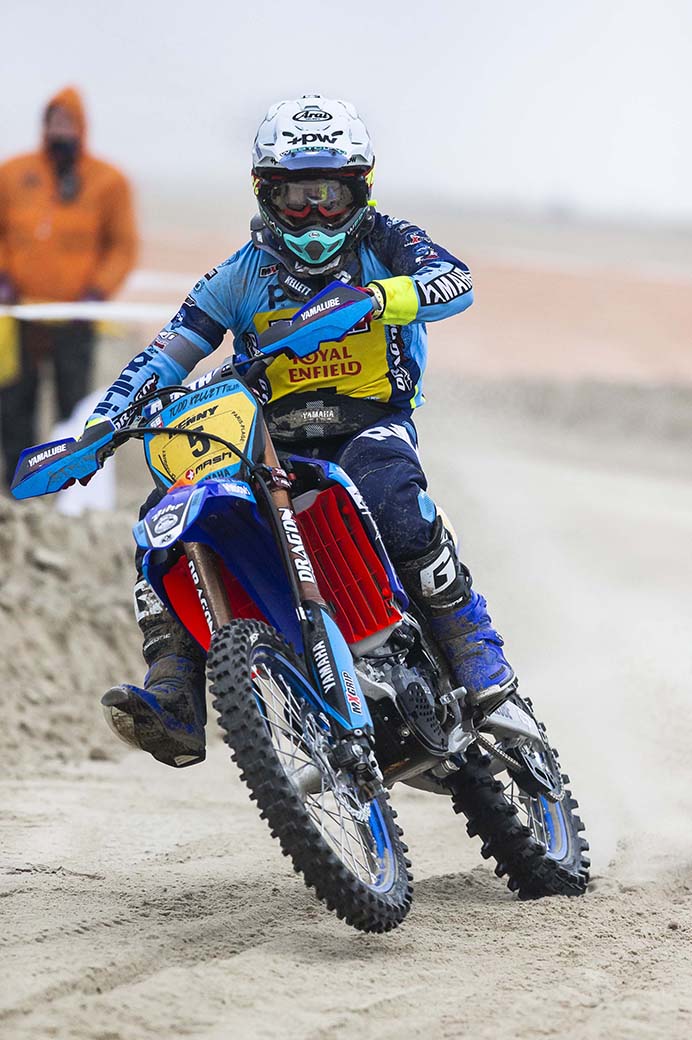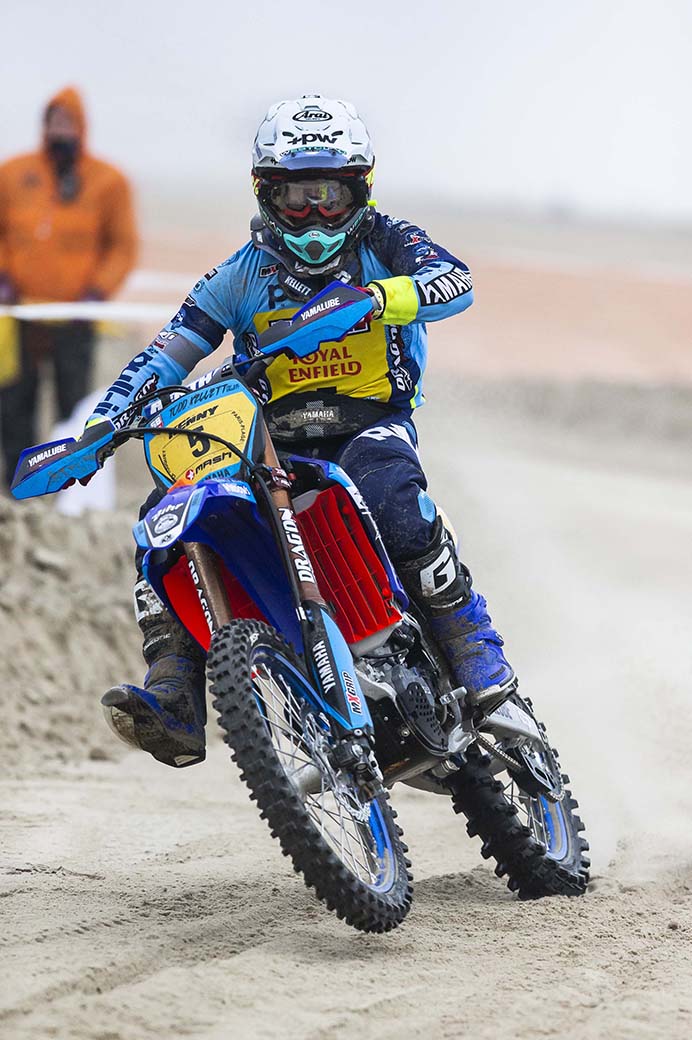 Watson was up to fourth and pushing hard, while Kellett dropped back to 11th after a massive crash. Jordon Divall (Honda) was next best Brit in 16th with first-timer Tom Neil (Husqvarna) in 22nd and settling into the deep sand well.
As the clock told riders they had just an hour left in the race, Potisek had broken away from Horebeek with Watson – despite his minute penalty – still in third but a long way behind the leading pair and with all realistic chance of his second win gone.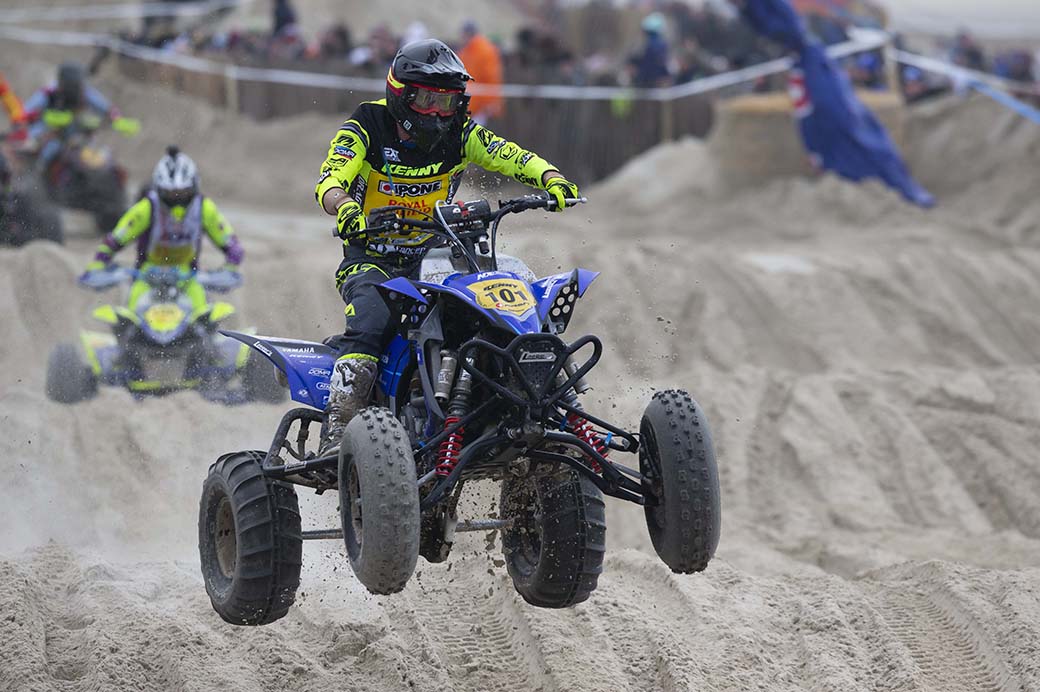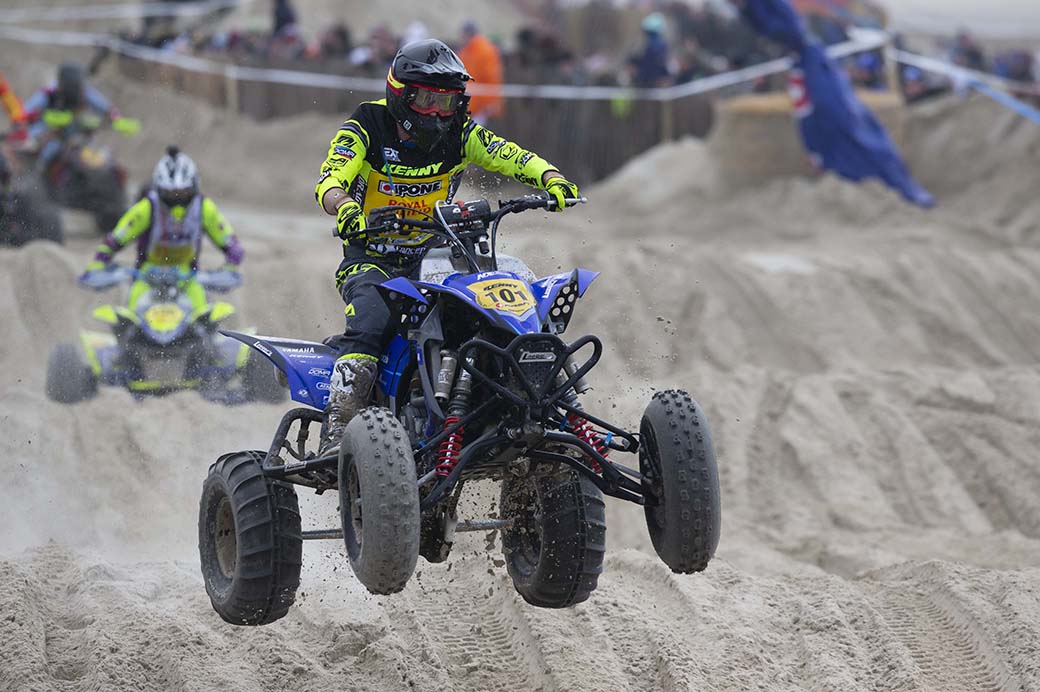 Chapeliere was fourth with Kellett hanging in there in fifth, Divall in 13th and Neal down in 33rd after a fuel stop. As the race clock went to zero the crowds flocked to the finish line area to see Potisek cross the line for his second win in the race.
Horebeek was second, just over three-and-a-half-minutes behind the winner, with Watson third, a further three minutes adrift.
"Track conditions were a lot different this year," said sand race champion Watson. The high tides meant the sand was hard in lots of places and so they didn't build the jumps as high as I guess they didn't want riders jumping into boggy bits.
"That made the track a lot faster and I like it more technical. But no excuses I got beat fair and square, and I will have to learn from it and put it right for next year."
In the championship Watson's record speaks for itself. Out of the six rounds, he won three, came second in another two and was third in this event – never finishing off the podium.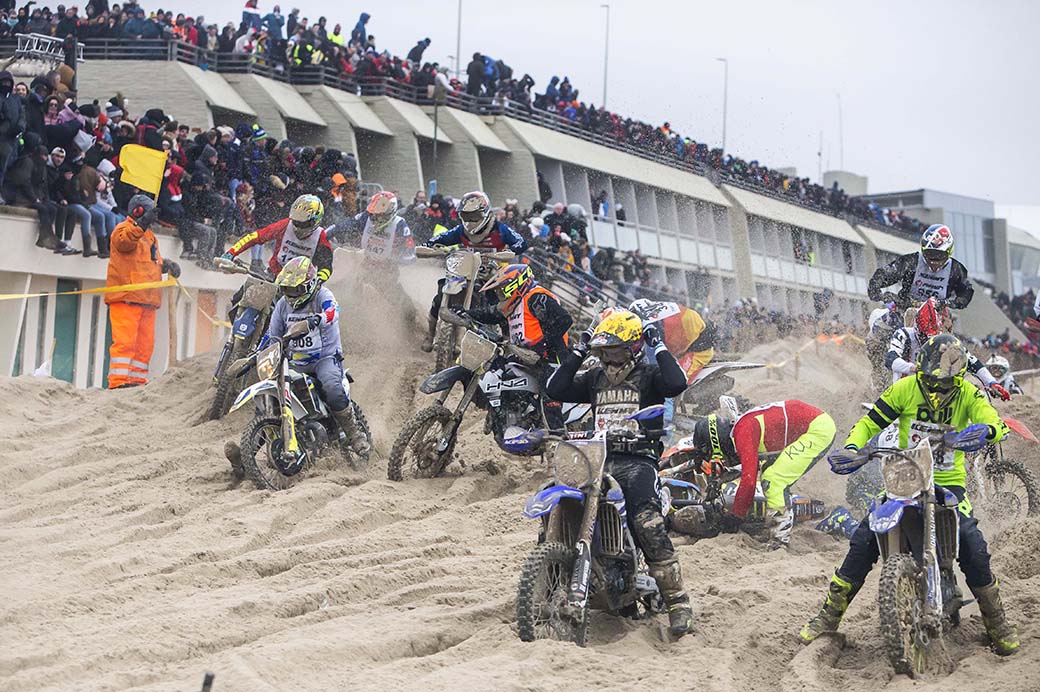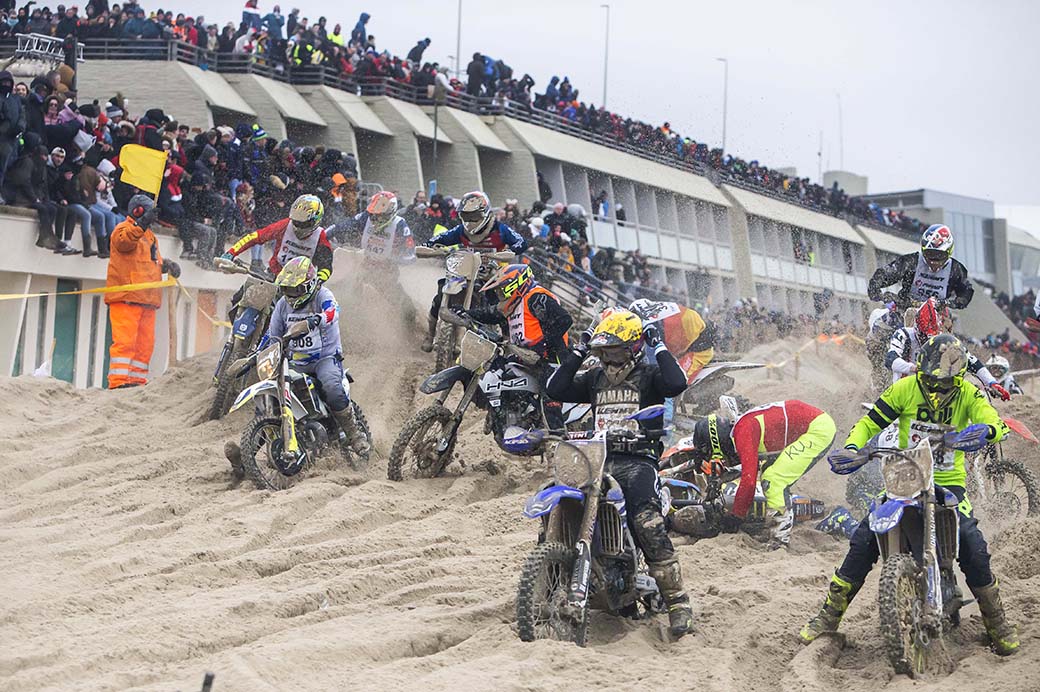 Kellett ended his day in fifth despite hurting his back and gaining a fat lip that was the size of a golf ball.
He said, "It was certainly a challenging day but through no fault of the team or myself.
"I think it was a lack of experience in the event. I didn't gauge what was happening early on and I crashed out of the lead on lap two and struggled without a front brake and with a twisted wheel for the first hour.
"A few more crashes put me back even further, but I managed to get back to fifth at the flag. I got the fastest lap of the race so I know I had the pace, and to finish second in the championship means I am going in the right direction.
"I Just need a bit better luck. I couldn't have done it without the French Dragon Tek Yamaha team, they have made me feel like family."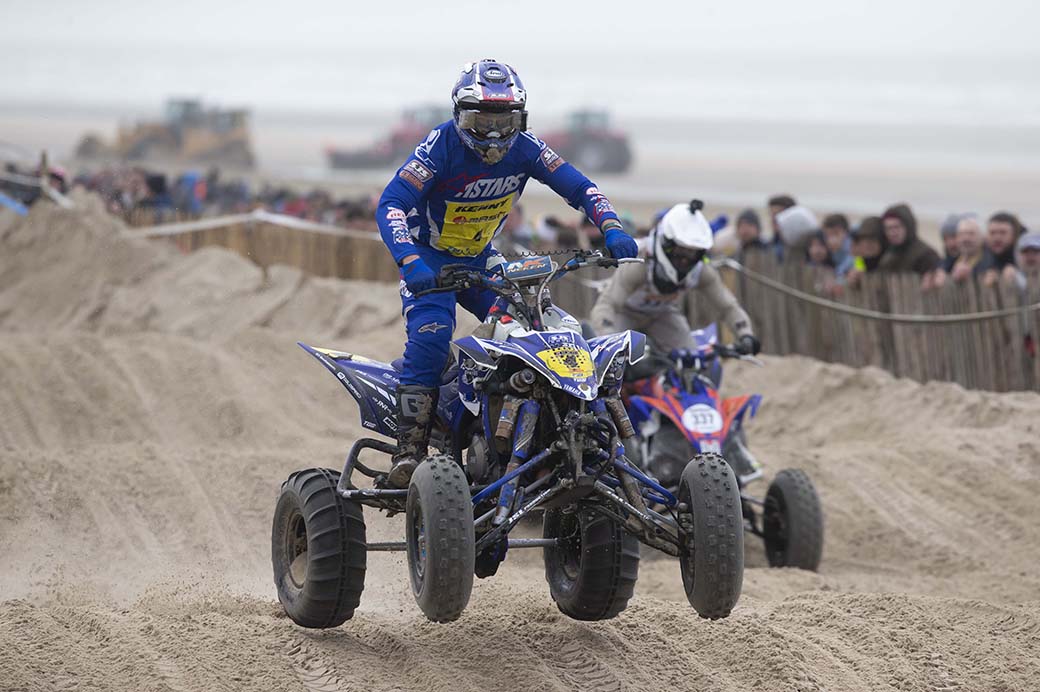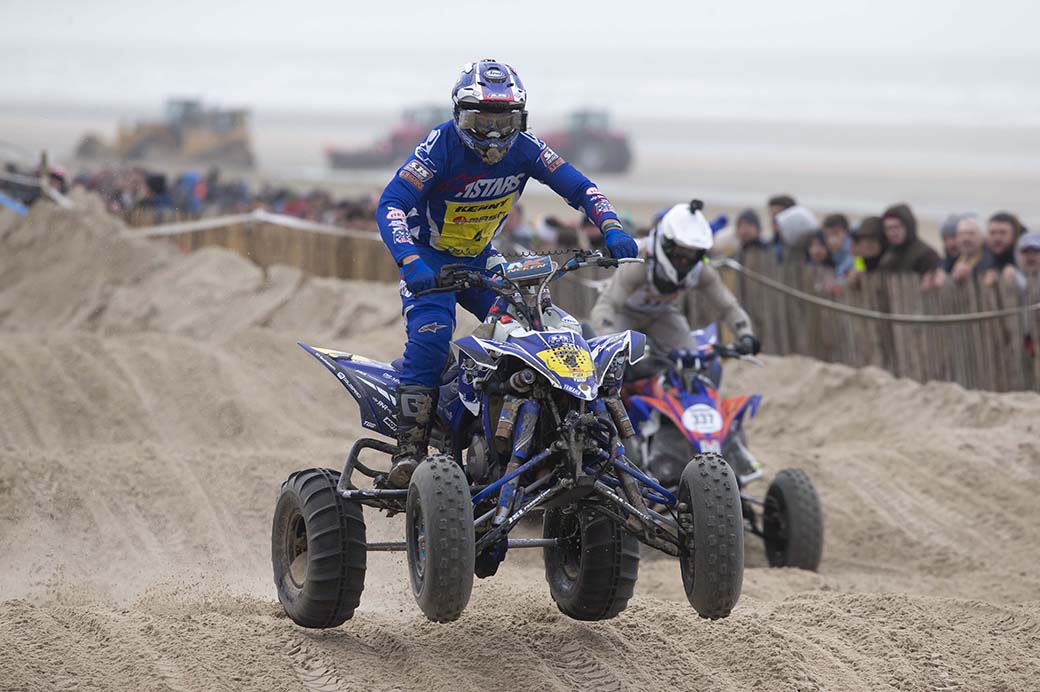 Tom Neal did very well to end his first ride of the event in 28th place and he said: "I enjoyed the event so much that I want to do the full series next year.
"I took it steady and was only riding 80 per cent, and I think it showed, as I only crashed twice in the full three hours. My goal was a top-40 finish, so 28th is great and I will be back for more."
Todd Kellett's brother Tye finished 38th and said: "Le Touquet is amazing.
"The feeling of going down that long start straight was something else. To finish the event is even better, and I couldn't believe how high I finished, which made the effort worthwhile."
Brad Thornhill ran out of fuel and said: "I did a clean first lap but was running in the 400s and I just kept my head down and pushing on.
"After two pits stops I was around 16th, but I made a silly mistake and tried to get an extra lap out of the fuel tank. I managed to push the bike back to the pits to fill it again but I had lost quite a bit of time, so 66th is good as this is the first time I have finished the race."
Marc De Vries (Yamaha) led the pack at the start of Saturday's two-hour quad race and was followed over the line at the end of the opening lap by Jeremie Warnia (Honda), Olivier Van Dendijk, Sheldon Seal (Yamaha) and Keveen Rochereau (KTM).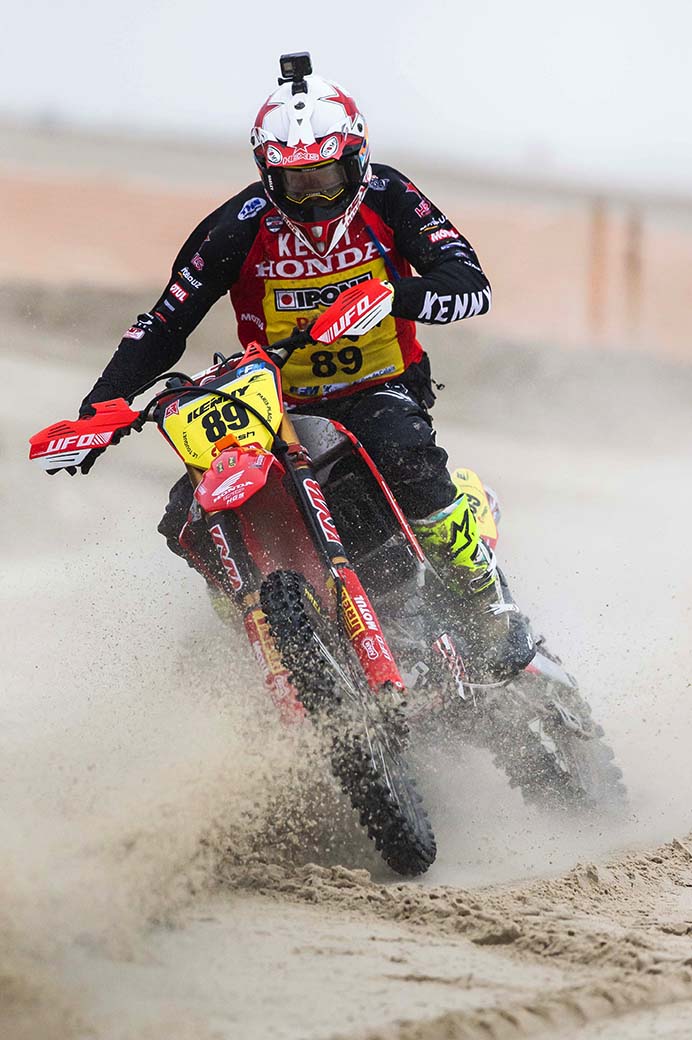 De Vries' lead only lasted two laps as an engine problem forced him back to the work area. Warnia took over the lead, but Randy Naveaux (Yamaha) moved up through the pack and started to put pressure on leader Warnia at the halfway stage.
Naveaux managed to pass Warnia for the win with 45 minutes to go., as Warnia hung on to second with Romain Couprie (Yamaha) third. Last year's runner-up Sheldon Seal (Yamaha) just missed out on the podium this year with the second UK rider Carl Bunce (Yamaha) 24th.
"From the start of the race things just didn't click," said Seal. I thought it was me but I just couldn't get going and if I pushed, I crashed.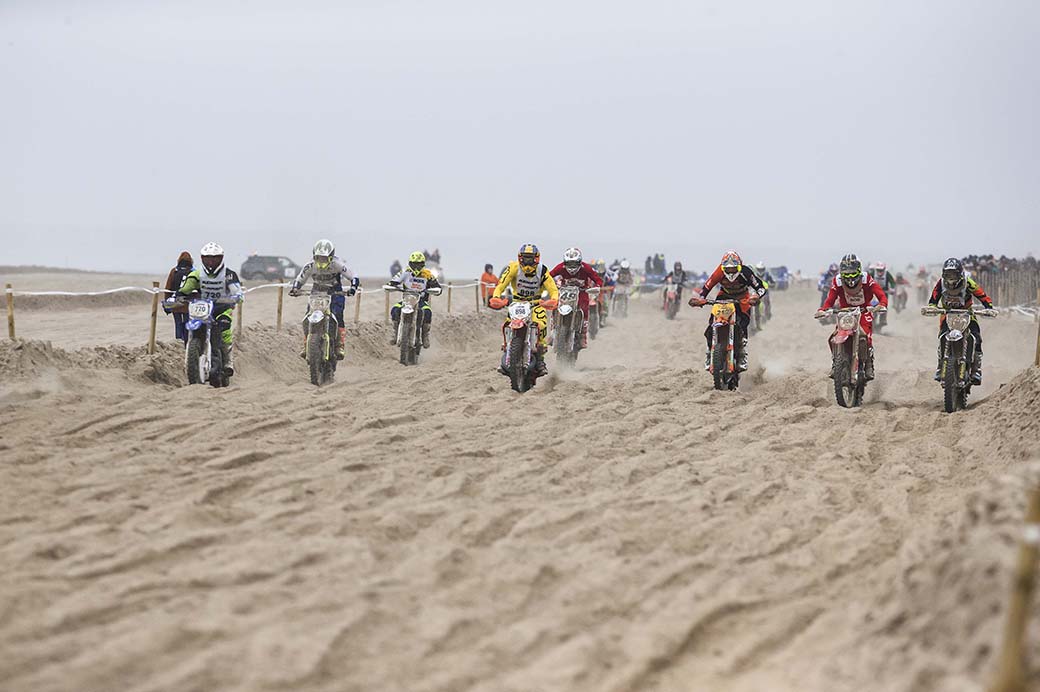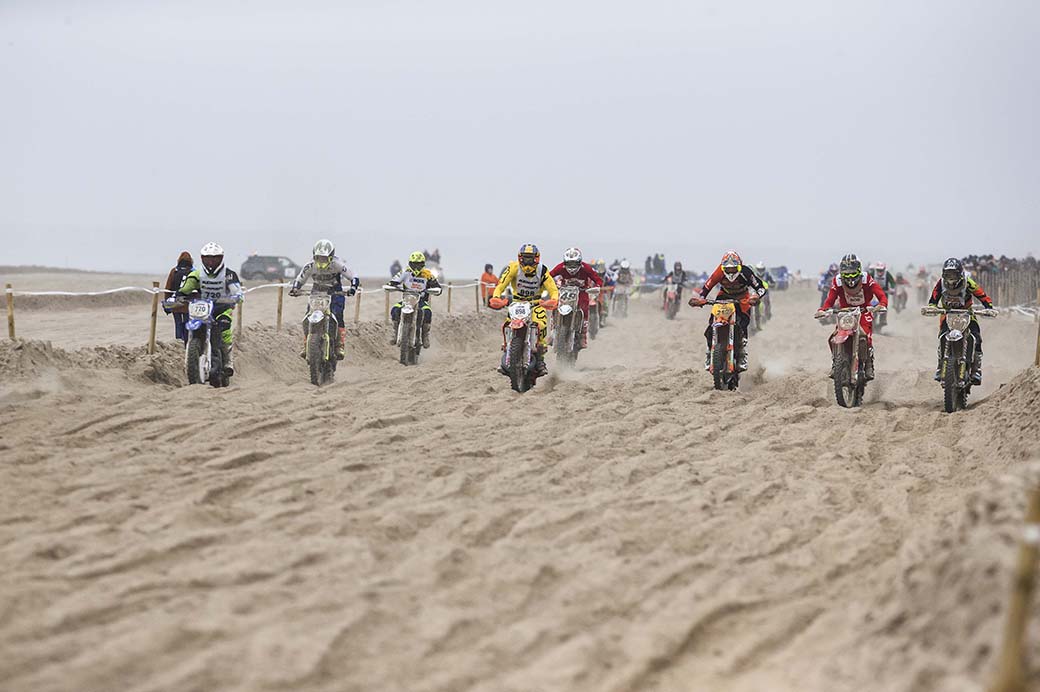 "I think it was the back shock had gone. I came into the work area, and the boys tried to sort it out, but the oil had gone. There was nothing I could do so I just went back out and did what I could.
"I had a good battle for a while with Romain (Couprie) which was fun, but in the end, I could do nothing with him. So, fourth is okay."
Rudy Vergriete (Honda) won the hour-long vintage race on Friday from Alexandre Morel (Honda) and Anthony Denys (Honda).
Florian Miot (KTM) won the Juniors from Simon Depoers (Yamaha) and Vincent Marty (Yamaha), while Marc Antoine Rossi (KTM) won the Espoirs from Adrien Pettit (Yamaha) and Kylian Prevost (KTM).
2020 Le Touquet Results
Solos (Top forty): 1 Milko Potisek (Yamaha) 15 laps, 2 Jeremy Van Horebeek (Honda), 3 Nathan Watson (KTM), 4 Camille Chapeliere (KTM), 5 Todd Kellett (Yamaha), 6 Lars Van Berkel (Husqvarna), 7 Richard Fura (Yamaha) 14 laps, 8 Axel Van de Sande (Yamaha), 9 Valentine Guillod (Honda), 10 Steve Ramon (Yamaha), 11 Timothee Florin (Kawasaki), 12 Yentel Martens (Husqvarna), 13 Victor Brossier (Yamaha), 14 Jordan Divall (Honda), 15 Damien Prevot (Kawasaki), 16 Matheo Miot (KTM), 17 Andy Bethys (Honda), 18 Kevin Fors (Husqvarna) 13 laps, 19 Florent Becker (Husqvarna), 20 Marchall Meplon (Yamaha), 21 Benjamin Cazaunau (Honda), 22 Pierre Morel (Yamaha), 23 Toni Mulec (Husqvarna), 24 Vincent Thiollier (Yamaha), 25 Matteo Puffet (KTM), 26 Julien Jagu (Honda), 27 David Abgrall (Beta), 28 Tom Neal (Husqvarna), 29 Maxime Jeanne (Morex), 30 Nicolas Cailly (Husqvarna), 31 Eddy Mollon (Husqvarna), 32 Rob Holyoake (Yamaha), 33 Maurizio Micheluz (Husqvarna), 34 Sebastien Dulot (KTM), 35 Adrian Lamour (Yamaha), 36 Adrian Jorry (Kawasaki), 37 David Gibot (Honda), 38 Tye Kellett (Husqvarna) 12 laps, 39 Antoine Briatte (Yamaha), 40 Cedric Tosatto (KTM)
Other UK finishers: 66 Brad Thornhill (KTM), 12 laps, 216 James Holt (KTM) 10 laps, 256 Charlie Sutton (KTM) 10 laps, 345 Jamie Knight (KTM) 9 laps, 484 Ashley Dyte (KTM) 8 laps, 742 Justin Coombes (Husqvarna) 7 laps
Quads (Top forty): 1 Randy Naveaux (Yamaha) 10 laps, 2 Jeremie Warnia (Honda), 3 Romain Couprie (Yamaha), 4 Sheldon Seal (Yamaha), 5 Florian Mangeot (KTM), 6 Jean Marie Barnede (Yamaha), 7 Keveen Rochereau KTM), 8 Davino Bruneel (Yamaha), 9 Frederic Lefebvre (Yamaha) , 10 Louis Pinchon (Yamaha), 11 Charly Rochereau (Yamaha), 12 Roman Gwiazda (Yamaha), 13 Tuur Van Hoof (Husqvarna), 14 Pierre Adrien Collot (Yamaha), 15 Adrian Mazzoleni (Yamaha), 16 Axel Mainini (Yamaha), 17 William Jouy (Yamaha) 9 laps, 18 Arnaud Bordes (Yamaha), 19 Pabio Violet (Yamaha), 20 Romain Ponthieu (Yamaha), 21 Vincent Liefooghe (Yamaha), 22 Kylian Delbourg (Husqvarna), 23 Antoine Latarget (Yamaha), 24 Carl Bunce (Yamaha), 25 Mathieu Morin (Suzuki), 26 Bestien Bourgeois (Yamaha), 27 Thomas Maillotte (Yamaha), 28 Etinne Sannier (Suzuki), 29 Vincent Pinchon (Yamaha), 30 Florian Lamaire (Yamaha), 31 Paolo Galizzi (Yamaha), 32 Joris Kersten (Yamaha), 33 Florian Pitre (Yamaha), 34 Birger Vanpoucke (Yamaha), 35 Twan Van Der Jagt (Yamaha), 36 Quentin Ricard (Yamaha), 37 Baptiste Bruni (Yamaha), 38 Cement Bruni (Yamaha), 39 Bart Stennbergen (Yamaha), 40 Antony Baillaerguet (Yamaha)
Other UK finishers: 78 Laurence Stopps (Yamaha) 8 laps, 107 Graham Guy (Can-Am) 8 laps, 121 Stuart Marley (Can-Am) 8 laps, 122 Sean Goss (Yamaha) 8 laps, 156 Ben Russell (Yamaha) 8 laps, 164 Jonny Kelly (KTM) 8 laps, 181 Richard McGonigal (Suzuki) 7 laps, 228 Alfie Walker (Yamaha) 7 laps
Vintage (Top twenty): 1 Ruby Vergriete (Honda) 9 laps, 2 Alexandre Morel (Honda), 3 Anthony Denys (Honda), 4 Pierre Demilly (Honda), 5 Remy Annelot (Honda), 6 Romain Dumontier (Honda), 7 Sebastien Guillaume (Honda) 5 laps, 8 Alexis Blomme (Honda), 9 Kevin Hamard (Yamaha), 10 Philippe Mauhin (Honda), 11 Thomas Feutry (Kawasaki), 12 Benjamin Humez (Honda), 13 Denis Leroy (KTM), 14 Paul Kirby (Kawasaki), 15 Kevin Gauniaux (Honda), 16 Denis Binse (Honda), 17 Clement Dumez (Honda), 18 Damien Ceulemans (Honda), 19 Nicolas Horeaux (Kawasaki), 20 Jean-Marc Gaillard (Honda)
Juniors (Top twenty): 1 Florian Miot (KTM) 21 laps, 2 Simon Depoers (Yamaha), 3 Vincent Marty (Yamaha), 4 Bogdan Krajewski (Yamaha), 5 Valentin Madoulaud (Yamaha) 20 laps, 6 Axel Louis (Honda), 7 Alexandre Bours (KTM), 8 Jeremy Knuiman (KTM), 9 Junior Bal (Husqvarna), 10 Tanel Bajeux (Yamaha) 19 laps, 11 Ryan De Beer (KTM), 12 Davey Nieuwenhuizen (KTM), 13 Cyril Labie (KTM), 14 Tejy Krismann (Yamaha), 15 Jules Langue (Yamaha), 16 Brend Bolckmans (KTM), 17 Quentin Monfourny (KTM), 18 Hugo Decroocq (Yamaha), 19 Thibaut Balestra (KTM) 18 laps, 20 Joey Nuques (Yamaha).
Other UK finishers: 42 Sam Davies (KTM) 17 laps, 56 Alfie Calvert (Husqvarna) 17 laps, 140 Callum Radford (Kawasaki) 10 laps
Espoirs (Top twenty):1 Marc Antoine Rossi (KTM) 14 laps, 2 Adrian Petit (Yamaha), 3 Kylian (KTM), 4 Tias Callens (Husqvarna), 5 Joey Simonini (KTM), 6 Jules Delaporte (Husqvarna), 7 Kivers Lefebvre (Husqvarna) 13 laps, 8 Tom Migault (Husqvarna), 9 Noa Hougue (Husqvarna), 10 Evan Demeester (Husqvarna), 11 Robin Dargenton (Husqvarna), 12 Paul Brunet (Husqvarna), 13 Stellan Delclaux (Husqvarna), 14 Douwe Van Mechgelen (Husqvarna), 15 Gauthier Bous (Husqvarna), 16 Tom Caneele (Husqvarna), 17 Aaron Dubrecq (KTM), 18 Enzo Lefebvre (Yamaha), 19 Laures Delamare (Husqvarna), 20 Tom Satabin (Husqvarna).
[more-from heading="More Le Touquet" tag="le-touquet"]