Following an almost perfect start to the 2018 Power Maxed Arenacross Tour when Cyrille Coulon and Thomas Ramette finished second and third, SR75 World Team Suzuki took a hit on Saturday night at round two in Newcastle's Metro Radio Arena with both riders finishing well down in the Main Event.
Qualification went well with reigning champion Thomas and an under-the-weather Cyrille posting solid times in both sessions to run 2-6 with Thomas just 0.003 off pole position.
The night show got off to a great start with an awesome holeshot from Thomas in the first heat. After a small crash his team-mate took over at the front as Thomas recovered at the back of the pack.
It was imperative for Thomas to win heat two and he didn't disappoint with a perfect ride. Cyrille was running a smooth and solid third – conserving energy due to his sickness and trying to earn himself one of the top couple of gate picks for the Main Event – when he was hit by another rider, taking him down and destroying the right side of the bike.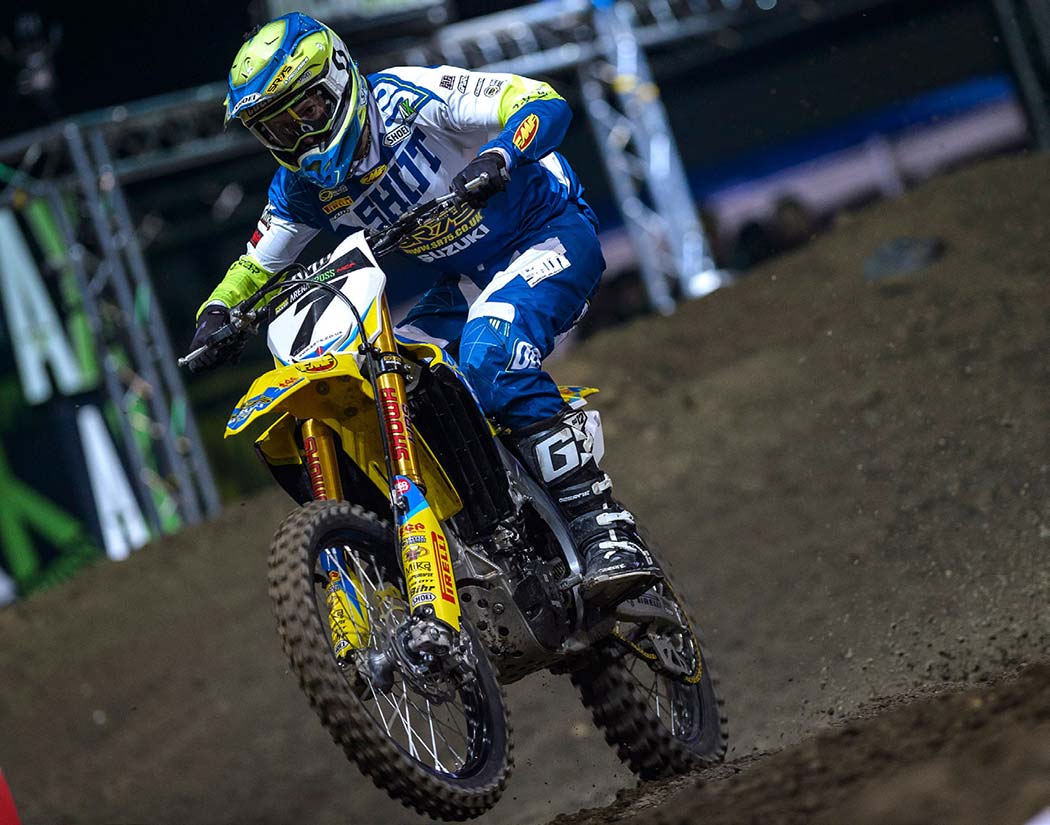 For the Main Event the riders had 4-7 gate picks with Thomas on the outside but he nailed another incredible start to somehow take the holeshot and he took a solid control of the race but Cyrille had a big crash on lap one when he landed on a tuff block which dropped him to the back.
Up front Thomas looked super-smooth until he got a tuff block cover stuck in his rear wheel. Forced to drop his pace, eventually the rear brake failed causing a crash. With Cyrille recovering for eighth and Thomas ending the night in 12th, the team now moves on to Birmingham with a determination to do well and feeling fortunate to be in one piece after the slams and crashes in Newcastle.
"Tough nights come along and we deal with them together as a team," Team Principal, Geoff Walker, opined. "It can't be podiums every time and we have a great understanding of this coupled with a great determination and belief in ourselves.
"The organisers and crew did a great job to give us a race track here in Newcastle. Our Suzuki race bikes, crew and riders were amazing again tonight and the effort is exactly the same win or lose. We love this and we relish a challenge.
"A massive thanks to Suzuki UK and of course all of our team partners involved in making this dream happen."
"I am not happy with the result but I am happy with my riding," said Coulon after finishing eighth on the night. "I ride fast in the Main Event from the back and I want to win races.
"I am feeling a little sick this week so I tried to control my energy levels. I feel fast and I am looking forward to Birmingham! Thanks to my team and all my sponsors."
Commenting on his rough luck in Newcastle, Ramette said: "Of course tonight is a little disappointing. I feel great on the bike and I want to go faster. I have had something happen tonight which is unfortunate but this is racing and I will deal with it calmly and professionally.
"My focus is stronger than ever now and with no pressure on my shoulders I can race with freedom so I cannot wait to get to Birmingham.
"My start in the Main Event was very good – the bike is working perfectly and even with a poor choice of gate I was able to get the power down and take the holeshot. This makes me very confident that the wins will come.
"Thanks as always to everyone involved with SR75 Suzuki. We are having fun and giving 100 per cent as always."