With an all-new line up going into the first two rounds of Arenacross we knew we would have work to do.
The SR75 Suzuki GB bikes were prepared to perfection and we knew it would be a personalisation process to get our latest signing and superfast team member Valentin Teilett used to the RM-Z250 SR bike in around four minutes of free training before the competition started in timed qualification.
We live for a challenge and that is what we work for.
Our 450 guy Charles Lefrancois has been testing with various SR75 supplied race parts so we knew CLF would be up to speed and strong going into Rounds 1 and 2 in Belfast.
AX Round 1
Qualification went well for the guys with Charles posting second fastest in 450 quali 1 and Valentin posting second-place time in 250 quali 2.
The guys ended up fifth and fourth overall in their classes after a few issues in their other sessions but the gate picks would be okay for the first Main Events of the night show.
Charles was on fire out of the gate in his Main Events and battled hard for incredible third and second in his first two finals. Charles controlled his pace, rode smart and smooth and was eager to save energy for the Super Final.
Valentin was making a few uncharacteristic mistakes as he got used to the environment and intensity in the Pro Lites finals which would see him drop from battling for a top three in the first final to not making the Superfinal on night one. Valentin would end up seventh overall at the opening round and we could look to fight harder the next day and show what this guy and the RM-Z250 SR were really capable of.
The focus Charles showed in the Superfinal was awesome. CLF smashed the holeshot and never looked back. Greg Aranda was on a mission and he would be the real threat for victory. Charles led and controlled the Superfinal with a perfect performance on track showing his skill and the perfect set up of the SR75 Suzuki RM-Z450.
It was fantastic to see this incredible young man out there at the front looking smooth for the first 13 laps of the 15 lap final. Aranda made a good clean pass on Charles going into the final lap of the race. Charles did not panic and held his pace in second with a seemingly safe gap to third to look for a solid start to the championship tour.
With just metres to go Charles was t-boned by the third place rider leaving both riders on the ground from safe podium places. Charles was left to pick up the pieces and ride his damaged bike to the finish in a devastating 10th place.
Charles incredibly took our first podium of the Tour with an amazing third overall on the night after 'surviving' the Superfinal. This was brilliant work from a young man who conducts himself as a true and hard-working professional racer in every way.
AX Round 2
A new day took any negatives away from the first round and we worked hard to make everything perfect for the riders for Round Two in Belfast.
Valentin immediately upped his game and looked more at home on the RM-Z250 SR by the second. So much so that in quali 2 VT would take the fastest time in the session!
This was massive progress and showed Valentin's true potential on the Suzuki. VT would be second overall in average time over the two sessions and we knew a great night could be in our future.
Charles worked in his classy and smooth way to improve his time in the second qualification as he edged closer to Greg Aranda to take a brilliant second overall in qualification on day two.
We looked forward to seeing the guys do their work in the first Pro Lites and Pro 450 finals of the night programme and they did not disappoint in any way.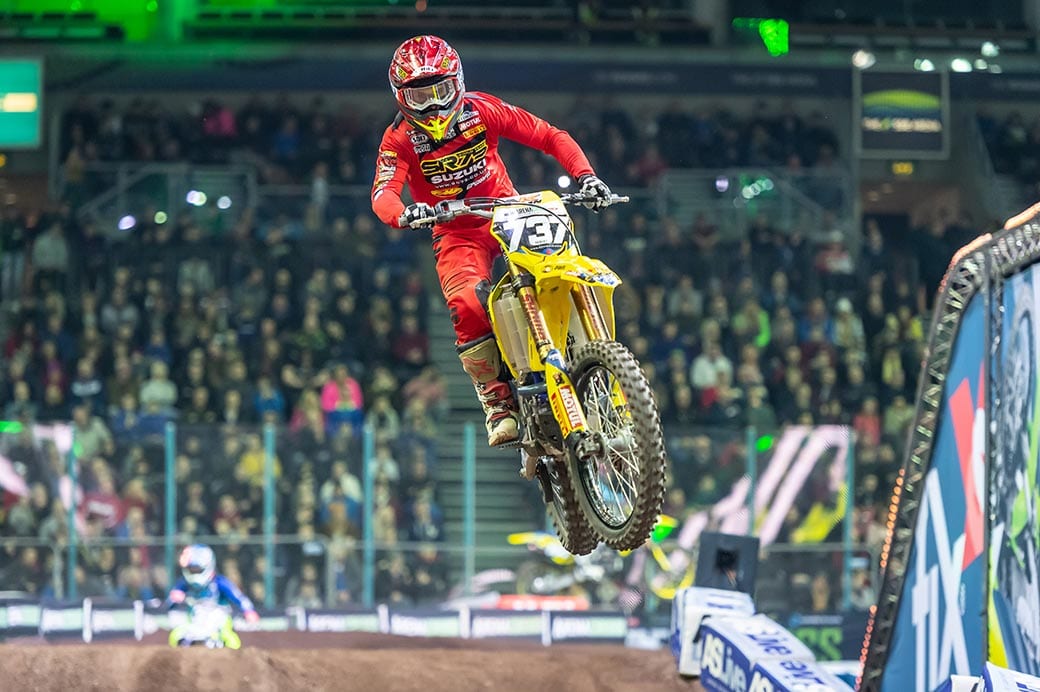 Valentin was like a man possessed as he blasted the SR75 RM-Z250 to two holeshots, just missing out on a second race victory by just a few metres after a good battle showing great pace and skill. VT would go 2-2 for the Pro Lites finals and make a direct transfer to the Superfinal in second place.
Charles was again in a smooth mode and controlled his Pro 450 finals to take great second places and second overall going into the Saturday Superfinal.
With the Pro Lites guys getting the first five gate picks Valentin was able to make the inside gate work for a great start while Charles tangled with Aranda out of the gate almost going down.
This put Charles on the back foot as he would have a tough race to try to make up positions to eventually come home eighth after being unable to jump the finish double a total of three times during the Superfinal for safety reasons.
Valentin, on the other hand, was able to race like a boss towards the front as he held a fantastic second place for half the Superfinal until Aranda got by. Valentin settled into a great rhythm and made perfect laps as the chequered flag was prepared.
To make the third place Superfinal podium on the RM-Z250 SR bike was a testament to the work of everyone in the team and of course to the determination and drive of Valentin to make a great result for the team and his championship campaign.
Double podium for Charles and Valentin on the night meant that SR75 Suzuki took three out of four possible podiums leaving Charles second in the Pro 450 championship, Valentin fourth in the Pro Lites points and the team third in the Team Championship as we head into Rounds 3 and 4 in two weeks in Birmingham.
Thanks as always to our team partners who trust us to work and race as hard as possible every second of every event.
[more-from heading="More AX" category="ax"]