SR75 World Team Suzuki arrived at Wembley Arena with the amazing Thomas Ramette just four points off the Pro lead in the Power Maxed Arenacross Tour and aiming to make it four titles in a row.
His team-mate Cyrille Coulon was also still in with a chance of taking the crown and between them they had a healthy lead in the Team championship.
We pride ourselves on our preparation and, in spite of everything we have gone through as a team throughout this tour, spirits were high in the build-up to the seventh and final round.
Thomas was in a calm and focussed mood upon arrival but the latest twist in the tale came from Cyrille who arrived with an extraordinarily bad illness.
We've watched this guy scrape himself off the track over the years with SR75 and battle through everything thrown at him so it was with a heavy heart that he was forced to withdraw.
With double points up for grabs this meant that the Team championship was out of reach but Thomas still had the Pro title in his sights and he kept it controlled in qualification with second overall to Dan Reardon.
He then matched this with a pair of second-placed finishes in his heat races but one mistake in the Hot Lap contest saw him drop four points on the championship leader which meant heading into the Main Event he was seven points adrift of Cedric Soubeyras.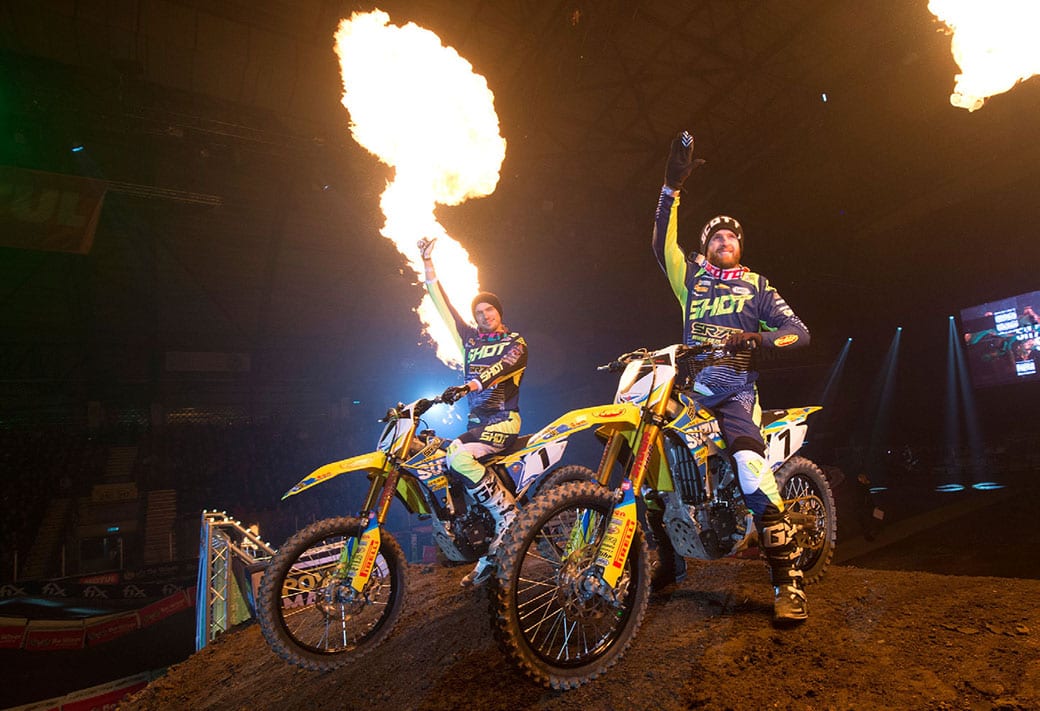 Thomas took a rare bad start in the Main Event but fought his way into second place along the first straight before turning his attentions to Reardon who led.
Knowing that he had to take victory and place Reardon between himself and Soubeyras for the title, Thomas rode out of his skin but with the Australian putting in his best race of the tour it was a bridge too far.
Thomas was, of course, disappointed but his professionalism, sheer class and genuine respect for his rivals showed immediately as he congratulated both Soubeyras and Reardon on their performances. This man has the heart of a true champion.
"As a team and a family we love great riding, respect and fantastic racing," said Team Manager, Geoff Walker.
"We have enjoyed incredible success and some tough and strange moments during this tour but at the end of it we can be proud of our double podiums, our victories, our amazing Suzuki race bikes, our incredible riders and the fantastic crew of Paul, Tony and Luke who make things work so smoothly.
"We'd also like to thank our brilliant team partners who back us worldwide and give us the best products and support to show week-in, week-out what we can achieve.
"Our sincere thanks go to the organisers, their staff and our families, friends and amazing fans."
"How am I feeling? In a word, gutted," exclaimed Ramette. "But I can hold my head up high knowing I've raced with respect for my rivals and always given 100 per cent and left everything out on the track.
"Arenacross is very tough and unpredictable – I'm disappointed but I will take it on the chin.
"Thank you to all my sponsors and fans for their support."
"Wembley has been pretty merde for me this year," said Coulon. "I am very sad for the championship to end in this manner but there was no way I could have raced and still been safe – for myself and the other guys around me.
"Thank you to my team, my family and my fans for supporting me – I hope I haven't let you all down because you mean the world to me."