All Arenacross youth classes contested their final races this evening at the final round of the Arenacross Tour at The FlyDSA Arena, Sheffield.
Rookie Cup supremo Ben Clayton finished in an uncustomary third in this morning's non-public race, behind the youngest rider in the class Carl Ostermann, and a rapidly-improving Adam Collings. Whilst the 16-year-old had done enough to win the championship ahead of the evening race and he went out and won the last race in front of a cheering Sheffield crowd. The overall on the night, was a three-way tie between Clayton, Collings and Ostermann all on 26 points. Clayton got the nod thanks to his second race win. Clayton has been virtually unstoppable in this class, winning 10 of the 12 races, with Josh Greedy and Ostermann taking to the top step of the podium in the other two.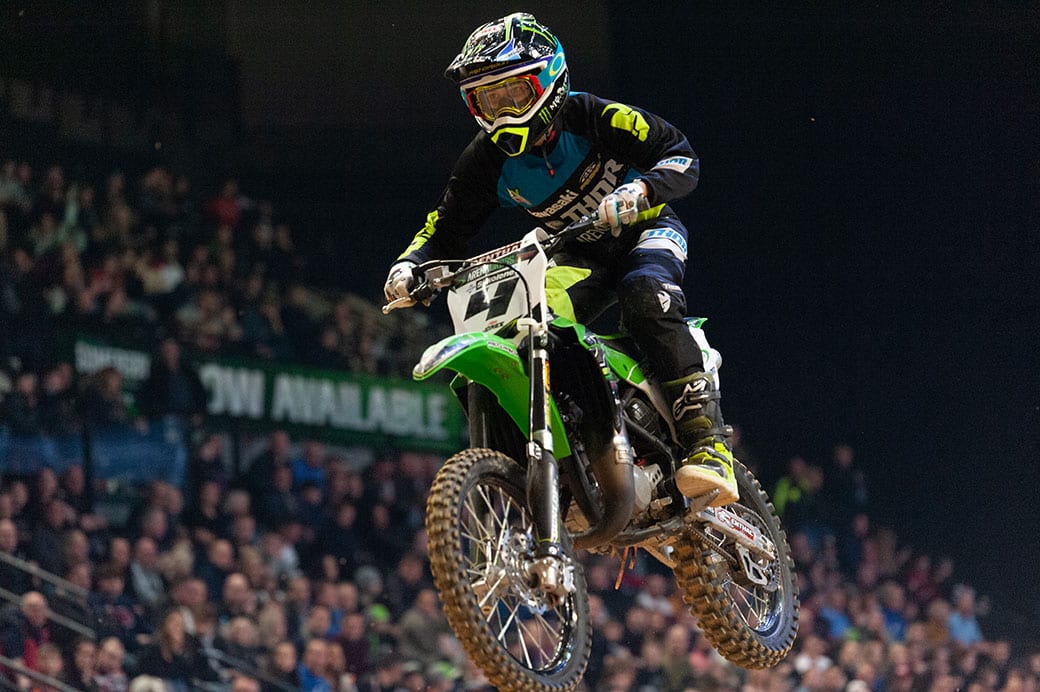 A single point separated The Team Green Kawasaki Supermini Cup finalists and it went all the way to the wire. In a repeat performance of round 5, Ethan Sills shot out of the start gate and was never bettered. Whilst he powered away, the battle for the championship was in full swing behind him with series protagonists Raife Broadley in second, and Alfie Smith in fourth separated by Jaygo Beasty. Once past Beasty, Jones hunted down Broadley all the way to the chequered flag, but it was Broadley, a Team Green regular, who emerged victorious with a second place giving him enough of a margin to secure the win.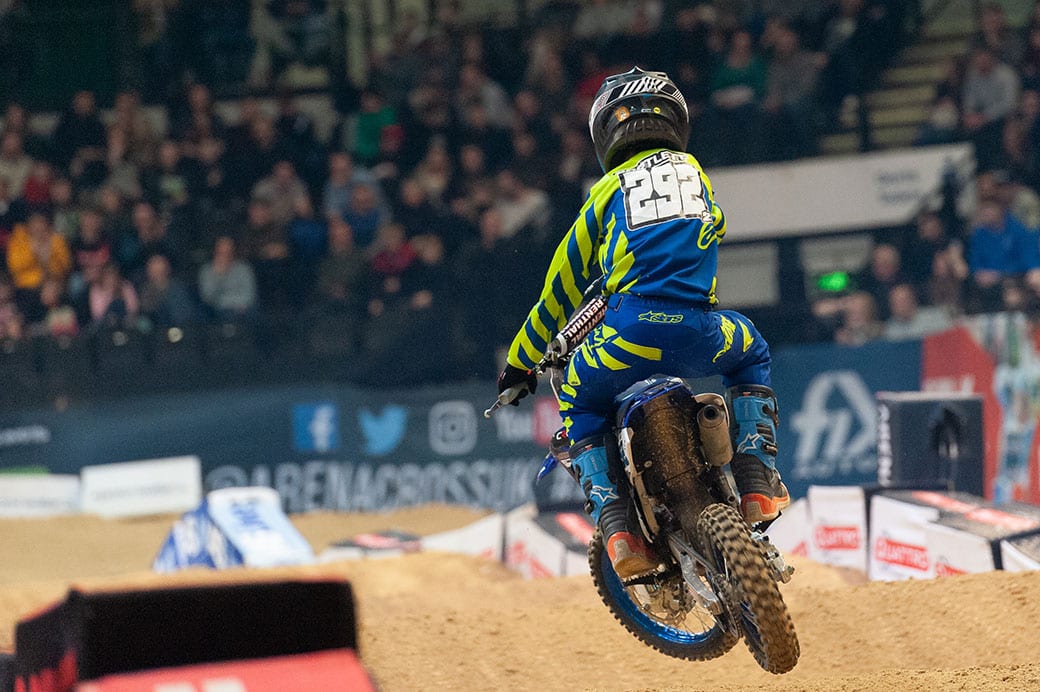 The Youth 65 Cup competitors faced a similar situation going into the final round with the leading duo of Freddie Bartlett and Zane Stephens also separated by one point. Again, it was the third-placed championship rider who called the shots in the form of a flying Isaac Ash. Ash grabbed the holeshot and pulled away from Bartlett and Stephens. The sparring West County boys gave it their all, each desperate to claim the 2019 title, but a mistake from Stephens in the closing stages of the race, left Bartlett to comfortable take second and the championship.
With the youth classes all sewn up, it's down to the Pro riders to bring the 2019 Arenacross Tour to a dramatic climax.
RESULTS
Race 1 Rookie Cup
#10 Carl Ostermann, 15 points
#48 Adam Collings, 13
#11 Ben Clayton, 11
#33 Josh Greedy, 9
#22 Ben Burridge, 8
#369 Axel Boldrini, 7
Team Green Supermini Cup
#4 Alfie Jones, 15 points
#11 Ethan Sills, 13
#9 Raife Broadley, 11
#7 Tom Harris, 9
#10 Charlie Palmer, 8
#14 Tye Jones, 7
Youth 65 Cup
#100 Isaac Ash, 15 points
#292 Freddie Bartlett, 13
#80 Zane Stephens, 11
#184 Jamie Keith, 9
#94 Alfie Osborn, 8
#241 Austin Beasty, 7
Race 2 Rookie Cup
#11 Ben Clayton, 15 points
#48 Adam Collings, 13
#10 Carl Ostermann, 11
#369 Axel Boldrini, 9
#33 Josh Greedy, 8
#5 Max Lausch, 7
Team Green Supermini Cup
#11 Ethan Sills, 15 points
#9 Raife Broadley, 13
#4 Alfie Jones, 11
#1 Jaygo Beasty, 9
#7 Tom Harris, 8
#14 Tye Jones, 7
Youth 65 Cup
#100 Isaac Ash, 15 points
#292 Freddie Bartlett, 13
#184 Jamie Keith, 11
#80 Zane Stephens, 9
#94 Alfie Osborn, 8
#241 Austin Beasty, 7
AX Championship
Rookie Cup
#11 Ben Clayton, 170 points
#48 Adam Collings, 145
#10 Carl Ostermann, 130
#33 Josh Greedy, 119
#22 Ben Burridge, 81
#5 Max Lausch, 57
Team Green Supermini Cup
#9 Raife Broadley, 151 points
#4 Alfie Jones, 148
#11 Ethan Sills, 144
#7 Tom Harris, 101
#10 Charlie Palmer, 97
#1 Jaygo Beasty, 81
Youth 65 Cup
#292 Freddie Bartlett, 151 points
#80 Zane Stephens, 146
#100 Isaac Ash, 139
#184 Jamie Keith, 97
#21 Lewis Spratt, 61
#94 Alfie Osborn, 60
[more-from heading="More AX" category="ax"]