The 2018 Power Maxed Arenacross Tour is really starting to heat up with just two rounds to go. Following a week's rest, Arenacross kicks back off again this weekend, Saturday, February 10 at the FlyDSA Sheffield Arena.
With not one AX Tour crown decided, riders and teams will need to walk that fine line between pushing for maximum points and not slipping up to stay in contention at the AX finale in London on February 17.
AX Pro Class
Cedric Soubeyras, the man who has missed out on the AX Pro championship title over the last two years, was level on points with Charles Lefrancois at top of the standings going into the Belfast doubleheader. And although he battled his way to claim a two-point margin in the championship after the second night in Northern Ireland, his 5-4 reults alongside Thomas Ramette's results of 6-1 meant that instead of opening the gap up on his AX nemesis, he now finds the three-peat breathing down his neck.
Soubeyras has an interesting, and it appears very popular team-mate. Ashley Greedy has been billed previously as the bad boy of AX and it's fair to say he's never appeared to be concerned about doing what it takes to get the job done.
Interestingly, it's a reputation he has put behind him, for the most part, this year. He's looked focused and is riding well in 2018. And even when he has not qualified for the Main Event, he's so popular with the Arenacross fans, he has always had the fallback of making it to the climax of the night's show with the fans voting him in.
Although mathematical any rider in the top 10 can still win the 2018 Pro title, I can't see it going to any other rider than somebody on a Suzuki or Honda machinery. If you were to twist my arm a little further, I would say three-time champion, that's SR75 World Team Suzuki's Thomas Ramette is looking very good at the moment and is the man to beat. Oh, and he's fresh from winning at Supercross Herning at the weekend.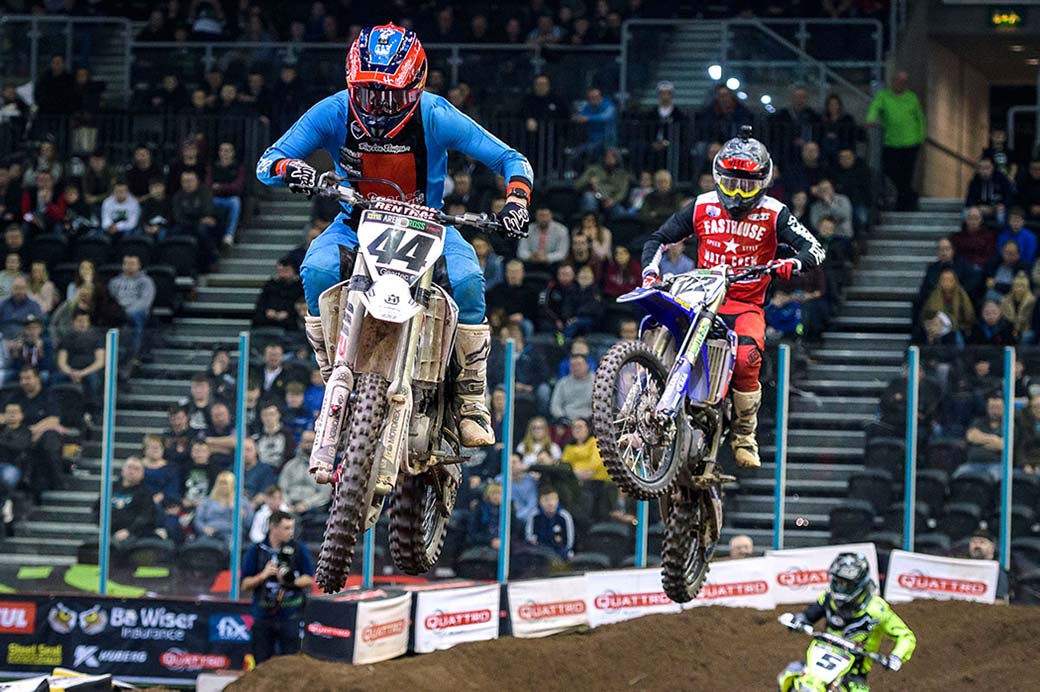 On saying all that, there are a handful of riders in the field that are more than capable of claiming a Main Event win. Dan Reardon came so-so close on a few occasions and he has been adapting to the Tour as each round has clicked off. Fine tuning his Yamaha settings, he has got quicker and quicker and isn't afraid to mix it up with anybody on track.
Adrien Escoffier kept his head during round four's Main Event in Belfast to take the win – he certainly has the speed. Evgeny Bobryshev's results haven't shown improvement in terms of points on the board, but he has been getting better and better – he's an outside bet to cause an upset.
Then there's Brit Elliott Banks-Browne. He's not had the Tour I expected and certainly not one he would have wanted. A lot of bad luck has come his way but last time out he looked more like himself – making the Main Event and then taking the lead when the gate dropped. Ramette and Reardon were too strong for the two-time British champion on the night but don't rule him out in Sheffield.
AX Pro Team Championship
This one is close, not as close as the rider championship, but still not a lot in it. Buildbase Honda is attempting to take the team title away from the equally uber-pro team of SR75 World Team Suzuki. David Thorpe's Buildbase Honda looked very strong, in command you could say, but Geoff Walker's SR75 have clawed their way back into it and have now taken over with a 10 point lead on their rivals.
AX Pro Lites
Simply put, it's Joe Clayton's Pro Lites championship to lose. He has dominated the class at just about every round, but it is Arenacross so anything can and often does happen. Clayton won't take anything for granted.
AX Supermini
Buster Hart has been sitting on top of the championship for a number of rounds now but German ace Carl Osterman is slowly reeling him in, winning every round other than Newcastle – he'll take some stopping but could require a slip up from Hart.
AX 65cc
While the focus may be on the pro riders in Sheffield, the AX 65cc class is red hot with four young hot shots in contention for the title. It's too difficult to pick a winner from either Harvey Antrobus, Shaun Mahoney, Zane Stephens and Jake Davies – just two points separate the top three!
Round six of the 2018 Power Maxed Arenacross Tour fires into life at 7.30pm on Saturday night – I'd suggest you don't miss it.
Share your thoughts with us below, on Facebook and Twitter or email the author andrew.hill@jpress.co.uk
2018 Power Maxed Arenacross Tour Standings After Five Rounds
AX Pro Championship
Cedric Soubeyras, 84 points
Thomas Ramette, 82
Charles Lefrancois, 71
Fabien Izoird, 64
Cyrille Coulon, France, SR75 World Suzuki, 63
Hugo Basaula, Portugal, Shocktech Kawasaki, 60
Dan Reardon, 58
Adrien Escoffier, 55
Jack Brunell, 51
Ashley Greedy, 45
AX Team Championship
SR75 World Suzuki, 145 points
Buildbase Honda, 135
Team FRO Systems, 129
MVR-D St Blazey Husqvarna, 81
Team Green Holeshot Kawasaki, 74
I-Fly JK Yamaha, 69
Shocktech Kawasaki, 60
RFX Suzuki, 44
Geartech Husqvarna, 32
GL12 KTM, 12
AX Pro Lites Championship
Joe Clayton, 198 points
Chris Bayliss, 171
Jason Meara, 163
George Clarke, 128
Scooter Webster, 127
Ben Clayton, 119
AX Supermini Championship
Buster Hart, 178 points
Carl Osterman, 160
Raife Broadley, 152
Tommy Gilbert, 135
Robert Storer, 127
Josh Jones, 123
AX 65cc Championship
Harvey Antrobus, 167 points
Shaun Mahoney, 166
Zane Stephens, 165
Jake Davies, 153
Kyron Carron, 131
William Murphy, 130