The barnstorming final of 2018 Power Maxed Arenacross Tour held at The SSE Arena, Wembley this evening, again demonstrated just why it is one of the most entertaining and fastest growing indoor motorcycle championships in Europe.
I-Fly JK Yamaha's Dan Reardon carried his morning qualifying speed through to the Pro heats to take first pick on the start gate.
Charles Lefrancois (Buildbase Honda) set the fastest Hot Lap time and collected six points, while Cedric Soubeyras (Team FRO Systems) collected a championship-changing four, while crucially for Soubeyras, Ramette finished outside the points-paying positions.
The always-entertaining Head-to-Head saw Elliott Banks-Browne, Jack Brunell and Ashley Greedy all through to the Main Event, that is until Greedy and Brunell were disqualified for what must have been considered over the line aggressive riding during their hotly contested Head-to-Head.
Matt Bayliss won the vote of the fans, by a considerable margin, to lay claim to the final place for the Main Event.
The Pro Main Event was unusually incident-free, but with so much at stake for the leading duo of Soubeyras and Ramette, it was always going to be fraught.
Aussie Reardon shot off the line, followed by Ramette, Soubeyras and Buildbase Honda's Fabien Izoird. Backmarkers came into play at around two-thirds race distance, and Izoird did his utmost to catch Soubeyras, but didn't upset the order of play. The chequered flag fell on Reardon and his first AX win, with Soubeyras in third and the championship finally his.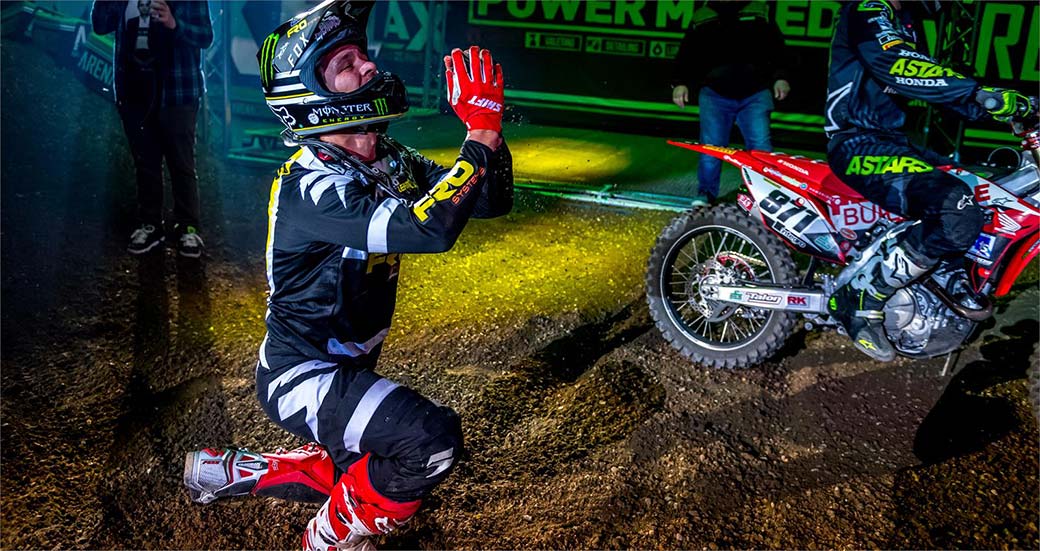 "I'm in a dream I wanted it so badly," said an ecstatic Soubeyras. "All day I've been trying to relax and not think about it, but it's been difficult.
"I knew in my mind that I had to beat Thomas in the hot lap and then I knew it would be enough to finish behind him in the race. Now it's starting to sink in, I'm really, really happy."
See also: Full 2018 Arenacross UK London Results
Second overall and second in the championship, the three-time AX champ Ramette, commented: "I made a mistake on the quad, but that's racing. I've won it three times!"
Winner on the night, Reardon, who came so close to a win at previous rounds said: "I've had an awesome time with the Tour and hope to come back and give it another shot. It's been tougher than I imagined but, in true Aussie style, I never gave up. My I-Fly JK Yamaha team have been brilliant and we pulled it all together tonight."