The all-new WR450F celebrates 20 years of Yamaha four-stroke enduro production with a complete redesign that delivers stronger power with increased agility, as well as greater versatility and lighter handling.
At the same time as being lighter, slimmer and faster, the all-new 2019 model maintains the characteristics that have made it one of the most popular 450cc enduro models around the world, namely rock-solid stability, legendary reliability and outstanding high-speed performance.
In the two decades since the first WR-F four-stroke revolutionised the enduro scene it has established a reputation for its linear and tractable power, high build quality and rugged construction – and these are the key elements that have made the WR450F a firm favourite with fast trail riders and serious racers alike.
Since its original launch in 1998, the WR-F's engine has grown from 400cc to 426cc, and the latest generation reverse cylinder head engine displaces a full 450cc.
The new 2019 WR450F has been further developed using advanced engine and chassis technology derived from the latest highly successful YZ450F platform – an apex predator motocross bike that blends mind-bending power with absolute control.
Yamaha's WR-F enduro bikes have been proving their race-winning potential all over the world in a wide variety of competitive off-road events.
In the FIM Enduro World Championship, Outsiders Yamaha Official Enduro Team riders Jamie McCanney (E1) and Loic Larrieu (E2) have been challenging hard for the top place on the podium throughout the year – while Larrieu took a sensational outright victory in the 2017 ISDE against the world's best riders.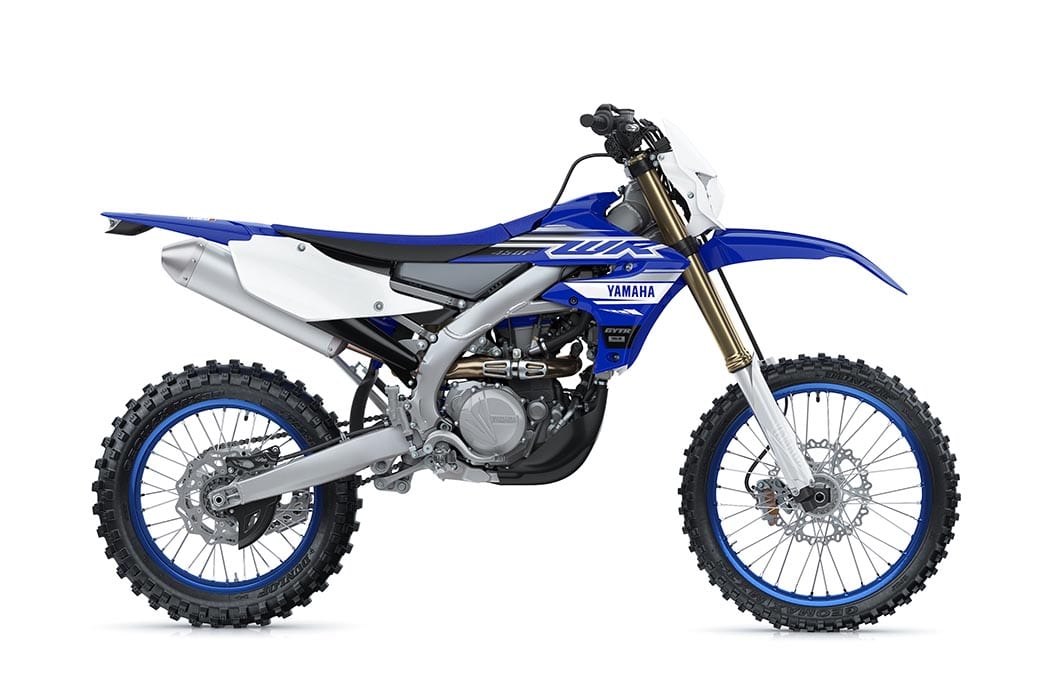 Riding WR-F enduro bikes, Manxman McCanney and Frenchman Larrieu have established Yamaha as a main contender in EWC and underlined the company's total commitment to enduro.
The all-new WR450F is equipped with a sophisticated reverse cylinder head engine featuring a rearward slanting cylinder that helps to ensure ideal mass centralisation.
Developed from the MXGP-winning YZ450F motocross bike – and equipped with enduro-specific intake and exhaust systems, fuel injection and ignition advance maps – the new high torque 450cc, four-valve engine produces a broad and linear spread of useable power.  With an excellent feeling of traction, the WR450F delivers harder-hitting performance for winning times on enduro special tests.
Onboard WiFi means that you can tune the new WR450F to suit different tracks and changing weather conditions using a smartphone in association with the Communication Control Unit that is available in the optional race kit*. The new Power Tuner app gives every WR450F rider the ability to make instant fueling and ignition timing changes and upload/share data for the ultimate in track-side tuning.
The free Yamaha Power Tuner app also allows owners to record race log information and monitor a range of data such as maintenance and system diagnosis, engine run time and more.
A handlebar-mounted dual engine map switch has been adopted and positioned next to the clutch lever to enable changes in the engine power delivery characteristics mid-race. This switch allows the rider to select one of two engine maps on the fly at the press of a button to cater for changes in the riding environment.
Developed from the latest YZ450F, the all-new aluminium bilateral beam frame is slimmer and lighter, giving it a much lighter and more agile feel through twisty, rocky and technical terrain. The new frame design includes a revised head pipe position, straight tank rail, larger absorption zone and an enlarged rear arm bracket and these elements contribute to an improved agility, precision and traction.
The WR450F runs a sophisticated suspension system that provides a stable damping force with plenty of surface feedback at low to mid speeds.
Featuring new internals with longer high-rate springs, the industry-leading KYB air-oil-separate upside-down front forks provide stable damping characteristics over all types of terrain – while the flex-resistant outer tubes contribute to a secure feeling of ground contact.
This front suspension system is widely acknowledged as being one of the best available on a production dirt bike, and responds particularly well during the transition between the compression and rebound strokes.
The rear shock absorber is also based on the YZ450F unit and, like the forks, features enduro model-specific settings. Its new 11.5mm diameter coil spring is 350 grams lighter and has a higher fatigue strength than the current model's – and for cooler running and more stable damping force, the capacity of the shock's reservoir has been increased by 30cc.
The new WR450F, as well as the WR250F and PW50 models, will be available at Yamaha dealers during October 2018.
2019 WR450F Key Features 
All-new 450cc engine with optimised settings
Optional race kit with CCU enables Power Tuner app
New handlebar mounted switch adjusts engine mode
New YZ450F-based lightweight bilateral beam frame
Revised KYB® suspension for stable & smooth ride
Slim, mass-centralised 7.9 litre fuel tank
New light, slim and sharp body & headlight design
Tough new skidplate and new speed sensor
New radiator shrouds and easy-access air filter box design
Durable new clutch, 5-speed wide-ratio gearbox
New narrow, lower and more accessible seat
Tough new wear-resistant in-mould graphics
[more-from heading="Latest News" category="news"]