Honda has been a strong contender in the MX2 class across various championship series around the world over the years and the 2022 CRF250R should continue that trend.
With new update,s it features a punchier engine, a 3kg weight saving, geometry changes and suspension upgrades to create a package that's easier to ride fast, lap after lap.
As the CRF250R is stronger than ever, gaining the MXGP championship winning chassis of the 22YM CRF450R, plus extensive cylinder head development for a considerable low rpm torque boost. New radiators improve efficiency, the clutch now has 9 plates, while the strengthened gearbox features revised ratios.
To make going fast easier, the cumulative learnings of recent CRF450R developments have focused around reducing rider fatigue, which helps riders not only of world class calibre but also MX enthusiasts of all ability levels to post constantly optimal lap times.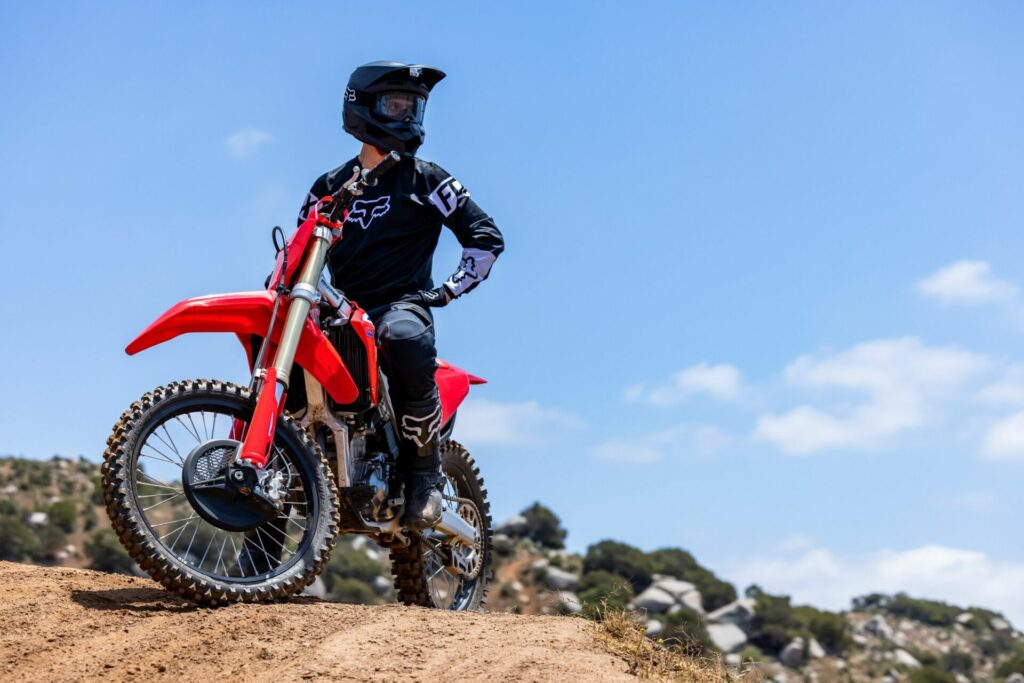 What's good for the 450 is even better for the 250. A full 3kg lighter, the CRF250R's new frame and swingarm rigidity balance combined with tighter chassis geometry and heightened ground clearance, which will give target peak cornering performance and ease of handling. In support, the Showa suspension gets brand new valving, which improves bump absorption, traction and control.
Riders have always loved the CRF250R's top end power hit. To link up with the healthy mid range, extensive revision to both intake and exhaust efficiency yields much improved low rpm drive. Also a great deal of work has also gone into enhancing high rpm cam timing accuracy and long term reliability. A nine plate clutch and optimised ratios for the strengthened gearbox ensure none of the engine's extra punch is wasted.
You can see a full list of updated features below:
Chassis
3kg weight saving, with HRC input running through frame, swingarm, rigidity balance and geometry for enhanced cornering ability and ease of use
49mm Showa front fork with 5mm extra travel and more rigid axle clamps
Optimised spring rate and compression/rebound damping front and rear
Compact new seat design and plastics aid rider freedom
Engine
Intake and cylinder head development plus straight exhaust port/downtube and single muffler yield up to 10% more power and up to 15% extra torque.
High-rpm valve-timing accuracy and cylinder head oil delivery also improved
9-plate clutch improves endurance with lighter lever feel
Gearbox ratios revised for roll-on 'snap'; new shift drum for smoother changes
More efficient radiator cooling
Electronics
HRC Launch Control offers 3 start options
Engine Mode Select Button (EMSB) features 3 maps to adjust output character
Keep an eye out at your local Honda dealership for when the new machines will arrive in the UK.