Leatt has released their 2019 GPX Moto range, which includes a truckload of new jerseys, pants, gloves and jackets. Here's a look at their GPX Moto Gear via Leatt's press release.
When you've finished looking through this lot, why not head over to the Leatt 2019 GPX helmets.
Tougher, more durable and featuring stitched-in tech to take the knocks and bounce back every time. Better ventilation and improved abrasion resistance. First Line Protection that redefines the aesthetics of the Thrill.
GPX 5.5 Enduro water-resistant, heavy-duty off-road jacket
New lightweight, durable and water-resistant shell with Spandura stretch panels
Pre-curved, zip-off arms and large zip-adjustable ventilation
Internal hydration pocket with bladder suspension system for up to 3 litres
Neck brace compatible
Tailored cut for off-road riding with or without body armour
Multi-row reinforced stitching
Brush Guard fabric protection over elbows
Total of nine pockets, including five water-resistant pockets and one touch screen pocket
Rear reflective safety print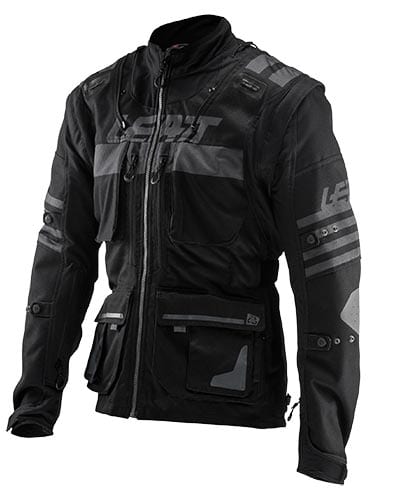 GPX 5.5 Enduro over-the-boot racing pants with internal knee brace system
Water and dirt resistant coated shell with stretch panels
Pre-curved, adjustable over-the-boot fit
Laminated NanoGrip knee grip panel
I.K.S – Internal Knee Brace System helps prevent knee brace wear and tear
3D moulded, fully floating kneecap reinforcement
1800D heavy duty seat and lower leg
Multi-row reinforced stitching
Waist with side straps and 360° silicone grip
Leg pockets
Reflective print
Adjustable, dual front ventilation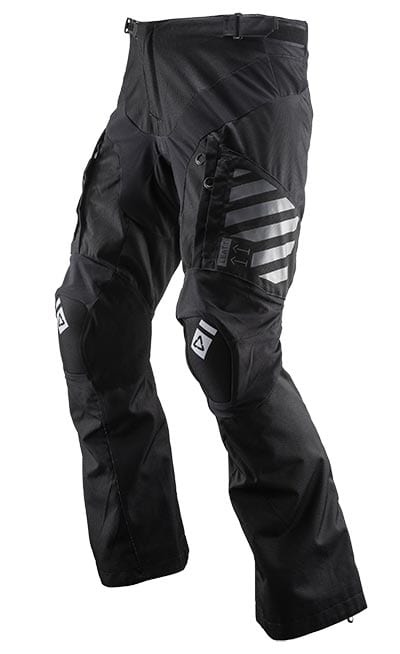 GPX 4.5 X-flow super vented, x-flow mesh off-road jacket
New lightweight, ventilated shell with X-Flow front and rear mesh and Spandura stretch panels
Pre-curved, zip-off arms
Internal hydration pocket with bladder suspension system for up to 3 liters
Chest pocket with water-resistant lining
Neck brace compatible
Tailored cut for off-road riding with or without body armour
Multi-row reinforced stitching
Brush Guard fabric protection over elbows
Total of six pockets
Rear reflective safety print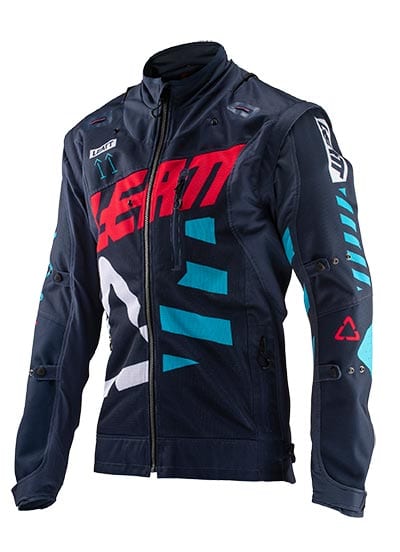 GPX 4.5 Lite lightweight, soft-shell off-road jacket
Lightweight, water-resistant and stretch soft-shell
10.000mm/10.000g/m² waterproof/breathable material
Large ventilation with two-way zips and pockets
Pre-curved, zip-off arms
Dirt, water and stain resistant fabric coating
Tailored cut for off-road riding with or without body armour
Reinforced with 1000D shoulder and elbow panels
Brush Guard fabric protection over elbows
Neck brace compatible
Rear reflective safety print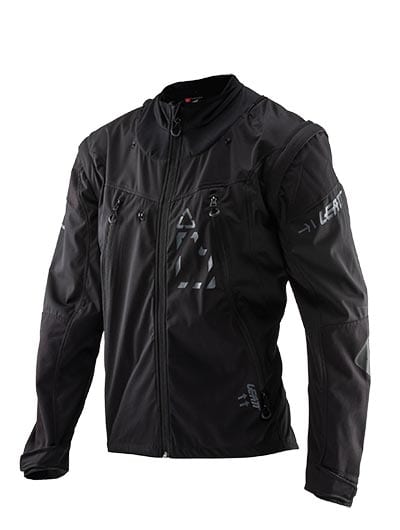 GPX 5.5 Ultraweld ultra-light, laser-cut and welded off-road jersey
Ultra-light, race tight fit
MoistureCool stretch mesh with air channels
Dirt, water and stain resistant fabric coating
Perforated Brush Guard protection over elbows
Welded seams at cuff and hem for maximum comfort
Tailored, tight fit for riding with or without body armour
Laser-cut ventilation
Collar design for use with or without a neck brace
Silicone pant grip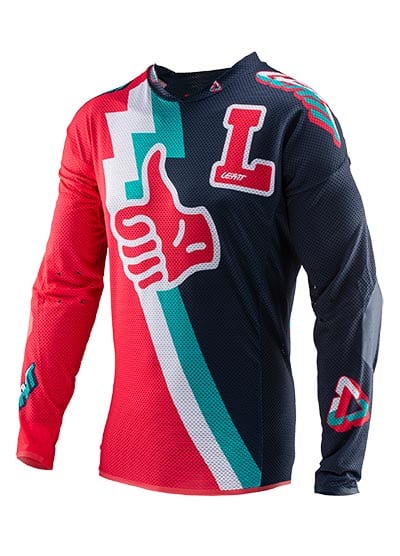 GPX 5.5 I.K.S Off-road racing stretch pants with internal knee brace system
Pre-curved, racing tight stretch fit
Over 75% is ultra-light, durable Ripstop stretch
I.K.S – Internal Knee Brace System prevents knee brace wear and tear
Light and breathable construction
Laser-cut ventilation
3D moulded, fully floating kneecap reinforcement
1200D heavy duty seat material and NanoGrip knee bike grip
Multi-row reinforced stitching
Four-point knee ventilation
Waist with micro adjuster, side straps and 360° silicone grip
Anti-odor MoistureCool mesh lining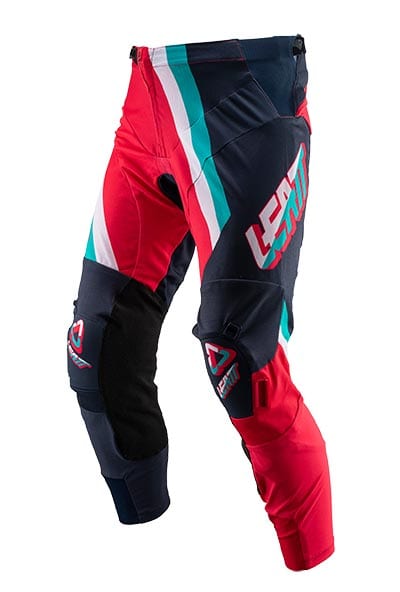 4.5 X-FLOW Super vented off-road mesh jersey
Classic fit
Lightweight MoistureCool X-Flow mesh
Overlock stitched seams for comfort
Collar design for use with or without a neck brace
Tailored fit for riding with or without body armour
Silicone pant grip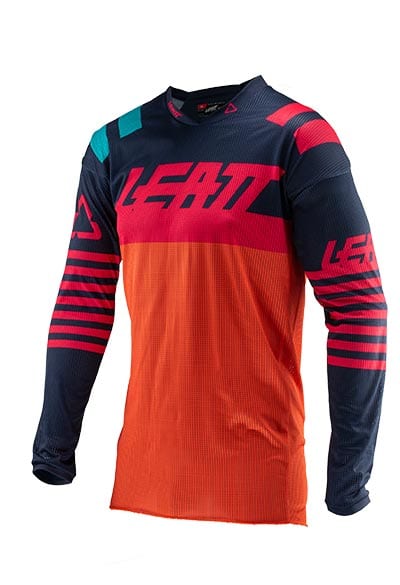 4.5 Lite vented off-road jersey
Classic fit
MoistureCool 3D stretch mesh with air channels
Super vented X-Flow mesh side panels
Overlock stitched seams for comfort
Collar design for use with or without a neck brace
Tailored fit for riding with or without body armour
Silicone pant grip
New soft stretch cuff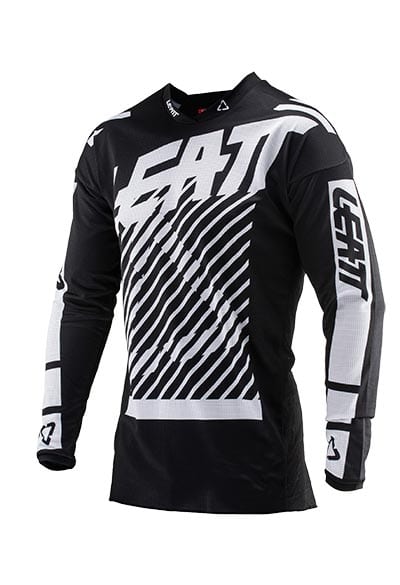 4.5 Pants pre-curved, performance fit off-road pants
Pre-curved performance fit
Light and breathable construction
Ripstop stretch and X-Flow mesh panels
1800D heavy duty seat and Amara/1800D inner leg
3D moulded, fully floating kneecap reinforcement
Multi-row reinforced stitching
Two-point knee ventilation
Waist with micro adjuster and 180° silicone grip
Anti-odor MoistureCool mesh lining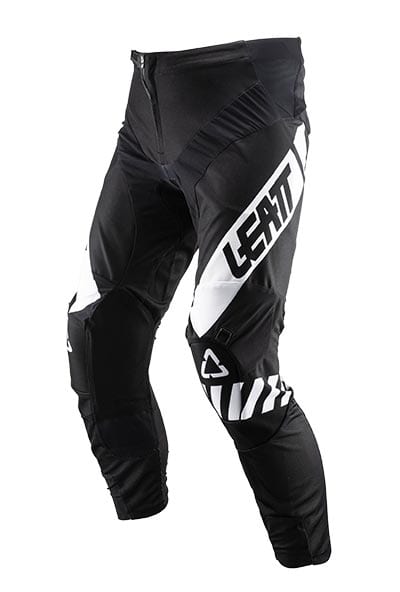 GPX 4.5 Lite vented off-road gloves with premium protection
Certified impact protection for:
– Knuckles
– Third and fourth finger
Brush Guard fabric protection on fingers and cuff
NanoGrip palm
– Ultra-thin for superior bike feel
– Nanofiber technology 7.500 times thinner than hair
– Very stretchy and flexible
– Premium dry and wet grip
– Touch screen function
Vented, Lite upper-hand material
CE tested and certified as:
– Personal Protective Equipment 89/686/EEC
– Knuckle Impact protection EN 13594:2015
Pre-curved, snug fit and seamless palm reinforced with synthetic suede
Multi-row technical thread stitching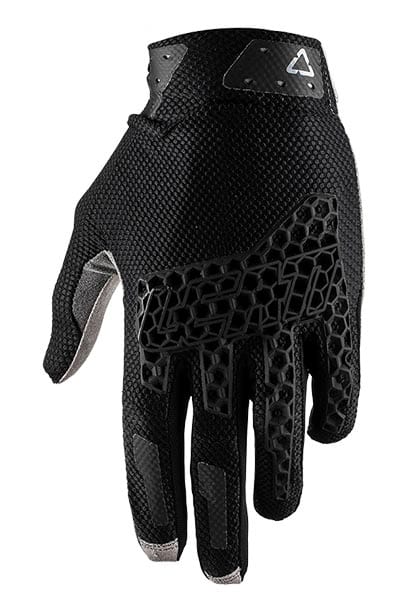 GPX 3.5 Lite vented off-road gloves with knuckle protection
Certified knuckle impact protection
NanoGrip palm
– Ultra-thin for superior bike feel
– Nanofiber technology 7.500 times thinner than hair
– Very stretchy and flexible
– Premium dry and wet grip
– Touch screen function
Vented, Lite upper-hand material
CE tested and certified as:
– Personal Protective Equipment 89/686/EEC
– Knuckle Impact protection EN 13594:2015
Microinjected 3D Brush Guard reinforced pinky and knuckles
Pre-curved, snug fit and seamless palm
Soft touch cuff restraint
Multi-row technical thread stitching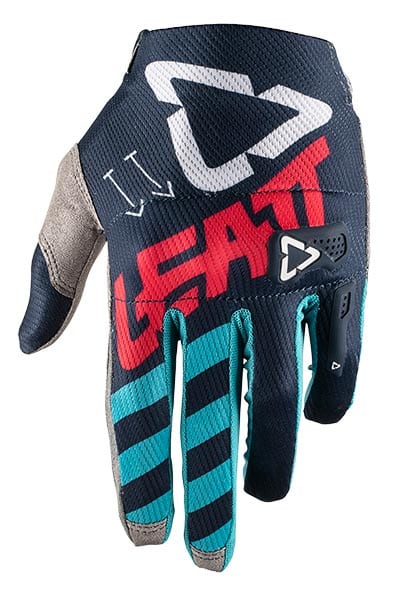 GPX 2.5 X-flow super vented x-flow mesh off-road gloves with brush guard
Microinjected 3D Brush Guard reinforced pinky and knuckles
MicronGrip palm
– Super slim with superior handlebar feel
– Excellent dry and wet grip
– Very durable with touchscreen function
– Silicone grip print
Fully vented X-Flow mesh upper-hand material
Pre-curved, snug fit and seamless palm
Multi-row technical thread stitching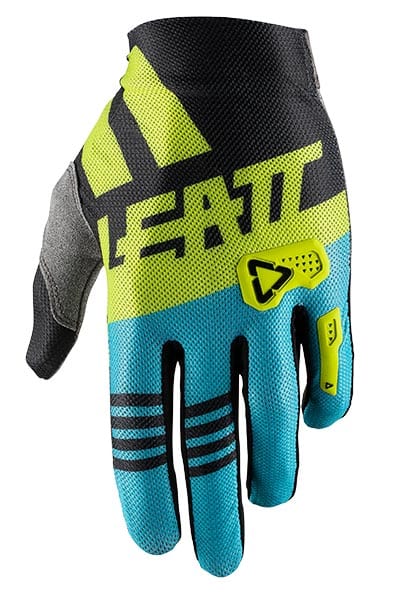 GPX 2.5 Windblock off-road gloves with brush guard
WindBlock upper hand material
Microinjected 3D Brush Guard reinforced pinky and knuckles
MicronGrip palm
– Super slim with superior handlebar feel
– Excellent dry and wet grip
– Very durable with touchscreen function
– Silicone grip print
Pre-curved, snug fit and seamless palm
Multi-row technical thread stitching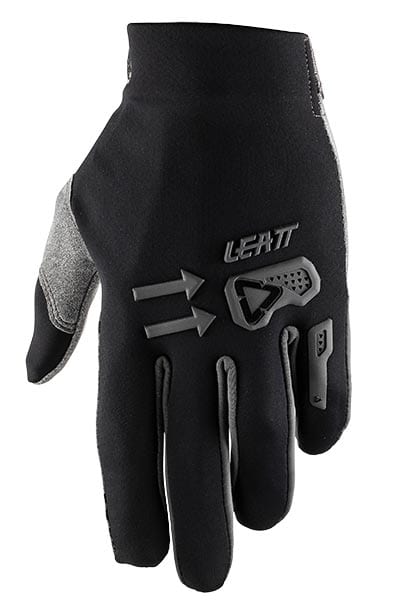 GPX 1.5 Gripr ultra-light off-road gloves with microngrip palm
Ultra-light construction
MicronGrip palm
– Super slim with superior handlebar feel
– Excellent dry and wet grip
– Very durable with touchscreen function
– Silicone grip print
Pre-curved, snug fit and seamless palm
Vented, Lite upper-hand material
Multi-row technical thread stitching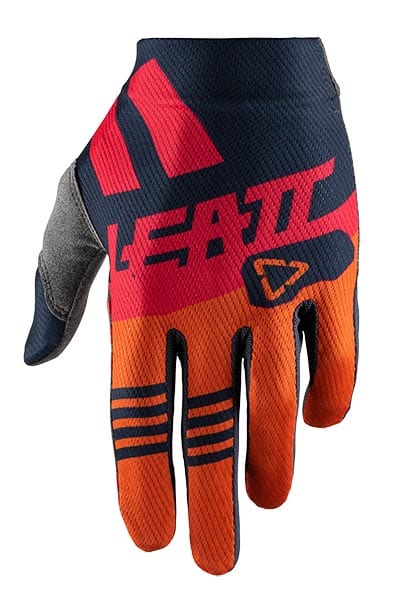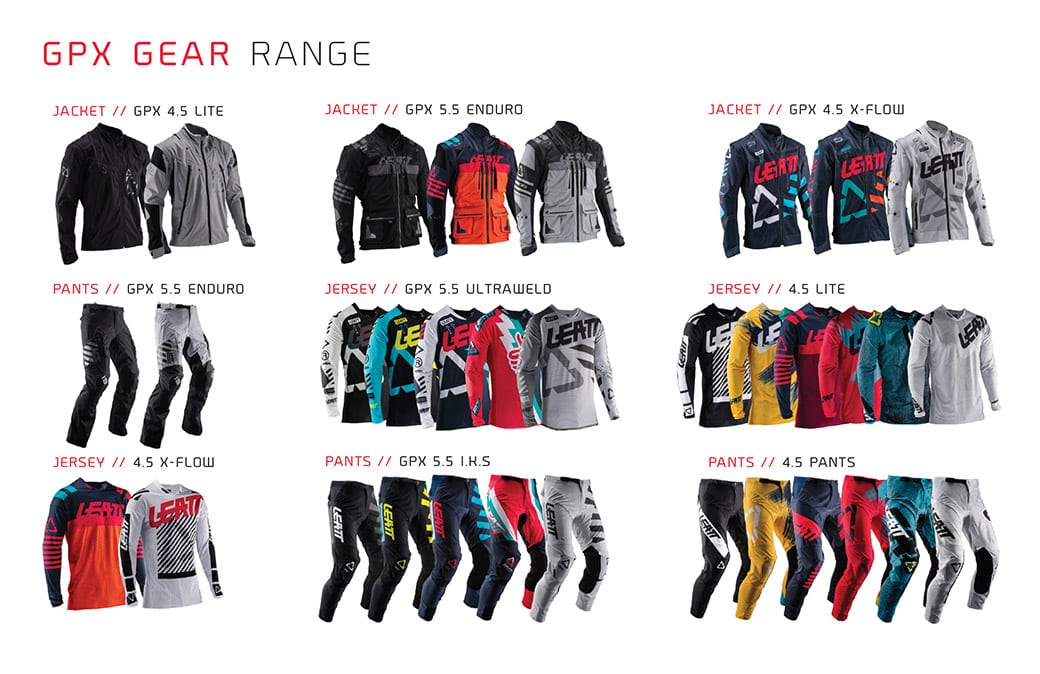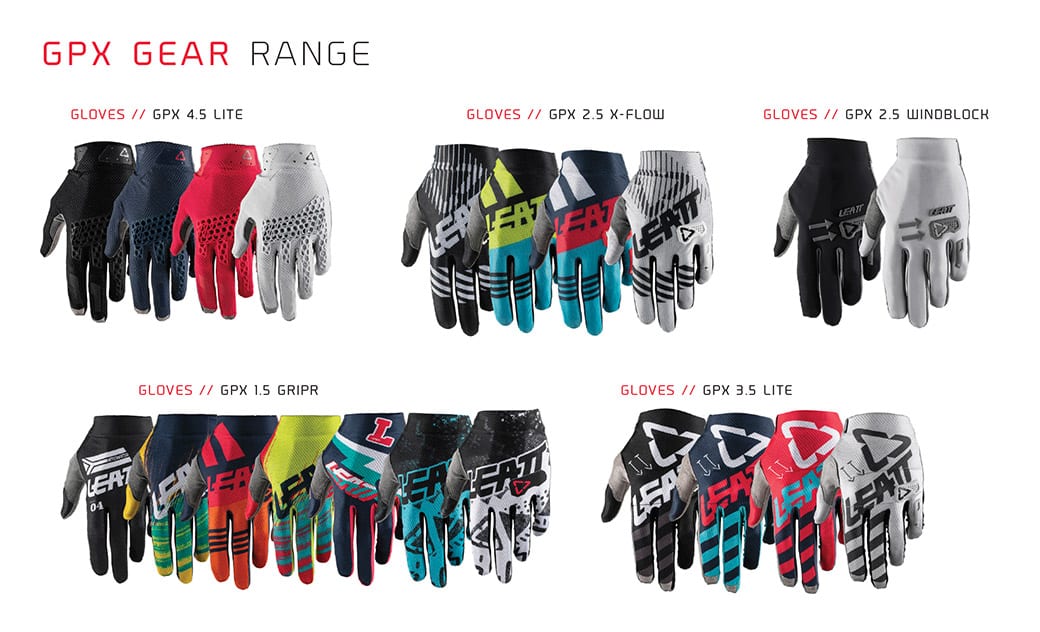 [more-from heading="More From New Products" category="new-products"]