DBR's resident test rider Jake Gowan has been stuck in darkest up that north due to the pandemic so to stop him going all Jason Voorhees on the residents of Appleby, we packed him off to Dorno to check out the 2022 Yamaha YZ125 and YZ250 stinkwheels.
It's been a little while since I've done a new bike launch so the excitement was kicking in especially with it being an all two-stroke affair and in Italy too.
The all new YZ125 has seen some major changes for 2022 and its first for a long time, nearly every functional part of the engine is new from the cylinder, cylinder head, piston, piston pin, con-rod, crankcase, exhaust to a revised cylinder port shape and updated cylinder port timing.
The shape of the bike has changed quite drastically but one that you might not notice at first glance is the revised rear end of the bike where the air-intake is for the air filter, if you're producing more ponies then you need more air to feed it. With more speed you also need more stopping power, Yamaha are onto this and have increased the size of the front pistons, added rigidity to the calliper and gave it a redesigned 270mm rotor.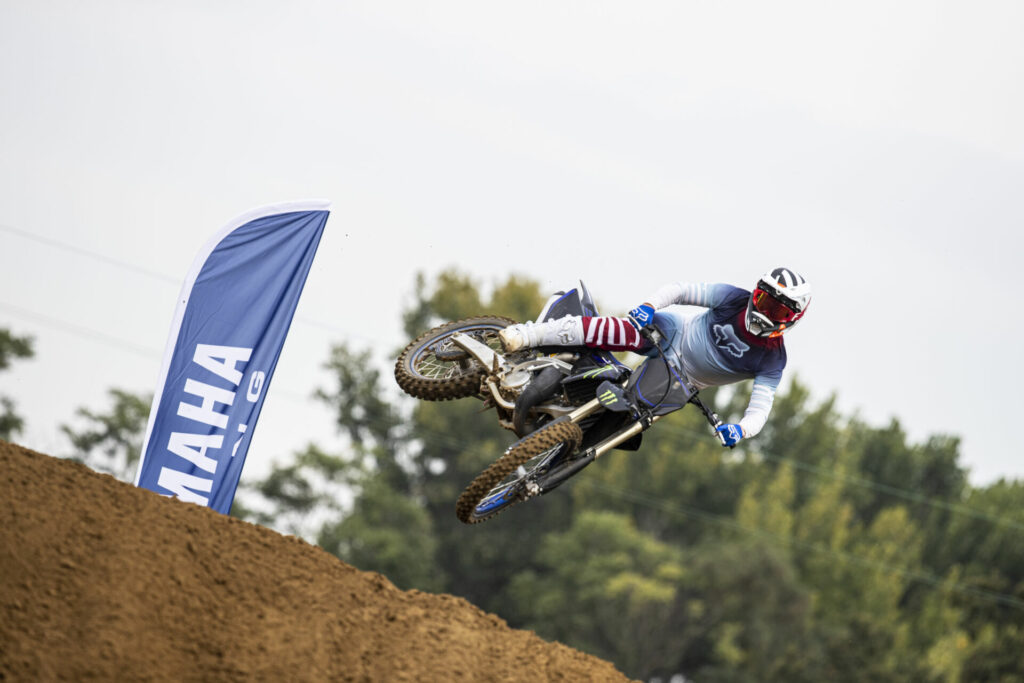 Going back to the shape of the YZinger you'll notice the rad-scoops are a much different shape than the previous model and this brings the width of the bike (rad-scoop to rad-scoop) down almost 4cm which is massively noticeable from the moment you jump on the bike. Yamaha have also equipped the 125 with a new Keihin carburettor with a TPS (throttle position sensor) and a VForce 4 reed valve to give the bike more explosive power out of the gate.
As soon as I headed out on track on the little 125 the fun aspect of riding hit me, it feels so slim and light that I felt as though I could put the bike anywhere I wanted and just enjoy every lap. If you don't ride 125's very often then it takes a little while to remember to be up and down the gears especially in the slightly heavier sandy turns but when you keep it on the pipe it just keeps on singing. Mid to top end power was really strong and on a more flowing or harder based track it would pick up much harder off the bottom than on the softer turns of Dorno. I would love to see how much difference a pipe would make to the bottom end and I know you don't see many 125's out there with a stocker on.
I found with my weight the front forks were a little on the soft side and were diving under hard braking, I went 4 clicks stiffer on compression for the next session and this improved them but I would probably need to go to a stiffer spring rate if I was racing it but I am a little heavy for a 125.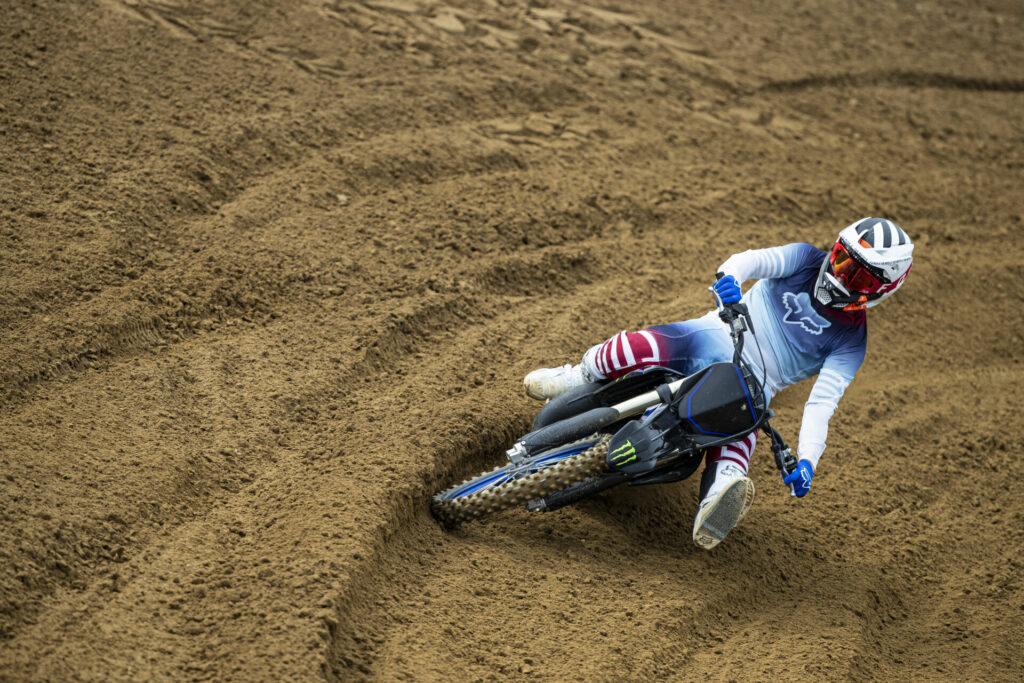 GYTR YZ125
If you are serious about 125 racing then look no further than the 2022 GYTR kit for the YZ125, this includes cylinder and head, piston, full exhaust system, ignition, KITE wheels, GYTR ignition and clutch cover. It's a serious bit of kit that turns your 125 into a little rocket ship but in all the right ways.
People get the wrong impression about 'tuned' motors that they will be awful to ride and too snappy with the power delivery. However the guys at Yamaha have spent a long time developing this kit and it's the complete opposite. It makes the bike easier to ride with having more bottom end power, I didn't need to be thinking as much about getting in the right gear in the softer turns as with a little bit of clutch it would fire out and then keep on pulling longer in gears down the long Dorno straights.
The power was so strong throughout the range and I feel as though I could attack stuff easier without having to think so much about getting up and down the gearbox. I wanted to see how long I could hold gears and it just wanted to keep on going and going without signing off. I could start using some inside lines and the explosive power is unbelievable and whereas on the stock bike I had to quickly grab the next gear before the face of a jump the GYTR bike allowed me to hold it much further before shifting.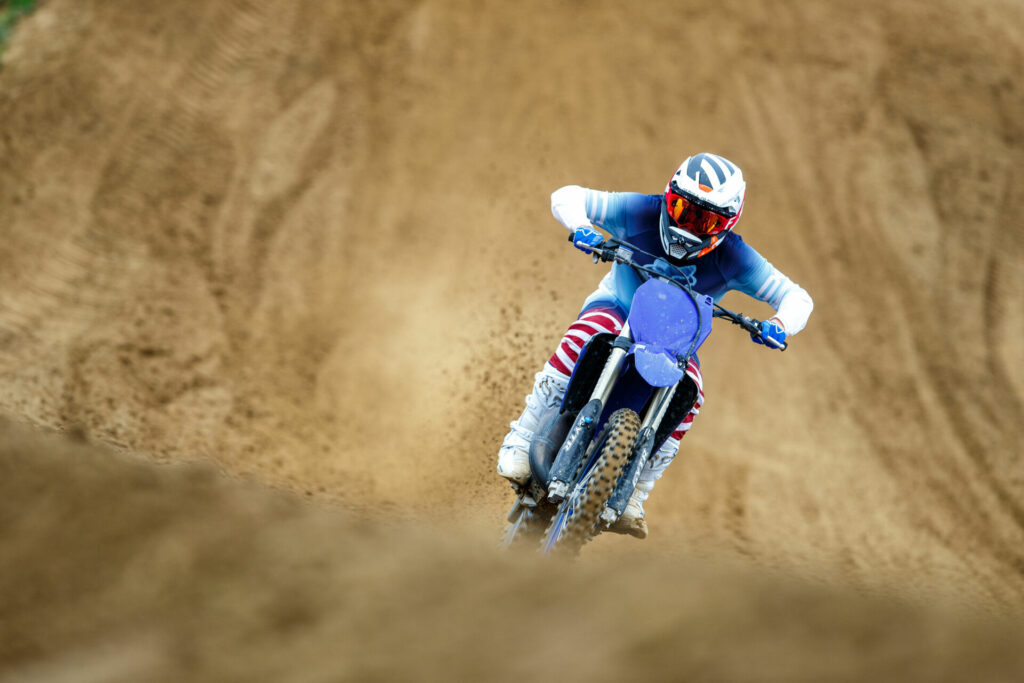 I did find with the hot and humid Italian temperatures that the bike was popping at times when hitting the power hand on landings, which the Yamaha mechanics soon sorted out by making it richer with a bigger main jet and moving the needle. When I went back out the pop had vanished and the bike was running much cleaner, I'm sure with Englands less than hot/humid temp's it'll be jetted bang on from standard.
Not only does it turn your already fast YZ125 into a small fire breather you'll also have everyone listening out for you with its awesome crisp sound, I'm getting excited typing this up and I can't wait for my next chance to rip on one of these beasts.
YZ250 and YZ250 with GYTR exhaust
For 2022 the YZ250 doesn't see the same huge changes as it's smaller brother but it has still had some vital upgrades that have give the 2 smoker a step forward. It has been given the same bodywork changes as the 125 including the air intake at the rear of the bike for a stronger flow.The stock exhaust and jetting have been altered as well to improve mid to top end power.
This was the ideal test for me as I owned a 2020 YZ250 so I could really notice the changes, straightaway I could tell how much slimmer the bike feels from the seat to the rad scoops. A slimmer bike feels so much better when cornering as you can really grip with your knee's and let it do its thing.
The bottom end power felt very similar to last years bike but once it hits mid and top there is definitely a power increase, this helped with holding gears longer. I felt as though I would of liked the rear shock to be a little stiffer for those small choppy acceleration bumps just to hold it up in its stroke a bit more.
The KYB front forks can't be beaten so once they are set up for you then you'll never want to use anything else, on corner entry I found the 250 really nice and planted and would go where I pointed it and stop in time as its been given some front brake mod's with bigger pistons and a longer lever for improved feel.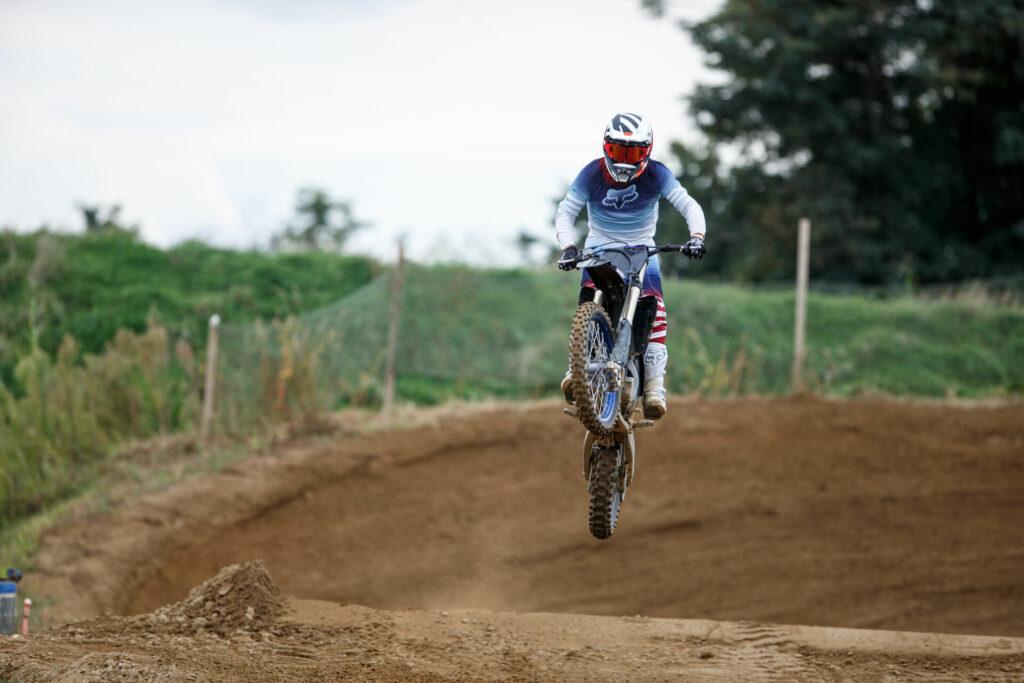 I had chance to try the 250 GYTR version which performance-wise is just a full exhaust system, with the bike already producing enough power Yamaha didn't feel the need to add anything else to improve it. They were right aswell, the pipe made a huge difference.
Just like the 125 it made it easier to ride but with enhanced power, it was less explosive out of turns than the stock bike but with what felt like more torque. Rather than being explosive it got the power down to the ground better and really drove out of the turns. The power felt crisper and cleaner than stock and pulled like a train, I could nearly ride it like a 4 stroke which I know is like swearing to a die hard 2 stroke fan but we all know really they are easier to ride.
I loved how light and flickable the 250 feels for a bike with so much power, its so easy to turn down early in the banked turns and if you're that way inclined throw some big scrubs. Even with my lack of bike time recently I never got out of shape all day, Yamaha have definitely moved forward with making the 250 smoker more user friendly even with increasing power at the same time and that takes some doing.
Overview
Yamaha had some catching up to do in the 2 stroke department to catch up with the Austrian army and I think they have done just that with the 2022 improvements. They have gone all out with the 125 making it a powerful yet easy to ride race bike, add in the GYTR components then who knows it might just be even faster than them. Why not go get yourself one and find out!
Both sized bikes also come in the Monster Energy Yamaha Racing Edition colours which is pretty cool if you want to look like the winner of the Lucas Oil Pro Motocross champ Dylan Ferrandis.