Alpinestars Motocross Collection features a vast range of exciting new products offering the performance, comfort and durability you expect from Alpinestars.
The Supertech Jersey and Pants have been specifically designed to offer superior racing performance.
With a new athletic fit design and a chassis consisting entirely of advanced stretch mesh, the Supertech Jersey is Alpinestars lightest ever MX jersey and features a host of race-proven technologies such as the innovative floating arm construction to maintain a flawless riding fit. The jersey is designed to be worn with the Supertech Pants, which share the same features as the top for superior levels of rider comfort and performance.
The Techstar Factory Jersey is constructed from a lightweight main chassis to allow excellent freedom of rider movement on the bike, with strategically positioned mesh inserts on the jersey guaranteeing optimal airflow and ventilation. The Techstar Factory Pants have been designed to offer the best blend of performance, durability and rider comfort, and feature innovative stretch panels for freedom of movement, leather leg panels for enhanced bike grip and the patented Babel knee design for protection.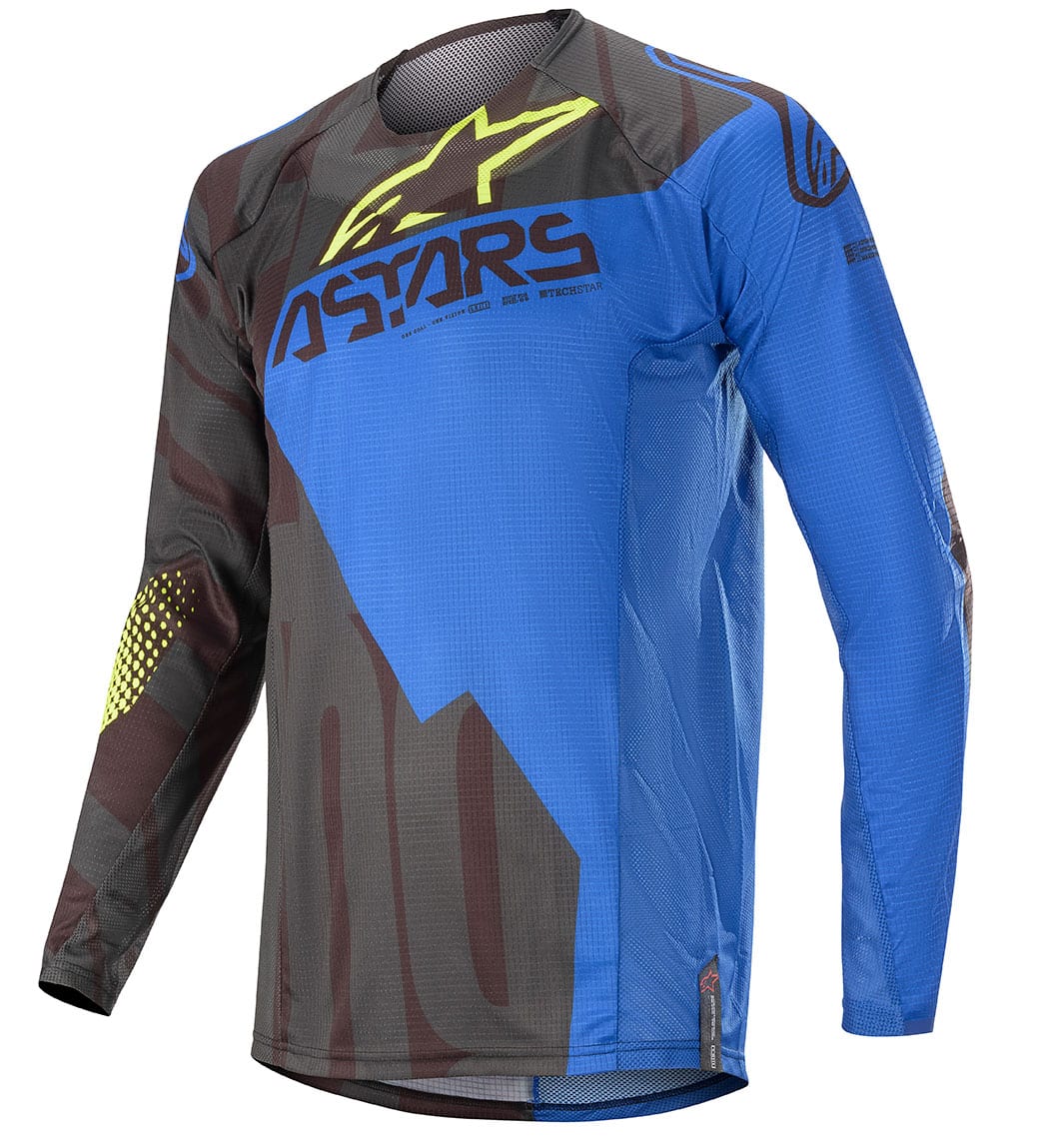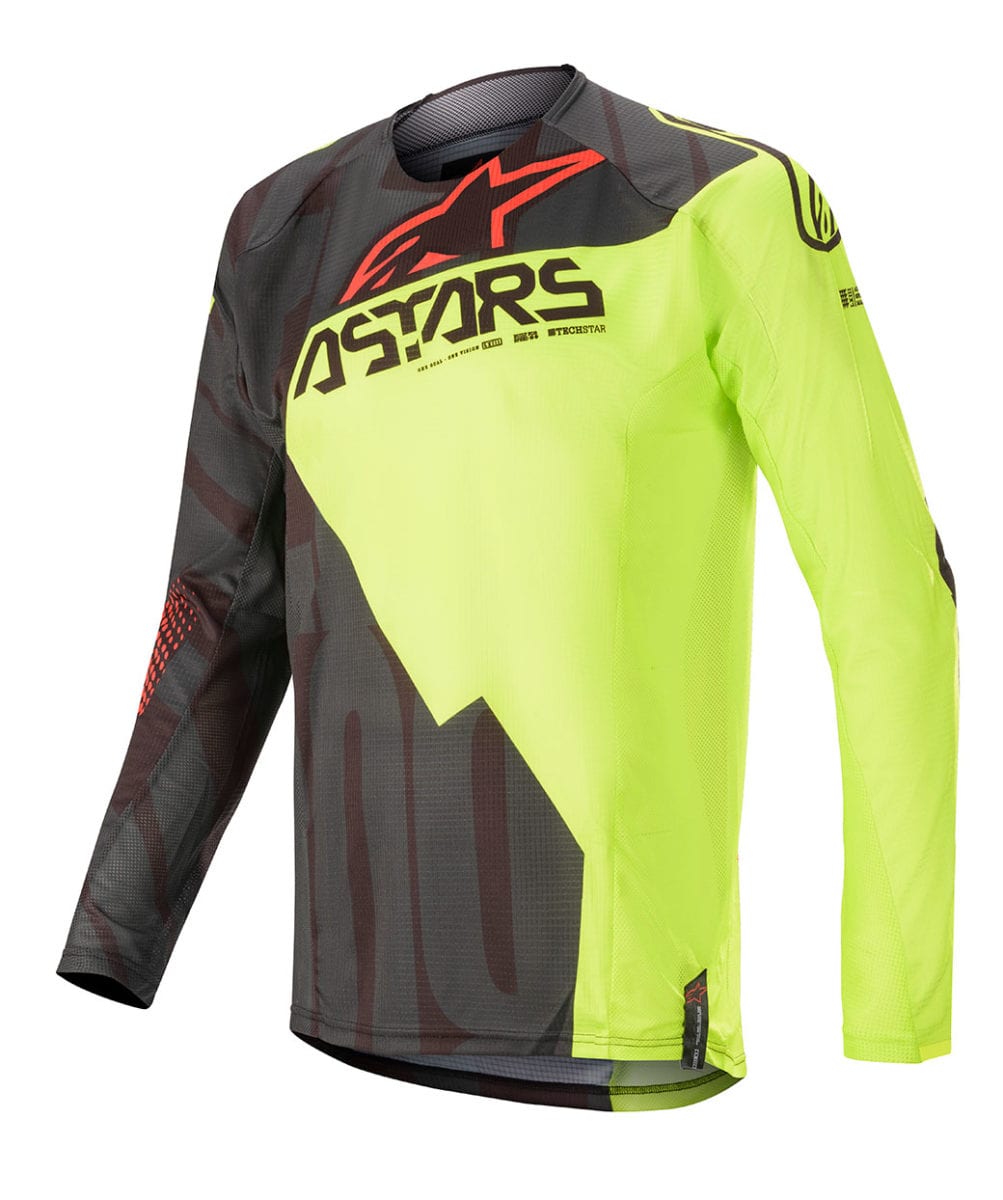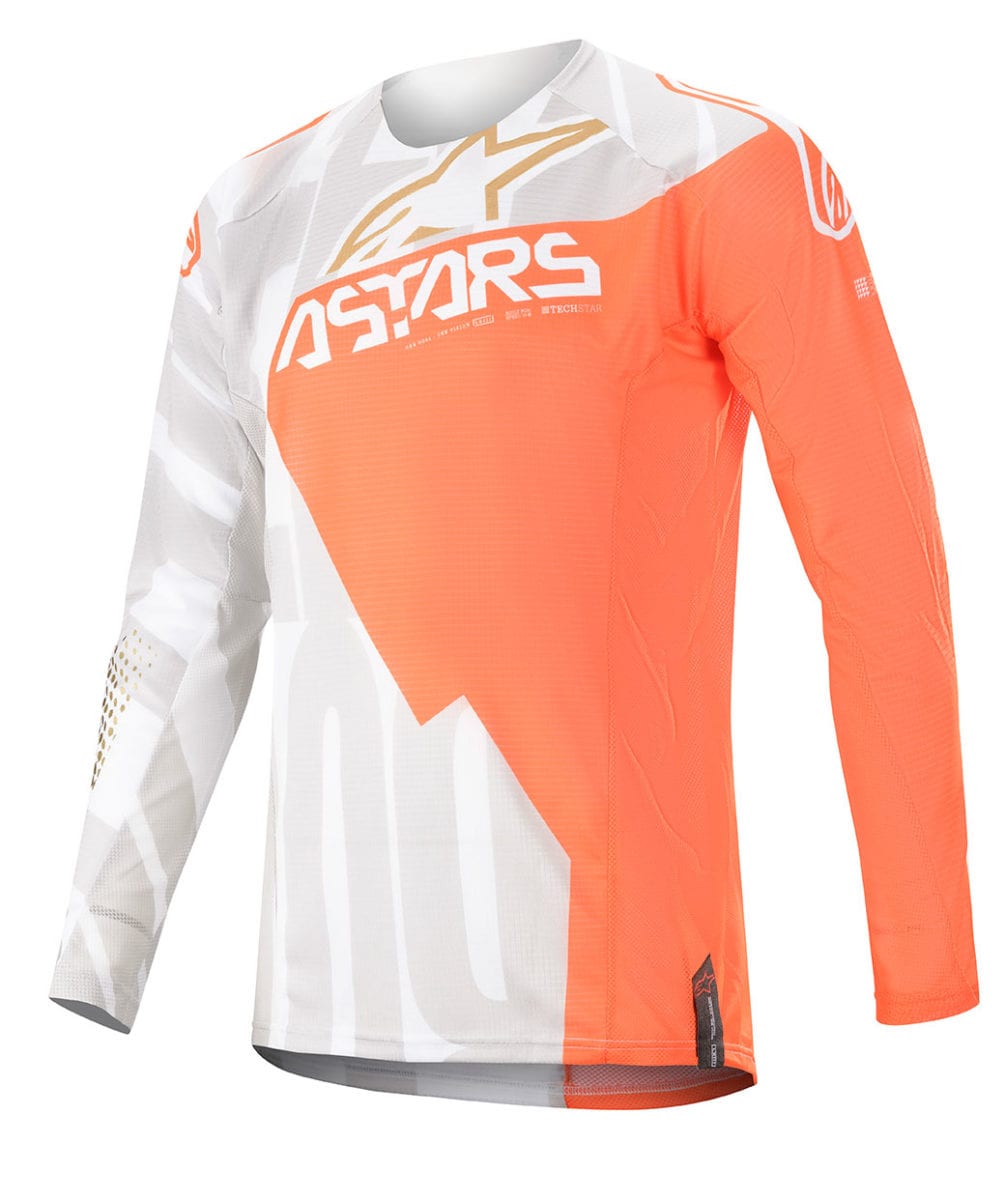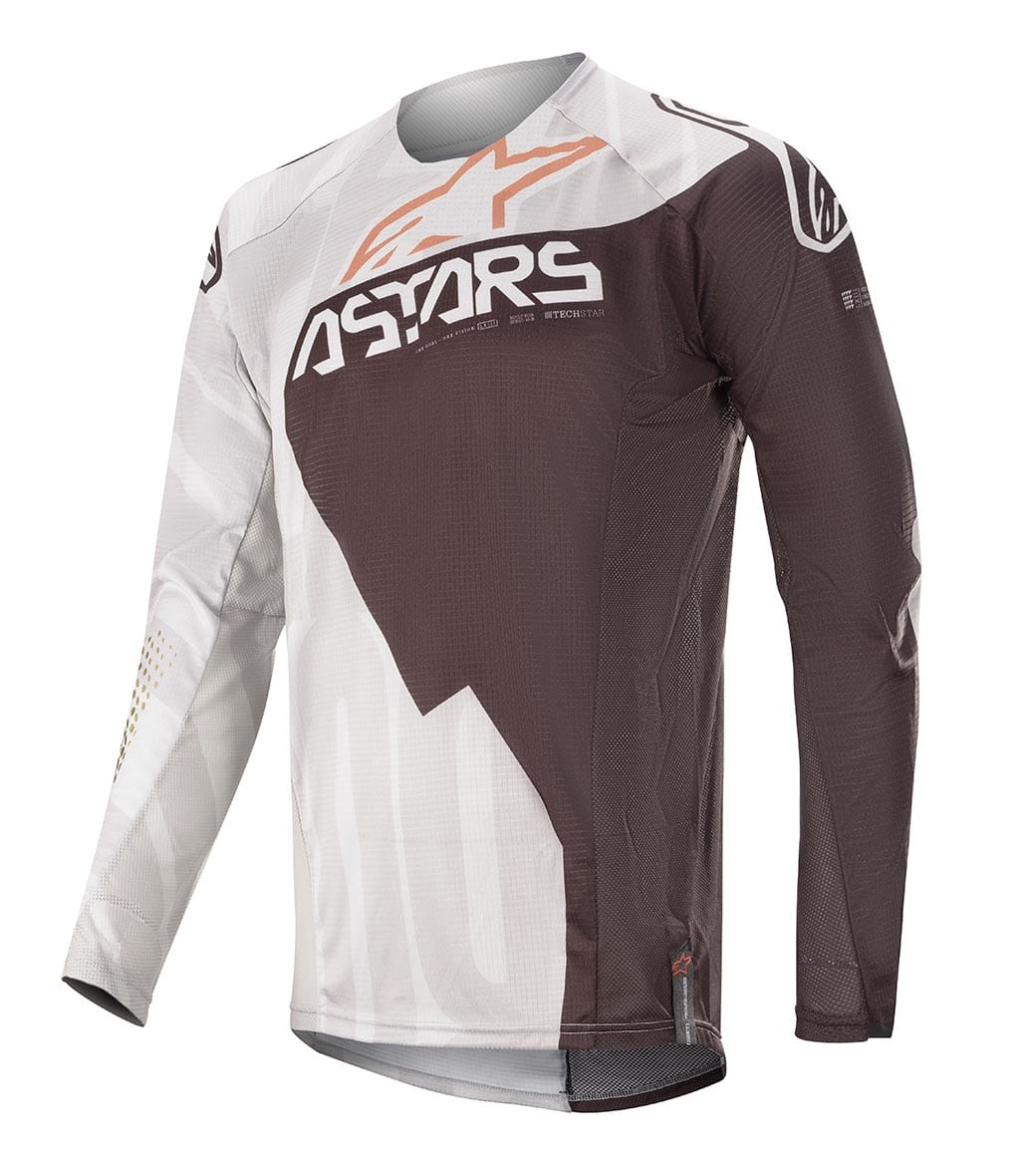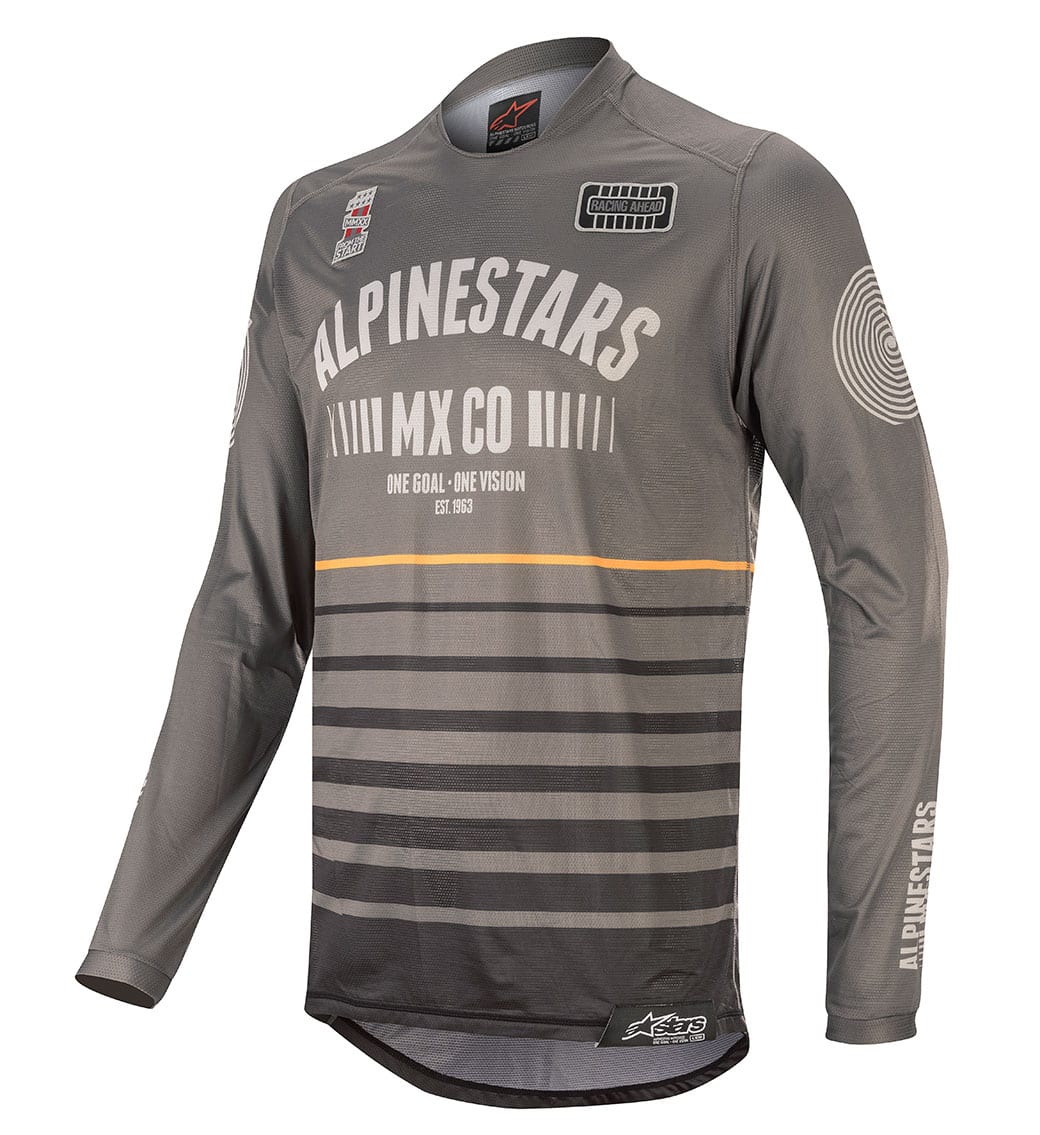 The Techstar Venom Jersey is an extremely lightweight jersey which has been optimized for the most demanding of off-road conditions. Tested by the likes of Eli Tomac and Jeffrey Herlings, this jersey offers performance and freedom of movement and is aggressively styled with distinctive colourways, ensuring riders ride and look their very best. The jersey is designed to be worn with the Techstar Venom Pants, which blends fashion and durability in a perforated pant which will keep riders cool under pressure.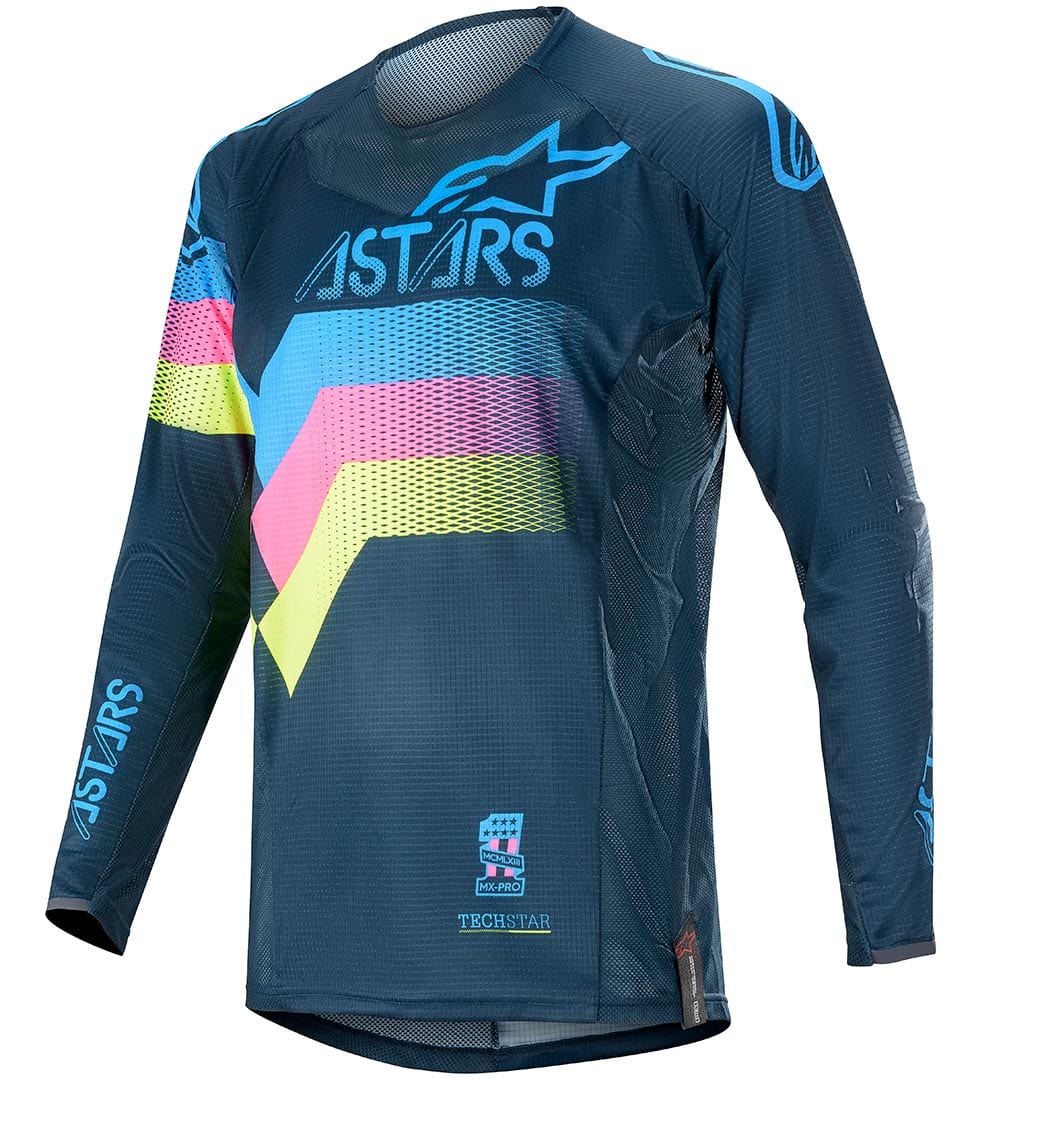 Alpinestars Racer apparel collection has undergone a design evolution with the introduction of the Racer Tech Compass line. Featuring a new pattern design and construction materials, the Racer Tech Compass Jersey is a lightweight jersey with an athletic regular fit, with a knitted stretch poly-fabric for freedom of movement and an extended rear hem to ensure it stays inside the pants at all times. The Racer Tech Pants have been given a similar treatment, and feature a new, advanced flexible design construction with four-way stretch fabric and heavy poly-fabric main shell to offer high levels of movement and durability. These pants are also equipped with a leather leg panel to protect the rider against heat.
The Racer Braap jersey is fully spec'd for the dirt, with its pre-curved sleeves, moisture-wicking and extremely lightweight main chassis ensuring riders maximize their time in the saddle. The equivalent pants are at the forefront of off-road racing apparel and boast stretch panels, a 3D knee construction for freedom of movement, a mesh construction for high levels of breathability and pre-curved legs for excellent levels of performance.
The distinctive Racer Supermatic Jersey is a lightweight, moisture-wicking jersey optimized for use on the track and the trail. With an extended rear and fitted wrist cuffs, this jersey is comfortable and well-fitting, giving riders ample freedom of movement. The Racer Supermatic Pants are equally well thought out and feature lower waist stretch panels and a pre-curved leg design for optimised levels of comfort and performance.
The Racer Tactical Jersey taps into the look of camo gear and offers off-road comfort in a distinctive jersey designed for track and trail riding. Comfortable, lightweight and well-fitting, the jersey's poly shell guarantees effective moisture management. The Racer Tactical Pants feature the same striking graphics as the jersey.
These products are bolstered by the new range of lightweight and breathable protectors and youth products, allowing riders of all ages to enjoy their time on the dirt.
To find out more on the full 2020 range go to Alpinestars website.


[more-from heading="More New Products" category="new-products"]