By Jack Burnicle
When Tim Gajser won the penultimate round of the 2020 MXGP world championship he became the most successful motocross racer in the 45-year history of the Honda Racing Corporation, displacing distinguished Belgian Andre Malherbe.
It was Tim's 28th grand prix victory and clinched his fourth world title – eclipsing Malherbe's 27 wins and three world championships – but while Gajser took 124 GPs to reach that milestone, Andre took only 90.
Both men were heavily influenced by their racing fathers but Malherbe's dad couldn't afford to start racing until he'd turned 33. "When I saw him racing, I wanted to race too," said Andre at the peak of his career. "I was 10 years old!"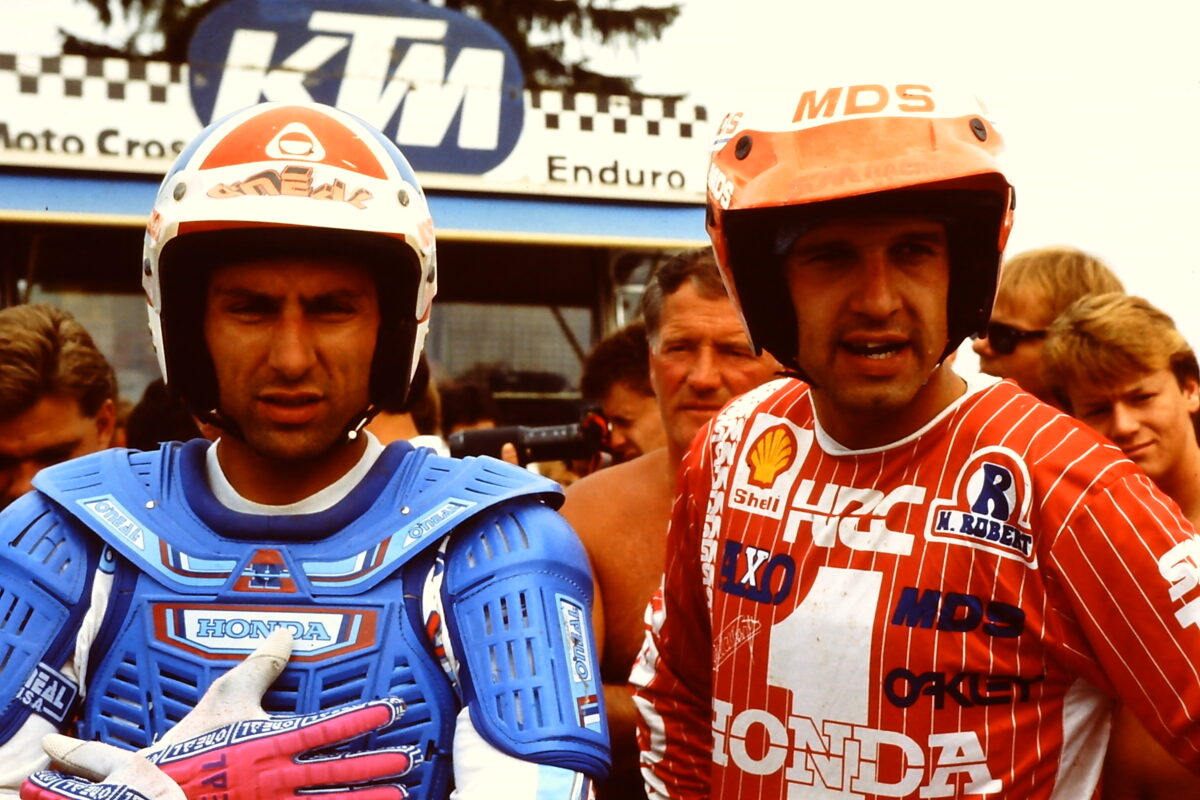 He started winning almost immediately and his legendary cool confidence was born. Always suave and sophisticated with a smooth, effortless riding style, Malherbe would introduce all-white racing gear to the grand prix scene and gain the nickname 'Hollywood'.
One major factor uniting this distinguished duo is that both 'Hollywood' and 'Tiga' have enjoyed their racing careers. Gajser is having a fun time now whatever the conditions, just as Andre always did. His innate, nerveless calm before a race meant he could either sit quietly, contemplatively alone, chat happily with other riders or sign autographs for awestruck kids right up until the start.
"I always have a good time,," explained Andre. "When I go practising, racing, ride bicycles, do a little weightlifting, play tennis. I can kill myself just by riding a trial but it is fun!"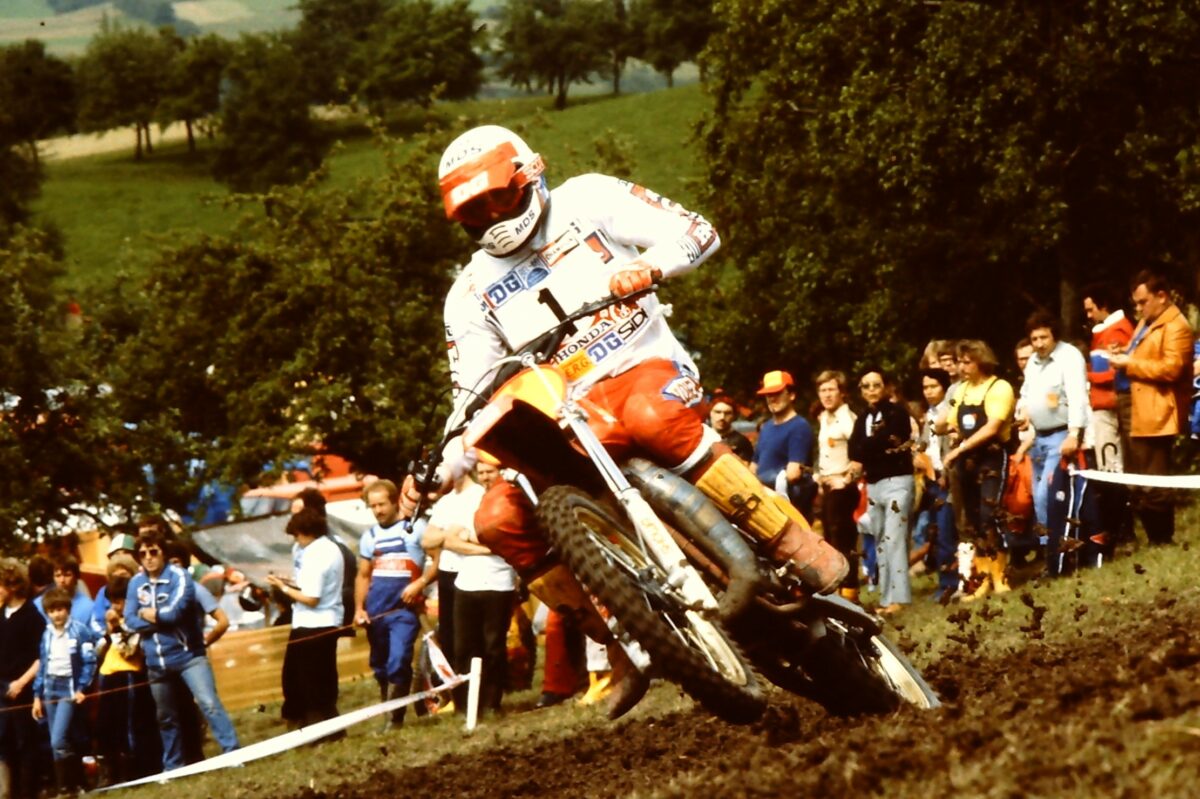 Malherbe started out in a European 125 championship. Yes, the EMX125 existed in the early seventies, predecessor to the world series launched in 1975 and called the 'Coupe d'Europe'. The curly-haired Belgian kid won the inaugural series riding a German Zundapp as a rookie in 1973 on a French licence because he was only 17 and again the following year.
But the year the series reached world status he broke his wrist and finished only sixth behind compatriot Gaston Rahier. "I can't have been such a smooth rider when I was young," he smiled. "I had many injuries because I crashed. Everything takes time!"
But Zundapp were more interested in enduro so Andre signed up with Belgian KTM importer Jaak van Velthoven to contest 250GPs in 1976, when a 12th place finish attracted support from the Austrian factory. His first GP win came on the blue groove of Beuerne in West Germany and he ended the season completing a KTM 1-2-3 in the world behind Russian duo Gennady Moiseev and Vladimir Kavinov.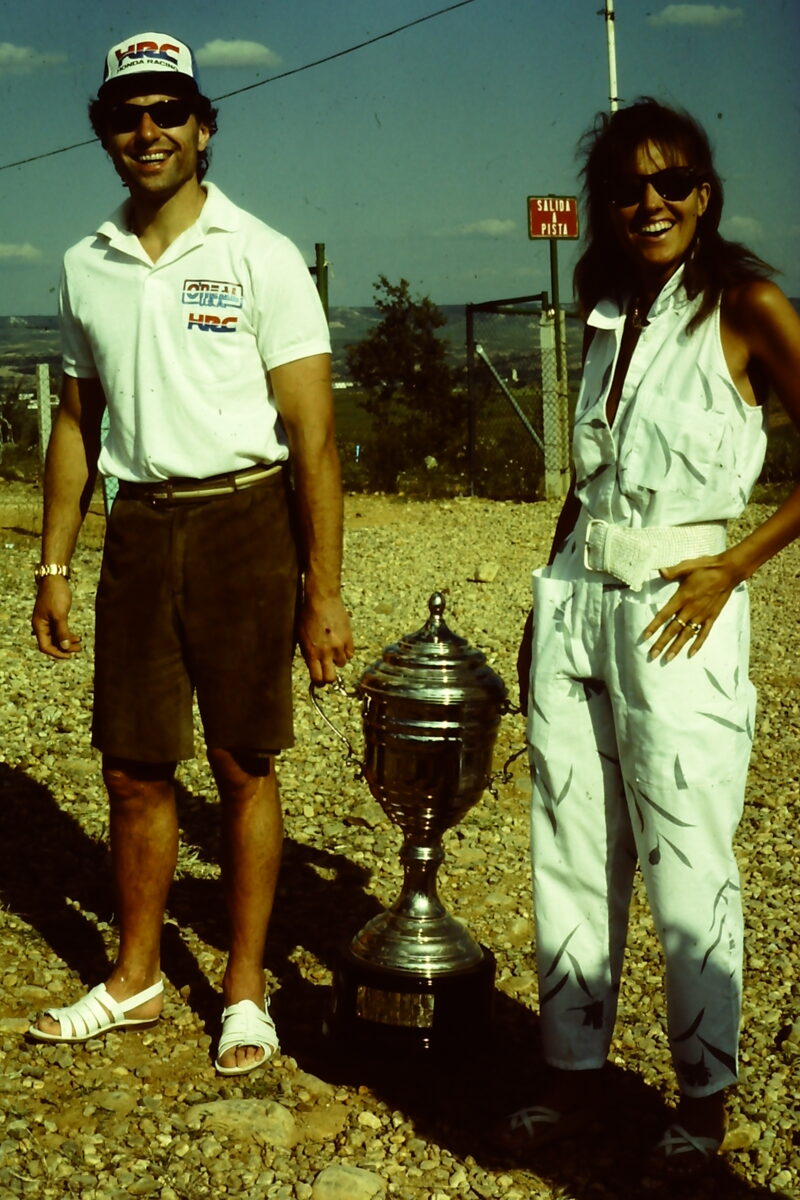 "The KTM boss then said the Russians were enough," smiled a rueful Andre. "He wanted me to go 500. At the time I wasn't happy. I wanted to stay 250. But I went because I had no option."
He adapted well and ended the year an encouraging sixth, good enough to interest the mighty Honda Racing Corporation who hired him on a one-year deal for 1979 to replace the departing Brad Lackey.
Malherbe's first HRC race win came back at Beuerne halfway through the year. He then conquered the final two rounds in Namur and Luxembourg to register his first overall victories, overhaul Lackey and place third in the series a point behind runner-up Gerrit Wolsink while his triumphant team-mate Graham Noyce clinched Honda's first world crown.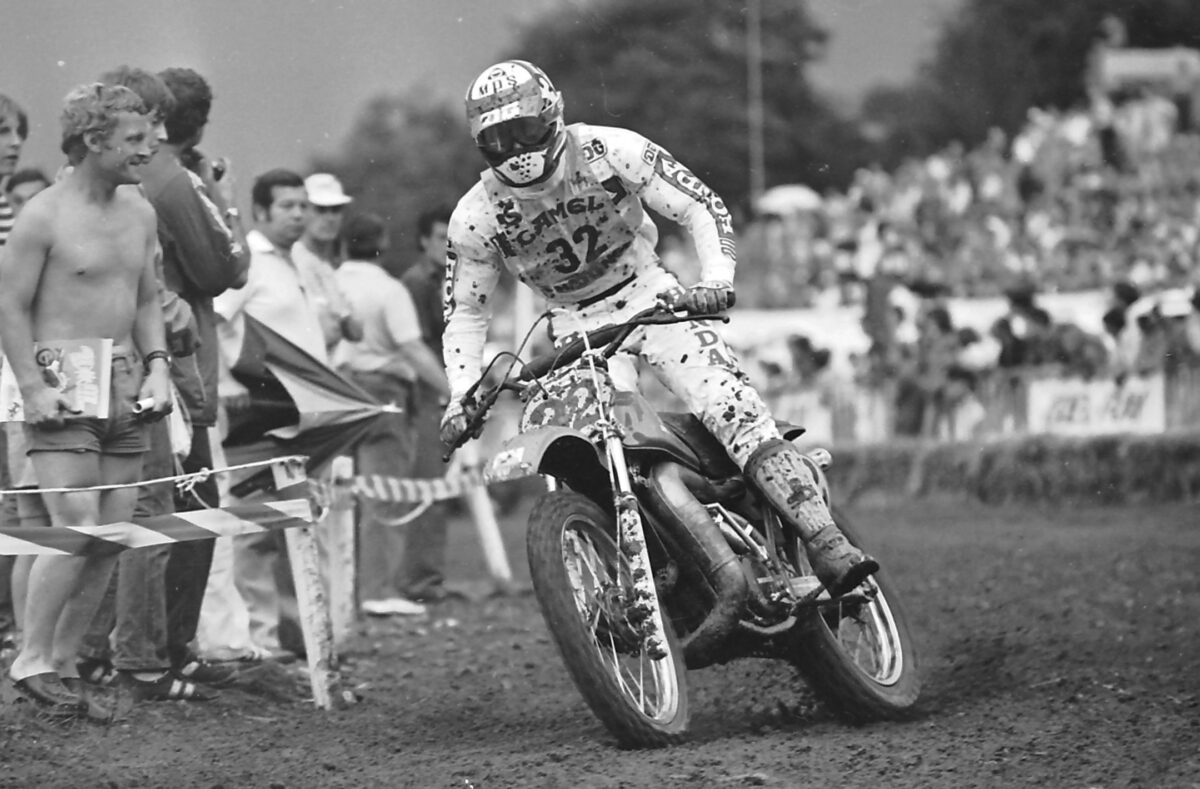 Andre ended the season leading Belgium to victory in the MX des Nations at Ruskeasanta in Finland. All this led to a long, stable and successful relationship with the Japanese factory which ultimately saw Malherbe taking six of the next seven 500cc world championships down to the final moto of the season. He also, in August that year, met exotic fashionista Sabine. They married within three months and she never left his side, always involved in his racing. The glamorous couple even moved to Monte Carlo in 1984!
Andre's first world title came in 1980 after an increasingly toxic season-long duel with Kawasaki's Lackey. Riding Honda's first monoshock, Andre won the Swiss opener, Gaillefontaine in France (blue groove again!), a tie-breaker with Noyce in Ruskeasanta's sand and Italy to dominate the first half of the season. But disastrous no-scores in America and Germany drastically reduced his advantage despite wins in Canada and Namur, so he and Lackey arrived in Luxembourg tied on 215 points apiece!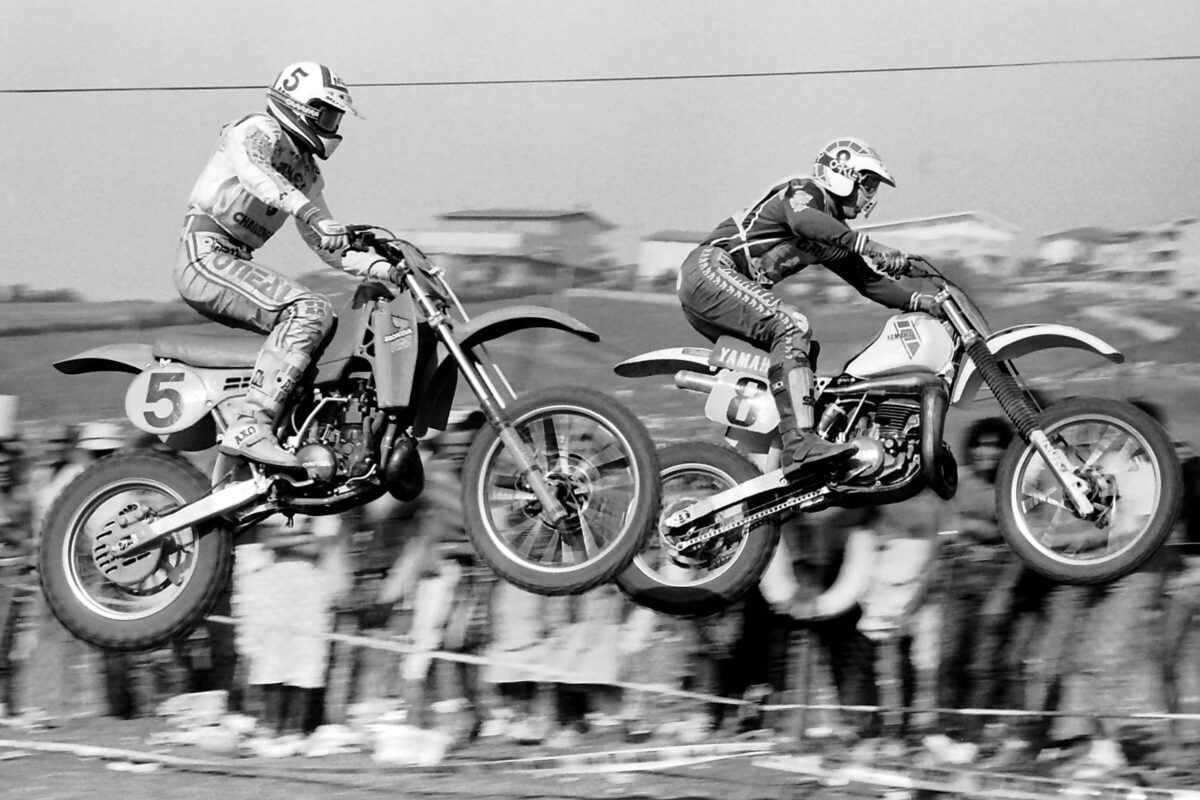 The scene was set for drama and we got it in spades. First the two collided in the opening turn of race one, catapulting Brad into the fence. The Californian remounted last and furiously flew back to sixth place before spending the second moto trying to ride Malherbe off the track until he eventually crashed in the attempt and Andre was crowned champion behind a dominant Hakan Carlqvist. "It was not pleasant what they were doing to one another out there," reported the mighty Swede!
Malherbe ended his year leading Belgium to another MX des success – this time at Farleigh Castle – and victory in the 250cc Trophee des Nations at Maggiora.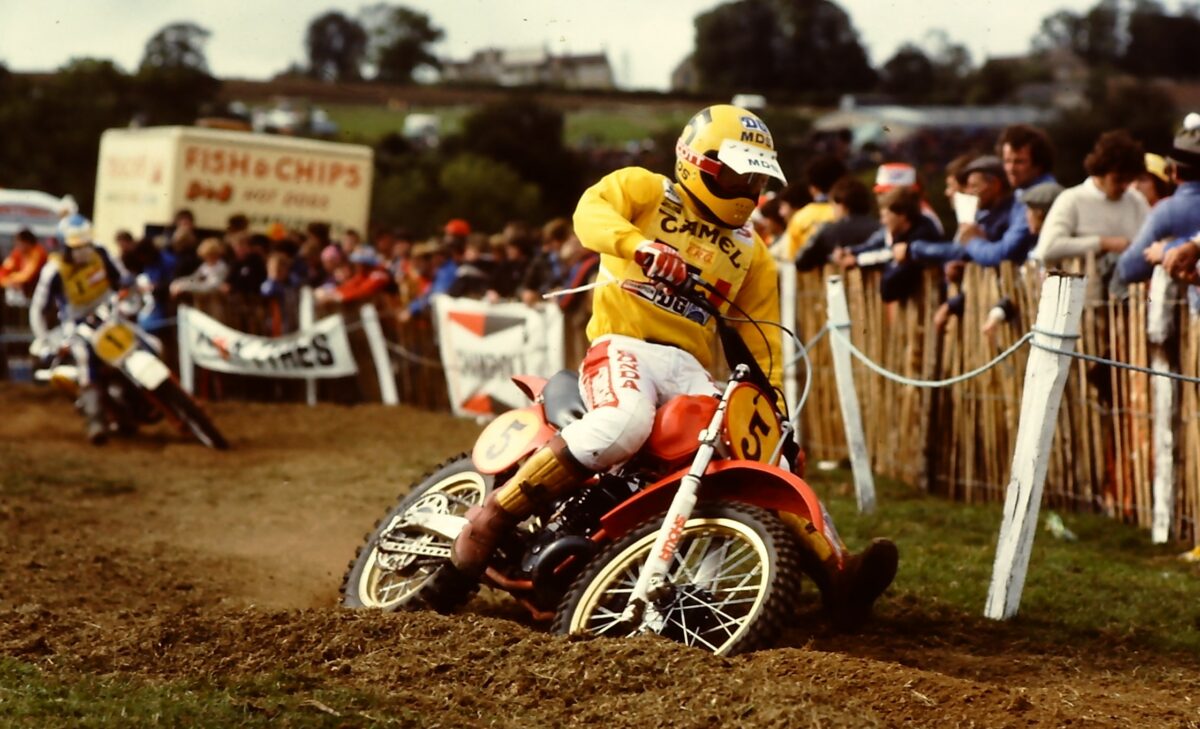 The following year brought another season-long duel, this time with team-mate Noyce who had missed most of 1980 with a broken leg. Victories in Austria, Finland and Italy laid the foundations for a strong championship defence but Noycey hit back in France and at Farleigh Castle and arrived in Luxembourg trailing Andre by just 10 points.
Again Malherbe did the business, once more behind a rampaging Carla. "I have good memories of fighting with Graham in 1981 and Hakan in 1983," said Malherbe. "These two guys were much better sportsmen than Lackey."
But 1982 was Andre's turn to suffer a broken leg during the USGP on a heavily-watered Carlsbad in California that June after winning in France, Italy and Germany. Ironically, Brad Lackey took the title for Suzuki…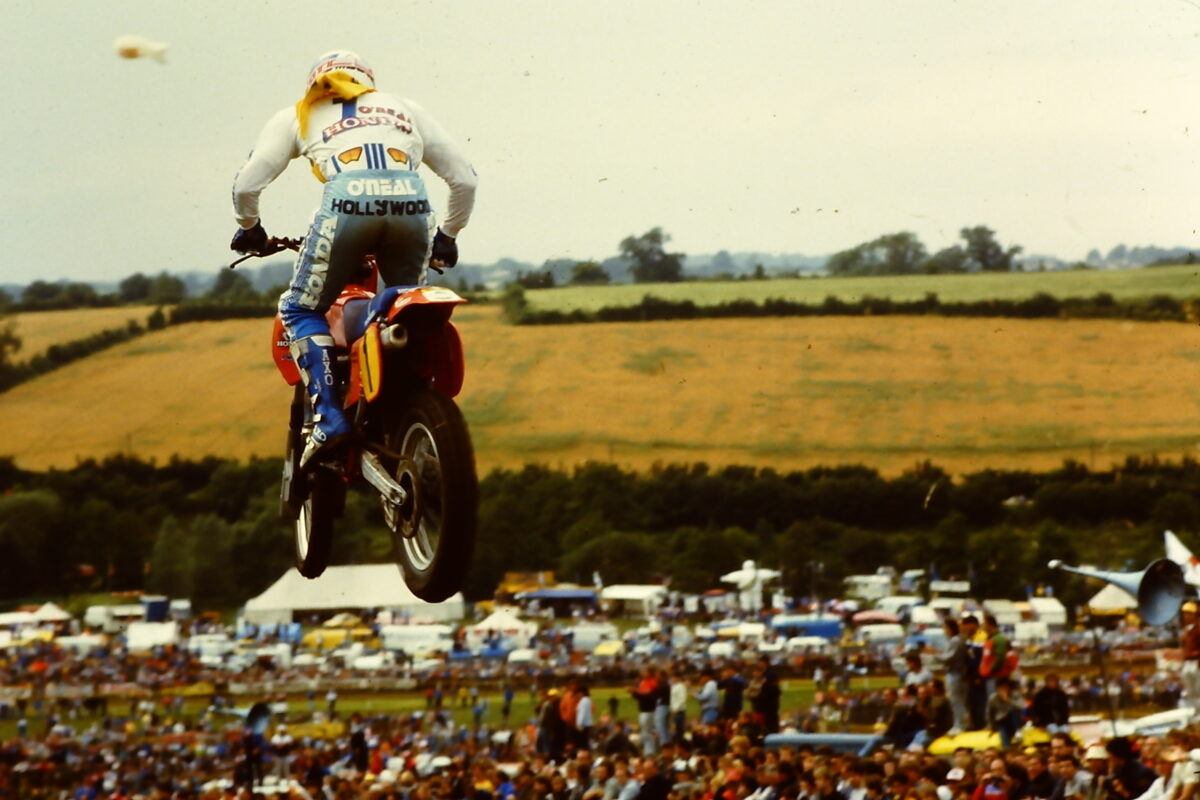 In 1983 there was another gripping contest with Malherbe locking horns with Carlqvist on Yamaha's 'Motor of Death'. Again it went to the wire when, despite finishing all 24 motos save two inside the top five and winning the final round at St Anthonis in Holland, he lost the title by seven points to Carla.
Andre bounced back in 1984, claiming his third world title following another season-long feud – this time with compatriot Georges Jobe – after he gained a crucial advantage at Carlsbad where he finished fourth behind Glover, Johnson and Bailey with just four points covering them all!
However, a fresh challenger had emerged. His young English team-mate Dave Thorpe, signed by HRC in 1983, won the last three rounds to claim a strong third in the series. The pair would go head-to-head in 1985…
Andre dominated the opener in Sittendorf, Austria, lost a tie-breaker to another new young team-mate – Eric Geboers – in Finland and did the double in Spain. Then Thorpe won in Holland before they fought three successive tie-breakers. Malherbe topped Farleigh, David hit back on Andre's home turf at Namur and Andre edged Luxembourg before taking the final round at a sodden Wohlen in Switzerland. It wasn't enough as Thorpe tip-toed to third place, his first world title and Honda's fifth crown.
The pair would battle again in a fabulous four-way scrap for honours with Jobe and Geboers in 1986. This time Andre, now 30, won his last three GPs for Honda in Austria, Germany and Canada before losing out in the title chase to Thorpe in Luxembourg – by five points! And then the coolest man in motocross announced his retirement, leaving the young guns in charge and that victory at Chatsworth MotoPark, Ontario, his 27th and last for HRC.
He was prepared for a new challenge racing cars in 1987 before being persuaded to tackle the Paris-Dakar Rally with Yamaha France. Tragically, a fall in the North African desert in January 1988 paralysed him from the neck downwards. Andre courageously kept himself alive thinking of his baby daughter until help arrived and, despite being confined to a wheelchair, he returned to run a Johnson Honda private 500GP team with Jobe on board in 1989.
After that he established successful businesses in Belgium and his adopted home Monte Carlo, where he annually rented out apartments during Monaco F1 Grand Prix week! Truly a remarkable man.